If you never thought you were sentimental about your home, try putting it up for sale. Suddenly every nook and cranny is the spot of some special event or sweet memory. But don't let emotions keep you from downsizing your home.
Downsizing could bring great benefits to you, your family, and your finances. But to cash in on those benefits, you'll first have to overcome your emotions.
Emotional Reasons That Prevent Downsizing
The decision to downsize your home can be difficult to make—and following through can be even tougher, even when you know it's the best move to make. To save yourself from staying stuck in a home that's not right for you, try to understand why you feel emotional about selling your home.
Here are some common reasons why homeowners can feel emotional stress about downsizing:
Sad to leave your memories behind: You raised your kids and made a million memories within the walls of your home. The thought of leaving them may break your heart, but we'll give you some tips for keeping the most important memories with you.


Guilt from family: Your adult children might make you feel guilty for leaving the place that holds their childhood memories. But never let your grown-and-gone kids dictate your living situation! Besides, think of how much fun the grandkids will have making new memories when they squeeze into your smaller, cozier house for the holidays.


Afraid of change: Are you paralyzed by all the unknowns that come with downsizing your home? Or maybe you feel overwhelmed by all the work your home needs before it goes on the market. We get it. But when you get a clear plan together, you'll calm your fears (more on that later).


Embarrassed you can't keep up with the Joneses: Moving to a smaller home might be a humbling experience—especially if your friends have large houses and won't understand your decision. But are those really the kind of "friends" you want? Me neither. Besides, they're probably just as stuck in that fake-rich life. Who knows, maybe when you're free to live like no one else, you will inspire them to follow.
Benefits of Downsizing
To stop these emotions from holding you back, focus on the practical benefits of downsizing. Moving into a smaller, less expensive home could reduce your stress and make life simpler. It could also help you make huge progress with your financial goals. For example, you could use that nice pile of money you'll make from selling your home to knock out debt. Or, depending on where you are in the Baby Steps plan, you could use the money to build your full emergency fund, save for the kids' college education, or invest in retirement.
Are you an "empty nester" who still lives in that big house where you raised your now-grown kids? Imagine how much time and money you could free up if you downsized! Instead of managing the upkeep of the house and lawn, you could spend more time and money on vacations and date nights! And you could have plenty of cash leftover to invest more for your dream retirement.
What Does Downsizing Your Home Actually Look Like?
Let's see what the impact of downsizing could look like. Pretend you and your spouse own a four-bedroom home you bought 10 years ago when your two kids were young. At 3,000 square feet, you've got plenty of room for your family and friends to hang out.
Unfortunately, everything else in your life feels cramped.

Find expert agents to help you sell your home.
Even though you and your spouse work hard to provide for the family, you never seem to have the money to do fun things outside of the house. With a $60,000 household income, your $1,375 mortgage payment takes up nearly a third of your paycheck each month. You have enough to cover the bills each month, but that's it.
You're making slow progress on your car loan—the last remaining bill in your debt snowball. Once it's paid off, you're looking at an additional two years to build your emergency fund before you're ready to invest for retirement. You'll turn 43 this year too, so you don't want to delay saving for retirement much longer.
Also, it won't be long before your two kids—ages 12 and 14—leave the nest. You and your spouse want to make the most of the time you have left together under the same roof, so you decide it's time to trade all your space for the life you really want.
From Barely Paying Bills to Baby Step 4
After you declutter your home, you work with a real estate agent to get it sold. After a month on the market, you accept an offer for $300,000. With just $165,000 left on your mortgage, you bank $135,000 off the sale.
| Here's what you do with $135,000 | | Monthly Savings |
| --- | --- | --- |
| Cover agent commission and other seller costs on your current home | $18,000 | |
| Pay off your car loan | $6,500 | $560 |
| Stockpile your emergency fund | $12,000 | |
| Put a down payment on a $185,000 home with a 15-year fixed rate mortgage at 4% | $91,000 | $440 |
| Cover buyer closing costs on your new home | $5,500 | |
| Fund a family vacation | $2,000 | |
| Total: | $135,000 | $1,000 |
That chunk of cash catapults you forward to Baby Step 4, eliminating debt and setting you up with a solid emergency fund. To celebrate this major money milestone, you use some of the proceeds from your home sale to go on a much-needed family vacation. You also have plenty of cash left to put a sizeable down payment on a smaller home and cover any closing costs.
Living Larger in Less Space
Now that your home is sold, it's time to find a new place to live! Your agent helps you land a great deal on a three-bedroom home with 1,700 square feet for $185,000.
You put $91,000 down on a 15-year mortgage at 4%, which—if you use our mortgage calculator—brings your monthly payment to just $935! With your debt snowball complete and a lower mortgage payment, that gives you a total savings of $1,000 a month.
That kind of extra cash makes saving 15% of your income for retirement much easier. If you contribute $750 a month toward retirement for the next 22 years, you could retire with over $700,000 in your nest egg. Even better, a 15-year mortgage means you can look toward retirement with more confidence knowing your home will be paid off before you even turn 60.
If you really want to get intense, check out the mortgage payment calculator to see how much money you can save by paying off your house early.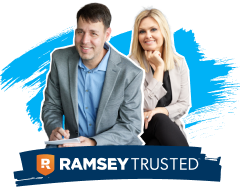 With the right agent, taking on the housing market can be easy.
Buy or sell your home with an agent the Ramsey team trusts.
Connect for Free
Tips for Successful Downsizing
Downsize Your "Stuff" Before Your Home
Now that we've walked through an example, let's apply these steps to your own situation. Think about which downsizing benefit speaks to you most. Keep that at the forefront of your mind during this process. You can overcome the emotions that are holding you back. But you might need a strategy to help. So, let's get tactical.
First, don't think about the house. Start with the little things that make up your house—like old baby clothes and blankets, the bikes your kids learned to ride on, the squeaky wooden bunkbed, and the dusty grand piano. These items tend to build the majority of our emotional resistance to downsize in home. Give yourself enough time to sort through items that are precious to you. Then, when it comes time to sell the house, you won't feel stressed or rushed. Instead, you'll feel confident the items that represent "home" to you were cared for properly.
Sort your belongings into four main categories:
Keep: Limit yourself here. This category is reserved for items you'll regularly use after downsizing your home. It may also include a small number of sentimental items—like your wedding video, family photo albums, or tokens of greatest achievements. If items don't fit those specs, move them to our next category.


Give: If your sentimental ties to an item are too strong to break completely, consider giving it to a loved one who will treasure it the same way you have. Or donate it to your favorite charity. Stop clinging to too many things from the past and start making room for all the precious memories ahead.


Sell: Now that sentimental items are separate and safe, earn some cash with the rest. Host a yard sale or sell items online. All that money can go toward your move. Have stuff that won't sell? That brings us to our final category.


Trash: If the rest won't sell, throw it away! After you set aside, give away, or sell the important items, there's no reason to keep the rest. Throw away that trash and be free!
Don't Make These Emotional Home Seller Mistakes
Once you've cleared out the emotional "stuff," you'll be better prepared to sell the actual house. However, you may have to fight another emotional obstacle: personal bias. The memories you've stored up in your home might cause you to see it differently than a potential buyer will. Wearing your emotions on your sleeve when you're trying to sell your home can cause delays or even derail your home sale. Don't let your emotions lead to these home seller mistakes:
Underprepared staging: Sellers who are overly attached to their home sometimes believe the "right" family will fall in love with their home as it is and will be willing to pay more for it. Home buyers rarely think that way. But they could be willing to pay more for a certain location or features that add value to the home. So go beyond simple repairs and cleaning when you prepare your home to go on the market. Stage your home to create an impression of the type of lifestyle buyers could have if they buy your home.


Offended by criticism: The more showings you have, the more likely you are to get some negative feedback about your home. Then when a buyer makes an offer, it may be lower than you expected. On top of that, contract negotiations are likely to point out even more flaws in your home. Taking offense to this criticism could cause you to reject a low offer as "not serious." So you hold out for a better offer, and you wait. And wait some more. The longer you wait, the less likely you will be to get your asking price. Why waste time? Even a low offer is an opportunity to get your home sold, so don't take it personally. With some skillful negotiating, you can turn a disappointing offer into a deal where both sides win.
Find Out If Downsizing Could Benefit You
If you're curious about whether downsizing your home could change your life for the better, ask a real estate agent to show you how much your home is worth with a comparative market analysis (CMA). A CMA shows you how homes similar to yours in your area have sold—giving you the information you need to decide what's best for you and your budget.
Look for someone who puts service before sales—but who also knows how to get things done when it's time to sell. Our real estate endorsed local providers (ELPs) know how to stage your home's best features and estimate fair market price, and they have the skill to negotiate a fast home sale for the best price. Want the best of the best in your area? We can connect you to a real estate agent we recommend. Find your real estate pro today!
Did you find this article helpful? Share it!