There are some things in life that call for an expert—like buying and selling a house, filing taxes, securing the right insurance coverage, and investing for your future.
Why an expert? Because when it comes to real estate, taxes, insurance and investing, a small mistake can have a huge price tag. Consider these scenarios:
What if your taxes are audited and the IRS finds an error?
What if your home sale goes south and you lose hard-earned equity?
What if you get to your golden years and realize you don't have enough money to retire or even cover your medical expenses?
Those situations are more than minor setbacks. The decisions you make around real estate, taxes, insurance and investing have the power to make or break your financial future.
And when the stakes are that high, you can't settle for just any professional. You want to make sure you're working with the best of the best, a trustworthy, top-notch expert. But let's face it: It can be difficult to weed out the amateurs from the all-stars.
That's why we've done the hard work for you. We've vetted an impressive lineup of all-star pros you can count on.
Our Endorsed Local Provider (ELPs) and SmartVestor programs connect you with high-octane professionals who are ready to step in to help you make smart decisions when it comes to real estate, investing, taxes and insurance.
How Do We Qualify Our Network of Pros
What do we mean when we say Dave Ramsey's network of recommended ELPs and SmartVestor Pros are the best in the business? It's not just talk. Here's how we know they really are the best:
They Go Through a Rigorous Vetting Process. We have high standards and only recommend seasoned professionals with a track record of success in their field and superb customer service.
They Receive Ongoing Coaching from Dave's Team. Our network of pros is held accountable through one-on-one coaching. We have over 100 team members at Ramsey Solutions who are committed to making sure you have a great experience with our ELP and SmartVestor programs.
They Understand Your Financial Journey. Your pro just gets it. Just like you, they know the Baby Steps and are aligned with Dave's philosophy. Our recommended pros are even required to go through Financial Peace University!
That sounds pretty great, right? Let's take a look at how that level of expertise plays out in our different programs.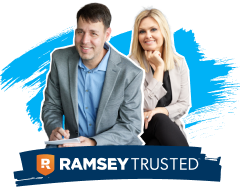 With the right agent, taking on the housing market can be easy.
Buy or sell your home with an agent the Ramsey team trusts.
Connect for Free
Our Real Estate ELP Program
You probably have a lot of options when it comes to real estate agents. There's your best friend's aunt, your coworker's husband, and probably a few others that you know of in your community. You know you don't want to work with an agent who is brand-new to the business, but besides that, do you know what distinguishes a good real estate agent from a great one?
"We tried to sell our house twice before but to no avail. Then my husband tried your ELP. Within five days we had 14 offers to choose from. A month later we had a check in the bank. Wow!" – Denise in Washington
Here's what sets our ELPs apart from your typical real estate agent:
Your real estate ELP has built deep networks in the community. Our ELPs know what new businesses are popping up that could affect home values, and they hear about coming-soon properties way before they hit the market. Does that give you a leg up on your competition? You better believe it!
Your real estate ELP is an expert at proactive communication. Our ELPs return your calls and emails, and they know that communication is an important part of your relationship. Our real estate pros are highly responsive, focused on meeting your needs and super-serving you throughout the entire process.
Your real estate ELP is a skilled negotiator. Your ELP has your back and will help you navigate the details of the purchase contract, home inspection, appraisal and closing. When you have a pro in your corner, you can rest easy knowing they have your best interest at heart.

Your home is your biggest investment! Why would you risk losing money by working with someone who's less than an expert? Find real estate agents Dave Ramsey recommends.
Our Tax ELP Program
If you want your taxes done right, self-filing or using a chain corporation won't cut it. If you want to save time and money this tax season, it's really simple: Work with a tax expert we recommend. Here's why:
"Our ELP saved us $1,000 compared to online tax software. She was an absolute professional and we felt like we were part of her family immediately. I will use her services for many years to come." – Jason in Missouri
Your tax pro helps you get every dollar you deserve. You might think that self-filing saves you money, but research says otherwise. According to our survey of 2,000 Facebook users, people who use a tax advisor get an average of $791 more back from the IRS than when using software.
Your tax pro is an expert at tax code. Anyone can punch numbers into a computer, but it takes a true expert of tax code to know what credits and deductions apply to your specific situation. All of our tax ELPs are Enrolled Agents (EAs) or Certified Public Accountants (CPAs), so you can be confident you're working with a seasoned pro.
A tax pro simplifies complex tax situations. Most people have more complicated tax situations than they realize. Let's say you bought or sold a home this year, had another baby, or started a side business—those life changes put you at risk of missing out on money you've earned. With a tax pro, you can skip the stress and know your taxes were done right.

Plus, our tax ELPs are just great to work with! Our ELPs' customer satisfaction rating is 2.3 times higher than the average tax pro. No wonder 9 out of 10 people would recommend their tax advisor to family and friends! You can find a tax expert in your area today.
Our Insurance ELP Program
Insurance is one of those must-haves in life, but it can be easy to misunderstand—which can lead to money spent that could've been saved. That's why it's so important to work with an expert insurance agent that can help you navigate all your options.

Find a trusted real estate agent we recommend in your area.
Here's why our insurance ELPs stand out from the rest:
"I would HIGHLY recommended an ELP to anyone interested in being gutsy enough to try for better coverage or same coverage for LESS." - Natalie in Oregon
Your insurance ELP works for you, not the insurance company. Our insurance ELPs are independent agents. That means they're not tied to a specific insurance company. Instead, they are able to shop around at hundreds of insurance companies to find options that are customized to fit your specific needs.
Your insurance ELP helps you get the best coverage at the best price. In an insurance survey of 17,800 ELP users, we found that people who use an ELP save an average of $731 a year on insurance premiums. Even better, 50% of users got more coverage. More coverage for less money? Sign us up!
Your insurance ELP can help you make an insurance claim. Let's say you're in a wreck that totals your car or that you come home to a burst water pipe. Those situations are bad enough, but dealing with insurance can be the worst part of the whole experience! When you work with an insurance ELP, you've got a pro who will partner with you and advocate for you every step of the way.

Like the pros in all of our programs, insurance ELPs are vetted and coached by Dave's team. You can rely on them to provide customized solutions for your insurance needs with superb customer service. Ready for better coverage at a better price? Connect with an insurance ELP.
SmartVestor Program
If you regularly listen to Dave, you know that he recommends working with a financial advisor to start investing as soon as you hit Baby Step 4. But what's the advantage of working with a financial advisor recommended by Dave?
Your investing pro is on your team. When you first meet with an investing pro from our network, their number one priority is to get to know you and your goals for the future. Like you, they're familiar with Dave's Baby Steps and support his investing philosophy. Your pro has your best interest at heart.
Your pro will help you stay steady even when the market isn't. Like Dave, the pros we recommend know that investing is a marathon, not a sprint. When you invest on your own, it's easy to make emotional decisions to buy and sell depending on the market fluctuations. But an investing pro will help you keep a long-term perspective, no matter how the market is performing.
Your pro helps you stay on track to reach your financial goals. Your pro understands what it means to "live like no one else so later you can live and give like no one else." You can count on them to offer encouragement and guidance as you build wealth.
Your pro knows how to keep your funds diversified. Some funds grow faster than others, which is why it's important to regularly rebalance the funds in your portfolio like Dave recommends. Your pro will help you know when it's a good idea to switch investments and when you should stay in the game.
92% of our SmartVestor users say their pro was "excellent" at punctuality and follow-up. Interview as many of our pros as you like to find the best fit.
We recommend partnering with a financial advisor, whether you're just starting to learn about investing or you've been doing it for decades. Dave knows all about investing, but even he uses a financial advisor! Find an investing pro today to start your wealth-building journey.
Ready to Connect with All-Star Pros?
Whether you're looking for help buying or selling a home, getting your taxes done right, finding a great deal on insurance coverage, or investing for the long-term, Dave Ramsey has recommended experts in your area.
If you love Dave's advice, you can rest assured that all of our endorsed pros are aligned with his philosophy and will offer you the same kind of guidance as Dave. The pros in our network are passionate about financial peace, and they love working with like-minded people like you.
If you'll take the first step, our recommended pros will take the next ten. They want to super-serve you and take the stress out of complicated topics like real estate, taxes, insurance and investing. When you work with Dave's network of pros, you can make confident financial decisions that help you save money and build wealth.
Don't settle for amateurs. Find top-rated experts today!
Did you find this article helpful? Share it!