So you want to buy or sell a house, but, well . . . coronavirus. This pandemic has probably kept you from doing a lot of things you want to do: You can't go to a concert, you can't watch sports live (in most places), you can't travel for fun (without quarantining)—you can't even hug your grandma!
If you've already got all your ducks in a row and don't want to put your housing goals on hold for yet another year, all those restrictions might have you asking, Can I buy or sell a house this year?
The quick answer is yes. Before the start of 2021, the number of home sales across the country hit nearly 7 million in one month—that's over 25% more sales than the year before!1 So did those home buyers and sellers experience any challenges you should prepare for?
We'll walk you through what to expect.
Buying or Selling a House This Year
It's true that the pandemic outbreak caused many buyers and sellers to hit pause on their housing plans in 2020. In fact, existing home sales dropped to their lowest point of the year during what's usually the hottest time for real estate—by May 2020, home sales took a plunge of nearly 27% compared to May 2019!2
On the bright side, it was only a temporary drop. By the end of 2020, there was such a surge of home sales that it more than made up for the number of losses during the spring.3 Crazy, right? It was probably thanks to real estate agents learning how to practice social distancing guidelines, which eased buyer and seller worries. And now, the housing market forecast shows no sign of home sales slowing down in 2021.
Takeaway: If you're determined to buy or sell a home this year, there's a really good chance you can make it happen.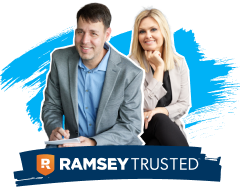 With the right agent, taking on the housing market can be easy.
Buy or sell your home with an agent the Ramsey team trusts.
Connect for Free
Home Prices During COVID-19
Let's get right down to it. While some might have expected home prices to drop in the wake of the coronavirus, that hasn't been the case. In fact, as of December 2020, the national median home price actually went up 13% from last year to $340,000.4 And experts believe 2021 home prices will grow by 8% overall.5
So, whether you're buying or selling, it seems like prices are holding steady. But there's still a lot that can happen, especially in different areas of the market. That's why it's so important to know how to find a real estate agent who has experienced the ups and downs of market changes so you can get the best deal whether you're buying or selling.
Getting a Mortgage in 2021
The good news for home buyers right now is mortgages are being offered at rock-bottom interest rates. For example, the annual average interest rate for a 15-year fixed-rate conventional loan in 2020 was only 2.61%—the lowest it's been since Freddie Mac started reporting nearly 30 years ago!6

Find expert agents to help you buy your home.
But keep in mind, dozens of factors go into how a lender decides what interest rate you qualify for—there are no guarantees. At the height of the pandemic, some lenders raised their down payment and job history requirements. That's why you might've heard how some buyers were pulling teeth just to get approved last year. Lenders had to be extra careful to avoid taking on too much risk.
In fact, some lenders might still request proof of a buyer's job security as late as one day before closing so they can cancel financing if the risk is too high.
Don't let a strict lending requirement get you down—it isn't necessarily a bad thing. Sure, you might want to buy a house ASAP, but if your job and income aren't stable, you still have debt, or you don't have a down payment of at least 10–20%, buying a house isn't a good idea—coronavirus or not.
If you want to get a smart mortgage that helps you pay off your home fast, talk to our friends at Churchill Mortgage about a 15-year fixed-rate conventional loan—the cheapest type of mortgage and the only kind we recommend.
Viewing a Home During the Pandemic
Forcing us to wave to grandparents from behind a window isn't the only way social distancing has interrupted our lives. It's also added some new challenges to buying and selling a home.
In fact, in the spring of 2020, a few real estate agents said social distancing made home buying and selling nearly impossible or that it was postponing deals from getting done. But most agents said wearing masks and gloves or doing remote deals worked just fine.7
Again, your situation might be different. But if you're determined to buy or sell right now, there are ways to close the deal while still following social distancing efforts. Here are some tips:
Selling Tips
Last year, most home sellers made changes to how people interacted with their home—including stopping open houses, doing virtual showings, or requiring buyers, home inspectors, and appraisers to pretty much put on a hazmat suit before entering.8 Then again, some sellers went the traditional route, despite the coronavirus frenzy.9 So your experience will really depend on what you're comfortable with and where you live.
Buying Tips
As a buyer, you might have the option to view inside a house through a virtual showing. Watching a video tour has become a popular way to work around social distancing efforts during home deals. And with easier access to video technology, this pandemic might just make virtual showings the new norm as a no-hassle resource when searching for a home you love.
As you get ready to make an offer on the perfect house, you might also come across a COVID-19 addendum. In response to the crisis, some home deals include addendums that allow the buyer and seller to extend the closing process or cancel the contract if issues related to the coronavirus make it impossible or unlikely to close. No harm, no foul.
When it's time to close the deal, don't be surprised to find yourself doing a "drive-by closing" where you pull up to the curbside of a title company's office as if you were ordering takeout. A legal professional will probably come out to you decked in a mask and gloves to drop off a mountain of paperwork for you to sign in your car for a few hours. (Again, this may be different depending on where you live.)
Crush Your Housing Goals With an Expert
Now that you know what to expect, work with someone who really knows what they're doing in this crazy time—an expert real estate agent. Never settle for a novice! You need someone who lives and breathes real estate—someone at the top of their game who can get the job done and negotiate on your behalf.
For a quick and easy way to find a top-ranking agent near you, try our Endorsed Local Providers (ELP) program. We only recommend agents who are the best in their market.
Find top-performing agents near you!

Did you find this article helpful? Share it!