Few things in life are as stressful as selling a home. You pour everything you've got into getting it ready. Then there's the impossible task of keeping it picture-perfect while still having a life.
On top of all the normal home-seller stress, you've got a deadline. You don't have three months to sit and wait the market out.
Well, you're in luck. Now's a great time to sell a home! That's because the market's full of buyers and begging for sellers. According to the National Association of Realtors, recent for-sale homes spent just 39 days on the market, and nearly half sold in less than a month.
If the average Joe can sell his home in a month, you can too! Here are four tips to get you started.
Put Buyer Imagination at Center Stage
Want to know the secret to a quick sale? Create a space that enables buyers to imagine their life in your home.
With staging, you show off your home's best features and downplay its, well, quirky ones. It may involve getting rid of clutter, applying neutral paint, rearranging furniture, and freshening up décor.
Don't think it's worth the effort? Consider this: According to the Real Estate Staging Association, homes that were staged before being listed sold in an average of 23 days. That's 87% faster than those that lingered on the market for several months before being staged!
Get Real About Your Price
Nothing's quite as thrilling as seeing your years-long investment in a home pay off. In all your pricing excitement, it can be tempting to throw out a big number just to see how much you can get. But that's a bad strategy. Why? Because the longer your home sits unsold, the more money you'll lose in the long run.
If you want to win buyers from the get-go, there's no time for guesswork. You've got to price it right the first time. Work with an agent you trust to set a competitive price based on recent sales in your area.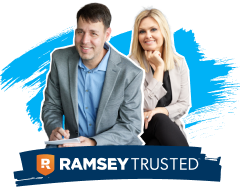 With the right agent, taking on the housing market can be easy.
Buy or sell your home with an agent the Ramsey team trusts.
Connect for Free
Save the Smartphone for Your Selfies
Everyone knows a picture is worth a thousand words. But have you ever thought about how much dough it could bring? If you've got a home to sell, it could be a lot.
That's because people are visual by nature. And great photos create an emotional connection that gets buyers through your door. It doesn't matter how impressive your square footage is—if your listing photos stink, you could miss out on a home deal.
Leave your selfie stick out of it, and let a pro capture your home at its best angle. If professional photography isn't part of your agent's standard service, ask them to include it.
Team Up With a Heavy Hitter
When you're on a tight deadline, average just won't do. You need a sharpshooter who blows the competition out of the water. An agent who won't waste time getting results.
You can also separate the amateurs from the experts by digging into your agent's marketing strategy. A true pro uses a creative mix of traditional and digital tools and brings a mile-long contacts list to expose your home to as many buyers as possible.
With the right agent, you can get top dollar for your home even when time is short.
Did you find this article helpful? Share it!