We hear you. We know open enrollment is confusing.
From remembering enrollment dates for your area, to plan effective dates, to missed deadline options, it can be hard to keep up. Worse, the information you need is usually scattered all over the internet.
But it's also a great opportunity to find the right health insurance plan at the right price. It's time to clear some things up.
We included everything you need to know in one place, so you can bookmark and reference it any time. We want you to feel confident about your 2022 health insurance decisions.
When Is Open Enrollment for 2022 Health Insurance Coverage?
Before we dive into specific dates and deadlines, you need to know that most states use the federal marketplace (aka exchange), but there are currently 15 states that run their own health insurance exchanges.
First, let's talk about the states that use the federal marketplace. For 2022 health insurance coverage, the U.S. government extended the enrollment deadline from December 15, 2021, to January 15, 2022, giving you an extra month to enroll.

Do you have the right health insurance coverage? Connect with a Trusted pro today.
Next, the 15 states that run their own health insurance exchanges have individual enrollment deadlines and plan effective dates. Let's look at those dates in detail along with the states that use the federal marketplace.
Dates and Deadlines for 2022 Health Insurance Coverage
The graphics below show the open enrollment and plan effective dates for all 50 states.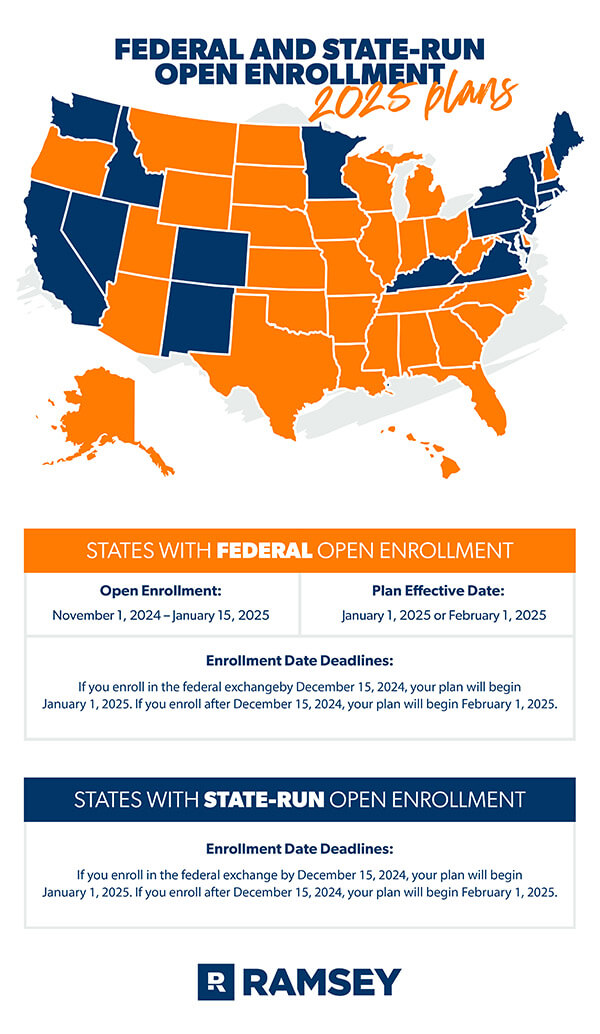 If you're still unsure about your state-run exchange's plan effective date, check with your state's marketplace for further details.
What Information Do I Need to Enroll in a 2022 Health Plan?
Now that you know when you need to enroll, let's go over what you need to know before you enroll.
Don't worry. You won't have to learn anything complicated or dig up ancient paperwork. You just need to follow some simple guidelines before you sign up for a year-long commitment. Let's break down each one.
Identification
You'll need some basic personal information for everyone you want to include in your plan:
First and last name
Email address
Birthdate
State of residence
Social Security number
Estimated income for the year you want coverage (include all household members even if they don't need health insurance)
Cost
Whether you're enrolling in a plan just for yourself or for your entire family, you'll need to understand some basic health-insurance industry jargon so you can select the best plan for the best price. Make sure you understand these terms before you sign anything.
Coverage
Health insurance is an essential part of your financial plan. And the right health insurance policy looks different for different families. Look at all your options to see what makes sense for you and your family and your money goals. Spend some time on this decision and do some research if you need to. Remember, you'll have to stick with the plan you choose for a full year.
What Happens if I Miss the Open Enrollment Deadline?
It's possible if you don't sign up for health insurance during the normal enrollment period (November 1, 2021–January 15, 2022) that you won't be able to enroll or change your health insurance plan until the following year's enrollment period. Really? Yes, really.
The only time you can make changes or sign up after the deadline is if you experience a recent major life event (marriage, birth, job loss, etc.). Events like that trigger a special enrollment period (SEP) where you can update your health insurance choices for the year.
But first you need to qualify. The health insurance industry calls these events qualifying life events. Let's go over the life changes that qualify for a SEP.
Loss of Prior Health Coverage
Losing your health insurance can be scary, but the good news is that any one of the following events will qualify you for a SEP:
Losing your job
Turning 26 years old
Getting cancelled by a private carrier
Losing your eligibility for government-funded coverage
Move
Whether you're moving out of state or to a different town in the same state, you could qualify for a SEP if your move is permanent. If you have questions, the U.S. Department of Health and Human Services (HHS) maintains up-to-date guidelines for the use of a permanent move for SEP eligibility.
Marriage
Congrats! Finding the love of your life is cause for celebration! Even better? You might qualify for a SEP so you can officially add your spouse to your health insurance.
Household Change
A happy family event like giving birth or adopting a child qualifies for a SEP. More celebrations are in order! You can now add your new family member to your existing health insurance plan.
A not-so-happy event like death or divorce can also trigger a SEP. But only if the event results in a loss of coverage.
Timing
If you're enrolled in a federal marketplace health care plan, you have 60 days before and 60 days after the event to enroll or change your health insurance details.1 Once the 60 days expires, the SEP is over and you'll need to submit an application for a new SEP.
If you're enrolled in a state-run plan, the SEP timing requirements are managed by your individual state. If you're unsure about your state-run exchange's SEP dates, check with your state's marketplace for further details.
Job-based health care plans have their own SEP timing requirements that are also different from the federal marketplace. Companies must provide a SEP of at least 30 days.2
Our advice? Regardless of your health care plan's origin, don't put off a SEP application. If you qualify for a SEP, sign up or make changes to your plan as soon as possible. The longer you wait, the longer you'll be without the health insurance you need, and the longer you'll be risking financial disaster.
Questions to Ask Your Employer
We collected answers to the questions employees most often ask about employer-sponsored health plans. We can't provide specific details about your employer's health plan, but we can guide you toward the questions you should ask to get the answers you need.
1. What are the plan's enrollment and effective dates?
Most enrollment periods for company-sponsored health insurance plans are scheduled in November, and the plan effective date is usually January 1 of the following year. But companies do have some wiggle room here. Be sure to ask your company's plan administrator what the specific enrollment/effective dates are for your company.
2. How does the plan manage prescription drug costs?
Changes in health insurance provider drug coverage happen all the time. Before you enroll in or change your health plan, find out if your employer has added or excluded coverage that could affect how much you pay for your prescriptions.
3. What's the cost for covering my spouse and children?
If you previously had coverage for a working spouse, ask your company's plan administrator if they're adding or increasing a surcharge for your spouse's coverage. Also, companies can make changes in employee premium contributions to cover dependent children. Ask about that too.
4. Can I go to my preferred doctor and hospital?
Some employers change health insurance companies, plans or provider networks to keep costs down. This can mean that your preferred doctors and hospitals might not be available on your plan anymore. Ask your plan administrator about this so you can adjust if needed.
5. Does this company do anything to help employees save money on healthcare costs?
Everyone is concerned about health care costs. Companies too. In fact, some companies have made changes specifically designed to lower health care costs for their employees, including lower out-of-pocket costs, lower premiums for low-wage workers, and some have even made contributions to employee Health Savings Accounts (HSAs). Ask your company's plan administrator if your employer has taken any actions like this to help you save money.
Self-Employed Open Enrollment FAQs
1. How do I know if I can enroll in the marketplace as a self-employed person?
You're eligible to enroll in the marketplace if you're a freelancer, consultant or an independent contractor who doesn't have any employees.
2. What should I know about COVID-related open enrollment?
Because of COVID, federal and some state marketplaces extended open enrollment this year. Federal open enrollment for 2021 coverage ended on August 15, 2021. But some state marketplaces will have open enrollment until the end of the year. For 2022 coverage, open enrollment is November 1, 2021–January 15, 2022.
3. Are there enrollment exceptions if I missed the cutoff date?
Yes, if you qualify for a special enrollment period (SEP), you can enroll in a health insurance plan outside of the normal enrollment dates. You'll need to have experienced what the health insurance industry calls a qualifying life event. Qualifying life events can be things like marriage, birth and moving.
4. What if I missed the open enrollment deadline and I don't have a qualifying life event?
No need to panic. You still have fallback options, including private health insurance companies and health care cost-sharing ministries that could help. We recommend that you connect with one of our Endorsed Local Providers (ELPs) to learn more about your fallback options.