Who doesn't love the idea of watching the sun dip below the Grand Canyon from their front porch and then driving 801 miles to wake up to a view of the Tetons out their bedroom window the next week?
Not everyone actually—that's why only 9% of Americans own an RV. But for that 9%, this sounds like heaven.1 Until a grizzly claws apart their front door and raids the kitchen. Then they're going to hope they have good insurance.
If you're thinking about making the RV life yours, you're probably wondering, How much is RV insurance and how do I get some?
We've got the answers so you can drive off into the sunset worry-free.
RV Insurance Coverage
At first, you might think RV insurance coverage would be the same as car insurance. But on second thought, you'd realize an RV comes with a lot more features and functions than a car. Plus, you have the option to live in your RV full time or part time—and the option you go with will affect the type of policy you get.
So, what kind of coverage does RV insurance include?
Well, first we'll have to take a look at the different kinds of RVs. Then we'll get into the good stuff.
Types of RVs
Are you imagining driving down Highway 65, the desert sun glinting off your silver Airstream? Or is your dream hauling a minimalist teardrop trailer you can drop off at your campsite for flexibility? Depending on what your travel dreams are, you'll need different kinds of insurance. That's because these are different classes of motor homes, and your insurance for each will be different too.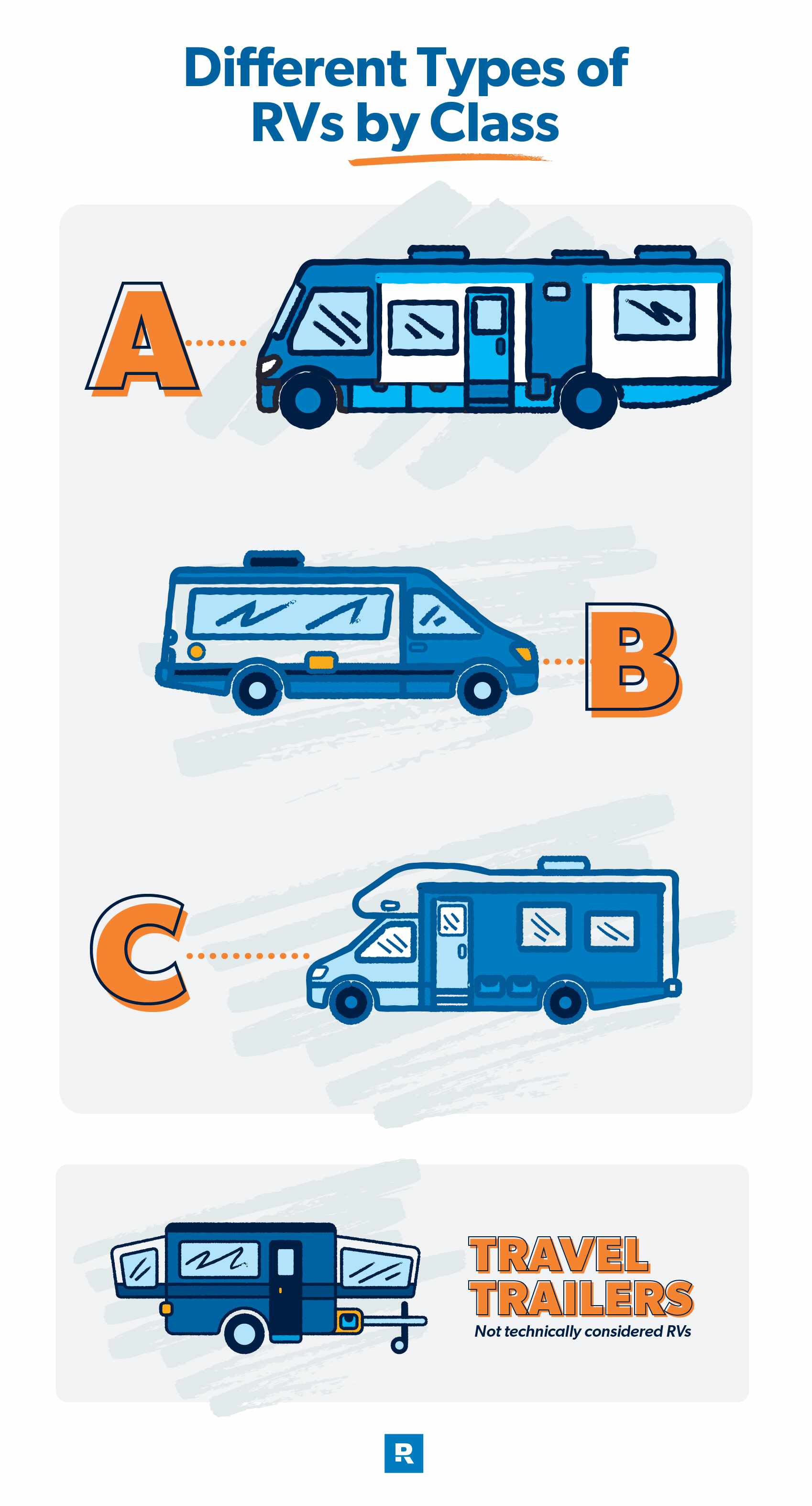 Class A motor homes: These are the mansions of RVs. Usually the size of a commercial or tour bus, they can sleep a large family of eight and have all the luxuries you'd expect to travel in style.
Class B motor homes: If you're looking to travel with a smaller footprint, one of these—commonly known as a camper van—might be your jam. With an interior that can be converted from bed to seats and a basic food prep area, this smallest kind of motor home can take you from sea to shining sea for a lot less than a class A costs. If you get the kind that has a raised roof, your van could sleep four.
Class C motor homes: When it comes to size, class C motor homes sit between class A and class B. Yep, that's right. Don't ask us why. But this one can fit up to six people and is easily recognizable for the sleeping compartment over the cab.
Travel trailers: These aren't technically motor homes because they don't have a motor, but people interested in motor homes are often interested in travel trailers and campers, so we thought we'd throw them in. They also cost less to insure! There are a few different kinds that range in size. Here's a list from largest to smallest:
Conventional trailer: These can be small or massive.
Fifth-wheel trailer: These attach by gooseneck trailer to a pickup.
Pop-up camper: This is a trailer that's collapsible for towing.
Truck camper: Even though these sit in the bed of a truck, they're considered trailers because they have to be attached to another vehicle.
Teardrop trailer: These are compact, lightweight sleeping trailers that can be pulled by a car.
Standard RV Insurance Coverage
A standard RV insurance policy will look similar to an auto insurance policy. Since RVs and cars are both driven on the road, you need protection from a lot of the same risks.

Don't let car insurance costs get you down! Download our checklist for easy ways to save.
Collision: If you get hit by or hit another vehicle or object, collision will pay for the damages. It doesn't matter whose fault it is.
Comprehensive: This covers damage caused by things other than accidents. Tree drops a limb onto your travel trailer? A tornado plays with your RV and isn't very gentle? Racoons or other thieves break a window? No problem. Comprehensive covers weather- and nature-related incidents, theft, vandalism, fires, and collisions with wildlife.
Uninsured and underinsured motorist: Every driver's supposed to have insurance, but not everyone does. This will cover your damages, injuries and even lost wages in case one of those drivers hits you.
Liability: If the accident is your fault, liability will cover the cost of damages you caused and lawyer fees if you're sued. You can only get this coverage on an RV because you're actually driving that. For travel trailers, your auto policy's liability will cover you.
Medical payments: This coverage will pay out for you and your fellow travelers no matter who's at fault. This one doesn't apply to travel trailer policies.
Additional RV Insurance Coverage
Here's where coverage starts to differ from auto insurance. We're guessing you don't usually carry around a bed, pots and pans, and a working shower in the back of your Civic.
But you're hauling all of that stuff and likely more with you in an RV or travel trailer, so you need to make sure it's not flying out in the wind. Think of it like this: You're basically mashing auto insurance and home insurance together.
Here are extra coverages you'll want to look at before you hit the road:
Total loss replacement: If you total your RV or travel trailer, insurance will give you what it costs to get a new one (no depreciation factored in).
Replacement cost for personal effects: This is like the personal property coverage in your home insurance policy and pays to replace the contents of your RV. We're talking bedding, clothing, food, everybody's iPads, those $600 Osprey backpacking packs, and your $6,000 worth of camera lenses.
Emergency expenses: If you break down somewhere or get in an accident and have to return to your permanent residence, you can opt to have insurance pay for the travel and hotel expenses to get home. But it's not a particularly good deal since it would likely cost less than a grand to get home and you should have more than that in your emergency fund.
Vacation liability: Maybe you met some friends while hiking, and you invite them back to your RV for dinner. But Bruce decides to slip and fall on your steps (rather than on all those slick rocks on the trail) and bash his knee. Now he's suing you. Vacay liability will cover you up to a set limit.
This can also cover your RV or trailer while it's in storage.
Full-timer's liability: This is liability coverage meant for someone who uses their RV as a full-time residence. Similar to home insurance liability, it'll cover you up to a set limit.
Loss assessment: Some RVers enjoy belonging to a club or association to enjoy discounts and club facilities. But these special perks may also come with a responsibility to pay for damages in common areas. Your insurance, should you choose to accept it (and pay for it), will cover these fees.
Pet injury: Who doesn't want to have man's best friend by their side while they see the world from the comfort of their own home? Well, maybe cat people. But no matter what pet you own, you can buy an add-on that covers vet bills if your furry friend is injured in an accident while riding with you. Again, it's an option—but your emergency fund is a better way to cover pet expenses.
Pest damage protection: Whether you're on the road or parked in storage for the winter, if some pest (aka birds, rodents, etc.) damages your motor home, this coverage will pay for the repairs.
RV Insurance Exclusions
RV insurance will protect you financially against a lot of things, but not everything. Let's look at the incidents RV insurance excludes:
Mold or fungi: Even if the damage is caused by a storm, RV insurance won't pay to repair or replace your motor home if it's damaged by mold. If your coach or camper is damaged by water, make sure you clean it up properly to prevent mold growth.
Awnings: These are a sometimes thing. Many policies do cover them, but some exclude them. There's also the option to choose to exclude them yourself to potentially save on premiums.
Rodents: Rodents come in all shapes and sizes, and there's often lots more out in the wild places. A few chipmunks going to town on your wiring can cause a lot of damage. But this one isn't a rule. Sometimes policies will cover the damage, sometimes not.
Earthquakes: This one is kind of like the rodents exclusion. Some policies cover earthquake damage and some don't. You can buy it as an add-on if you'll be traveling in earthquake territory and your policy doesn't have it.
Does RV insurance cover water damage?
Whether you're covered for water damage can depend on the policy you have. Most RV policies cover water damage from a broken plumbing system or appliance, but not from a roof leak caused by poor maintenance.
Many will cover flooding from overflowing streams or lakes or extreme rainfall, but make sure you check the policy you're considering or talk to your independent insurance agent. Some carriers require you to buy flood or water damage coverage separately as an endorsement. And there are usually rules about how far you must be parked from a body of water to be covered.
RV Damage Settlement Options
Like with auto insurance, if you were to get in an accident with your RV and total it, your standard insurance would give you what your RV is worth at the time of the crash—not the cost to replace your RV brand new.
But you're not stuck with that coverage.
You can choose one of three physical damage settlement options. You can get paid:
Your RV's (or travel trailer's) actual cash value (ACV)
A specific amount written in your policy that you and your carrier agreed on
The total replacement cost, where you get as much money as it costs to get a new one of the same value (this usually only works if your RV is less than five years old)
RV Damage Settlement Options

Least Coverage

Customizable

Most Coverage

Actual cash value

Specific payout written in policy

Total replacement cost
How Much Does RV Insurance Cost?
As you might expect, costs for RV insurance change based on what class of RV you're insuring. A class A RV is much bigger and fancier than a class B or teardrop trailer, so a policy to cover your tour-bus-level RV will cost a bit more. Let's look at how much RV insurance costs for each class.
How much is RV insurance for class A RVs?
As the largest and most luxurious motor coach, class A RVs are the most expensive to insure. Costs still vary based on how fancy your RV is, but on average, a gas-powered class A RV costs around $1,000–1,300 yearly to insure for recreational use.2
How much is RV insurance for class B RVs?
If you remember from earlier, class B RVs are camper vans—those bright green eye-poppers dotting the landscape (if you know, you know). They don't have to be bright green, but they can be covered under a regular ol' auto insurance policy. That's right! Even though they're called RVs, they're still considered a normal van.
But there's a lot going on in a camper van that isn't in a normal vehicle, so it's pretty hard to give a typical number for insurance cost. A few factors that go into pricing are:
Driving record
Value of van
Frequency of use
Age of van
State you buy your policy in
Coverage you want
How much is RV insurance for class C RVs?
These midsized RVs are a bit cheaper to insure than class As. The same factors that go into class B rates also affect how much you'll pay for a policy on your class C RV: age, value, size, location, etc. On average, class C RV owners pay in the neighborhood of $800–1,000 (or more) on their policy premiums every year.3
How Much is RV Insurance for Travel Trailers?
Since these run the gamut from basic pop-up campers to massive trailers that could fit a few horses (if you felt like having horses in your living room), the price on a policy varies a lot. The same price factors we mentioned for the other classes affect travel trailer insurance as well (age, value, state, usage, size, etc.). Premiums for a travel trailer can run anywhere from $200 to over $1,000 a year.4
What Impacts the Cost of RV Insurance?
We noted a few cost factors above, but there are even more to think about when you're looking at buying insurance for your RV. For example, costs from state to state vary anyway, but some states require you to have more insurance than others.
Here's a bigger list of factors that go into the cost of your RV insurance premium:
Driving history: Do you crash a lot, or are you a safe driver?
Needs: What are you using this RV for? How much are you driving?
Usage: Are you a recreational user or a full-timer?
Location: Insurance in your state might be more expensive.
Age: How old are you? How old is your RV? These things matter. The older you are, the more experience you have driving. The older your RV, the less it's worth.
Model or class: Do you have an RV that could rival U2's tour bus or are you pulling a camper?
State's insurance requirements: Some states require only liability while others want everything from your grill to your taillights covered.
How much coverage you buy: Do you want standard coverage or some extras like full replacement cost coverage? That'll cost you.
Deductible: The easiest way to change your premium? Push your deductible up or down.
Liability limits: A $500,000 liability limit will cost more than a $10,000 limit. But having a bigger limit here is worth it, so get it.
Claims history: Do you file a lot of insurance claims? If you do, that'll make your next policy more expensive.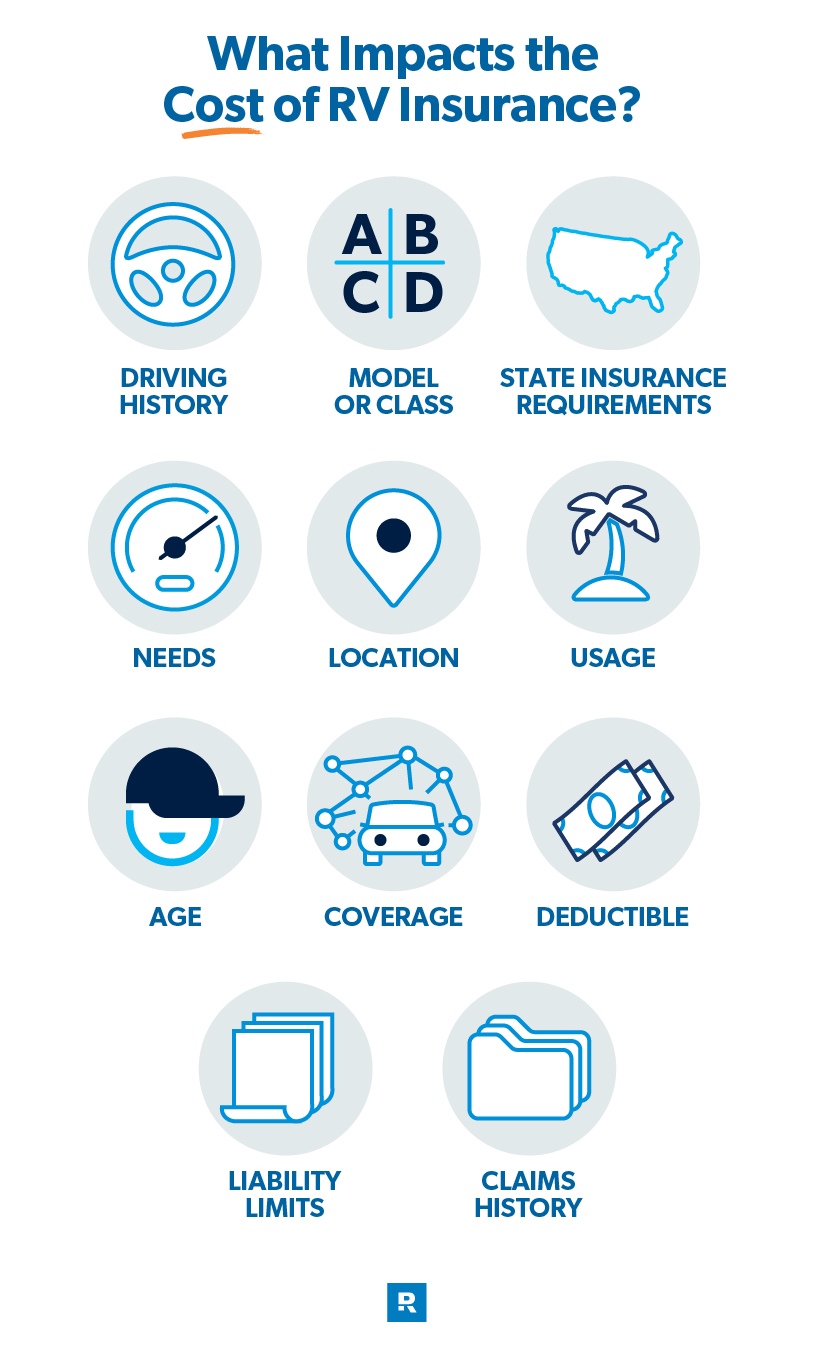 Ways to Save Money on RV Insurance
If your policy is looking pricier by the minute, don't panic. Check out these ways to save on your motor-coaching dream.
Consider Bundling Multiple Policies
Bundling policies is one of the most-loved ways to save money on insurance. Many carriers will cut you a deal if you buy multiple policies through them.
If you're looking for RV insurance, check to see if buying it through your homeowners and auto insurance company will get you a discount. But even if it does, don't stop there. Make sure you still shop around. An independent insurance agent can help you with that by doing the legwork for you and figuring out what your best bet is.
A similar tack is bundling multiple RVs. That's a rare situation (you'd probably be on Baby Step 11 at this point), but if you have a camper and an RV or some other combination, you'll likely save money if you get them insured through the same policy.
RV Insurance Discounts
Here's a hefty list of ways you can save money on insurance before you hit the road:
RV association: Belonging to an RV association could save you a couple bucks on insurance.
RV safety course: You could earn a discount if you take an RV safety course (and pass it!) through the state.
RV safety equipment: If your RV has factory-installed airbags, antilock brakes and other safety features, you might qualify for a discount.
Original owner: If you've owned your RV from its infancy on the dealer's lot, that could earn you a discount.
Responsible driver: Have you ever been in a crash? If your answer is no, that could work in your favor with cheaper premiums.
Pay in full: People like to get paid. Insurance companies are no different. If you pay your annual premium in full rather than monthly, they may reward you with a discount.
Prompt payment: This one's very similar to the one before. Pay on time and you won't get charged late fees.
Claim-free renewal: You could earn a discount if you go a whole policy period without making a claim.
Homeowner: Some insurance companies will give you a discount if you own a home in addition to your RV.
Continuous insurance: If you don't let your coverage lapse, you could earn a discount. This means maintaining insurance on your RV even when it's in storage.
Paperless: Last but not least, you might snag a discount if you agree to do all transactions and communication online.
If that massive list of discounts has your head spinning, don't worry. The easiest way to make sure you're saving all the money you can is to go through an independent insurance agent. They work for you, not a specific insurance company, so their job is to find you the best deal out there. They can run the numbers and grab you all the discounts.
Do You Need RV Insurance?
The simple answer is yes. If you have an RV, you need RV insurance. RVs are a lot different from cars—and they're usually a lot more expensive too. So, specialized RV insurance is a must.
It's also required by law. States usually have the same minimum insurance requirements for RVs as they do for cars, which means you at least need liability coverage.
From a financial standpoint, if you can't pay without blinking to replace or repair your RV if you damage it, you should insure it. And while there are a lot fewer RV crashes than car accidents in the U.S., RVs come with a lot of other hazards that cars don't.
Here's a list of some of the most common hazards RV owners experience:
Tire blowouts: These are much more dangerous on a big vehicle like an RV and can cause a lot of damage.
Refrigerator fires and propane leaks: RV fridges run very differently than your regular kitchen fridge. These use heat and sometimes open flame to run the cooling system. Fires are a very real danger. Every year it's estimated 2,000 RVs catch fire.5
Collisions with overhangs and bridges: You probably won't be used to driving such a tall vehicle, which means running into overhangs will be a real danger (think gas stations and overpasses).
Forgetting to retract steps and awnings: There's a lot to think about when you're packing up. If you forget to pull in your awning or stairs, you might find yourself needing new ones—and that's not cheap.
Pest infestation: Pests like to nest in vehicles anyway, but a vehicle with food in it? You can just see all the mice with heart-eye emojis.
How to Choose the Right RV Insurance Policy
Choosing the right RV policy really comes down to knowing what you want. What kind of RV do you want? Where do you want to go? How much coverage do you want? How long do you want to live in it?
Let's take a look at that last one in a bit more detail.
RV Insurance Coverage for Full-Time vs. Part-Time Living
We mentioned earlier your policy will be different depending on whether you're a recreational RVer or a full-timer. The main difference is how long your policy will cover you.
A recreational policy will cover you on short trips, but a full-timer policy will cover extended periods in your RV (usually six months or longer). This policy will also offer more coverages, like medical payments and personal liability, to protect you while you're parked for long periods. Because this option offers more coverage, a full-timer policy will cost more.
Should you just add your RV to your existing auto policy?
RVs have a lot more going on than a car or truck. So in most cases, you won't be able to add your RV on to your existing auto policy. But if you have a class B RV (camper van), you could do that. Depending on how much it cost you to kit out your camper van, you'll probably want to look into the possibility of adding a few more coverages to your policy—like replacement cost for personal effects.
How to Get RV Insurance
You've picked out your RV, mapped your route, and all you need is insurance. So, how do you get RV Insurance? It's not hard to find. Most carriers that offer auto insurance also offer RV insurance. But what's the best way to do it?
The easiest way to make sure you're covered in all the right places and paying the right price is to talk to a RamseyTrusted insurance pro. They're experts and can help you figure out the best policy for your RV and lifestyle. And, because they work for you and not a specific insurance company, they can shop around to get you the best deal.
Did you find this article helpful? Share it!