Finding the right life insurance takes time and effort—two things in pretty short supply. No matter how busy your schedule, though, there's no excuse for leaving your family unprotected. You really need to put your back into it. Thankfully we've already done a lot of the work for you.
Using industry numbers from A.M. Best and our friends at Zander Insurance, we identified the best life insurance companies on the market in 2023. Each option is great. But when you're ready to buy, you'll need to keep a few personal factors in mind. And even though these are the top companies out there, your best bet to get just the right company for your needs is to work with a broker like Zander. Since they only work with the best, you can trust that they'll match you up with your ideal provider.
Before we jump into how that works, let's look at the winners for best life insurance companies this year!
The Best Life Insurance Companies of 2023
| | | |
| --- | --- | --- |
| Insurance Company | A.M. Best Rating* | Medical Exam** |
| Banner Life Insurance Company | A+ | No** |
| Pacific Life Insurance Company | A+ | No** |
| Protective Life Insurance Company | A+ | No** |
| Pruco Life Insurance Company | A+ | Yes |
| American General Life Insurance Company | A | Yes |
| Lincoln National Life Insurance Company | A | No** |
| Savings Bank Mutual Life Co of MA | A- | No** |
| United of Omaha Life Insurance Company | A- | Yes |
*A.M. Best  is an agency that rates insurance companies on their ability to pay claims over the long haul. An A+ rating means this company has a "Superior" ability to pay out claims.
**All you have to do is answer a few questions to determine eligibility. Depending on your responses, you may still need a medical exam to get a policy.
All of these life insurance companies provide you with awesome coverage that's also super affordable. Another thing you should know: They all work with RamseyTrusted partner Zander Insurance. Using a trusted source like Zander is the best way to decide which life insurance company suits your needs because they take your details and add decades of insurance expertise to help you find coverage that's just right.
How to Choose the Best Life Insurance Company for You
There are a couple things to think about as you search the list of life insurance companies for your ideal term life policy. Let's talk through the steps of how to buy life insurance.
(Sidebar: Before you even begin, check with your employer to see if they offer a group life insurance policy. Even though that type of employee benefit doesn't usually cover all of your needs, it can get you started—for free!)
These are the main steps for getting term life insurance:
Pick the life insurance term length. We'll unpack this in more detail below, but most people will want a term that provides coverage for 15–20 years.
Choose your term life insurance payout amount. The rule of thumb is 10 to 12 times your annual income. (We'll dive deep on the why later.)
Submit your application. After you've gotten your quotes and picked the company you want to use, the next step is to apply. (Duh!) Depending on your situation, the insurance carrier will decide how risky you are to insure through a little process known as underwriting. Your health and age are the primary factors.
Name your beneficiaries. Lawyer talk for the people who will receive the money from your policy if you die. (And while you're at it, don't forget to name a contingent beneficiary too. They'd receive the insurance payout if something ever happened to you and the primary beneficiary.)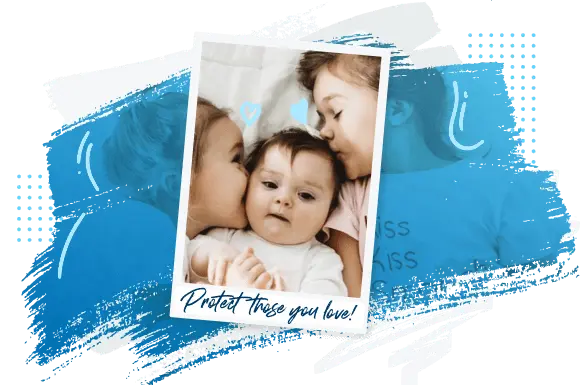 Get Term Life Insurance Rates from Zander Today!
RamseyTrusted partner Zander Insurance will get you rates from top life insurance companies and pair you with the one that fits you best.
See My Rates
Average Cost of Life Insurance
Term life insurance rates are mainly based on two factors—your health and your age. So it really does pay to get it now instead of later! In fact, age plays such a big role in setting your rate that estimating how much you'll pay for coverage is pretty easy based on that alone. Our term life estimator can give you a solid idea of how much it will cost you if you get it now versus later.

Compare Term Life Insurance Quotes
How Much Life Insurance Do I Need?
As we touched on above, there are two metrics here: How long? And how much? Let's talk about both.
How Long Should Your Term Life Insurance Last?
We recommend buying a term policy that lasts 15–20 years. Here's why. If you're raising little kids right now (and Lord have mercy if you are), they'll be done with school and living large by the time the policy ends. That means you'll only need coverage during those 15–20 years in between—when they're living at home and depending on your income.
But maybe you don't have kids or they're all grown up! For you, that same 15–20-year term gives you all the time you need to become self-insured and protect the future for your spouse in case something happens to you. (If you don't know, being self-insured has two parts to it: being debt-free and having enough in investments to replace your income for your family after you die. At that point, you no longer need life insurance at all.)
How Much Life Insurance Coverage Should You Buy?
Your coverage amount, aka the death benefit, needs to be 10 to 12 times your annual income. How does that work? Just take your annual income and multiply it by 10–12 to see how much cash your family would need if you died. Or check out this handy term life insurance calculator. It does the math for you!
If something were to happen to you, you'd want your family to be able to invest their payout in good growth stock mutual funds with an average of 10–12% growth each year. That way, your family can live on the growth of that investment to replace your income while preserving the original payout amount.
So for example, if you make $80,000 a year, multiply that by 10. You'd want a death benefit of at least $800,000.
Get the Right Life Insurance in Place Today
Enjoying the ones you love matters the most—and protecting their future shouldn't feel like a burden! You know how important life insurance is for their well-being, but getting it taken care of doesn't have to be a slog.
We recommend working with our RamseyTrusted partner Zander Insurance. They'll shop the top insurers on the market and help you get the best coverage for your family. Make sure to get the right life insurance coverage in place today.
Interested in learning more about life insurance?
Sign up to receive helpful guidance and tools.
Did you find this article helpful? Share it!