What Is No Medical Exam Life Insurance?
This type of life insurance is an option that doesn't require you to go through a medical exam to get covered. In certain age groups, customers shopping policies of $1 million or less can sometimes skip the exam completely and still get the most competitive term life rate available. Typically, we're talking about healthy people. These policies are great if you want to get coverage as soon as possible. And we think that's cool! But there are some conditions.
Are you guaranteed a no medical exam policy if you fit those criteria? Not necessarily. Even if you feel really healthy and you're under 65, you'll still need to answer questions about your medical history and disclose any conditions you have on your term life policy application.
Based on your answers, the insurance company will decide if you still need lab work or medical records to get a policy. Honest and complete answers are a must because if they find you've hidden something on your application and you end up dying, your death benefit will most likely be withheld from your beneficiaries. And . . . that's the whole reason you're getting the insurance in the first place, right? Honesty is the best policy, and it'll help you get the right policy for you and your family.
Types of No Medical Exam Life Insurance
Is life insurance with no medical exam sounding pretty sweet? Great! But which one's for you? Let's go over the major types of life insurance coverage you can get without doing a medical exam.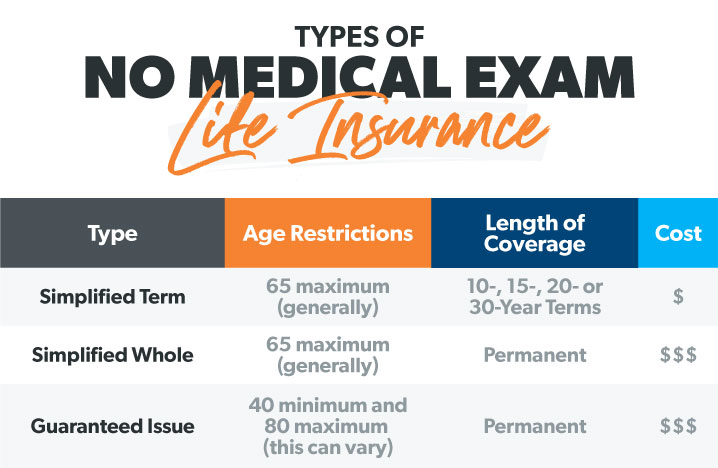 Simplified Issue
Who doesn't love simple? You can get both whole life and term life simplified issue policies, so let's go over each kind.
Simplified Term Life With No Medical Exam
The name says it all. These simplified term life policies let you get term life insurance (the kind of coverage we always recommend for both price and simplicity), but they don't require a medical exam. That's awesome! But even without the medical step, these policies do require applicants to answer a health questionnaire.
Simplified Whole Life With No Medical Exam
Again, the name helps here: You can apply for this policy without a medical exam by answering a health questionnaire. But we don't recommend whole life coverage at all. Why not? Because whole life insurance (sometimes called permanent life insurance) is one of the worst financial products on the market. It mixes two important jobs—life insurance and investing—and gives you a horrible payoff in both departments. Don't just skip the medical exam—skip whole life insurance completely.
Guaranteed Issue
Guaranteed issue is another no medical exam option, but the catch is that it's also one of the most expensive ways to get life insurance. To get a guaranteed issue policy, you get to skip the medical exam and the health questionnaire!

Compare Term Life Insurance Quotes
But the market for this kind of policy is pretty limited. It's designed to help people who would otherwise be uninsurable. In addition to the high price, many companies also impose a few basic limits for this type of coverage:
Age minimum: usually 40 years old
Age maximum: usually 80 years old
Coverage limits: typically from $5,000–100,000
Those aren't hard and fast rules, but if you're in that four-decade window of life, you could qualify for guaranteed issue.
Now, there's another wrinkle with this policy type you should know about. Guaranteed issue has what's called a graded death benefit. What's it all about? It means if you're the policyholder and you die shortly after getting the policy—say within three years—your beneficiaries would only get a portion of the full death benefit.
But it's life insurance coverage, and it has the fewest strings attached of any type. If you've been declined for other kinds of life insurance because of health problems, a guaranteed issue policy could get you enough coverage to take care of your final expenses.
Group Life Insurance
Group life insurance is a way to get a decent price on modest coverage through your employer (hence the word group in the name). Coverage amounts are capped pretty low, but it usually won't require a medical exam.
If no exam and discounted premiums sound good to you, you can opt in at open enrollment time. You can also add supplemental life insurance to your group coverage to make sure you have enough life insurance. Just be aware that adding more coverage often requires filling out a medical questionnaire.
How Does No Medical Exam Life Insurance Work?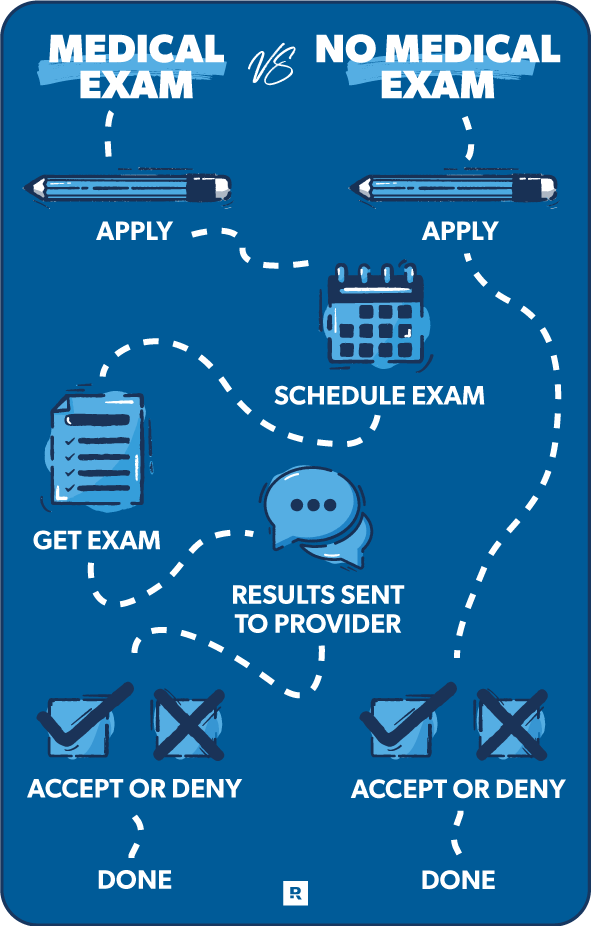 Remember when we mentioned the lower price point of term life as one of its main attractions compared to whole life? Well, what good is that if you have to pay higher premiums for the no medical version of term life? The good news is, you probably won't have to!
If you go for a term life policy without a medical exam, the price should still be pretty affordable—and it'll sure as heck beat any rate you'd get for a whole life policy.
So, how do these companies decide whether to cover people for life insurance without giving them the normal exam for height, weight and other basic health measures? The answer: technology. Yep! By using statistics and algorithms to analyze your questionnaire answers, insurance companies can offer the same competitive rates that used to require an exam with one less hurdle to leap.
Do I Qualify for No Medical Exam Life Insurance?
If you fall into one of the categories below, you could be a great fit for a no medical exam life insurance policy:
People who are pretty healthy and don't have a long medical history
Busy people who just want coverage fast but don't want to fool around with appointments and needles (relatable!)
Young smokers who don't have any other medical conditions
How to Choose the Right No Medical Exam Life Insurance Provider
One way to compare providers is to look at their AM Best rating—AM Best is an agency that rates a company's ability to pay claims over the long haul. (Just like in school, A-plus is excellent work.) You'll obviously want to compare prices as you shop too.
Compare No Medical Exam Life Insurance Providers
| | | |
| --- | --- | --- |
| Insurance Company | A.M. Best Rating* | Medical Exam** |
| American General Life Insurance Company | A | Yes |
| Banner Life Insurance Company | A+ | No** |
| Bestow | A+ | No |
| Lincoln National Life Insurance Company | A+ | No** |
| Pacific Life Insurance Company | A+ | No** |
| Protective Life Insurance Company | A | No** |
| Pruco Life Insurance Company | A+ | Yes |
| Savings Bank Mutual Life Co of MA | A | No |
| United of Omaha Life Insurance Company | A- | Yes |
*A.M. Best  is an agency that rates insurance companies on their ability to pay claims over the long haul. An A+ rating means this company has a "Superior" ability to pay out claims.
** All you have to do is answer a few health questions instead of setting up medical exams and blood tests. Depending on responses, you may still need a medical exam to obtain a policy.
We know finding life insurance can feel pretty overwhelming. With all the options out there, picking the right one can feel like finding an honest man in Congress. So, here's a handy tool and some of the top options for no medical exam life insurance to help you get started.
Protective Life
Protective Life was founded in 1907. Today, they provide life insurance coverage for millions of customers. A medical exam isn't required for some Preferred Plus applicants.
Lincoln Financial
Since its founding in 1905, Lincoln Financial has covered more than 17 million Americans. A medical exam isn't required for most Preferred Plus applicants.
SBLI
1907 was a popular time to start life insurance firms, and SBLI is another that launched that year. So far, they've protected over a million families with their life insurance. A medical exam isn't required for any applicant who qualifies.
Bestow
One of the newcomers to life insurance, Bestow was founded in 2016. A medical exam isn't required for any applicant who qualifies.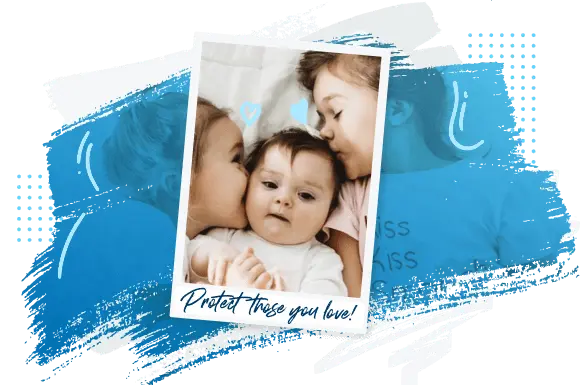 Get Term Life Insurance Rates from Zander Today!
RamseyTrusted partner Zander Insurance will get you rates from top life insurance companies and pair you with the one that fits you best.
See My Rates
Pros and Cons of No Medical Exam Life Insurance
Now that we've gone over the good and the bad, let's dig into some more details about no medical exam life insurance.
| | |
| --- | --- |
| Pros | Cons |
| Getting coverage without going anywhere | Not always an option for those with lots of health problems |
| Avoiding pesky home visits from a nurse | Coverage limit of $1 million |
How Much Life Insurance Can I Get With No Medical Exam?
If you qualify for no medical exam life insurance, you can get coverage up to $1 million. That sounds like a lot—and it is. But you'll need 10–12 times your annual salary in term life insurance to make sure your family can replace your income if something happens to you. So, if you make over $200,000 a year, you'll need more coverage than a no medical exam policy can provide.
Life insurance with no medical exam used to be more expensive than traditional policies, but not anymore! Both types of policies are pretty much the same price now. The exact monthly payment you'll get will vary depending on your age, medical history and other factors, though. Once you fill out your application, the insurance company figures out whether they can insure you and how much they'll charge for your policy.
Whole vs. Term: Which No Medical Exam Life Insurance?
While we're on the subject of life insurance, we also need to flesh out the differences between whole and term life insurance. Choosing the right kind is essential for protecting your money and your family.
Keep in mind, with or without a medical screening, term life is always better than whole life. Why? First, term is way cheaper. Second, life insurance has one job—to replace your income if you die. With term life, you're putting yourself and those you love in the ideal position. Term life will replace your income in case the unthinkable happens—and at a really affordable price.
As for whole life? It's a major rip-off! It's not only way pricier than term coverage, but it also mixes in bad investment products with the life insurance. And in the end, it doesn't do either of those things well. Medical exam or no medical exam, avoid whole life policies.
Whole vs. Term Life Insurance
To show just how bad of a deal whole life is, we did the math. Say you have $260 a month in your budget to pay for life insurance. If you paid $13 a month for a term life policy and invested the other $247 in mutual funds, you'd end up with $2.1 million after 40 years!
On the other hand, if you have a whole life policy instead, you'd be paying $260 a month for your premiums. About $245 of that would go toward the investing part of your whole life policy, but the returns would be way less—only about $179,936 after 40 years. That's a pretty big difference.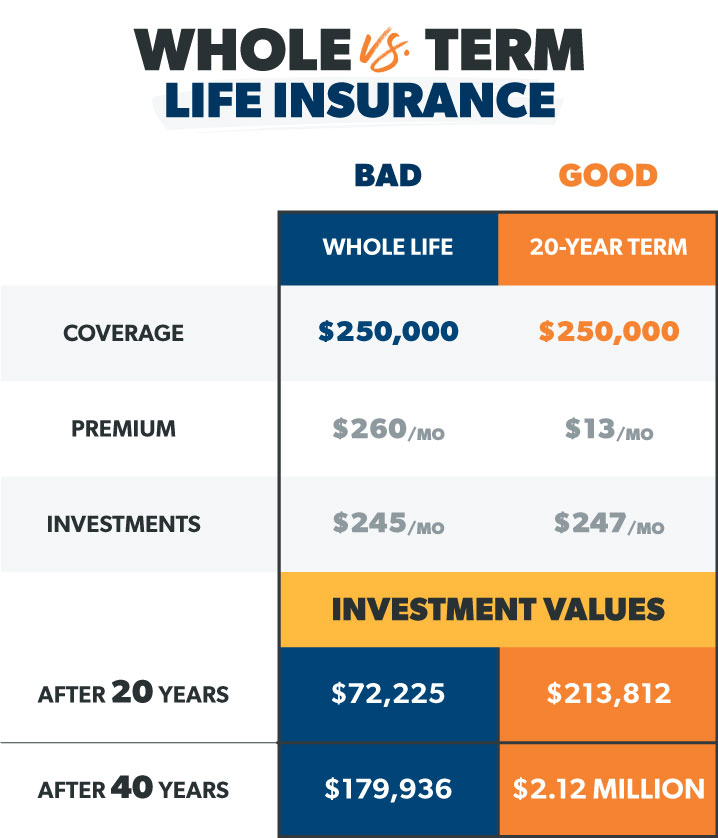 Monthly Cost by Age
| Term Life | Whole Life | Savings |
| --- | --- | --- |
| $12.18 | $142.12 | $129.94 |
| | |
| --- | --- |
| Term Life | $12.18 |
| Whole Life | $142.12 |
| Savings | $129.94 |
Rates displayed are based on a $250,000 policy for non-smokers in the Preferred Plus health classification; term life quotes are from Legal & General (20-year term length) and whole life quotes are from Transamerica. Individual rates will vary based on applicant-specific information.
Use a Provider You Can Trust
Getting life insurance just got easier. You now have one less excuse to go ahead and get your family set for life in case something ever happens to you. For a small amount of money per month, you can get coverage that'll give you peace of mind knowing your family's protected. We recommend RamseyTrusted provider Zander Insurance. Get your term life policy started today.
Interested in learning more about life insurance?
Sign up to receive helpful guidance and tools.
Can you get life insurance without a medical exam?

Yes! Although you might assume this kind of coverage would for sure require some prodding and poking, technology has made those methods optional. Many carriers can now use algorithms to see if you're a good fit for coverage. Check out our no medical exam assessment tool above.

Should I get no medical exam life insurance?

The short answer? Yes—as long as you don't need more than $1 million in coverage. If you meet the right criteria, no medical exam policies are great. They can save you the time and hassle of a medical exam. Plus, they're affordable. It's a win-win-win.

Is there a waiting period for no exam life insurance?

No. You can apply as quickly and easily for no exam coverage as you would for a medically underwritten policy.

Can seniors qualify for no exam life insurance?

For simplified issue, the maximum age for coverage is generally 65. But it's possible for people up to age 80 to qualify for guaranteed issue.

Can you borrow money from a no medical exam life insurance policy?

You might be able to do this with some whole life no exam policies. Then again, why would you ever want to borrow money? Especially your own money? And you'd never want to get a whole life policy unless it was the only type of insurance you can get approved for!

Does no exam life insurance have term and whole options?

Yes. But that doesn't mean getting whole life is a good idea. With or without an exam, always go for level term life coverage that's worth 10–12 times your annual income.

Is no medical exam life insurance worth it?

We think it is! Life insurance is one of the best and most affordable ways to protect your family's future. And skipping the medical exam makes the whole process more convenient.

How long does a no exam life insurance policy last?

If it's a term policy (and it should be), it'll last for 10, 15, 20 or 30 years. If you make the mistake of buying whole life, it'll last your whole life (unless you let the policy lapse by not paying for it).

Who is the beneficiary?

The beneficiary is the person who you choose to receive the death benefit from your life insurance policy after you die.

Who is the policyholder?

The policyholder is the person covered by the life insurance policy (so, probably you).

How long do you have to claim life insurance?

There's usually no time limit on this. After all, survivors who lose a loved one need as few things as possible to worry about as they grieve.

Does life insurance pay for death by suicide?

Often it does. There are exceptions, though. Many policies have a clause stating that if the policyholder commits suicide within two or three years of the policy being written, the insurer can deny the claim.

Can you get life insurance if you have cancer?

Yes, you can. But you may see fewer options, higher premiums or lower coverage limits.
Did you find this article helpful? Share it!