Lead your team and grow your business with EntreLeadership Elite.
Build a healthy culture, create a strategic plan, and scale your business the Ramsey way.


Business isn't easy. It takes passion, grit, and a lot of hard work. How do we know? We've been there! In fact, our CEO Dave Ramsey grew his company 30 years ago from a card table in his living room to a thousand team members and hundreds of millions of dollars in revenue. And now we've taken those principles and turned them into EntreLeadership Elite—a system to help you run your business the Ramsey way.

Elite will help you:
Connect with your team.
Keep a pulse on your team's workload, stress level and morale.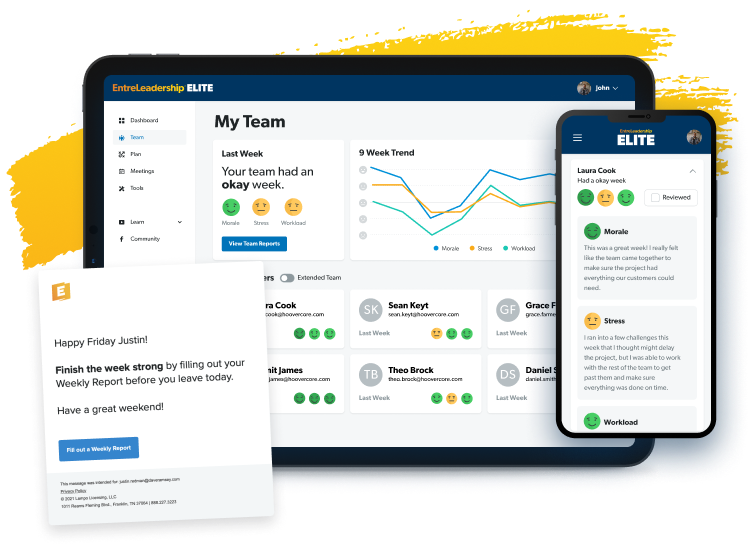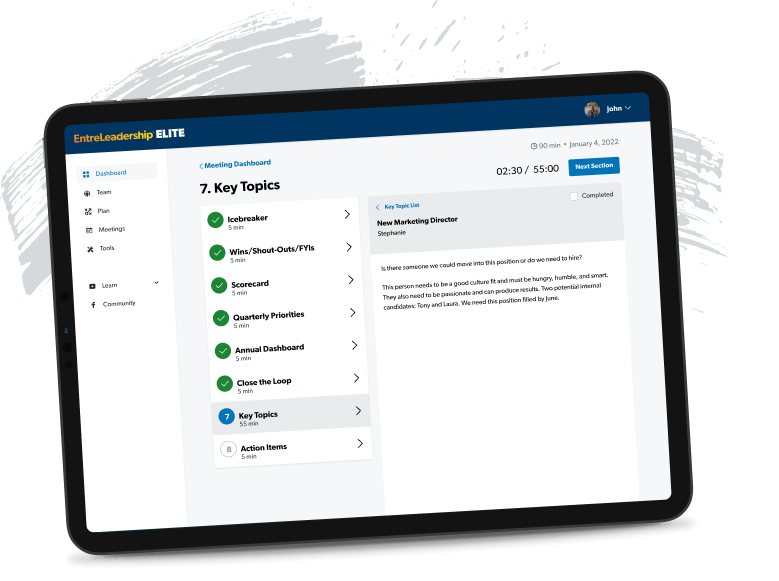 Run your meetings.
Lead effective meetings that are worth your time.
Create a strategic plan.
Determine your desired future, defining objectives and key results.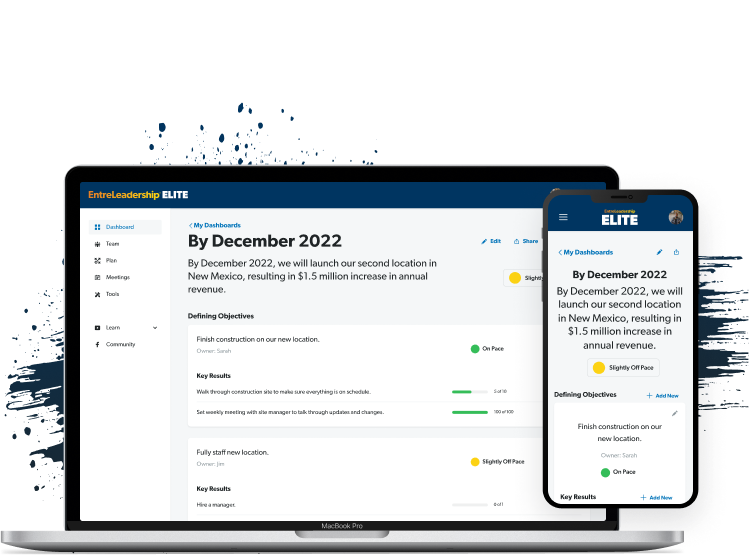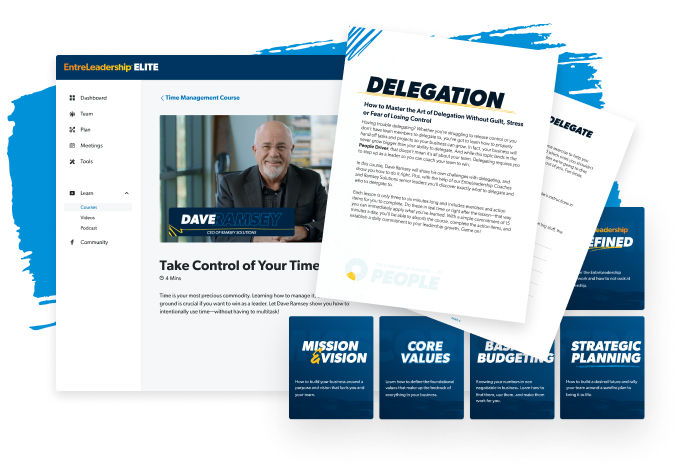 Grow as a leader.
Get equipped to lead by implementing proven EntreLeadership principles.


Join the thousands of business owners using EntreLeadership Elite.
1. Become an Elite member.
2. Start implementing the Elite system in your business.
3. Lead your team and grow your business with confidence.

Get started with EntreLeadership Elite.
Join Elite
Pay $0 today with your 30-day free trial.
Cancel anytime. No hassle.
$250 a month after the 30-day free trial

Includes:
Weekly Team Member Feedback
Strategic Planning Dashboard
Leader Meeting Tool
Video Courses and Training
Weekly Live Coaching
Exclusive Facebook Community



Common Questions (and Answers)

What is the commitment when I join Elite?

There is no commitment, and you can cancel at any time. However, we recommend members staying for at least 3 months before making the decision to cancel. This allows you and your team time to implement the tools inside of Elite and gain momentum in your business.

How do I start my free trial?

Click here to create your Elite account and enter your payment information. Once your 30-day trial ends, $250 will be charged monthly to the payment method you used to create your Elite account. And don't worry, we'll remind you before your trial ends so you have time to cancel your subscription. But we really hope you'll keep growing your leadership and your business with us!

What businesses use Elite?

Elite is designed for businesses in all industries including construction, technology, medical, real estate and more.

What topics are covered in the video courses and training?

Inside Elite, you'll find videos on a variety of topics to help you grow your business and your leadership. These topics include time management, hiring, delegating, budgeting, strategic planning, and mission and vision—just to name a few!

What is the Strategic Planning Dashboard and how does it work?

At Ramsey Solutions, our leaders create a desired future for their strategic plan—and we've recently rolled this tool out inside of Elite to help our members get clarity and alignment on where they're headed. Your desired future includes a statement (where you're going), defining objectives (how are you going to get there), and key results (how it's working).

How do I get weekly feedback from my team with Elite?

Every Friday, your team members will be sent an email with a link to a survey where they can rate their morale, workload, stress level, and highs and lows of the week. You'll then have access to the reports so you can address any issues as soon as they come up. This is a great way to improve communication and trust with your team.

How many team members can operate under my account?

When you join Elite, you will be given one account. However, you'll be able to add any number of team members for the weekly feedback.

What is the Leader Meeting Tool and how does it work?

Ever been to a meeting that felt like a waste of time? With Elite, you'll be able to keep your leader meetings on track with a timer, topic list, notes section, and the ability to mark a discussion item as complete. It's a total game changer for leading effective meetings!

What if I have more questions?

What if I don't want to continue my membership after the free trial ends?

If you don't want to continue your Elite membership beyond the free trial, you can simply log into your Elite profile, click the drop-down menu on the top right corner, and click Manage My Ramsey Account. From there, click Update Subscriptions, and then click turn off auto-renew.