We look forward to all kinds of days throughout the year—birthdays, Christmas, the first day of spring, National Pancake Day. But there are some days we'd rather skip. We're looking at you, Tax Day.
The irony about Tax Day is we don't really "pay" our taxes on April 15 (April 18 in 2023). In fact, by Tax Day, most U.S. workers have had enough money withheld from their paychecks throughout the year to cover their taxes. When you file a tax return, you're simply telling the IRS you overpaid or underpaid your taxes.
But what if you're self-employed and don't have an employer to withhold your taxes? Well, it's your responsibility to pay the IRS directly. And if you earn over a certain amount, that means you'll have to pay quarterly or estimated taxes.
Quarterly taxes are estimated tax payments made to the IRS four times a year. But taxes are never as simple as they sound.
Let's dig a little deeper.
What Exactly Are Quarterly Taxes?
Depending on how much self-employed income you earn, you could have not one, but four "Tax Days" during the year. Bummer.
Quarterly taxes are divided into two categories:
Self-employment tax: This 15.3% tax is made up of both the employee and employer portions of the Medicare and Social Security taxes.1 When you're a salaried employee, your employer will split the cost of those taxes with you. But when you're in business for yourself, you're responsible for the whole thing.
Income tax: You'll pay taxes on your income at your income tax rate, just like everyone else.
Your tax bill can add up pretty quickly, so you should set aside 25–30% of every paycheck for taxes if you're self-employed. You don't want to get blindsided by a huge tax bill. Ever seen a quarterback looking to pass and then getting crushed by a lineman? That's what a surprise tax bill feels like.
Who Pays Quarterly Taxes?
Freelancers, independent contractors and small-business owners who expect to owe at least $1,000 in taxes from their self-employed income are required by the IRS to make estimated tax payments.

Got small business tax questions? RamseyTrusted tax pros are an extension of your business.
If you owe less than $1,000, you can just pay your taxes on that income when you file your tax return at the end of the year.
It doesn't take long to rack up a $1,000 tax bill, so even a side hustle could complicate your tax situation. If you have a regular job and don't want to mess with quarterly payments, you can increase your withholding at your job to offset taxes earned from your side hustle.
If you're not sure if you'll need to pay quarterly taxes, you should reach out to a tax professional who can help you figure out which camp you fall into. If you wind up owing a significant amount of taxes and didn't pay quarterly, you may have to pay an underpayment penalty on top of the taxes you owe. So, don't overlook this!
When Are Quarterly Taxes Due?
If you're one of the many Americans who need to file quarterly, circle these deadlines on your calendar or set reminders on your phone so you don't forget to pay on time! If you're late on a payment, you'll be hit with interest and late payment penalties each month that could go as high as 25% of your unpaid taxes.2 Quarterly deadlines are April 15, June 15, September 15 and January 15 unless those days fall on a weekend or holiday.3 Here are the 2023 quarterly deadlines:
| | |
| --- | --- |
| When You Get Paid | Tax Due Date |
| Jan. 1–March 31 | April 18, 2023 |
| April 1–May 31 | June 15, 2023 |
| June 1–Aug. 31 | Sept. 15, 2023 |
| Sept. 1–Dec. 31 | Jan. 16, 2024 |
How Do I Figure Out How Much I Owe in Quarterly Taxes?
All righty, it's time to dust off your calculator and crunch some numbers! Here's a step-by-step process to help you figure out how much you'll need to pay in estimated quarterly taxes. Remember, this is just an estimate. Depending on your income, the tax year, your filing status and eligible deductions, your quarterly taxes will vary. And don't get us started on state income taxes!
Step 1: Estimate your taxable income this year.
Let's say you're filing single and have a small business that you expect will bring in $50,000 in self-employed income. After deducting your business expenses, you estimate your taxable income will be about $35,000.
Step 2: Calculate how much you'll owe in income and self-employment tax.
Using our example, your income falls into the 12% tax bracket. That means your income up to $10,275 is taxed at 10%, and your income between $10,275 and $41,775 is taxed at 12%. Assuming you take the standard deduction ($12,950), which lowers your taxable income to about $22,050, you'd owe about $2,440 in income taxes.4
And as we mentioned earlier, the self-employment tax is generally 15.3% of your net income—so that means you'll owe another $5,355 for the year. Add your income tax and self-employment tax together, and you'll get to your estimated taxes for the year. In this case, your total estimated tax bill for the year is $7,795.
Income Tax: $2,440
+ Self-Employment Tax: $5,355
Estimated Annual Taxes: $7,795
Step 3: Divide your estimated total tax into quarterly payments.
Since you owe more than $1,000 in taxes, the estimated annual tax is what you're going to base your quarterly taxes on. All you have to do is divide that total amount into four quarterly payments you'll pay to the IRS every three months. In this case, that would be $1,949.
$7,795/4= $1,949
Step 4: Send an estimated quarterly tax payment to the IRS.
Now that you've figured out your quarterly tax payment, all you have to do is pay Uncle Sam! You can pay your quarterly taxes several ways:
And there are a couple more things to remember. First, the taxes above are just an estimate. You still need to file a tax return by Tax Day to show what you actually made during the year. This is also when you can claim credits and deductions that lower your tax bill.
And second, if business is going well and you see that your income is going to be higher or lower than you thought it would be, you can always adjust your estimated taxes each quarter.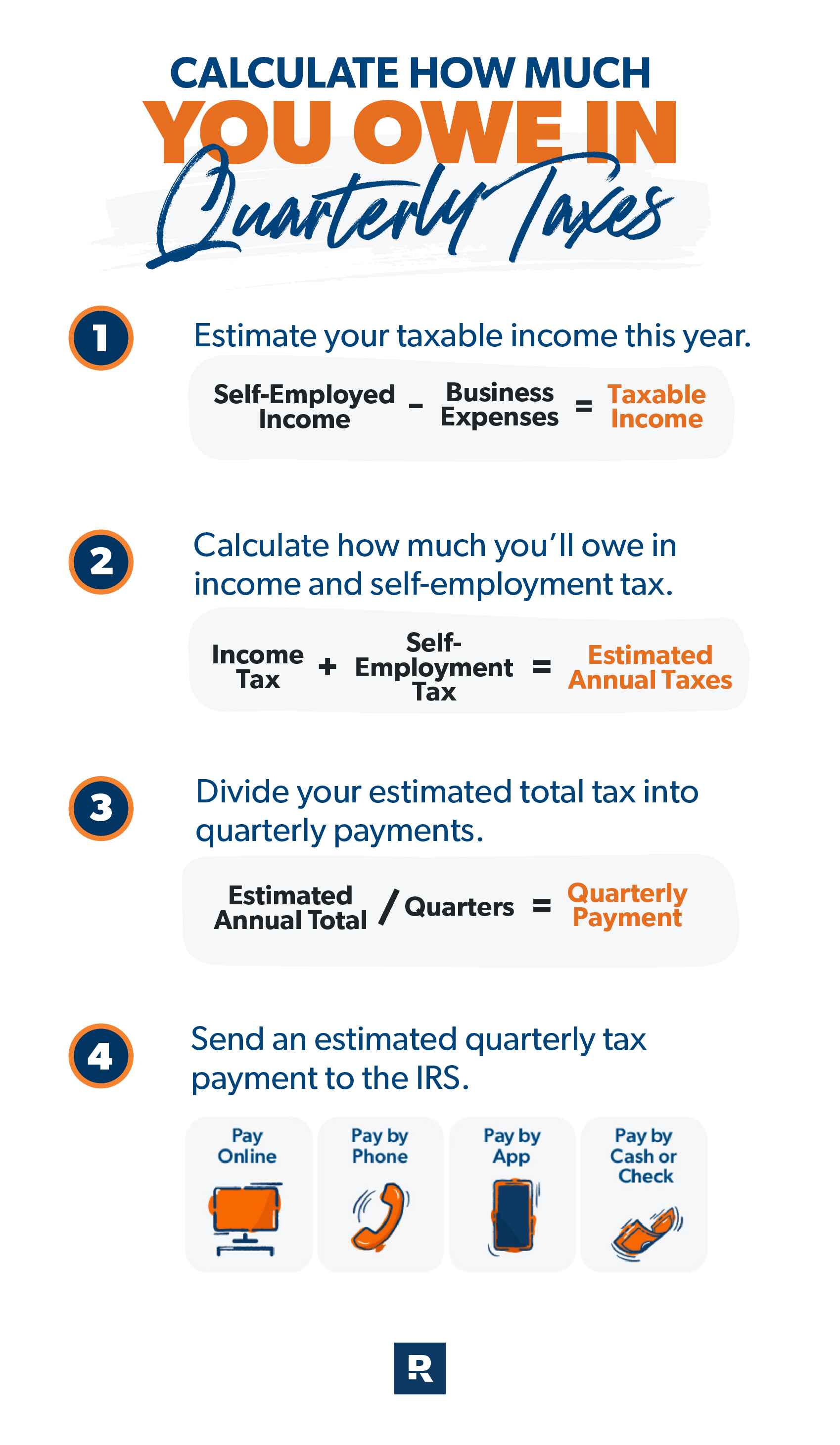 Get Help With a Tax Pro
Still have questions about whether you'll need to pay quarterly taxes to the IRS? Or is your head swimming thinking about making estimated payments?
We know just the right tax pros to help you set up your quarterly taxes with confidence. Whether you're a small-business owner or an individual filer looking for some guidance, our Endorsed Local Providers (ELPs) can help. They're RamseyTrusted and will figure out your tax situation so you can get back to doing the work you love most.
Find a tax professional in your area today!
If your taxes are simple enough to do on your own and you want an easy-to-use tax software that can give you some peace of mind, check out Ramsey SmartTax! No hidden fees, no advertisements, no games. That's how it should be!