New home fever starts innocently enough. Maybe you take a Sunday drive around your favorite up-and-coming community. Next thing you know, you're parked in front of the model home, following the scent of fresh paint and hope-filled dreams up the sidewalk. As soon as you walk through the front door, the sparkle and shine will dazzle you into a decision.
Not so fast! Building a home may be an easy way to get what you want, but there's more to it than picking a floor plan with all your favorite colors and finishes. Before you open that door, consider these dos and don'ts for making your new home purchase a smart one.
Don't Assume the Sales Center Agent Has Your Back
The builder's sales center agent may be friendly and super-helpful about showing you options for your new home, but it's their job to fetch the highest price for the builder—not to help you make wise decisions.
That's why you need a buyer's agent—a real estate pro who is on your side and represents your best interests in the home-buying process. With their inside track on market conditions, your agent can help you get the most for your money by negotiating a lower price or scoring premium upgrades without adding to your bottom line. Just remember to register your agent at your first meeting with the builder to ensure your agent has a seat at the negotiation table.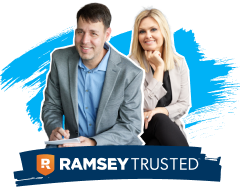 With the right agent, taking on the housing market can be easy.
Buy or sell your home with an agent the Ramsey team trusts.
Connect for Free
Don't Rely on the Builder's Inspection Team
If you think buying brand-new comes with a free pass from Murphy, think again. Your home was built by humans, and humans make mistakes!
So don't give your builder home-court advantage by handing over control of the inspection process. Hire a qualified inspector to look beyond the fresh coat of paint to make sure your dream home isn't hiding any nightmares.
If any problems arise, your buyer's agent can help resolve the issues in your favor. After all, a smart home builder knows a happy agent brings more business.
Do Take Advantage of Expertise
A trustworthy buyer's agent does more than take you for a spin through the model home and show up at closing. It's their job to help you find the home that's right for you. With a network of resources at their fingertips, your agent can give you a big-picture view of your options with resale value in mind. For example:
Does the builder have a reputation for quality?
Which upgrades provide the most bang for your buck?
How does this neighborhood stack up to others in the area?
Could the property across the street become the next big strip mall?
If you're considering buying a newly built home and need a pro's advice, try one of Dave's real estate Endorsed Local Providers (ELPs). Your ELP has the heart of a teacher and will go to bat for your best interests.
Did you find this article helpful? Share it!