So, you're ready to upgrade your home. Let's say you hire a home contractor to remodel the kitchen. Imagine the finished product: smooth granite countertops, durable hardwood flooring, recessed lights sprinkled throughout the ceiling, custom cabinets complete with a concealed trash bin, and a spacious multifunctional island.
All of a sudden, your house feels more like home—not to mention, the new remodel likely boosted your home value. And whenever you decide to sell your home, all that money will go into your pocket. Sounds awesome! Right?
There's just one problem. The project costs tens of thousands of dollars! That means you can't afford to hire a sloppy home contractor who might mess it up. If you do, it will cost you even more money to fix it.
Instead, get the project done right the first time by knowing how to hire a home contractor the smart way. We'll show you how.
Follow these steps!
1. Let Your Budget Be Your Guide
Okay, before you search for a home contractor, decide which project you want done and how much money you're willing to spend on it. Then, save up the cash and stick to that budget. This will help you narrow down your list when you start collecting cost estimates from local contractors.
Obviously, the price will depend on the size and goals of your project. Ask yourself:
Do I want a full-scale home remodeling project?
Can I focus on one particular room?
Am I willing to spend more money for higher-quality materials?
Can I be happy with materials that are less pricey?
Is there any part of the project I can DIY?
These questions will help you get an idea of how much cash you need to save for your project. Keep in mind that borrowing money to finance the project is the worst thing you can do when it comes to hiring a home contractor. Why? Because debt is dumb, and home projects typically don't even earn back enough money in home value to make up for the cost. You never want to go into debt to remodel, even if you think you'll make the money back eventually—only do what you can afford.
Consider, as an example, the typical cost to remodel a kitchen: nearly $23,000. That usually adds a little more than $18,000 to your home's value, which is only an 80% return on what you spent.1 In other words, you lose more than $4,000! And if you finance the project, you'll be in debt and lose even more money due to interest and fees. Bad idea.
If you really want to remodel, tighten up your budget, find a side hustle, or ask for a raise. In other words, do whatever you need to do to pay for this project in cash. You'll be happy you did!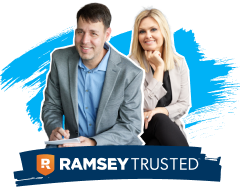 With the right agent, taking on the housing market can be easy.
Buy or sell your home with an agent the Ramsey team trusts.
Connect for Free
2. Search for the Type of Home Contractor You Need
Now you're ready to look for home contractors. To help your search, make sure you're familiar with the different types of professionals out there. Here are a few:
Specialty contractor. This is someone who specializes in building or installing things like windows, cabinets or features that belong to a specific type of room. You might hire a specialty contractor to handle a single project, like a room remodel or addition.
General contractor. This is someone who manages every aspect of a home project but hires subcontractors to complete the work. You might hire a general contractor to handle projects that affect more than one room.
Design-build contractor. This type of contractor has their own in-house team of architects who design a set of plans and construction workers who build the project. You might hire a design-build contractor for a full-scale home remodeling project.
Great! Now you know which type of home contractor you need. But how do you find one? Try these tips:
Ask family, friends and coworkers who recently did a home remodel for a referral.
Do a Google search for "home contractors near me," or something more specific to your project like, "kitchen contractors near me."
Use websites that rank local home contractors like Angie's List, Yelp, Better Business Bureau, Thumbtack and Houzz.
Send out a social media blast to all your followers to see if anyone can recommend a good general contractor for your project.
Aim to collect around 10–15 potential contractors. Depending on where you live, some of the contractors on your list might turn out to be too busy to take on new business. So, you'll want plenty of options to choose from before you start narrowing down your list.
3. Compare Home Contractor Profiles
As you're scanning through home contractor websites and reviews, there are a few smart ways to keep the ones you want on your list and toss out the ones you don't want. You want to keep the contractors who specialize in the service you want done. If you're adding a bathroom, it should say somewhere on their website that they do bathroom remodels. Also, they should have a large portfolio that showcases before and after photos of their work.

Find expert agents to help you buy your home.
You can also use rating and review systems to help you choose. Look for the contractor who has the highest ratings given by the largest pool of reviewers. Don't be fooled by a five-star review given by only one or two reviewers—those might've been entered by the contractor and his mom.
Use this process to help you narrow down your list to six or eight independent contractors.
4. Check Their Insurances and Certifications
You'll also want to make sure the home contractor you hire has certain insurances and, depending on your home project, specific certifications. Sure, insurance isn't the most exciting thing to check for in a potential contractor. We get it. But you'll be surprised by how "exciting" things become when an uninsured contractor files a lawsuit against you for an injury that happens on the job.
So, ask if your contractor carries these insurance policies:
Workers' compensation coverage. This covers your contractor so they don't sue you for getting hurt on your property.
You'll also want to understand some of the abbreviations listed on a contractor's profile. These usually show that the contractor holds certifications or memberships that could benefit your project. Here are some common ones you might find and what they mean:
NAHB (National Association of Home Builders): Members of this organization aim to improve everything that goes into building or remodeling a home in order to make housing safe, comfortable and affordable in America.
CGR (Certified Graduate Remodeler): This certification tells you that your remodeler has taken courses to improve how they manage job costs, contracts and scheduling.
CAPS (Certified Aging-in-Place Specialist): This shows your contractor has completed courses on how to serve seniors who want to modify their homes as they age.
Take a look at the contractors on your list to see if they have the insurance policies and credentials that would best serve your project. After this, you should be down to four or five contenders.
5. Contact References
Alright, time to bring out the big guns! Ask your remaining list of home contractors for some references. You're looking for people you can contact who the contractor has already served—especially those who had a similar home project as yours. Try to get some contacts from a year or so ago to ask them how the project has held up over time. Also, try to contact someone who had a project completed more recently to make sure the contractor's excellent service is still consistent.
Here are some questions to ask:
Was the project done right and on schedule?
Was the cost fair?
Was the contractor on time?
If problems came up, how were they handled?
Was the jobsite kept clean?
Are you still happy with the work?
If possible, see if any of the references will allow you to visit the completed project in person. Sure, it might feel a little awkward to ask if you can check out their home. But if they are really proud of the work the contractor did, they might be excited to show it off. If you get the green light, set a date and take a close look at the remodel. If it was a paint job, check for streaks and floor splatter. If it was cabinet or tile work, check to see if anything is crooked or cracked. Doing this will give you a really clear idea of what it could be like to have your project done by that particular home contractor.
6. Get Bids and Review Proposals
By this point, your list should be down to three promising home contractors. Now you're ready to talk about price. That's right, folks, bust out that budget! Invite each contractor to visit your home to look at what needs to be done. Then they will be able to give you a bid and proposal.
The proposal will include things like:
Project description
Project timeline
Types of materials
Total cost
Payment schedule
Ways to handle potential additional costs
How do you know which bid to choose? That depends on your budget and overall goal for the project. First, only stick with bids that are within your budget. We already covered in #1 why you shouldn't borrow money—debt is dumb! Next, remember why you're doing this. You might be tempted to go with the lowest bid, which would be fine. But if the lowest bid is low because of cheap materials, make sure you won't be unhappy by the look of the finished product.
Tip: If all the bids come in higher than you budgeted for, talk to each contractor about options to decrease cost. You might be able to drop one or two of their services for a lower cost if you feel like you can DIY parts of your project. If not, you'll have to delay your project until you can save up enough money to afford the service. Trust us, it'll be worth it.
7. Prepare Your Home for Construction
Congratulations! You found yourself a solid home contractor. Now, to get the ball rolling, prepare your home for construction. Here are some tips to help everything go smoothly during your home remodeling project:
Know what you want. Save time by selecting what types of materials, colors and styles you want for your home project before work begins.
Establish good communication. Ask your home contractor to give you a point person between their work crew and your family. This way, the workflow won't be interrupted if minor issues come up.
Clear the jobsite. Make space for the work crew by removing any of your fragile or valuable items from the jobsite. Also, let the crew keep their work supplies on site so they don't have to unpack and repack each workday. This will help the project go smoother and faster.
Consider your neighbors. Let the work crew know where your yard ends and the neighbor's yard begins. You don't want them accidently leaving materials on your neighbor's lawn.
8. Do a Final Walk-Through
Once the project is pretty much complete, make sure you schedule a final walk-through with your home contractor. This is a time to examine the project together and address anything that isn't quite finished. If everything is good to go, there are some legal documents to sign that will safely close the relationship between you and your contractor. You might be handed something called a "final payment affidavit" or "lien waiver." These are legal documents that basically act like a receipt. Signing them is a safe and legal way to state that your contractor is paid, and you are happy with the work that was done.
Get the Most Money for Your Home!
Now you know the smartest way to hire a home contractor. Your home project will probably interrupt your life for a bit, but don't forget the end result and why you're doing a remodel in the first place. That will make it all worthwhile! If you're remodeling to sell and you want even more confidence to get the highest value for your home, get advice from a real estate agent in your area. To find an agent who cares about your financial goals and knows how to negotiate the best price for your property, try our Endorsed Local Providers (ELP) program.
Did you find this article helpful? Share it!