So you've decided it's time to buy a new home. Awesome! Can you see the light pouring in from the windows of your shiny new kitchen and hear the family laughing together in your new living room or smell the fresh mulch sprinkled over the backyard garden?
There's just one problem: How the heck do you find this perfect home?
Well, home buyers have a world of information at their fingertips nowadays. In fact, 93% of them reported that websites were their most useful source of information.1 And of those who ended up purchasing, 50%—that's right, half of all buyers—found their home online.2
But is it really that easy? Can you find your dream home online with the click of a button? Well, it may be easier now than ever before to find a home—but that doesn't always mean it's the one that best fits your family and budget.
Follow our steps below to feel confident about finding your perfect home online.
Smart Steps to Take Before Your Online Home Search
Are you itching to get your thumbs on the best home search app? Hold your horses! If you want to find your perfect home, you need to define what perfect means. No, it shouldn't mean a carpet color or a white picket fence. The perfect home for you is one you can actually afford. This is important to know before you go swiping through all the pretty pictures online.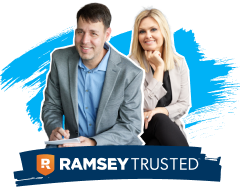 With the right agent, taking on the housing market can be easy.
Buy or sell your home with an agent the Ramsey team trusts.
Connect for Free
Here are the first steps to set up your house hunt for success:
Know how much house you can afford. If you're able to pay in cash, do it. If you're getting a mortgage, don't buy a house unless you know the mortgage payment will be no more than 25% of your take-home pay. That includes private mortgage insurance (PMI), homeowners association (HOA) fees, property taxes and homeowner's insurance.
Save for your down payment. Save at least 20% (or absolutely no less than 10%) of the total house price to avoid paying PMI—unless you enjoy paying extra in interest and fees. Use our mortgage calculator to enter your down payment amount and try out different home prices within your budget.
Get a mortgage preapproval. A mortgage preapproval tells the seller you're a serious buyer and signals the process will go faster if they choose your offer. Sure, you can submit an offer on a home you found online without a mortgage preapproval. But if your offer is up against preapproved buyers, the seller is probably going to choose one of them over you.
If you have questions about any of these steps, our free Home Buyers Guide has all the answers you need to help along the way! Ready? Now let's break down the smart way to search for homes online.
How to Find a Home Online
Okay, if you're serious about buying a home, make sure you're looking at data from a multiple listing service (MLS). An MLS is a private database of available homes for sale—compiled and managed by real estate professionals.
These pros make their living based on the status of these listings. In other words, they're going to make sure the MLS data is 100% accurate and up-to-date. That's why it's best to work with an agent from the start.

Find expert agents to help you buy your home.
But if you want to search solo for a while just to get some ideas, online services like Zillow, Trulia and Realtor.com have become extremely popular for house hunting. In fact, they're so popular that many MLS brokers strike a deal with them to get their listings added.
Now that some websites include MLS data, potential buyers like you can do everything from view photos of a home to check the property tax history. You can even schedule a private tour of the house—all before stepping foot through the door.
If you decide to go it alone with an online search, keep in mind that you'll come across some points in the home-buying process where technology can't help. That's when you definitely want the expertise of an agent.
So, let's walk through an example to explore the benefits of websites that rely heavily on MLS data and show how you can use the best of both worlds to make the most of your home purchase.
Start Your Online Search
Say you're looking for a three-bedroom home under $200,000. You find all the basic nuts and bolts you need to know about a home (from photos and features to schools and a brief property history) at the first site you check because it has plenty of listings with MLS data.
You make a list of your 10 favorite homes to ensure you still have choices if any contenders get snatched up by other buyers.
Do Your History Homework
Now it's time to dig a little deeper into the past and do a background check on each home. Take notes about:
How long (and how often) the home has been on the market
Price changes since the seller listed the home
The number of foreclosures in the area
How much you can expect to pay in property taxes
Neighboring homes that recently sold
You decide to pass on one home after discovering it's in a neighborhood with a few recent foreclosures. With nine homes remaining, you broaden your view.
Check Out the Neighborhood
Let's suppose you're married and expecting your first bundle of joy but you still like to keep an active lifestyle, so finding a safe neighborhood with great schools and lots of things to do is a high priority. With your favorite homes in hand, you choose to explore the area around each house in more detail.
Using the heat map features found on most real estate sites, you can check to see how each neighborhood stacks up by looking at these key factors:
Schools. Even if you don't have kids, the school district will affect your home's value when you eventually decide to sell.
Crime. Has there been a recent uptick in crime? Check the surrounding neighborhoods too—you don't want to mistake a sweet deal for one that puts your family at risk.
Commute. If you use public transit, is there a stop nearby? If you drive to work, a 45-minute commute might sound okay now, but how will you feel about it after a few years?
Bring in an Expert
Ditching the first two homes, you decide to find a real estate agent. You already know the internet is a great place to start your home search, but nothing can replace the local expertise of an experienced agent. With instant access to homes as they come on (or off) the market, an agent can provide real-time updates to help you beat other buyers to the punch.
Your agent guides you from search to success by sharing expert insight into each home's pricing and potential, negotiating a great deal, and handling all the paperwork. When all is said and done, you feel confident knowing you made the decision that was right for you and your family.
That's what it looks like to find your perfect home online.
Get the Best Deal on the Home That's Right for You
Are you looking for an expert to save you time and money on your new home? Remember: Your search might start online, but it's hard to find the perfect fit unless you're willing to hit the pavement and partner with a pro.
Connect with a real estate agent in your area who shares your values so you can have the best experience finding a home you love.
Did you find this article helpful? Share it!