The Pros and Cons of Outlet Stores: Are You Really Saving Money?
6 Min Read | Oct 26, 2022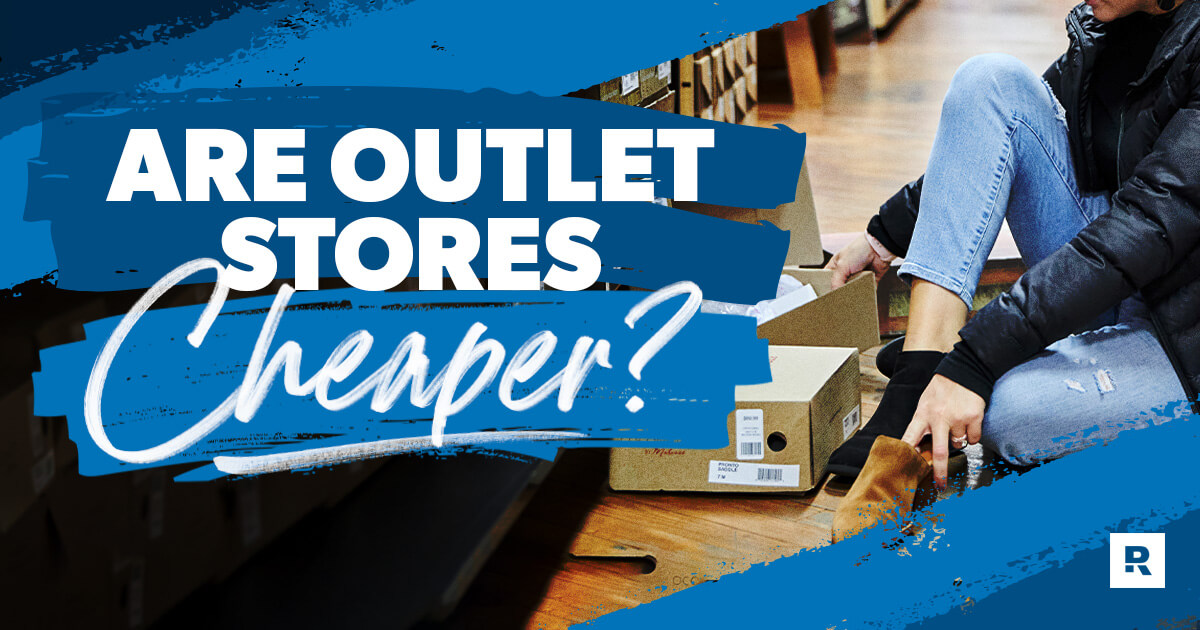 Outlet stores (the actual, physical, brick buildings) used to be all the rage for shopping enthusiasts. Some tourist towns were even built on the money that comes pouring in from rows and rows of giant outlet stores. But we have to wonder, are they really the best deal? Is the time spent driving there, swiping through hanger after hanger, and getting elbowed in the face by hard-core deal-seekers worth it? Are outlet stores cheaper in the end?
It's time to talk about the pros and cons of outlet stores and find out if you're really saving money when you shop.
Do Consumers Really Save?
So, are outlet stores really cheaper? Let's dig into some pros and cons:
Pro: Usually, consumers do score a discount at outlet stores. (Cha-ching.) It's sometimes right there on the tag—a retail price and then the satisfying slash through and sale price. So, if you don't want to pay top retail price on items, then the outlets might be worth it.
Cons: When you're in a physical outlet store, you can't price compare that item to other sale prices in other stores. Maybe that markdown is so good it seems like it just has to be the best deal. But it might not be.
When you shop online, you can have multiple browser windows up at once to see if the low, low price on one site happens to be lower, lower on another. It's so easy to make sure you're getting the best deal around.
Also, let's be honest: It can be pretty tempting in the heat of the moment in an outlet store to get swept up into all those slashed prices. And sometimes you end up walking out with a double-decker toaster oven, three off-white sweaters, and a Halloween costume for a cat . . . when you don't even have a cat.
This is impulse buying at its best. (Or should that be worst?) Listen. Buying things you don't need just because they're on sale isn't money-saving. It's money-wasting.
Is the Quality the Same?
Next, let's talk about what you're paying for. Because sometimes cheap means cost—and sometimes it means quality.
Pro: Some outlet stores offer the exact same products, brands and quality of regular-priced stores. Maybe they had an overstock situation. Maybe the item is now off-season. In these cases, you can get a discounted, high-quality item!
Cons: On the other hand, sometimes the big brands are pumping out product lines specifically for their less expensive locations. They know you aren't planning to pay full price here, and they often don't stock the full quality product.
Also, the items might be at the outlet store because they're flawed in some way. This could be a great deal for you—if you spot the problem, can fix it, and know you'll still save money in the end.
But we stuck this in the con side of things here because it is something you need to be aware of and can mean extra work.
Is It Worth the Drive?
Let's wrap up our pros and cons list by talking about transportation.
Pro: Outlet malls have come and gone with popularity. Used to be, you had to drive to nearly the middle of nowhere to find one. Then they moved to more popular bustling city locations. Now, they're kind of dying off again.
If an outlet mall is near where you're already going to be, then an extra five minutes to that parking lot is no big deal.
Cons: Making a five-hour drive to hit up a bunch of outlet malls, though? Not your best money-saving move.

Start budgeting with EveryDollar today!
For one, gas is expensive. So any savings you rack up at the store could be a wash (or a loss) after you consider what you spent driving there.
For two, after such a long drive, you might feel pressured to buy more because, after all, you went to a lot of effort to get there!
Either one of these cons can mean you'll spend far more money than you'll save.
How to Really Save at Outlets:
So, if you've weighed the pros and cons of outlet shopping and you've decided it's a good money-saving move for you, use these three tips to make sure you're saving:
1. Price Check
Even though you're in a physical store, get out your phone and do some price checks on items to see if they're actually the best deal.
2. Make a Shopping Plan
Don't hit store after store aimlessly looking for a deal—any deal. That's how you're spend too much on things you don't even need.
Before you go to an outlet store (or really, before you go to any store), have a plan or list of what you're looking for. And stick to it! Don't get sucked into the retail therapy comfort of the moment. Stay accountable to your plan.
3. Set a Spending Limit (aka Budget)
One of the best ways to make sure you aren't overspending at outlets is to set a spending limit—aka make a budget! Decide up front and on purpose how much you'll spend on all the outlet shopping for the day.
When you reach the limit—stop buying. In fact, stop shopping! Don't even walk in the doors.
If part of the fun for you is buying random sale items and you don't want to make a shopping list—you can still stay on target. Just create a budget line for how much you'll spend. And don't go over!
The truth is, a budget is your BFF when it comes to saving money. That's true at outlet stores, grocery stores and every single place you spend your money. Because a budget is a plan for all the money you make, give, save and spend. Every single month.
Speaking of budgeting, you should try EveryDollar. It's free! And you don't even have to drive forever or look through a million racks for hours to get it. Download it to your phone today, set up your budget, and make a plan for your money. That's the kind of deal we can always get behind.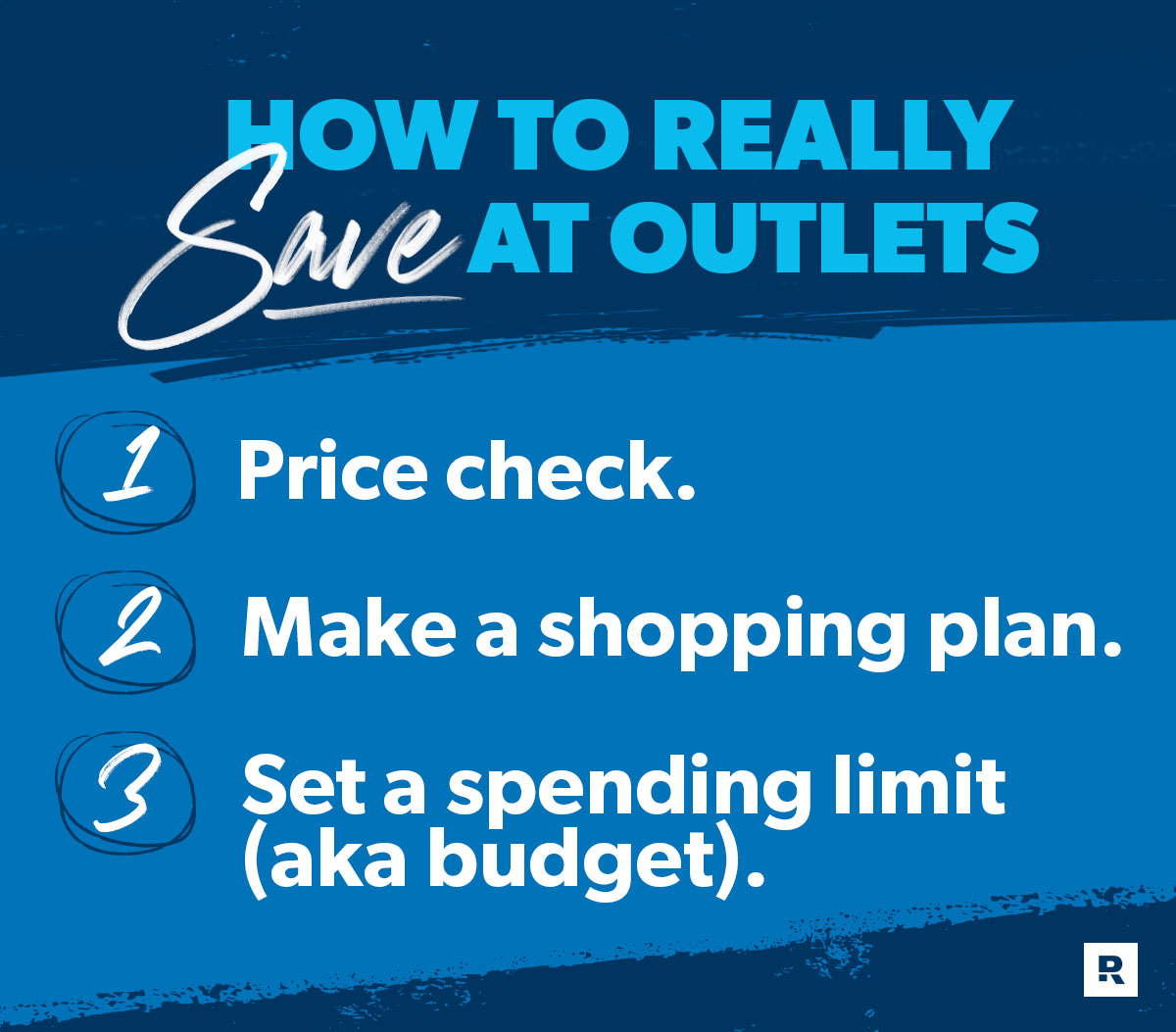 Start your free EveryDollar budget today!
Did you find this article helpful? Share it!