Wondering how much to spend on a wedding gift? As weddings begin to kick up again, guests are excited to connect with friends, celebrate, and let loose—and loosen their purse strings. According to The Knot's 2021 Guest Optimism Study, 50% of Americans are planning to splurge on wedding gifts to make up for lost time in isolation.1
Don't let post-pandemic excitement, expensive traditions or outdated wedding etiquette get the best of your budget. So how much should you spend on a wedding gift? I've got all the guidance you need to get a gift both the happy couple and your budget will love.
Here are 10 things to consider when deciding how much to spend on a wedding gift:
1. Your Budget
The best place to start when figuring out how much to spend on a wedding gift? Your budget.
Your monthly budget gives you permission to spend on the things that are important to you. And celebrating your friends as they say "I do" is probably one of those things. Just know, you should never spend more on a gift than you can fit in your budget. So cut back a little on restaurants or shopping so you can pull off a wedding gift without going into debt.
Now, I get that you might want to go big on the wedding gift. Especially if gift giving is your love language. Plus, being generous is the most fun you can have with money! But the amount you can spend depends on you and your budget—not what everyone else is shelling out.
And beyond the gift, if you're wondering how to attend a wedding on a budget, we've got you covered.
2. Relationship to the Bride and Groom
The Knot also tallied the average amount guests spend on wedding gifts. In 2019, the average guest forked over $120 per gift—but the amount ranges widely depending on the gift giver's relationship to the bride and groom. Distant friends of the happy couple spent closer to the $80 mark, while wedding party members averaged $115 per gift. Close friends and family invested the most, spending about $130 per wedding gift.2
That range makes sense—after all, when you're deciding how much to spend on a wedding gift, you'd probably get a bigger gift for your sister than you would for a high school classmate. But remember what I said—never let someone else's spending habits drive your decision making. Let your budget and your relationship guide your choices.
3. Cost of the Wedding
There's a widespread wedding myth that goes like this: The amount you spend on a wedding gift should equal what the bride and groom spent on you. It's the "Cover Your Plate" tradition, and it sounds like a marketing ploy trying to get more of your hard-earned cash.
Here's why: There's no way to know how much a couple is spending to get hitched, and the bride and groom shouldn't count on their guests to pay them back for their wedding budget. The couple isn't throwing a wedding just to get gifts anyway, so set yourself free from falling for this myth. If you want even more proof, the etiquette experts at the Emily Post Institute agree—this modern myth is simply untrue.3 (Whew!)
Don't fall for it, guys. The cost of the wedding should not weigh into the amount you spend on a gift.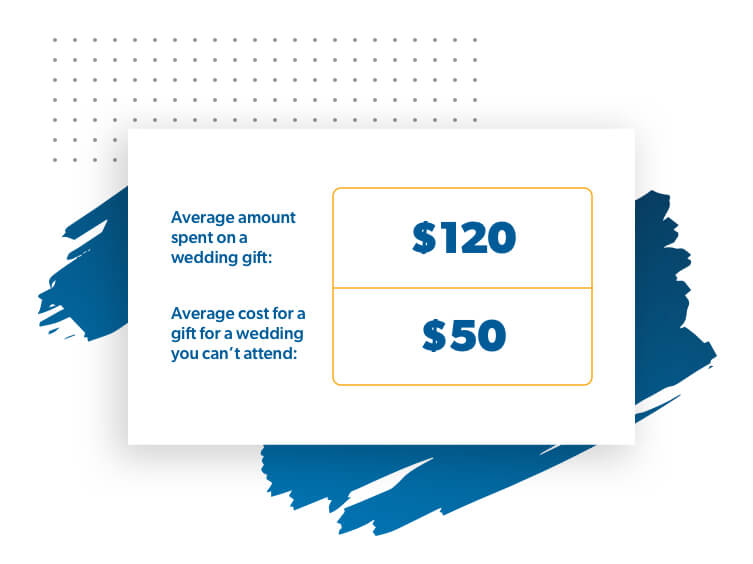 4. Luxury Weddings
Let me make a quick note here about luxury weddings: If the wedding is an epic, over-the-top, fancy shindig at The Ritz, you might feel pressured to provide a luxurious gift. I get that. However, the money you plan to spend depends on your relationship with your friends and your budget, not the venue.

Start budgeting with EveryDollar today!
The amount you spend should be the same whether they tie the knot at a park or at Cinderella's Castle. Tiffany & Co. champagne flutes are not on you!
5. Destination Weddings
Attending a destination wedding sounds incredible, doesn't it? Exotic beaches, epic sunsets, fantastic landscapes . . . I'm scrolling through flights already, and I don't even have any weddings to go to!
Destination weddings may sound fun, but the further you have to travel, the more expensive it's going to be for you see your friends say, "I do." One study found that the average cost to attend a destination wedding was $1,320. And that only includes travel, accommodations and food!4
Since the cost is so much greater to attend a destination wedding, the expectation for gifts tends to be much lower. So, find some budget-friendly options. You can find really touching, meaningful gifts that fit your budget. Thoughtfulness is key, people!
Some couples may try to make it easier for guests to come to the destination wedding by lifting the gift requirement. Don't assume this is the case, though. Our Emily Post Institute friends remind us that "every wedding invitation bears the obligation of a gift."5 Unless your friends specify "your presence is your present," you should bring a gift, even if it is a small token. Get creative and work it in the budget!
6. Zoom Weddings
What if you can't hit up the dance floor, eat wedding cake, or catch the bouquet in person? Yep—I'm talking about Zoom weddings. How much should you spend on a wedding gift in the age of livestreamed nuptials?
This scenario is so new that the jury is still out among etiquette professionals on gifts for Zoom weddings. But I hope my answer doesn't surprise you—the amount shouldn't change!
I might sound like a broken record here, but your relationship and your budget should determine how much you spend on a wedding gift. That doesn't change whether you're all dressed up at the big event or wearing pajama bottoms just off camera.
7. Group Gifts
Joining forces with friends is a great way to get the bride and groom a more elegant gift while fitting the present in your budget. This way, you can go in on that amazing vacuum or honeymoon excursion they registered for.
Just ask your fellow gift givers to go in with you early—otherwise they may have already committed to something on the registry, and you're on your own.
8. Gifts From Bridal Party Members
Speaking of group gifts, members of the wedding party can jump in on a group gift without any hard feelings too. Bridesmaids and groomsmen typically shell out quite a bit of cash for the wedding. Dresses, suits, hair, makeup, shoes—the cost of standing by your friend adds up! Not to mention time and effort, since some wedding parties double as the setup and teardown crew.
Need some ideas? Crowdsource an out-of-reach wedding gift that will stand the test of time—like the classic KitchenAid mixer. (Talk about giving a gift that stands the test of time—KitchenAids become heirlooms that are passed down through generations!)
9. Cash Gifts
Here at Ramsey Solutions, everyone knows cash is king, and that's true for wedding gifts too. Giving cash used to be tacky, but Millennials and Gen Zers grew up in the age of GoFundMe. I'm not suggesting you Venmo the bride, but cash gifts are becoming more and more common.
According to online wedding registry Zola, 75% of couples register for cash—and get it.6 Plus, because people are waiting longer to get married, chances are they already have dishes, that Kitchenaid mixer I mentioned, and bedsheets—but they'd really appreciate cash to pay off debt or for a down payment.7
So, how much cash should you give for a wedding gift? It depends on your budget and your relationship with the couple. Surprise! (Not.)
And if you're sending a check or money order, pay attention to how you fill out the recipient field. Yes, once the two become one, couples should combine bank accounts—but when it comes to writing a check, just put one name on it. That way the bank can't refuse it if their new joint account paperwork hasn't gone through.
10. Gifts for Weddings You Can't Attend
Missing out on your friend's big day is the worst, but at least you can support the happy couple with a thoughtful gift. Online planning site WeddingWire suggests $50 is the norm, and most couples don't expect to receive anything from guests who couldn't attend.8
If you're reading this section, it means you're the generous type of person who does give gifts even if you can't attend. Way to go.
Get Started on Your Wedding Gift Budget
Weddings are a time of gift giving, and gift giving can be a challenge. But now you know the drill: How much to spend on a wedding gift all comes down to your relationship with the couple and your budget.
But what if you don't even know where to begin?
If you want to get better with money but you aren't sure how, we have a free, three-minute Get Started Assessment that will help you determine your starting point.
Just plug in some details about you, your money habits, and the money goals that matter to you most and we'll send you a free, customized financial plan that will let you finally take control of your money. Consider it a gift from me to you.
Get Started Assessment
We'll show you how to dump debt, save for emergencies, and build wealth. It's all about getting on the right financial plan.
Take the Free Assessment
Did you find this article helpful? Share it!