So, how much does a wedding cost? The short answer is $38,900.1
What does that include? Honestly, the list of possible wedding costs is as long as the train on Princess Diana's wedding dress. But let's start by saying your wedding does not have to cost that much. This day is about you and about love—not about a price tag.
Now, let's go over nine of the most common costs that make your wedding day the most magical day of your entire life.
9 Average Wedding Costs Overview2
Venue: $10,500
Reception: $10,870–$15,670
Rings: $8,100
Honeymoon: $5,000
Ceremony: $4,200
Photography and Videography: $4,200
Attire: $2,110
Rehearsal Dinner: $1,900
Stationery: $560

9 Average Wedding Costs Breakdown
1. Venue
The venue is generally one of the largest wedding costs at a whopping $10,500 for the average American wedding budget.3
If you want to save money on your wedding venue, pick a less popular day of the week or month of the year (hello, December or January weddings).

Every savings goal starts with a budget. Create yours today with EveryDollar.
Or you can opt for an outdoor wedding. Just always have a backup plan (maybe a tent rental?), because Mother Nature might think a rainstorm is an appropriate wedding day present. (It's not, Mother Nature. Google it.)
2. Reception
After the ceremony, most couples celebrate with their friends and family at a reception, and the average cost is $10,870–$15,670.4 Hey, we're big fans of celebrating, but we can probably agree that's a lot of money for one party.
What does that include? Catering (which is about $70 a guest), the cake ($500), a live band ($3,700) or DJ ($1,200), and maybe alcohol ($2,300).
You can always cut back on how fancy the food gets. You don't owe your guests filet mignon! Also, 78% of couples might have an open bar, but being part of the 22% who offer fewer drink options is a great way to save on this wedding cost.5
3. Rings
Oh, the wedding rings: the exchange that symbolizes the eternal bond between husband and wife—and costs around $8,100. Whoa. Sound like a lot? That's including the average engagement ring cost of $5,900.6
But this doesn't mean you have to spend $5,900 on a ring. Maybe you don't even get a ring.
Okay, most girls want a ring. But you can find more affordable and equally beautiful options by going with a classically styled antique ring, buying nontraditional stones, finding silicone styles, or asking Grandma if there's a family heirloom you can use or have repurposed when you pop the question.

4. Honeymoon
After surviving months of planning and then the actual day of the wedding itself, you'll need a vacation. This is the honeymoon: your first getaway in the first days of your happily ever after.
Honeymoons cost around $5,000.7 That includes everything: travel, food, lodging and all the activities—from riding jet skis to touring a stamp museum. (Hey, we don't judge the honeymoon fun you're planning, as long as you can afford it.)
If you get married during a busy travel season, you could put the honeymoon off until those prices drop. And remember, the destination isn't the most important part—it's the time you spend together as a newly married couple!
5. Ceremony
Ah! The moment you've dreamed of your whole life—the vow exchange, ring swap and both of you announcing, "I do." That all happens at the actual ceremony, which costs around $4,200 and includes the officiant, any music you'll need as people walk up and down the aisle, plus all the flowers, lighting and décor for the ceremony space.
Couples spend an average of $250 on their officiant.8 You can save on this wedding cost by asking a family member or important mentor to perform the ceremony. Just check the legal fine print in your state—and remember a thank-you (like a gift card to their favorite restaurant) is still a kind gesture to acknowledge the time they took to make your marriage (literally) possible.
6. Photography and Videography
Photo and video vendors are an important part of your wedding day too. Why? Because they capture all those pre-, during, and post-matrimony memories you'll be sharing with your great grandkids one day.
You don't want to miss the opportunity for future generations to make fun of your dress and tux styles. (What will they be wearing at weddings 50 years from now? We hope poofy sleeves and powder-blue suits make a comeback—just for laughs.)
Photography and videography together generally average out to $4,200 of your overall wedding budget.9 One of our best tips for savings here is to find a photographer/videographer who's newer to the business (but still reliable, of course!). You can help them build their portfolio and save money by jumping in their business before their rates go up.
7. Attire
Every little girl has dreamed of her wedding dress since her youth. And every little boy his tux. Okay—maybe not. But in any case, wedding attire is a must, and this wedding cost (including beauty services for the day) comes in around $2,110, with the dress taking up $1,600 of that.10

While your wedding day wardrobe will be immortalized in Instagram posts and family albums, that doesn't mean you should spend an absurd amount on it. Shop sales and look at stores that don't sell just wedding dresses. Or, dare we suggest it, look for a used dress!
Hey, the pictures won't tell that price-tag tale, and your overall budget is the only one that'll notice what a great bargain you got. And it will thank you for it, to be honest.
8. Rehearsal Dinner
The rehearsal dinner is a traditional expense averaging $1,900.11 After the wedding party and family rehearse the ceremony, they typically gather to enjoy a meal together. Sometimes they say blessings over the couple or share hilarious (hopefully not too embarrassing) stories.
While this is a good time to fellowship, you shouldn't feel pressured to spend too much here. BBQ buffets fill stomachs just as well as a five-course meal with full-time waitstaff.
9. Stationery
This wedding cost runs about $560.12 What does it include? Good question. You've got your save the dates, invitations, reply cards, stamps for all of the above, and maybe even a program. Yeah. That's a lot.
You can save here in many ways, like skipping the physical save-the-date announcements. Also, when you send out the wedding invitation, ask people to RSVP via phone, email or website instead of mailing a reply card back to you. The trees will thank you for all that saved paper. And your budget will thank you for the saved cash.
Use Average Wedding Costs to Create Your Wedding Budget
We keep mentioning the "b" word: budget. Why? Well, for one, stats say nearly 60% of couples have to increase their initial budget.13 That means they spent more than they were planning to. Or maybe they didn't know how much a wedding actually costs.
Your wedding budget shouldn't be a random prediction. If you plan more ahead of time, you can make a budget you'll be able to stick to. How?
Use these average wedding costs as a starting point for your budget.
Talk about your top three nonnegotiables—the things that are the most important for you to have in your wedding.
Have an honest conversation with each other, your parents and your bank account to see what you can actually afford!
Then make a wedding budget that marries your dreams and your reality. Now that's a perfect union.
Listen, more important than a maid of honor, color scheme, or an officiant who can properly pronounce your last name—is your budget. And it's not just important for the day you get married, but for every day of your life together! Start planning how you'll budget as a couple by downloading our free budgeting app, EveryDollar.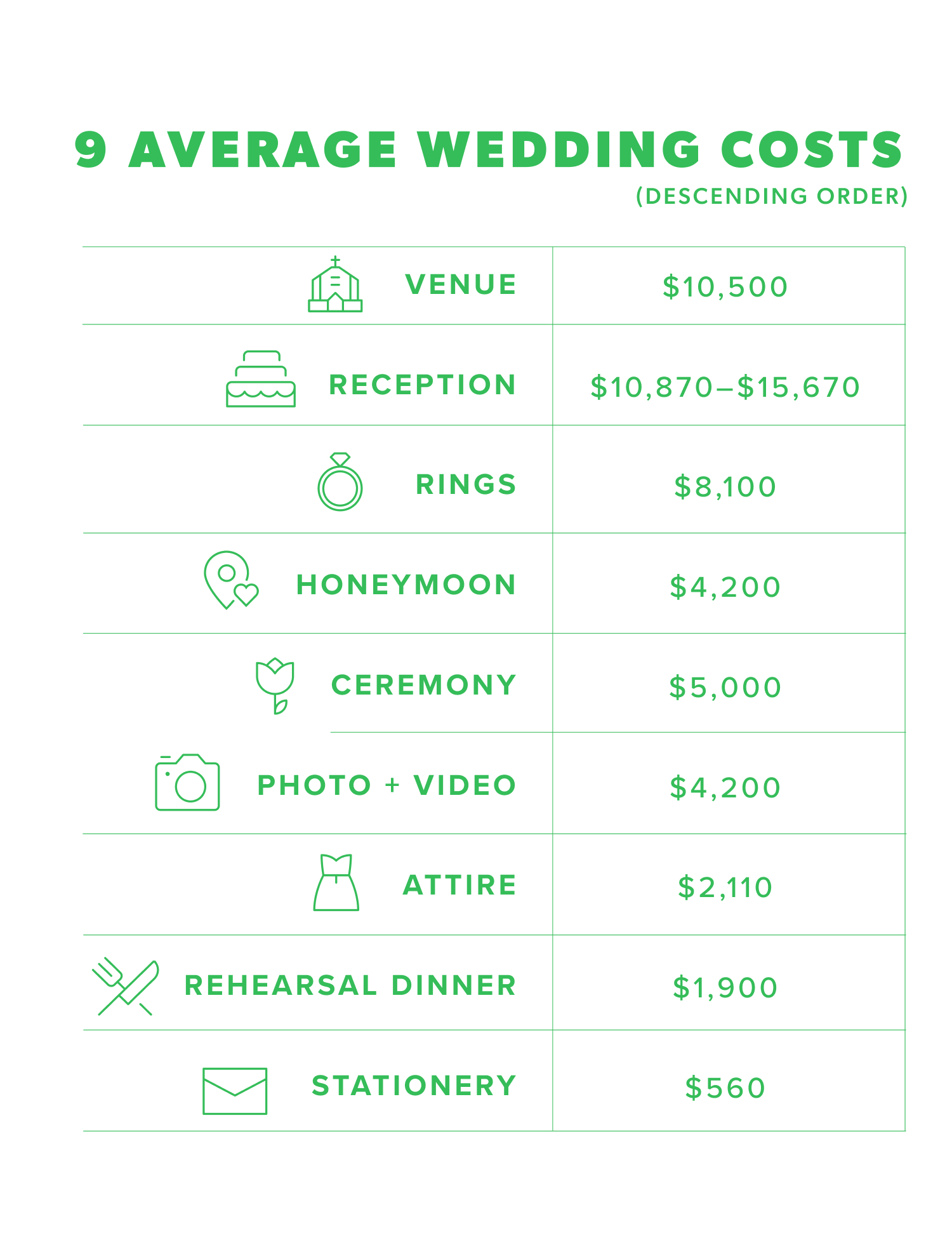 And if you want to learn even more, we've got a 15-tiered, wedding-cake-sized load of info about how to budget for your wedding, complete with a wedding budget printout and even more tips on saving on your big day.
Did you find this article helpful? Share it!