So how much does a wedding cost? The short answer is $38,700.(1) The long answer is thirty-eight thousand seven hundred dollars.
But what does that include? What should you be prepping to pay for the most magical day of your entire life?
The list of possible wedding costs has as much length to it as the train on Princess Diana's wedding dress. Let's unveil a few of them.
9 Average Wedding Costs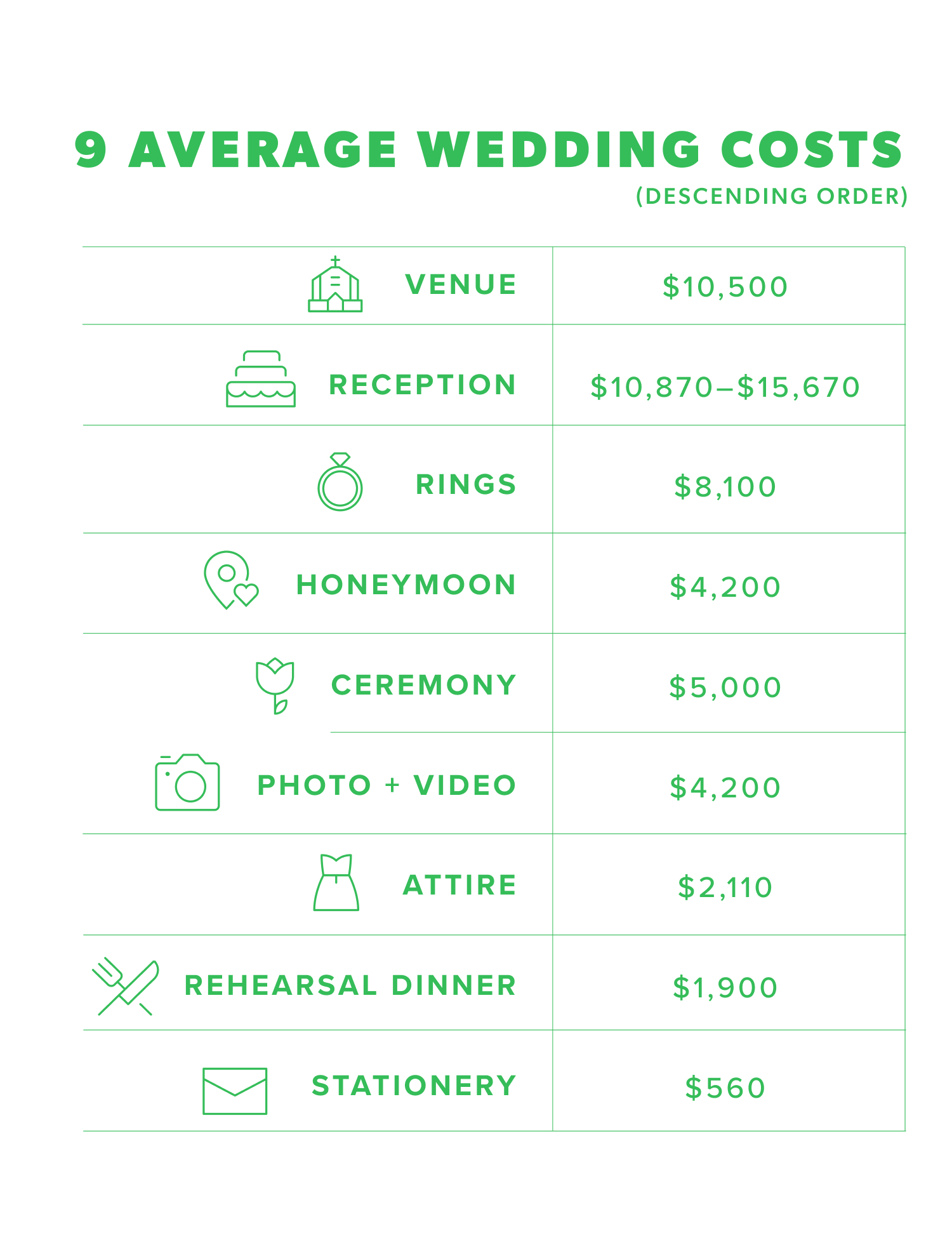 All average costs in the chart above and information below come from the WeddingWire research report.(2)
1. Venue
The venue is generally one of the largest expenses for a wedding. At a whopping $9,000, it takes up 20–25% of an average American wedding budget. Of course, you can save money by having your wedding on a less popular day of the week or month of the year.
Or you can try an outdoor wedding. Just always have a backup plan, because Mother Nature might think a rainstorm is an appropriate wedding day present. (It's not, Mother Nature. Google it.)
2. Reception
Julia Child said a party without cake is just a meeting. People go to celebrate the forever-union of that bride and groom, ending with cake at the reception, aka party central. This is another giant chunk of change.

Ready to start saving? Get started with a free trial of Ramsey+ today.
Average American receptions cost around $8,350–$10,950. That sounds like one planet-sized party. (And not Pluto, of course—which is a topic we're still sore about.)
3. Rings
Oh, the rings: the exchange which symbolizes the eternal bond between husband and wife—and costs around $6,800. Whoa. Sound like a lot? That's including the average engagement ring cost of $5,000.

But, this doesn't mean you have to spend $5,000 on a ring. Maybe you don't even get a ring. Maybe all the girl wants is a small herd of goats. Just be sure you're thinking of her when you pick out whatever ring or farm animal it takes to get her to say "yes."
4. Honeymoon
After surviving months of planning and then the actual day of the wedding itself, you'll need a vacation. This is the honeymoon: your first getaway in the first days of your happily ever after. Honeymoons costs around $4,000 including travel, food, lodging, and stamp museum tours. (Because nothing's more romantic than rare, pre-licked stamp collections.)
5. Ceremony
Ah! The moment you've dreamed of your whole life—the vow exchange and ring swap. (That made it sound ultra-romantic, right?) This cost averages around $3,900 and includes the officiant, any music you'll need as people walk up and down the aisle, plus all the flowers, lighting, and décor for the ceremony space.
6. Photo and Video
These wedding costs are some of the most important a couple will think about. Why? Because they capture all those pre-, during, and post-matrimony memories you'll be sharing with your great grandkids one day. You don't want to miss the opportunity for future generations to make fun of your dress and tux styles. (What will they be wearing 50 years from now to walk into holy matrimony? We hope poofy sleeves and powder-blue suits make a comeback—just for laughs.) You'll need a photographer for this and maybe a videographer as well. These costs generally average out to $4,200 of your overall wedding budget.
7. Attire
Every little girl has dreamed of her wedding dress since her youth. And every little boy his tux. Okay—maybe not. But in any case, wedding attire is a must and typically costs around $2,900, with the dress taking up $1,700 of that.

Though this clothing will be immortalized in Instagram posts and family albums, that doesn't mean you should spend an absurd amount on it. The pictures won't tell that price-tag tale, and a good bargain photographs just as well as something expensive.
8. Rehearsal Dinner
The rehearsal dinner is a traditional expense averaging $2,000. After the wedding party and family rehearse the ceremony, they typically gather to enjoy a meal together. Sometimes they say blessings over the couple or share anecdotes about them.
While this is a good time to fellowship together, you shouldn't feel pressured to spend too much here. BBQ buffets fill stomachs just as well and say "thank you" to those helping in the wedding with just as much gusto as a five-course sit-down meal with full-time waitstaff.
9. Stationery
This wedding cost runs about $560. What does it include? Good question. You've got your save the dates, invitations, reply cards, stamps for all of the above, and maybe even a program. You can save here in many ways, like skipping the save the date. Or you could ask people to RSVP via phone, email, or website.
Or, instead of printing individual programs, you could post a sign at the ceremony or reception with any info you want people to know. The trees will thank you for all this saved paper and so will the paper money saved in your bank.
Creating a Wedding on a Budget
We've mentioned the "b" word: budget. Why? Because most couples underestimate their wedding cost by $11,000.

More important than a maid of honor, wedding planner, or officiant who can properly pronounce your last name—is your budget. Getting one started in EveryDollar is your first step.
If you're ready for more, we've got a 15-tiered, wedding-cake-sized load of info about how to budget for your wedding, complete with a handy dandy EveryDollar wedding budget printout (and it's pretty, too!), at the ready when you are.