First of all, let's clear the air. A budget isn't a straitjacket on your spending. It's a plan for your money. A plan for what's coming in and what's going out. When you budget every month, you're giving your money purpose. You're telling it where to go so you're not left wondering where it went. You're. Taking. Control.
That sounds awesome, right? Let's get budgeting right now!
But with so many ways to budget out there, how do you pick a method you'll actually use? Insert EveryDollar.
What's so great about EveryDollar? Glad you asked.
What Is the EveryDollar Budgeting App?
EveryDollar is Dave Ramsey's practical, mobile, free (yes, really) budgeting tool. You can use it on your desktop or download the app to your phone. This means EveryDollar goes where you go, which makes it super easy to budget from anywhere.
What Can I Do With EveryDollar?
So. Many. Things. But we've narrowed it down to the top eight:
1. Create monthly budgets.
With EveryDollar, you can create your first monthly budget in three quick steps:
Add all your income.
List your expenses—starting with giving and the essentials or Four Walls (food, utilities, shelter and transportation) and then covering everything else (like insurance, entertainment, childcare and restaurants).
Budget to zero—meaning when you add in every source of income and then subtract every single expense, your budget should end up at zero. This is called zero-based budgeting, and it's the best way to take control of every single dollar you make.
You'll know you've budgeted to zero when you see a big green check mark and the words "It's an EveryDollar budget" at the top of your screen.
2. Track your spending.
The key to keeping your spending in check? Track. Every. Expense.

Start budgeting with EveryDollar today!
On EveryDollar, you can add an expense and slide it over to the correct budget line in no time. You can even do it in your car before you ever leave the store parking lot. Or on your couch right after you pay that bill online.
Also, you can upgrade your budget and make it even easier. With the premium version of EveryDollar, you'll connect your budget to your bank and let those transactions stream in automatically. All you'll have to do is drag and drop each transaction to the right budget line!
Either way, EveryDollar makes it easy, because tracking is a must. Budgeting is how you plan. Tracking is how you keep up with the plan.
3. Check in throughout the month.
Checking in on your budget throughout the month is a heck of a lot easier when you can do it on your phone. When you download the EveryDollar app, you can see your budget in a matter of a couple quick taps!
Check in often so you can catch an overspending problem before it ever happens. If you see you overspent on one budget line, adjust another line then and there. Or do it on your desktop if you prefer—it's super easy there too. You can budget where you want with EveryDollar.
4. Add due dates to bills.
Say goodbye to the stress of remembering when bills are due. Just tap on a bill in your budget and add a due date in seconds. The visual reminder will show up under that budget line every time you open EveryDollar, so you won't forget when to pay—or when that auto draft will come out.
5. Create funds to meet savings goals.
Sinking funds are a great way to save up for expenses that only come around once or twice a year (like car insurance or Sir Barksalot's yearly checkup) and big purchases (like a new set of tires, a TV, or a trip to the beach). In EveryDollar, you can set up funds in minutes and watch your progress any time, any day.
6. Use on multiple devices.
We already mentioned how you can use your EveryDollar budget on the app or desktop (or both). But it gets even better. If you're married, you can both sign in to the same account so you can budget together, even when you're apart. Talk about accountability!
7. Crush Dave's Baby Steps even faster.
EveryDollar is the only budgeting tool created with the Baby Steps in mind. And listen, whether you're on Baby Step 1 or 7, you need a budget. As you've learned, budgeting is how you tell your money where to go. So if you want your money to go toward paying off debt, building your emergency fund, investing, saving up for a house . . . all those things—you budget for it!
So, budget with EveryDollar to crush the Baby Steps faster.
8. Show your money who's in charge. (You.)
We know it takes hard work to get this budgeting thing down—but we believe in you. Yes, it can take about three months of budgeting to really get the hang of it—but we believe in you! We'd love to help, which is why we made EveryDollar. But EveryDollar is just a tool (an awesome tool, yes, but just a tool). You're the one jumping in and budgeting to make real changes with your money—and your life. You got this!
Download EveryDollar for free today and really show your money who's in charge.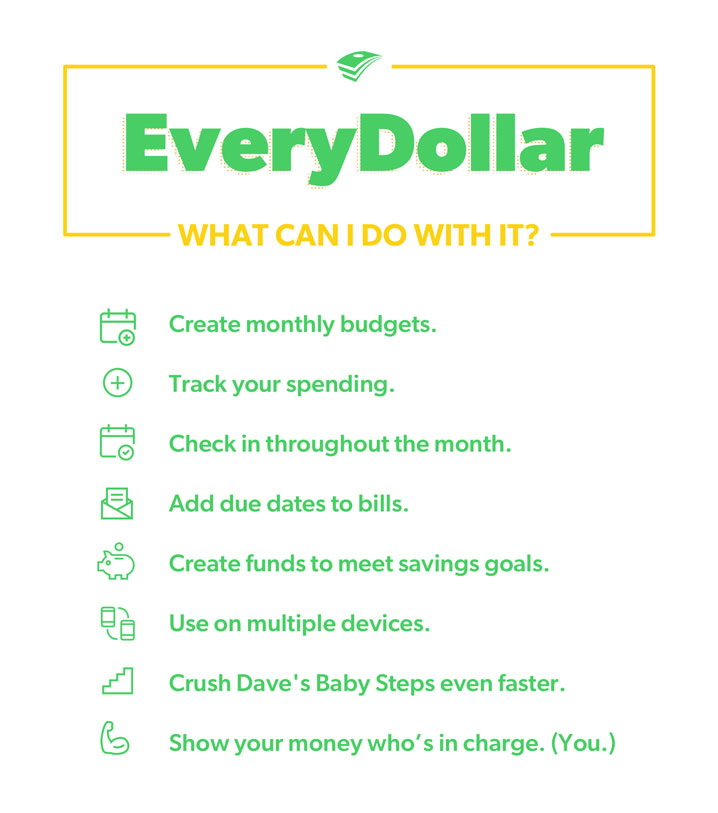 Did you find this article helpful? Share it!