Turns out there are a lot of budgeting apps out there. Why? Well, for one—people want a more convenient way to budget. An on-the-go app can make budgeting way easier to keep up with. It puts your budget right in your hands. Literally. And that's great.
Another reason is that all these different apps offer slightly different things. They're built on various money philosophies and have all kinds of features.
It can feel kind of overwhelming when you look at them all, so I wanted to compare seven of the most popular budgeting apps out there right now. We're talking cost comparisons, feature highlights, ratings from users, and some reviews from actual budgeters. Oh, and I've got a chart at the end of the article with all this information broken down to make it easy to see it all in one spot.
Alright. Let's get started!
1. Mint
Mint Overview
Mint is one of the most popular budgeting apps today. They're part of the Intuit family of products—meaning they're related to TurboTax, QuickBooks, Credit Karma and Mailchimp.
Let's talk about this budgeting app's philosophy for a second. Mint automates a lot of the budgeting process and promotes the feeling of more hands-off budgeting—so budgeters engage less with their money overall.
Mint has a free version, or you can upgrade to their premium option for more features.
Cost
Free for classic features (one person per account)
$0.99 per month for an ad-free version
$4.99 per month for Mint Premium
Free Features
Customize budgets
Get financial insights into your spending and saving
Set due date notifications
Connect to multiple financial accounts in one app
Have your transactions automatically categorized
Track your net worth
Check your credit score for free
Paid Features
Get subscription cancellation help
See daily updates on your trends
Check out projected monthly spending
Ratings and Reviews of This Budgeting App
4.8 App Store, 4.5 Google Play
First off, the net worth tracker looks like an awesome feature. And Mint users love that they can wrangle all their money management in one place. Getting your complete financial picture in one spot does sound great. I love when things are clear like that.
And you'd think having a budgeting app auto-populate your transactions into categories would be the best thing ever. It means you connect your bank to your budget, transactions come right in, and then Mint decides where those transactions should go. They do it all for you.
But here's the deal: One of the biggest complaints reviewers point out is that Mint can often choose the wrong budget category. That makes sense, honestly, because you know when you stop by Target you can end up buying diapers for the Baby budget line, cardigans for your Clothing budget line, and orange juice for your Groceries budget line.
Mint doesn't know, but they sort out all your transactions like they know. They might see Target and drop that transaction right into Groceries. Then you've got to go in and fix it after the fact. So, the effort to streamline your budgeting on the front end can make extra work on the back end.
Also, you guys, Mint can lead budgeters to be too hands-off with their money. Yes, it's nice to have some of the dirty work done for you with budgeting—but being inside your budget is actually key to being in charge of your money.
You should actively tell your money where to go. Every month. Spending in and of itself isn't wrong, but you should feel it. And putting your transactions where they belong helps you feel it and see what's happening to your money. This is so important.
Also, Mint ads don't always have a budgeters' best interests at heart. They promote credit cards, loans and other debt-encouraging ads. Mint has no problem encouraging debt, and I just can't get behind that.
I want you to be in control of your money. That means tracking your transactions yourself. That means owning your finances—not owing on debt. Even with the good stuff Mint offers, these things are deal breakers for me.
2. YNAB (You Need a Budget)
YNAB Overview
YNAB is a budgeting tool built on four rules. First, to prioritize and give your money jobs (aka the zero-based budgeting method). Second, to embrace your true expenses, which means you budget some money each month to break bigger, infrequent expenses up so you can pay cash when they're due. Third, to roll with the punches, which means to adjust your budget and move money from one category to another if needed. Fourth, to "age your money," which is where you save up a full month of income so you can pay this month's bills with last month's money.
Cost
$14.99 per month
$98.99 per year
Paid Features
Connect your bank to your budget
See budget reports
Set and track goals
Use the loan, spending and net worth calculators
Split transactions
Talk to a live person in customer support
Join in live Q&A sessions
Have your transactions automatically categorized
Ratings and Reviews of This Budgeting App
4.8 App Store, 3.0 Google Play
Though YNAB says they're all about being less automated and more hands-on, they also auto-categorize your transactions. Yep. That's the exact opposite of hands-on. One three-star rating I found pointed this out and complained that this feature makes the app difficult to use.
Again, you guys, an app doesn't know when your Amazon purchase is seamless hair ties for your Fun Money line (yeah, that's my new favorite purchase) or toilet paper for your Home Goods line. But you do.
Tell your money where to go, and watch where it's going, okay?
As far as money philosophies go, YNAB built their app on some of the same principles we've been teaching at Ramsey Solutions for over 25 years, so you might see some similarities there. But they're really into rolling over money in budget lines from month to month.
Now, this is different from a sinking fund, where you intentionally save up each month for a bigger purchase or an irregular expense. Sinking funds are super important. But if you have money left in a regular budget line, I don't want you rolling it over to spend next month. I want you to put it toward your Baby Step. That's how you'll make real progress with your goals.
Also, YNAB budgeters weren't happy about the price increasing from $5 a month or $50 a year to $14.99 a month or $98.99 a year. I know inflation is real thing right now, and costs are rising, but that is a big jump and a big chunk of change that those budgeters complained about having to free up to stay with YNAB.
3. Simplifi
Simplifi Overview
Quicken created Simplifi to offer a less hands-on budgeting tool that does most of the work for you. It sets up a budget automatically based on previous spending habits and encourages budgeters to check in just five minutes a week.
Cost
$5.99 per month
$47.99 per year
Paid Features
Connect to multiple financial accounts in one app
Set and track goals
See budget reports
Get cash-flow projections
Have your transactions automatically categorized
Split transaction across different budget lines
Get notifications of budget updates or reminders
Ratings and Reviews of This Budgeting App
4.2 App Store, 3.4 Google Play
One of the biggest draws to Simplifi is how they can connect your budget to your bank account and loans—which should help you manage all your finances in one spot.
However, one review says the app works better if you're connected to just one bank. A few reviews say this complex feature seems to cause performance issues with the app. It can be slow and "buggy," several reviews said. Although Quicken is an older company, Simplifi was just launched in 2020, so that could explain some of the issues.
But let's talk about their encouragement to spend just five minutes a week with your budget. Listen, I know you're busy. I'm right there with you. But you probably spend more than five minutes scrolling on social media, re-watching your favorite episodes of The Office, ordering coffee, and thinking about things that are honestly way less important in life than your money goals.
I encourage you to think about how you prioritize what you give your time to. I'm not saying you can't watch TV or read a good book. Please do! But your future is too valuable to barely think about. Your finances are too important for just a passing glance. Be active with your money. Be in control!
4. PocketGuard
PocketGuard Overview
With a free and paid version to offer, PocketGuard's main goal is to show budgeters how much money they have left to spend. They do this by featuring what's "in my pocket," aka how much you haven't budgeted toward bills, goals or necessities.
PocketGuard is very hands-off, encouraging users to interact with the app pretty much only to see what's left "in my pocket" to spend—to help prevent overspending.
Cost
Free for classic features
$7.99 per month for PocketGuard Plus
$79.99 per year for PocketGuard Plus
$99.99 for a lifetime purchase of PocketGuard Plus
Free Features
Connect to multiple financial accounts in one app
Have your transactions automatically categorized
Download transaction history in a CSV format
Use hashtags in notes on transactions to see budget reports based on those hashtags
See your spending on a pie chart
Get notifications when you're close to overspending on a budget line
Get third-party offers for other financial services
Create savings goals (limited amount)
Use pre-created budget categories
Split transactions
Paid Features
Create custom budget categories
Create unlimited budget categories
Set up a personalized debt-payoff plan
Export transaction data
Create unlimited savings goals
Add photos of your receipts to keep details of the purchase on file
Ratings and Reviews of This Budgeting App
4.7 App Store, 3.7 Google Play
Once again, an app automatically putting your transactions where it thinks they should go doesn't work well. When your budget puts your spending in the wrong spot, you have to go in afterward and clean up the mess made by an AI with good (but poorly directed) intentions.
I do appreciate that there's a free version! That's great to have options when you're a budgeter. But why doesn't the free version allow you to add in your own custom categories? That seems like a very basic ask for a basic budget. Also, as far as free versus paid features go, several people complain about not being able to change the date on transactions that stream in unless you have the paid version.
5. Goodbudget
Goodbudget Overview
Goodbudget offers online and in-app budgeting based on the envelope system. Budgeters make digital envelopes for every budget category and can add in planned amounts.
Cost
Free for standard version
$8 per month for Goodbudget Plus
$70 per year for Goodbudget Plus
Free Features
Use up to 20 envelopes (categories)
Have one account
Access on two devices
One year of history
Track debt
Get community support
Paid Features
Use unlimited envelopes (categories)
Have unlimited accounts
Access on five devices
Seven years of history
Track debt
Get email support
Ratings and Reviews of This Budgeting App
4.7 App Store, 4.4 Google Play
Okay, you know I love using the envelope method. I'm glad Goodbudget sees value in it too! But one review called Goodbudget "onerous," (which if you're wondering, like I was, means involving lots of effort and being burdensome. The more you know, right?) A few other reviews also call out the difficulty in setting up or using the app, with simpler vocabulary, thank goodness.
You guys, I don't think setting up or using a budgeting app should be "onerous" or a burden. Effort? Some. Onerous? Never.
Also, several people complained about the limited amount of budget categories in the free version, and yes, there is a paywall that unlocks more categories, but again, unlimited categories are such a basic feature for a free budgeting app.
6. Mvelopes
Mvelopes Overview
Mvelopes also works on the envelope method and supports zero-based budgeting. They don't have a free version, but they offer three pricing levels—each with more features and offerings. At the top level (called Plus), Mvelopes has a content hub with videos and access to financial coaches.
Cost
$5.97 per month for Basic
$9.97 per month for Premier
$19.97 per month for Plus
Basic Features
Get unlimited envelopes
Connect to unlimited financial institution accounts
Have transactions import automatically
Monitor account balances
Live chat
See interactive reports
Premier Features
Access the Mvelopes Learning Center
Use the Debt Reduction Center
Get assistance with initial setup
Get high-level priority support
Plus Features
Connect with a dedicated personal coach
Create and follow a personalized financial plan
Set up quarterly coaching sessions
Ratings and Reviews of This Budgeting App
4.4 App Store, 3.2 Google Play
Mvelopes is one of two budgeting apps here that offers money management courses. And I love that feature! I didn't like budgeting at first, but when I learned how to do it well and saw what it did for my money, well, that was a game changer for me. It's wonderful when a budgeting app also gives you some education on how to get started and how to do it well.
But here's a problem with the messaging of this app: They come out the gate hard on their landing page with the idea that budgeting sucks, is super difficult, and nobody (at all) likes it. That's so negative and a big turn-off!
Yes, budgeting can be hard, and I told you I didn't like it at first. But not everyone hates it, and I even learned to love it.
It's good to be honest and to know your money strengths and weakness, but you shouldn't step into budgeting believing it will be horrible for the rest of your life. It won't be. It gets better! I'm living proof here. Let's think positively about budgeting, okay?
Also, of the apps shared here, Mvelopes has the second-lowest Google Play rating (just behind YNAB). Customers complain of reoccurring technical issues and about not being able to talk to customer support on the phone with the basic version.
7. EveryDollar
EveryDollar Overview
EveryDollar uses the zero-based budgeting method, an approach where you give every dollar a purpose or job. (That's where the app's name came from!) This method brings accountability and helps budgeters keep up with their entire income by assigning all of it to giving, saving and spending.
Budgeters can use the free version of EveryDollar forever, test out the premium features of the tool (available only in Ramsey+) in a free trial at any time, and upgrade for $129.99/year.
Cost
Free for standard version
$59.99 per three months for the premium features
$99.99 per six months for the premium features
$129.99 per year for the premium features
Free Features
Customize budget categories and lines
Create unlimited budget categories and lines
Split transactions
Set due dates
Talk to a real live person with customer support
Set up sinking funds and track savings goals
Paid Features
See custom budget reports
Connect to multiple financial accounts in one app
Set up your debt-payoff plan and use the debt snowball tracker
Track other money goals (emergency funds, mortgage payoff, retirement)
Export transaction data
Join in live Q&A sessions with professional financial coaches
Have your transactions automatically stream into your budget
Watch 20+ hours of online budgeting and money management courses
Read financial audiobooks
Watch money and personal development livestreams
Ratings and Reviews of This Budgeting App
4.8 App Store, 4.2 Google Play
Here are the things I love best about EveryDollar. One is how it's set up to use the zero-based budgeting method. When you reach a zero-based budget, you see "It's an EveryDollar budget" at the top of the app. If you're off, it tells you what's left to budget or how much you're over. You can keep tweaking until you get to zero. That's great guidance and affirmation while you're budgeting. Love that.
Next, EveryDollar encourages you to interact with your money. With the free version, you manually enter all your transactions. You can also upgrade to the premium version and have your transactions stream into your budget—but they won't auto-categorize.
It's super simple to go in, see your transactions that already came on in, and drag and drop them into the right spot. Then you see how much money you've got left in that budget line. Fantastic accountability, but also oh-so-simple. It's the perfect balance.
One of the biggest complaints for EveryDollar is the cost of the premium version. If you know me well, you know I like spending money. I'm a natural spender. But I also love a good deal. So if I'm going to spend my money, I want to know it's worth it. And, you guys, first I want to remind you that the free version of EveryDollar is great. Really. If you want a free app for zero-based budgeting to help you stay in control of your money, use this version!
And if you want an upgraded experience, you need to take advantage of all the good stuff that comes with the paid version of EveryDollar. That's what makes it worth the cost. There are features inside the app itself, like the bank connectivity and transaction streaming, that are some of my personal favorites. You also can see custom budget reports right there in the app to compare how your budgeting habits line up to your money goals. It's pretty eye-opening sometimes.
But there's even more. You'll get access to financial audiobooks, like my latest book Know Yourself, Know Your Money. You also can watch on-demand money courses like Financial Peace University and Budgeting That Actually Works. There are tons of quick-hit learning segments on all sorts of financial topics from inflation hacks to wealth-building tips. And you can jump in on live Q&As with professional financial coaches and others just like you.
Yes, EveryDollar is the Ramsey Solutions budgeting app, so I'm going to seem biased. But that's because it was built on all the principles we teach and gives you access to all the things we know will help you win with money!
I love EveryDollar because it lines up with what I teach about money, gives you options (free vs. paid with all those extras), and puts you in the driver's seat with your whole financial future.
A budget is how you take control of your money. Budgeting is how you stay in control of your money. And that's what I want for you. No more wondering where your money is going. Just a clear, intentional plan. That's how you'll go from where you are right now to where you want to be.
You can do this, you guys. Get started budgeting today!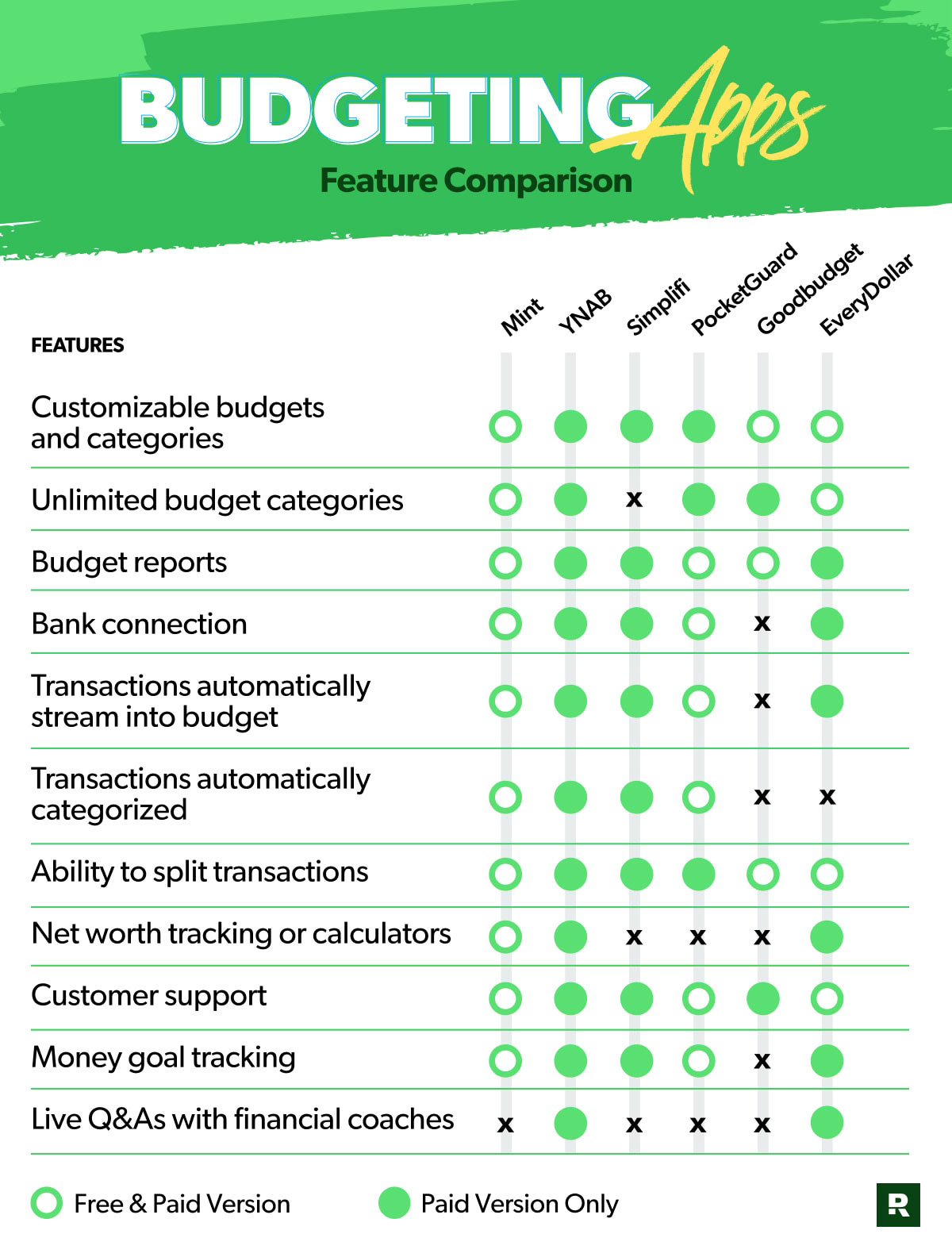 Start your free EveryDollar budget today!