Truth bomb: You won't move forward financially unless you make sure your money habits line up with your money goals. Aka—what you're doing with money right now should reflect what you want your money to do for you in the future. It's just that simple.
But figuring out if those two things are lining up can be tricky. We get it, and that's why we created the Insights tab with custom budget reports. You get this feature when you upgrade your EveryDollar budget to Ramsey+, where you'll get all our premium budgeting features.
Listen, budgeting is essential. A budget is a plan for your money. It's how you keep moving forward with your finances. And reporting helps you budget even better. So, let's dive into the custom budget reports you'll get when you upgrade to Ramsey+.
Spending Totals
Have you ever thought to yourself, I wonder how much I spent on transportation this past year? Well, now a quick glance at this pie chart on your Insights page can answer that question. You'll see a breakdown of your total spending from the last year on all your budget categories.
Most likely, you'll see housing at the top. (Quick callout: That number should be no more than 25% of your take-home pay.) But what do you do with all these numbers? Well, let's say you're a little shocked by your food spending total. Click on that slice of the pie, and you can do a deeper dive.
Are your Groceries and Eating Out lines both a little out of control? Time to make adjustments. Start meal planning and making grocery lists. Stop giving in to those drive-thru temptations. Make changes to this month's budget so you can get your spending—and your goals—back on track.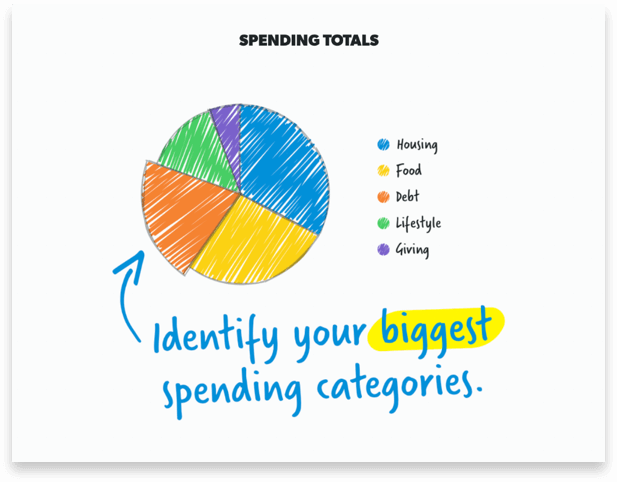 Spending Breakdown
A budgeter favorite, this section makes it clear where your money's going. Instead of a yearly overview like the Spending Totals section, you'll see spending broken up month by month.
Again, this gives you a detailed look into places where you need to tighten the reins on your spending. You'll see if you're consistently overspending in certain budget lines, or if your spending spikes in certain months. You're like a budget archeologist now. Dig into categories that seem too high and find ways to spend less so you can save more! (By the way, Ramsey+ is also your go-to on money courses that will teach you how to save more money. It's a win all around.)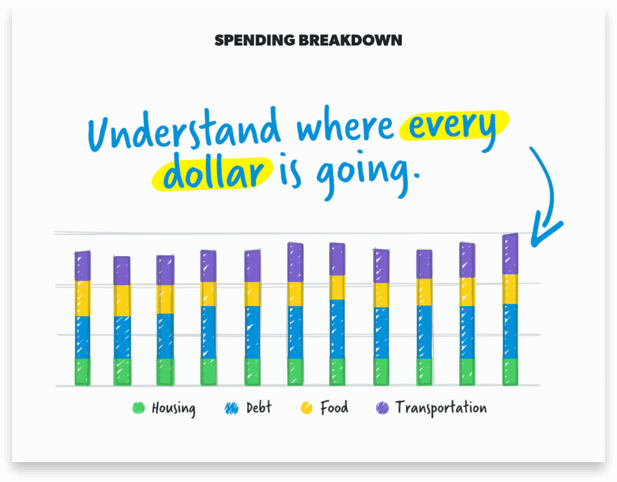 Monthly Income
So, maybe you don't make the same amount of money on every paycheck. If that's you, you're not alone. Plenty of people work hourly or have side gigs that change up their income every month. If you have an irregular income, the best thing you can do is set up your budget based on your lowest monthly income, not an average. If you budget for the smallest amount, you can always go up from there!
But figuring out your lowest monthly income means searching through bank statements or looking month by month at each budget, right? Not anymore! See your high and low months all in one spot.
Plus, this chart helps you see how those side hustles are stacking up month over month so you can see how the extra work is paying off!
Income vs. Spent
First, notice the title of the chart: Income vs. Spent. Not Income vs. Expenses. When you're making your budget, you know income minus expenses should always equal zero. But this chart doesn't include money you've budgeted for savings or sinking funds—it's only money you've actually spent on transactions.

Budget every dollar, every month. Get started with EveryDollar!
Hey—the way to crush any money goal is to live on less that you make. So, your Spent category should usually be less than Income, because you probably have money going into sinking funds and savings. But if you're on Baby Step 2 (crushing all that debt) you might see that your Income is equal to your Spent, because you're spending anything "extra" to pay off debt. That's totally fine!
If your Spent category is higher than your Income, that means you're in a pattern of overspending. If these numbers seem way off, it could be you aren't tracking your transactions. Either way, it's time to have a good heart-to-heart with the person in the mirror. Ditch those bad habits and take on better ones. It may take some time and effort—but you can do this.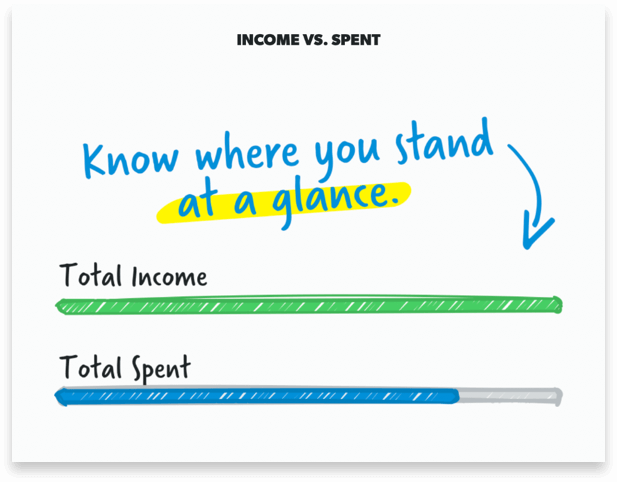 Transaction History
Alright, extreme budgeters—ready to really make your budget nerd dreams come true? You can now download a spreadsheet of your transaction history. Just hop over to the desktop view of your budget and scroll all the way down to the bottom. You'll find a link that says Download as CSV. Click that and enjoy.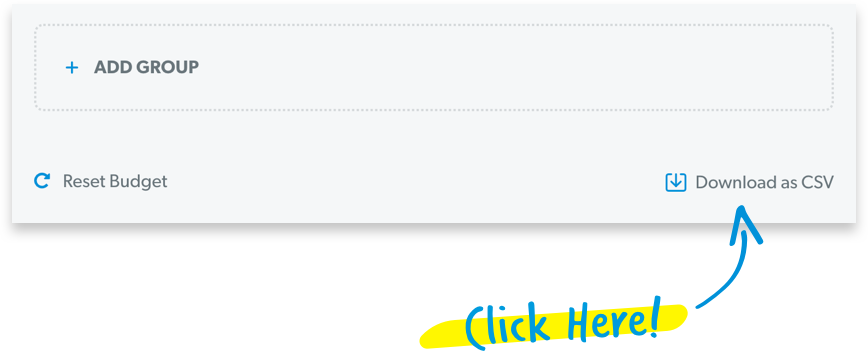 Hey. All these budget reports aren't just a bunch of fancy charts and graphs with pretty colors. They're much, much more! These reports are a chance for you to get real. With yourself. With your spending. You'll know where to give yourself a high five and where to start making some serious changes.
Upgrade your budget to Ramsey+, get those premium EveryDollar features, and crush your money goals faster, smarter and better than ever before.
Did you find this article helpful? Share it!