You've probably been tempted to splurge on date night before—especially if you're celebrating something big like an anniversary. But you guys, even romance is no excuse for blowing the budget! You've just got to get creative. But don't worry, there are a million ideas out there to help you keep the romance alive without tanking the budget.
I've put together a list of some of my favorite ides to help you plan the perfect dinner date night, including some that are perfect for a romantic anniversary. I've also shared five new recipes you can make for $20 or less—because you can still celebrate on a budget!
Give them a whirl and find out for yourself how affordable and romantic your dates can be.
Jump to your favorite romantic dinner idea:
Romantic Dinner Ideas
First up, the romantic dinner ideas. Sometimes, you've got to dig deep to figure out how to keep your date nights new (while still being affordable). Don't worry—you can have romance on a budget! Here are some ideas to help you get started:
1. Go on a picnic.
A picnic can be as relaxed as a blanket in the backyard or as upscale as wine and cheese with a view. You can plan around a specific nature walk or sight in the city. It's cheaper than a restaurant, it's secluded, and you can enjoy getting away from it all. Sunset, you, your loved one . . . and chicken taquitos. Enough said.
2. Dream together.
Our research shows that couples in healthy marriages are twice as likely to discuss money dreams together. And couples who set money goals together are generally closer. Why? Because the trust they share tends to be much higher!
So, cook one of your favorite meals, look deep into each other's eyes, and ask, "What are our biggest money dreams?" That's a romantic dinner you won't forget anytime soon.
3. Be tourists in your own town.
Have you lived in your city for a while and still never been to its most famous spots? A staycation is a fun way to get reacquainted with the place you call home. You can go take pictures with cheesy murals, explore new neighborhoods, or dive into your town's history.
And to top it all off, you can end the day at one of the city's popular restaurants. One of the best ways to try the menu (and keep it in the budget) is to share a meal. Pick an entrée to share and don't forget the dessert!
4. Relive your first date.
I'm not going to pat myself on the back over here, but this date idea can be so much fun! Remember what you did on your first date? Or how you felt? Maybe you were super nervous, or maybe you played it cool. Either way, it's so fun to relive those sweet (or hysterical) moments together (now that you're officially official). Recreate that first date together at home—complete with music, food and plenty of laughs.
Need ideas for fun get-to-know-you questions? Grab a deck of Questions for Humans for some great couple conversation starters.
5. Go out during lunch (and save triple).
I know I said this was all about romantic dinner ideas, but for this last one, I want to recommend going out for a lunch date instead. Hear me out: This idea will save you so much money at a restaurant.

Try our free Meal Planner to save money on groceries!
First, you'll save because if you have kids who are in school or day care already, you won't have to cough up the cash for a sitter. If you're headed back to the office after lunch, you'll skip the cocktail—another cost saved. And finally, the lunch menu is almost always cheaper than the dinner menu!
Romantic Anniversary Dinner Ideas
When it comes to anniversaries, you might celebrate with the yearly traditional gifts (paper, anyone?). Or you might be one who thinks jewelry and a fancy steak dinner are the only way to mark the occasion.
But not every anniversary budget can stretch that far. No matter how you celebrate, the point is that you actually celebrate. So, if you're looking for ways to show your spouse you care without spending an arm and a leg, look no further.
Here are five romantic anniversary ideas:
6. Recreate your wedding cake.
Whoever said you can't eat cake for dinner? (Not me!) No matter if you had the cake of your dreams or if your sweet aunt made it on a budget, why not try to recreate it yourselves?
Get a fun apron for you and your spouse, pick out the perfect recipe, and get messy in the kitchen. You never know—you may surprise yourselves and like it even better than the original!
7. Visit your wedding venue.
Ahh, there's nothing quite as romantic as going back to visit the place you shared your vows to one another. If you got married in another country, this may not be a budget-friendly option. But for others, this could be a local wedding venue or even your parent's backyard. If it's close (and getting there is in the budget), grab some cheese, crackers and fruit for a build-your-own charcuterie board to eat after you walk down memory lane. You won't regret it!
8. Relive your wedding highlights.
There's nothing more classic than dinner and a show . . . especially when that show is your wedding highlights! Throw some steaks on the grill, add some baked potatoes, and you've got a perfect anniversary date!
But seriously, when was the last time you looked at your wedding pictures and thought about your big day? Dust off that album, watch your wedding video, or scroll all the way back on your phone. This is a great chance to think about how far you've come and all of the things you've learned about each other (like your love language or Enneagram number!).
9. Speak their love language.
Speaking of love languages, why not dedicate a night to your spouse? Nothing says romance like putting their love language front and center. Are they a gifts person? Maybe they're a words of affirmation person. Either way, pick their top three love languages and try to hit them all in one night!
And don't forget their favorite food (can I recommend a good pizza?). This idea will make an anniversary date night they won't forget.
10. Reread your vows.
Do you remember your vows? My wedding day went by so fast, it's hard to remember exactly what Winston said to me. And if your day went by too fast too, why not give those special words a chance to come alive again?
It's time to get out your vows, dust them off, look your sweetie in the eyes, and remind them of what you've committed to from day one. Then, set up a finger-food picnic in front of the fireplace and enjoy the night! Nothing spells romance like that—try it! (And you don't even have to leave the house. Win-win!)
Romantic Dinner Recipes
Now, the thing you've all been waiting for . . . the recipes. To make my list, these romantic dinner ideas had to be easy to meal plan, quick to make, and most of all, affordable.
Here are five of my favorites: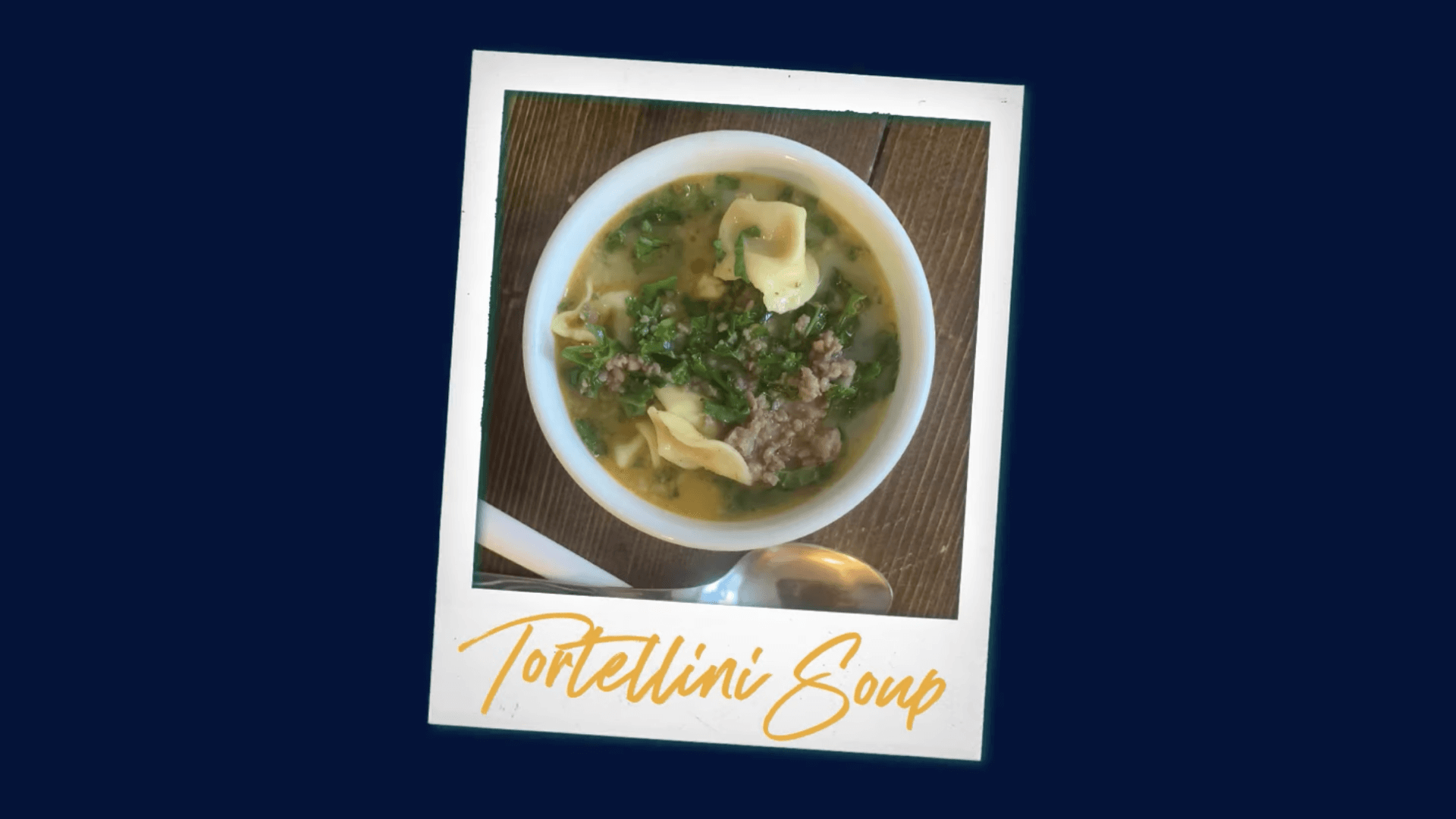 11. Sausage and Tortellini Soup
So many of my friends love Olive Garden. If that sounds like you, you'll love this play on their Zuppa Toscana recipe. It's just Italian sausage, chicken broth, kale, cheese tortellini and heavy cream. I like that you can control the spice level by choosing different types of sausage.
Prep Time: 5 minutes
Cook Time: 25 minutes
Serves: 6
Cost Per Serving: $3.48
Ingredients:
1 pound Italian ground sausage
6 cups chicken broth
1 bunch kale, destemmed and finely chopped
10 ounces cheese tortellini
1 cup heavy cream
Directions:
In a deep pot over medium-high heat, brown the sausage. When done, place the sausage on a paper towel to drain excess fat.
Return the pot to the heat and add chicken stock and kale. Simmer until wilted, about 15 minutes.
Return the sausage to the pot, along with the tortellini. Cook until tortellini is done according to package instructions.
Stir in the heavy cream.
Enjoy! That's amore.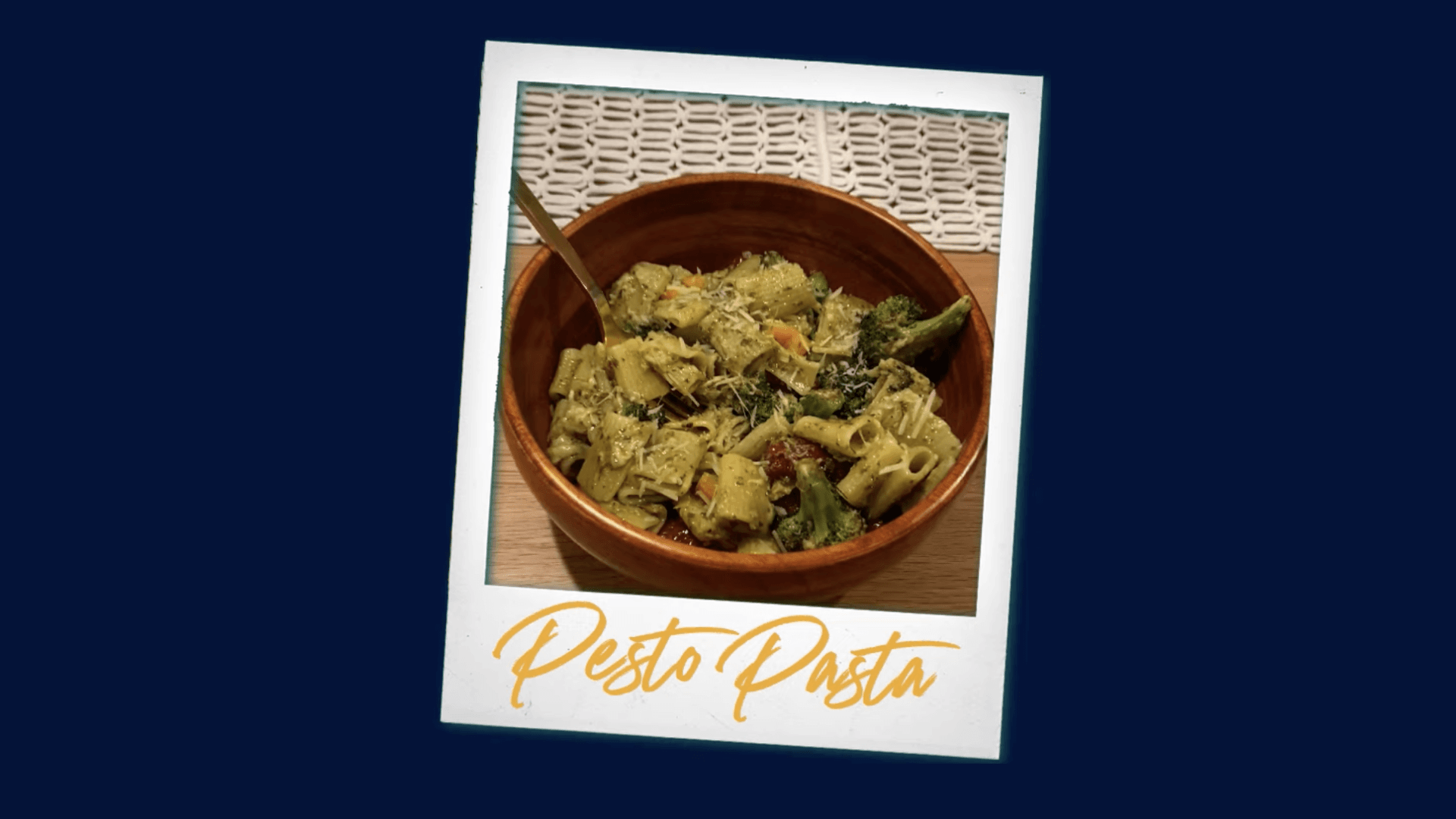 12. Pesto Pasta
When you think of this recipe, I want you to think of one thing: easy. Romantic dinner ideas don't have to be complicated—and they don't have to require a ton of dishes either. You'll roast some veggies in the oven, but then the rest of the cooking will happen in one big pot. It's delicious and easy to clean up! It pairs perfectly with that little secret in the back of the freezer—I'm looking at you, store-brand ice cream.
Prep Time: 5 minutes
Cook Time: 25 minutes
Serves: 4
Cost Per Serving: $2.51
Ingredients:
1 head broccoli
3 1/2 cups rigatoni (or whatever pasta you have in your pantry)
2 cups sun-dried tomatoes
2/3 cup pesto
1/2 cup grated Parmesan cheese
2 tablespoons olive oil
salt to taste
pepper to taste
Directions:
Preheat the oven to 350 degrees F.
Cut the head of broccoli into individual florets, coat in olive oil, and salt and pepper to taste. Place the broccoli on a sheet pan and roast for 20 minutes.
In a large pot, cook the rigatoni in boiling salted water until al dente, about 10 minutes (but check with the directions on your package). Drain, reserving 1/4 cup of the pasta water.
Place the pasta and the reserved pasta water back in the pot and place over low heat.
Add the sun-dried tomatoes, roasted broccoli, pesto and Parmesan. Stir until combined and the cheese has melted.

13. Stuffed Sweet Potatoes
Sweet, salty and saucy—three reasons this sweet potato recipe has become a favorite. You could change up the sauce and make it Tex-Mex, ranch or any other flavor combo your heart desires.
Prep Time: 5 minutesCook Time: 40–50 minutesServes: 2Cost Per Serving: $6.11
Ingredients:
1 rotisserie chicken
2 sweet potatoes
1 tablespoon olive oil
1 pinch salt
1 cup shredded red cabbage
1/3 cup barbecue sauce, plus more for serving
2 tablespoons sliced green onions
Directions:
Preheat the oven to 425 degrees F. Line a small baking sheet with parchment paper.
Remove two of the breasts (or thighs, if preferred) from the rotisserie chicken. Chop into small pieces and set aside.
Poke holes all over the sweet potatoes using a fork and drizzle with olive oil. Bake for 40–50 minutes on the prepared baking sheet until tender.
When just a few minutes remain on the sweet potatoes, add the cabbage to a medium skillet over medium heat. Add barbecue sauce and sauté for about three minutes, until soft.
Remove the pan from the heat and mix the chicken into the cabbage.
Once the sweet potatoes have cooled, slice in half lengthwise and scoop out some of the flesh with a spoon until only a small layer remains.
Add the chicken and cabbage filling to the sweet potatoes, drizzle more barbecue sauce on top, and top with green onions.

14. Four-Ingredient Chicken Roast
This romantic dinner idea is so simple because it's a one-sheet meal. You roast the chicken and potatoes in the oven together, and voilà! Serve it up with some crusty French bread and a glass of white wine.
Prep Time: 10 minutes
Cook Time: 35 minutes
Serves: 6
Cost Per Serving: $2.80
Ingredients:
6 bone-in, skin-on chicken breasts
4 tablespoons unsalted butter, softened
1 1/2 tablespoons chopped sage, separated
1 pound russet potatoes, cubed small
1 teaspoon olive oil
pinch of salt
Directions:
Preheat the oven to 300 degrees F. Set chicken out for 20 minutes while the oven preheats.
In a small bowl, combine the butter and 1 tablespoon of the sage. Spread the butter both under and over the chicken skin.
In a bowl, toss remaining sage with potatoes, oil and salt.
Spread potatoes on a baking sheet. Lay the chicken on top of the potatoes. Season chicken with salt and pepper.
Place sheet with chicken and potatoes in the oven for 25 minutes. Remove and toss the potatoes. Increase the heat to 450 degrees F and cook again for another 15 minutes, until the chicken skin is crisp and golden brown.

15. Chicken Taquitos
Mexican recipes will always make it into my list of romantic dinner ideas. Winston knows when he whips up anything Mexican, it makes me so happy. And this recipe hits the spot! You just put a little bit of each ingredient in the tortillas, roll 'em up, and bake or fry them. That's it!
Prep Time: 10 minutes
Cook Time: 15 minutes
Serves: 5­­
Cost Per Serving: $1.50–3.11
Ingredients:
1 tablespoon canola oil
3 cups chicken, cooked and shredded
1–2 minced chipotle peppers in adobo sauce
12 7-inch flour or corn tortillas
2 cups shredded Mexican cheese
vegetable or olive oil, for brushing
Toppings (optional):
pico de gallo
shredded lettuce
sliced avocado or guacamole
unflavored Greek yogurt or sour cream
fresh cilantro
Directions:
Preheat the oven to 425 degrees F. Line a baking sheet with parchment paper.
Toss the chicken and chipotle peppers in adobe sauce.
Lay the tortillas flat and fill the bottom third of each tortilla with 1/3 cup of the chicken mixture and 1/4 cup of shredded cheese. Roll tightly and secure with a toothpick.
Place the tortillas on the prepared baking sheet and lightly brush the filled tortillas with oil.
Bake for 12–15 minutes or until golden brown and crisp.
Remove the toothpicks and serve with your favorite toppings.
Quick tip: These recipes have you buying some ingredients you won't use up. Don't let the extra go to waste! Make the meal again or use those groceries in a different recipe that same week.
The Best Way to Get Started With Romantic Dinner Ideas
Now that you've got some romantic dinner ideas, anniversary ideas and recipes, it's time to put date night on the calendar—and in the budget. Winston and I budget every single month because it sets us up to win today, tomorrow and in the future.
The best way to do that is with EveryDollar. It's free, easy to use, and lets me track our expenses right in the app. Download EveryDollar today and start winning with your budget (and date night!).
Did you find this article helpful? Share it!