EntreLeadership Master Series Livestream | November 6-9, 2023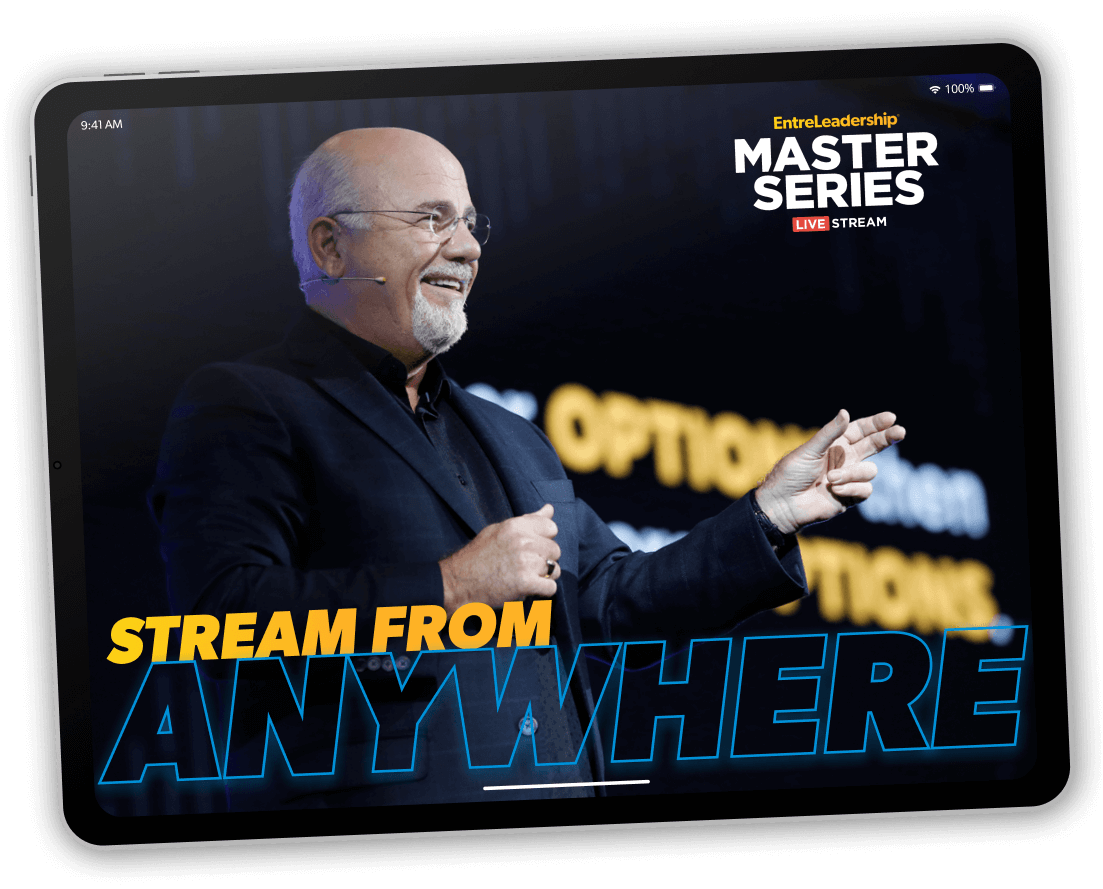 THE ULTIMATE SMALL-BUSINESS OWNER CONFERENCE

This event is for you—the small-business owner. The one who gets out of bed each day ready to tackle any obstacle. The one who doesn't settle for the status quo. The one who leads through uncertainty, gets knocked down, and always gets back up. Because you know this thing you built matters—and we know it does too.
Master Series is a crash course on all of our hard-earned lessons from 30 years of doing business. You'll learn strategies we wish we knew years ago for mastering the most challenging parts of running a business, like hiring and firing, feeling alone as a leader, time management, strategic planning and tons more.
If you want to change the trajectory of your business forever, stream Master Series from November 6–9. With your ticket, you can watch it live from anywhere, and you'll have access to the replays for the rest of the year. You'll walk away with a plan of action that'll help you address the real business problems you're facing.
Why Livestream?
No Travel Required
No planes, trains or automobiles needed! Stream the content live from work or home.
Lowest Possible Price
Experience our premier event at its lowest price point!
Watch With Your Team
Set your top leaders up to win—watch with up to two additional viewers per ticket.
Access to Replay
There's so much to learn. You're going to want to watch the event again.
Livestream Schedule

Monday
November 6
8:30 a.m.–5 p.m.

Tuesday
November 7
8:30 a.m.–5 p.m.

Wednesday
November 8
8:30 a.m.–4:30 p.m.

Thursday
November 9
8:30 a.m.–3:15 p.m.
DAVE RAMSEY
Dave Ramsey is America's trusted voice on money and business. A master at company culture, Dave uses his business framework—The 6 Drivers of Business—to teach you how to grow your business the Ramsey way. Dave is the author of four #1 national bestselling books and the host of The Dave Ramsey Show, which is heard by more than 18 million listeners each week.
CHRISTY WRIGHT
#1 Bestselling Author and Creator of Business Boutique
Christy Wright will get you fired up with her energy and her commitment to bringing out the best in your business and the best in you. As a Certified Business Coach and #1 national bestselling author of Business Boutique, Christy focuses on your personal development, goal setting and life balance. Her devotional, Living True: 40 Days to Get Back to You, is fresh off the press.
KEN COLEMAN
#1 Bestselling Author and Host of The Ken Coleman Show
Ken Coleman is America's Career Coach, and you'll love his passionate speaking style that equips, encourages and entertains individuals and businesses so they can discover what they were born to do and turn it into reality. He is the #1 national bestselling author of The Proximity Principle and the nationally syndicated radio host of The Ken Coleman Show.
DR. JOHN DELONY
Expert in Mental Health and Wellness, Education and Relationships
Dr. John Delony is a mental health expert with two PhDs in higher education administration and counselor education and supervision from Texas Tech University. Prior to joining Ramsey Solutions in 2020, John worked as a senior leader, professor and researcher at multiple universities. He also spent two decades in crisis response, walking with people through severe trauma. Now, as a Ramsey Personality, he teaches on relationships and emotional wellness.