We get it. You want to provide for your family and loved ones in case something happens to you, but the thought of a long and complicated will makes your head spin. You don't have the time or energy to figure it all out, but you can't shake the responsibility, either.
We've got good news: Creating your will can be easy. That's because most people don't need a complex will with all its fine print. A simple will can be your solution.
Interested in learning more about estate planning?
Sign up to receive helpful guidance and tools.
What Is a Simple Will?
A simple will is just a basic will that lets you outline how you want your stuff given away after your death, choose a person to make sure your will is carried out (aka a personal representative or executor), and even name a guardian for your kids. That's it. Simple, right?
But not so fast! A simple will can cover a lot of ground, but is it what you need?
Don't Know Where to Start With a Will?
Download our will worksheet to get started.
Do You Need a Simple Will?
No matter how old you are, you need a will. Period. Otherwise, your loved ones will be stuck up a legal creek without a paddle. Fortunately, most people don't need a complex will. If you're under 50 years of age and if your assets (the stuff you own) aren't worth enough to get hit with estate taxes, then a simple will works just fine.
Here are a few people who could use a simple will:
Meet: Quinten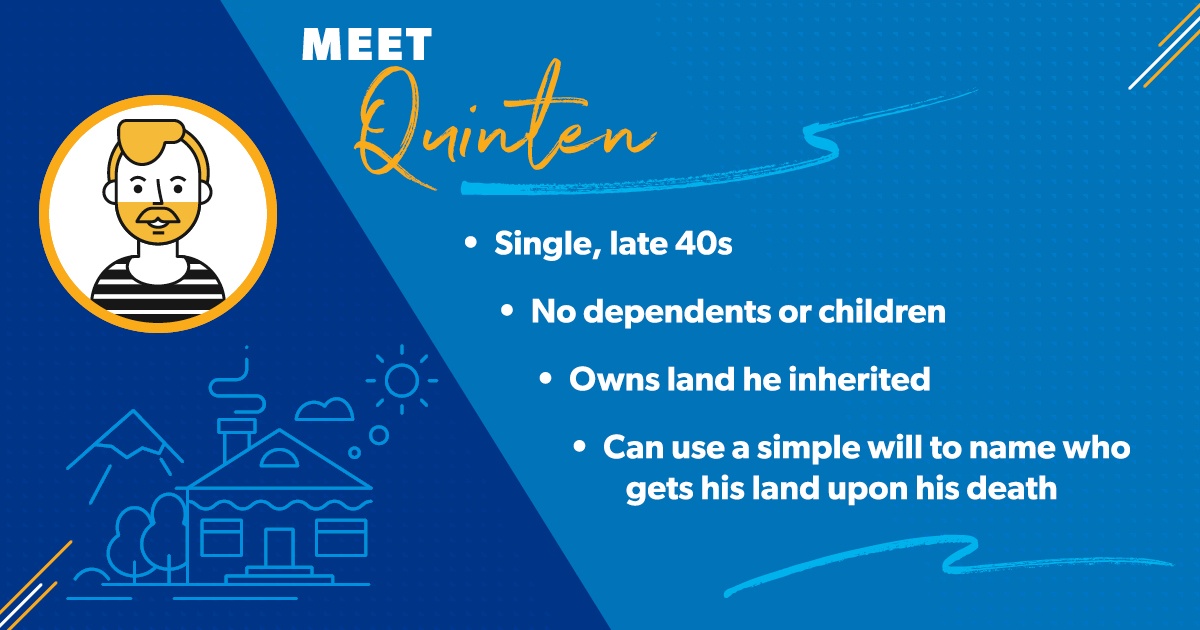 Quinten is a single guy in his late 40s who doesn't have any dependents or children. He just paid off his house and owns a piece of land he inherited from his father. He can use a simple will to name who will receive his house and his land upon his death.
Meet: James & Sheryl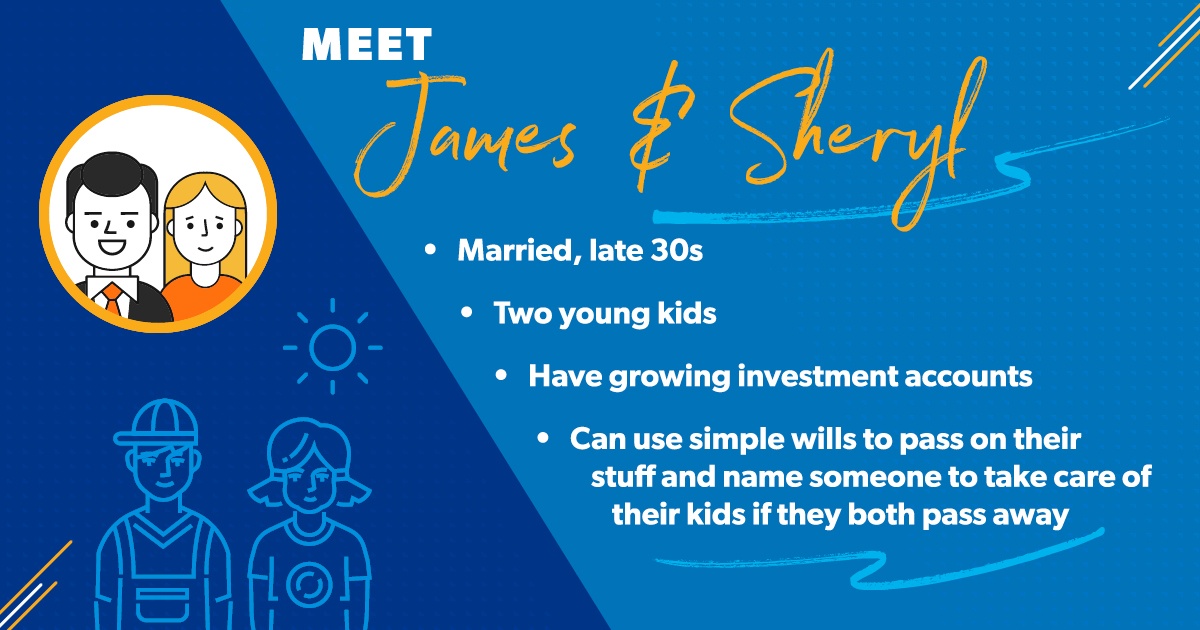 James and Sheryl are in their late 30s and have two kids. They have investment accounts, but those are still growing. They can use simple wills to pass on their stuff to each other if one of them dies. The couple can also name someone to take care of their kids if both of them were to pass away.
Meet: Michele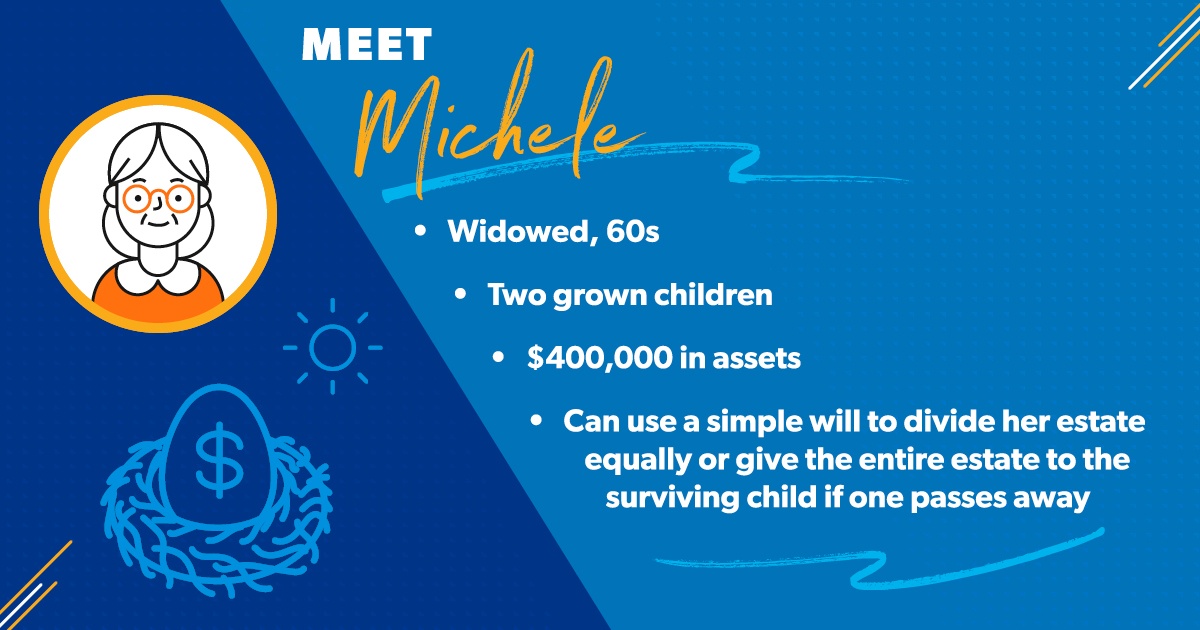 Michele is widowed with two grown children. Her assets add up to about $400,000. She can use a simple will to divide her stuff equally between her kids, or give the entire estate to the surviving child if one of them passes away.
Most people can go the simple route. (Take our quick, free quiz and find out if an online will works for you.) There are some other situations, though, that would require a complex will.
Times You Need More Than a Simple Will
If any of the following apply to you, you'll need to talk with an attorney about setting up your will, even if you're young and don't have a lot of money:
You own a business.
You think your will might be questioned or challenged.
Your estate (stuff you own) would be heavily taxed.
You've been through a divorce and/or have children from a previous relationship.
You want to set up a special needs trust for a child with a disability.
You want to set up a trust so your children receive a certain amount of money at a specific age.
You want to leave land to your children and then transfer the property to your grandchildren later on.
If you're not sure, get with an attorney. Don't rely on your Cousin Jessie who works at the county clerk's office. Be smart!
Will an online will work for you?

Find out if an online will works for you in less than 5 minutes.
Does a Simple Will Avoid Probate?
Sorry, folks, but even simple wills go through probate court, also known as probate. Don't let that discourage you. Probate doesn't have to be a long, drawn-out ordeal, and having a will in place makes the process a whole lot easier.
How to Write a Simple Will
A simple will needs to contain some basic information. You as the testator (the person writing the will) need to name a personal representative, or the person who will make sure the will is carried out as written.

Save 10% on your will with the RAMSEY10 promo code
Then you name the people (called beneficiaries) who will receive your stuff (money, property, land, etc.) and what exactly they'll get.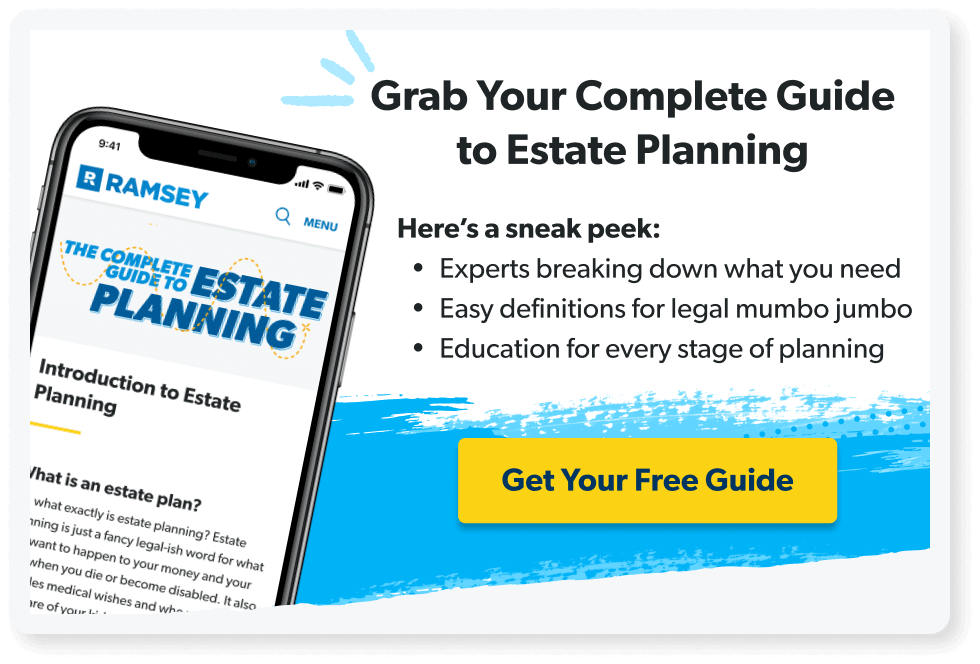 You can be as detailed as you want, which means you can give your baseball card collection or antique china to someone who will appreciate its value. And speaking of value, you can decide who gets any items with sentimental value too.
You also need to name the guardian(s) for any children under age 18. Otherwise, most states will name your closest relative, such as a sibling or a parent, as the guardians. You can even name someone as the caretaker of your pet, so you can rest assured that Killer, your parakeet, will be in great hands.
The good news is, you can easily build your own will, with RamseyTrusted provider Mama Bear Legal Forms, from start to finish online. You provide the information, and in less time than it takes to order out Chinese food, your will is complete. No muss, no fuss. Then, you can dive into your kung pao chicken and enjoy peace of mind too.
Did you find this article helpful? Share it!