Retirement Education
7 Min Read | Oct 10, 2022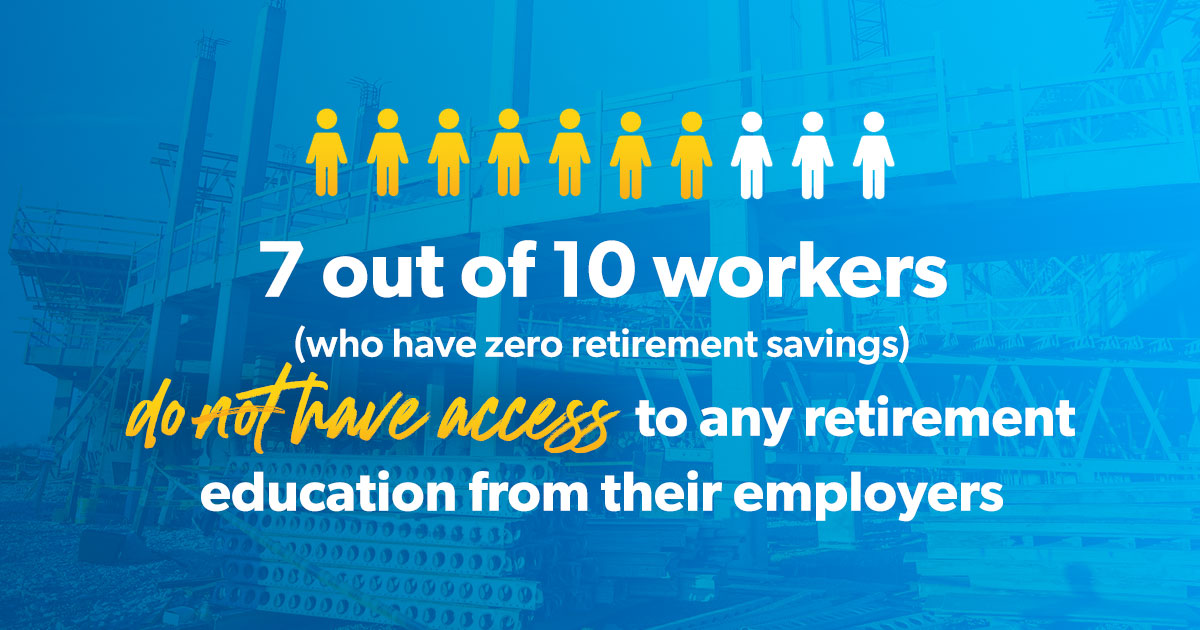 STUDY SUMMARY
40% of workers say their employers do not provide any type of retirement or financial education.
Seven out of 10 workers who have zero retirement savings do not have access to any retirement education from their employers.
Employers who do not provide access to retirement education have employees who report higher levels of anxiety and fear about retirement.
Downloads
Infographics
Have questions about this study? Email us or visit our newsroom for more information.
---
Employer-Provided Retirement Education a Win-Win for Employers and Employees
Americans' workplace retirement plans play a central role in their future retirement prospects. More than 60% of American workers currently contribute to a 401(k), and they expect their 401(k)s to be a top source of income when they retire.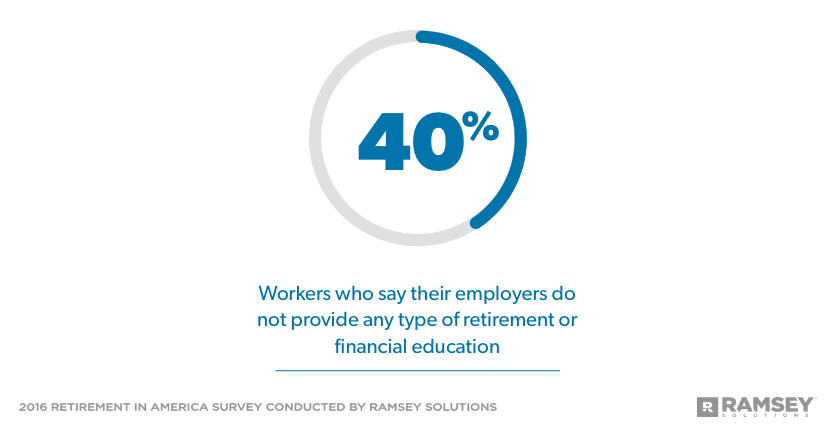 But 40% of workers say their employers do not provide any type of retirement or financial education. And that gap leaves them feeling stressed—those same workers rank anxiety as the number-one emotion they associate with retirement.
Given that workers with access to such resources report higher levels of retirement confidence and an overwhelming majority of American workers say they are open to talking with their employers about retirement, employers should consider doing more to help their employees plan for retirement.
How Do Workers Learn About Retirement?
In 2016, Ramsey Solutions commissioned a survey of more than 1,000 U.S. adults to evaluate the state of retirement in America. The second in the four-part series of reports based on the survey results focuses on where and how Americans learn about retirement.
Currently, the most common sources American workers rely on for retirement education are their employers (35%) and their parents (35%), followed closely by family/friends (32%). Millennials (41%) are more likely to have learned what they know about retirement from their parents than Generation X (35%) or Baby Boomers (23%).

People often go to their parents, family and friends because they're a trusted source. Friends and family may know what has or hasn't worked for them, but they may not know all of the options when it comes to saving for retirement. It's important to find other trusted sources so you can apply that knowledge to your own situation and goals.
Younger workers are more likely to have learned about retirement in school, but only a small number. Just 22% of Millennials learned about retirement in school, compared to 13% of Gen Xers and a mere 8% of Baby Boomers.
Upper-income workers tend to seek out additional resources on retirement education. Nearly 40% have consulted a financial advisor, 36% have read books on retirement, and 36% consult online sources. By comparison, just 10% of lower-income workers have met with a financial advisor, 11% have read books on the topic, and 22% spend time learning about retirement online.
Age and Income Impact Access to Employer-Provided Education
When it comes to access to employer-provided retirement or financial education, age and income are huge factors.
Half of Baby Boomers say their employers do not offer any educational resources on retirement, compared to 39% of Gen Xers and 33% of Millennials. Nearly two-thirds (64%) of lower-income workers say the same of their employers, along with 43% of middle-income workers and 29% of upper-income workers.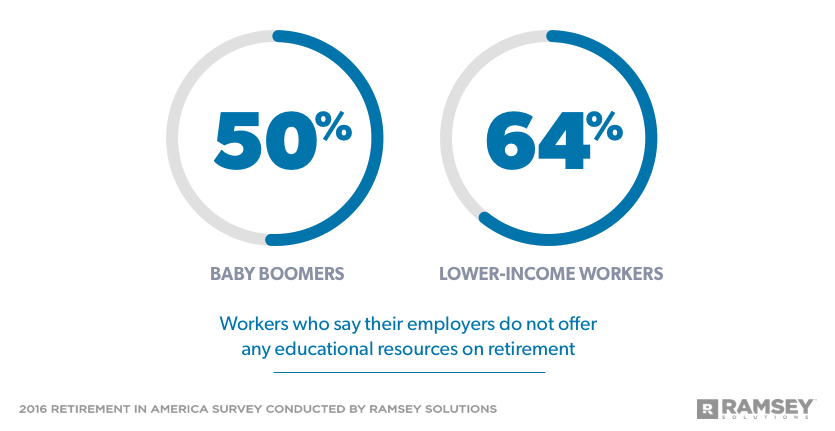 Employers have a great opportunity to educate their employees on everything from debt and budgeting to emergency funds and retirement savings. Older workers and those with lower incomes face enough challenges saving for retirement without adding a lack of knowledge to the mix. With a little effort on the part of their employers to provide a well-rounded financial wellness program, these workers can make the most of their limited time and money and set themselves up for long-term financial success.
Apparent Benefit of Employer-Provided Retirement Education
The influence of employer-provided financial education can be seen in workers' retirement saving amounts as well as their retirement confidence levels and overall emotional well-being.
Workers who listed their employers as their first or second source of retirement education have more money saved for retirement than those who listed parents or family members as their top source.
Nearly half (47%) of those who've saved $250,000–999,999 say their employers are a source of retirement education—second only to financial advisors. The same number (47%) of Americans with zero retirement savings list family/friends as their main source of retirement education.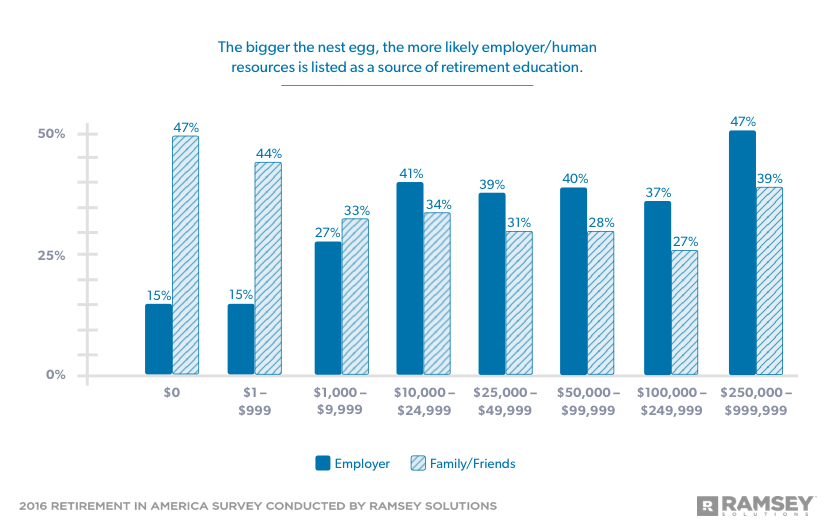 Seven out of 10 workers who have zero retirement savings do not have access to any retirement education from their employers, while only 11% of those who have saved $250,000–999,999 say the same. And workers who are the most confident about their retirement prospects are twice as likely to have access to retirement education from their employers than those who say they are the least confident.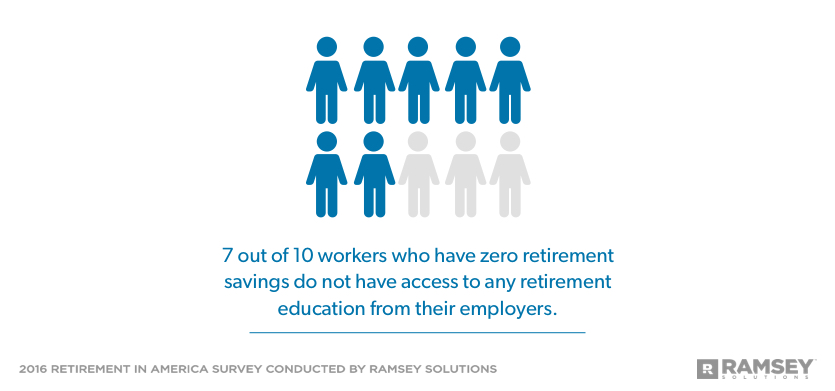 Workers with access to retirement education through their employers are also more likely to experience positive emotions like excitement (49%) and optimism (40%), while those with no educational resources at work report higher levels of anxiety (47%) and fear (40%).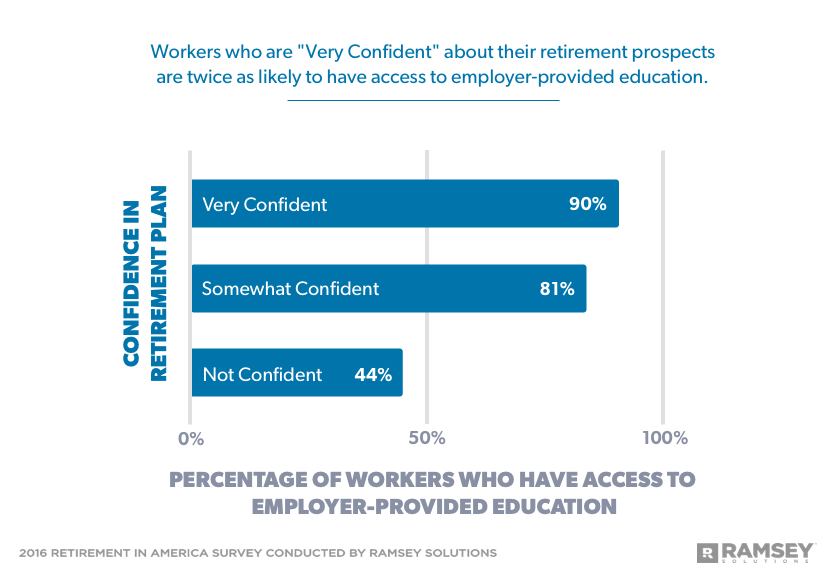 Many employers don't realize that financial wellness affects people on an emotional level. And workers who are struggling with money don't leave their worries at home. They bring them to work too. While it's important to get personalized retirement advice from an investing expert, these numbers show that offering educational resources on retirement saving principles is an effective way for employers to help their employees reduce stress and reach their retirement saving goals.
Employees Are Open to Retirement Help From Their Employers
Employers who are concerned about overstepping their bounds by opening discussions about retirement with their employees need not worry. Workers at every age and income level are extremely receptive to help from their employers with their retirement plans.
Nine in 10 Millennials and Gen Xers and eight in 10 Baby Boomers say they would be comfortable getting retirement planning help from their employers, with similar numbers for upper- and middle-income workers saying the same. Even lower-income workers welcome help with retirement from their employers, with more than three-quarters open to the idea.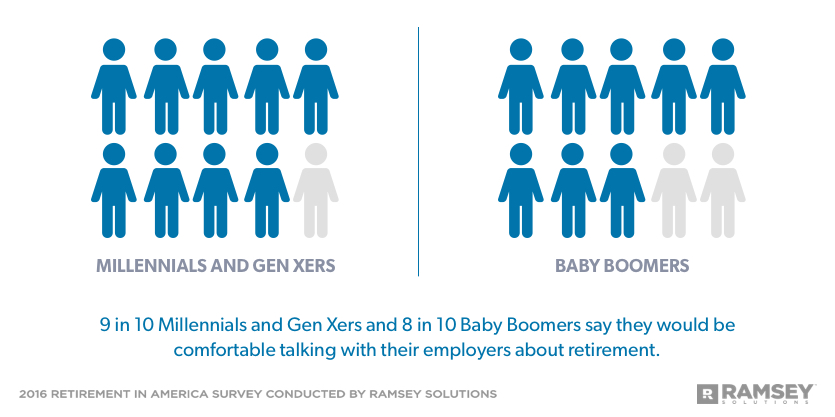 Conclusion: Employers Have Little to Lose and a Lot to Gain by Educating Their Employees
For employers who already offer a retirement plan, it only makes sense to also offer employee access to an overall financial wellness program that addresses employees' financial challenges (like budgeting and debt) and includes in-depth retirement education resources.
Adding a program that teaches your employees how to overcome their financial hurdles so they can take full advantage of their retirement plan is a win-win decision.
In the long run, you'll have better participation rates and increased savings in your employees' retirement plans. Not only that, your employees will have a much brighter retirement future, potentially reducing money-related stress in the workplace. That's better for everyone involved.
About this Study
Retirement in America is a research study conducted with 1,016 U.S. adults to gain an understanding on attitudes, behaviors and perceptions around the topic of retirement. The nationally representative sample was polled between February 26, 2016, and March 1, 2016, using a third-party research panel.
For the purposes of this study, the different generations are defined as follows:
• Baby Boomers: Born 1946–1964
• Generation X: Born 1965–1979
• Millennials: Born 1980–1997
Income levels are defined as follows:
• Upper income: $75,000 or more
• Middle income: $25,000–74,999
• Lower income: $24,999 or less
Did you find this article helpful? Share it!