Have you been watching the hot housing market lately? It's insane! Not only have home prices gone up 11.2% since last year, but with a shortage of homes, buyers are doing crazy things just to make sure they get the house they want.1 Sixty-three percent of home buyers in 2020 made an offer without even seeing the house!2 And 39% of homes are selling for over the asking price—we're talking way over in some cases.3 Plus, buyers are willing to skip the home inspection and even rent the home back to the owner just to sweeten the deal.
It's a great time to be a seller . . . well, that is, until you have to go find a place, swap roles, and become the buyer too. It might feel like you just can't win, but it is possible to survive this crazy market. How? Here are some tips to keep your cool in this hot market.
What Is a Hot Housing Market?
By now, you've heard the term "hot housing market" tossed around a lot. But what does it even mean? A hot housing market happens when there are more buyers out there than houses—aka the demand is high and the supply is low. Remember that from economics class?
Supply and demand is the basics of what drives costs up on items you buy—yep, even houses. For sellers in this kind of housing market, they usually can sell their home fast and make a pretty penny for it too. For buyers on the other hand, things are less rainbows and butterflies. Buyers often find themselves paying more and getting less home for their money in a hot housing market.
In reality, the real estate market is always changing. Sure, it can be pretty predictable at times, and that lets us anticipate certain trends, but there are also big shifts that can cause the market to take a whole new course for months or even years. Since 2013, the average home sales price has gone up, and that tells us we've been in a really strong market for a while now.4 That means some people are expecting the housing bubble of good fortune to burst (aka the market stalling and taking a nose dive), but so far that isn't happening.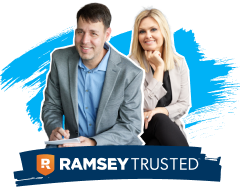 With the right agent, taking on the housing market can be easy.
Buy or sell your home with an agent the Ramsey team trusts.
Connect for Free
Why Is the Housing Market So Hot Right Now?

Some might say the answer is simple: COVID-19. So, did COVID-19 do a number on the housing market? Well, sure it did. But it wasn't really the pandemic itself that caused all the trouble. It was the effects of the pandemic. Here are a few of the ways the housing market got turned on its head and into a feeding frenzy for buyers.
Supply Problems
In some ways, it all started with the lumber shortage. With not enough materials to build new homes, there weren't very many options for buyers who were looking for new construction homes. And if you can't get a new home, well, then your next option is to go looking for a used home. Which means, now you have twice as many buyers out looking at half as many available homes as normal. Factories shutting down sure threw a kink in everything.
Not Enough Houses for Sale
So now, not only do you have fewer new homes being built, but there's not enough existing homes for sale to meet the demand. In March 2021, unsold home inventory was at 1.07 million houses—that's down 28.2% from 2020's inventory of 1.49 million houses.5 That means people wanting to buy a home will become more desperate to land one—and more likely to pay higher prices to make it happen.
Mass Exodus From Metro Areas
Everyone is leaving California and New York in droves! Sound familiar? If you watched the news at all in the last year (first of all, sorry), you probably saw plenty of news stories about people leaving their crowded, overpriced big city for cheaper homes in the suburbs. And all of it was true.

Find expert agents to help you buy your home.
From July 2019 to July 2020, the state of California saw 135,400 more people leave the state than move into it.6 And as far as big cities go, New York City seemed to take the worst hit. The Big Apple saw 110,978 people hightail it out of there in 2020—that's up 487% compared to 2019!7
Low Interest Rates
And let's not forget about those crazy low mortgage interest rates. The Fed dropped interest rates by half a percentage point at the beginning of March 2020 and then dropped them again later that month to 0–0.25%.8,9 This made a bunch of folks not only decide to refinance their mortgage but also buy homes—in the middle of a global pandemic! At a time when you might think people would be hunkering down and staying put, a lot were just fine with buying or selling because of those crazy low interest rates.
In 2020, the average interest rate for a conventional 15-year fixed-rate mortgage (the cheapest type of mortgage and the only kind we recommend) dropped to 2.61!10 And now in 2021, April's average is still staying low at 2.36%.11
How to Navigate a Hot Housing Market
What Does It Mean for Sellers?
Because there are more motivated buyers than sellers, competition is fierce and inventory is . . . not so fierce. Many listings, especially those under $350,000, are going fast and stacked with a ton of offers. If you're a seller in this hot housing market, you have a really strong advantage. You're able to sit back and look at a lot of offers and pick the best one. You don't have to take the first offer on the table just because you're in a pinch and need to move.
But before you put up the "for sale" sign and load your Tahoe with moving boxes, make sure you're really financially (and emotionally) ready to sell. Then if the green lights are flashing, the next step is to get with your agent and prepare for these common things in a seller's market:
Are you selling and buying? Sell your home first before you buy. Remember, with low inventory, it may take longer to find a new home than to sell your current one. And you definitely don't want to be stuck paying two mortgages at the same time. As awesome as it's going to be to sell your place and pocket all that extra cash, just remember that you'll soon be in the buyer's shoes looking for a new place. That means you'll feel all those headaches that come with being the buyer.

Make all the options work in your favor. Need to buy and sell on the same day? Want to rent back the home after it sells? In this hot housing market, buyers will be more likely to accept your terms. Take advantage of it!

Have a multiple-offer game plan. Get on the same page with your agent on price, type of financing and contingencies so that you pick the best offer.

Higher price point homes aren't moving quite as fast. If your home's value is around $500,000 and up, don't get discouraged if it takes a little bit longer to sell.

Make sure you have enough insurance coverage for your current home's increased value. As long as you're still in your current home sweet home, it's a good idea to make sure your homeowner's coverage amount is still enough to cover the new rise in your home's value.
What Does It Mean for Buyers?
Just because it's a seller's market out there doesn't mean buyers can't come out on top too. But you're going to need to have a seasoned pro real estate agent in your corner—now more than ever. Between the low inventory of houses, crazy competitive offers, and homes going for way over their asking price—you're going to need a top-notch agent to be your guide.
To win in a seller's market, buyers need to keep these things in mind:
Think about your time frame. Buying a house is a long-term investment. If you don't plan to stay in a home at least three years, you may want to rethink buying it—especially in a hot housing market like this.

Know what it takes to have a competitive offer. If you're going the mortgage loan route, then be sure to get preapproved (not just prequalified) for a conventional loan.

Make a cash offer (if you saved for it). If you've been saving all this time to make a cash offer, even better! Cash is king, you know, and it'll set you apart from other buyers out there. In this hot housing market, you need anything and everything that can inch you past another offer. And if you're coming in with an all-cash offer—that's sure to get plenty of attention.

Stick to the budget. Sure, it's tempting to beef up your offer and blow your budget—especially if you love the house and feel like you need to act now. But don't let emotion and a time crunch cause you to make a bad money decision. A lot of buyers are getting swept up in that—1 in 5 first-time home buyers offered more than their budget allowed, and nearly 15% totally waived contingencies (like a home inspection).12

Be prepared for a longer house hunt. As much as you want to land a house right now, you might have to come to terms with waiting a while—especially if you're a first-time home buyer. One in 5 first-time home buyers spent more than a year searching for their home.13

Know when to walk away. If you keep getting outbid, think you'll have to settle for a home you don't want, or feel pressured to go over budget (don't), then it might be better to let things cool off a little. Waiting another six months to a year might feel like an eternity, but it can do a lot for letting a hot housing market settle down.
Bonus: You'll be able to keep adding to your down payment, and maybe you'll even nab a raise at work—which will all put you in a better position when you do buy.
How to Win a Bidding War
So—for better or for worse—you've gotten into a bidding war. Guess what? It's pretty normal these days. Redfin found that 64% of offers they wrote in March 2021 ended up in a bidding war.14 Your offer might get the seller's attention if it's the highest on the table or if it comes with the least amount of hoops to jump through (contingencies). Here are some ways to make your bid look even better:
Offer to top the highest bid by $1,000 up to a certain amount. This way, you're less likely to be outbid by anyone.

Make a cash offer. This makes your closing costs lower and brings closing day faster—which is probably what the seller wants if they're trying to buy another home at the same time.

Up the amount of your down payment or the earnest money percentage.

Remind the seller why you love their home. If you already sent a handwritten letter, point back to that! People like to think their cherished home is going to be loved and enjoyed by the next homeowner too.

If you've been preapproved for a mortgage, say it again. That way, the seller knows there's less of a chance that your financing might fall through at the last minute.

Definitely resist the urge to contact the seller yourself. Don't be creepy here. They're probably under a lot of stress, and you might make things a lot worse. It's best to let your agent make your case to their agent.
Will the Hot Housing Market Slow Down?
If you're thinking about buying or selling, settle in, folks. The pros all agree that this seller's market is here to stay a while. Remember though, real estate is regional. Sure, we've seen the market across the country explode—but that might not be true if you're house hunting in rural New Mexico. It's always best to ask a pro agent in your own area what's up.
This market is nuts—there's no denying that. At some point, though, things will calm down again—that's just the nature of the beast. But it's going to take a few factors to cool off this hot housing market. The bad news? The things that could pour water on the market aren't very good things:
Inflation
We've already seen the price of groceries and gasoline go up in the last six months, and there's a real possibility that full-fledged inflation could kick in here, too, as the economy opens back up. If people are strapped when it comes to buying the basic necessities, they'll probably be less likely to buy a house.
Rising Interest Rates
Interest rates are ridiculously low right now. But when they increase by even just a couple percentage points, we'll see people freeze like a deer in headlights. But the Fed has said they plan to keep rates low until 2023.15
Take Control of the Hot Housing Market With a Trusted Pro
This is definitely the time to have a trusted pro in the real estate world on your side. If you're buying or selling a home in this hot housing market, don't go it alone. You need an expert agent who knows the area, knows the way the market is looking, and knows how to use that to your advantage. They can help you save more money or make more money—whether you're buying or selling.
That's exactly why we have rock-star agents in our nationwide Endorsed Local Providers (ELP) program. Our real estate ELPs are top-performing professionals in your market who've earned our trust by actually caring about your financial goals. They've weathered the market's storms and are the only pros we recommend to help you make your next move. Make sure you have a trusted pro in your corner in this hot housing market.
Find your real estate agent today!
Did you find this article helpful? Share it!