If you're a tenant or a homeowner struggling to make monthly housing payments due to the impact of the pandemic and lockdowns, we feel for you. You've been through a lot. And now that the federal bans on evictions and foreclosures have officially ended, you may be wondering what options are left out there to help you take control of your finances before you lose your home. That's a scary situation—but we can help!
Maybe you're on the other end of things as a landlord and are wondering how many more months you'll go without collecting the regular rent check from your rental property—which is putting a painful dent in your wealth-building goals. We know that's a tough place to be.
Whichever side you're on, it'll help to know the latest news on the eviction moratorium and the foreclosure moratorium. Wait, what? Yeah, these terms sound pretty complicated. But don't worry. We'll help you figure out what they mean for your situation and find rent relief options that are available now.
Let's get started.
What Is a Moratorium?
First, a moratorium is a fancy word for a temporary ban on evictions and foreclosures—which would otherwise remove renters and homeowners from their homes for not making payments they owe (rent or mortgage).
In other words, if the pandemic has harmed your ability to make housing payments, then you might have been protected by the moratorium to stay in your home for a set period of time—despite missed payments.
But here's the kicker: Eventually you'll still owe back all the rent you missed. Yup. A moratorium only means back payments are on hold without penalty.
Relief Options for Renters
Since the beginning of the pandemic, federal housing relief efforts like the eviction moratorium were set up to protect renters. This kept renters from losing their homes if they lost a job or income or had devastating medical expenses due to circumstances related to COVID-19.
The federal eviction moratorium was originally set to end in 2020, but it was extended again and again by the Centers for Disease Control and Prevention (CDC), with the most recent deadline being October 3, 2021.1 That is, until the Supreme Court stepped in to end the moratorium on August 26.2
But even though it ended, there are still protections for people who may be facing eviction. And if that's you, you're not alone. A recent survey from the U.S. Census Bureau showed that nearly 3.7 million Americans believe it's somewhat or very likely they'll be kicked out of their homes by the end of the year.3 That's a scary feeling to have, but remember, there are still options available for help.
Federal vs. State and Local Evictions
An important thing to remember is that the CDC's moratorium was at the federal level, but that doesn't change the status of an eviction moratorium that may have been set up by your state or local government. For example, New York has an eviction moratorium in place through January 15, 2022, while the city of Fresno, California, has one set until further notice.4
Each state and city might also have different rules for who qualifies for relief, so be sure to check with your local officials to know where you stand.
Who's Eligible for Rent Relief?
Now that there's no federal moratorium, the application process may look different for rent relief depending on where you live. But most states based their guidelines off of the federal rule, so here's a bit of what you can expect:

Find expert agents to help you buy your home.
The CDC's eviction moratorium only covered those who couldn't keep up with rent, didn't have other housing options, and earned no more than $99,000 annually (or $198,000 for couples)—among other qualifications.5 Keep in mind, eviction protection wasn't automatic. To be covered, you had to fill out a CDC declaration and send it to your landlord.6
Also, the eviction moratorium didn't protect you if your rental agreement expired and your lease was up. Same goes for if you damaged the property or violated the terms of your rental agreement in any way.
How to Avoid Eviction Going Forward
For help avoiding eviction in the future, make sure you know how much rent you can actually afford. We recommend never renting a place that costs you more than 25% of your monthly take-home pay. You'll also want a full emergency fund of three to six months of expenses to protect yourself when life hits you with the unexpected.
If you're suffering from financial hardship during this season, don't give up hope. There is a way you can take control of your money for good. Get the best content and tools and a plan that'll help you turn small wins into real results. Try Ramsey+ for free today.
What Landlords Should Know
Again, the CDC's eviction moratorium has expired, but your state or local government might have its own ban on evictions in place until a certain date. So be sure to contact your local government to know your rights as a landlord.
You've probably worked hard to be understanding to tenants who are facing hardships during this season. But if you're a landlord who hasn't been able to collect rent for over a year, you might be feeling the financial strain that comes from a loss of income. If you rely on those rent checks that aren't coming in, check to see if you qualify for emergency rental assistance. State and local programs are currently taking applications to help cover things like back rent, utilities and other housing costs.7
But in the end, if your finances get hit too hard waiting for checks that aren't coming in, you might choose to sell your rental property altogether. We know that's a tough spot to be in, and you're probably hoping that would be a last resort. We totally get that. But remember, you've got to make the best financial decision for you and your family—and sometimes that means cutting ties with things that aren't serving you anymore.
If you go that route, it's likely that the ownership of your tenant's contract will need to be transferred to your buyer. And that could make the property difficult to sell. But if you find a trusted real estate agent, they should be able to help you find the right buyer.
What Homeowners Should Know
The foreclosure moratorium or mortgage moratorium protected homeowners from losing their house if they couldn't make mortgage payments for reasons related to the pandemic. After a few extensions, the moratorium—which was set up by government-sponsored mortgage programs—officially expired on July 31, 2021. And unfortunately, since then, foreclosure filings have been on the rise—jumping 27% in August and another 24% in September.8,9
But that doesn't mean help isn't available for homeowners. The Biden administration set up a new mortgage servicing rule on August 31, 2021, to help owners who are struggling to make payments.10 The new rule puts protections in place to help borrowers who are at risk of foreclosure—like helping them get into a repayment plan and preventing mortgage servicers from increasing monthly payments.11
If you're struggling to make your mortgage payments, know that there are plenty of options to try before you go into foreclosure. You may be able to enroll in a mortgage forbearance agreement. What's mortgage forbearance? It's a deal between you and your lender to give you a period of time to catch up on payments and avoid penalties by pausing or reducing your mortgage payments.
Avoid Foreclosure by Doing a Short Sale
Another option you have to avoid foreclosure is to do a short sale. A short sale is when your lender is willing to accept less money for your home than the amount you still owe on your mortgage.
Doing a short sale is less damaging to your financial standing than a foreclosure. Plus, it might be easier to convince your lender to do a short sale because it helps them avoid the costly legal process of a foreclosure and still get back as much of the original loan as possible.
Avoid Foreclosure by Refinancing
You should only refinance your mortgage to lower your interest rate—not your payment. But the savings you get from refinancing could help you take control of your finances in the short term and avoid foreclosure.
If you want to learn more about mortgage refinancing and how to do it or if you're ready to refinance now, connect with the home loan specialists we trust at Churchill Mortgage. They'll help you get a mortgage you won't regret.
How to Avoid Mortgages You Can't Afford
To keep your home from owning you, never get a mortgage with a payment that's more than 25% of your monthly take-home pay. That includes principal, interest, property taxes, homeowners insurance, private mortgage insurance (PMI)—and don't forget to take homeowners association (HOA) fees into consideration. Use our mortgage calculator to enter your down payment amount and try out different home prices within your budget.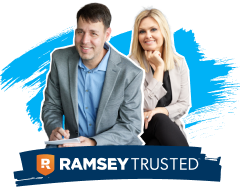 With the right agent, taking on the housing market can be easy.
Buy or sell your home with an agent the Ramsey team trusts.
Connect for Free
Need to Sell Your House or Rental Property?
If you've made it this far, you're likely in a rough spot. And for that, we want to say we're sorry. Maybe you're a landlord who's struggling with a loss of rental income and can't afford to continue waiting on rent relief options to end. Or maybe you're a homeowner with a mortgage that's crippling your finances and you need to sell the house before it's too late.
No matter what your season looks like, remember that seasons change. There is hope, and that hope starts with taking control of everything that's controllable. And in these situations, that might start with the really gut-wrenching choice to sell your house.
We know that choosing to sell your home is a hard decision, especially right now. But if you decide that it's best for you and your family, reach out to an Endorsed Local Provider (ELP) for personalized, compassionate guidance. These trusted agents share your values and will walk you through this process and these hardships every step of the way.
Did you find this article helpful? Share it!