Virginia may be for lovers—but will you love the cost of living in the Old Dominion State permanently? To help you answer that question, we'll unpack the cost of living in Virginia—from housing to taxes and more.
Let's dive in!
What's the Average Cost of Living in Virginia?
The average cost of living in Virginia is just 1% higher than in the average U.S. state.1 So living in Virginia is cheaper than some states (like California), more expensive than some (like Tennessee) and about the same as others (like Florida).
Of course, Virginia's cost of living varies a ton across the state—anywhere from 15% lower to 46% higher than the average U.S. city.2
To find Virginia's cost of living, we looked at a cost of living index. It studies 12 cities in Virginia and compares them to hundreds of other cities around the country.
On the index, the number 100 represents the national average cost of living. Virginia costs of living that scored below 100 are cheaper than average. Anything above 100 is more expensive. Let's take a look:
| | | |
| --- | --- | --- |
| Cost of Living Category | Virginia | U.S. |
| Housing | 109 | 100 |
| Utilities | 97 | 100 |
| Groceries | 95 | 100 |
| Transportation | 91 | 100 |
| Health Care | 101 | 100 |
| Miscellaneous | 100 | 100 |
| Total | 101 | 1003 |
Now, let's dig in and find out what all those numbers mean.
Housing Costs in Virginia
In 2021, the average home price in Virginia was $444,305—almost $46,000 over the national average of $398,393!4 Monthly rent for a two-bedroom apartment was $1,252—just a few dollars more than the national average of $1,217.5
Of course, housing costs vary a ton, depending where in the state you live. For example, you could buy an average house in Danville for just under $274,000.6 But move to Arlington or Alexandria, and you're looking at home prices closer to $1 million!7
Check out the cost differences between these Virginia cities:
| | | |
| --- | --- | --- |
| Metro Area* | Average Home Price | Average Monthly Rent* |
| Charlottesville | $439,629 | $1,256 |
| Danville | $273,650 | $1,183 |
| Richmond | $339,453 | $1,234 |
| Hampton Roads | $347,649 | $1,256 |
| Alexandria | $909,390 | $2,105 |
| Arlington | $965,933 | $2,5818 |
*Metro Areas include the city and surrounding urban and suburban areas.
**Average Monthly Rents refer to the monthly costs for two-bedroom apartments.
Housing Costs in Virginia Beach, Arlington and Alexandria
Let's look at three of the most popular cities in Virginia so you can see how those housing prices play out over the long term.
Virginia Beach
Virginia Beach has the cheapest homes out of these three cities . . . but are they truly affordable?
We crunched the numbers in our free mortgage calculator, using a 15-year fixed-rate mortgage at 3.66% interest. To keep it simple, we left out property taxes, insurance and HOA fees. Here's what that could look like:
| | |
| --- | --- |
| Home Value | $347,649 |
| Down Payment (20%) | $69,530 |
| Monthly Payment | $2,010 |
| Total Interest | $83,707 |
| Total Home Cost | $431,356 |
The median yearly salary in Virginia Beach is $78,136.9 So you'd spend about 31% of your income on your mortgage. Some people say that's the right amount, but it's actually a little high.
We'll talk about that more in a minute—first, let's pop over to the D.C. area and see what housing prices are like there.
Arlington
Buying a house in Arlington is easier said than done—even if you get the cheapest possible mortgage. Here's how much a house in Arlington really costs:
| | |
| --- | --- |
| Home Value | $965,933 |
| Down Payment (20%) | $193,187 |
| Monthly Payment | $5,585 |
| Total Interest | $232,580 |
| Total Home Cost | $1.2 million |
That's a lot of money. And although the median salary in Arlington is $122,604 per year, it isn't enough.10 You'd spend over half your income on your mortgage! That doesn't leave enough for emergencies, other living expenses or retirement savings.
Alexandria
Technically, Alexandria is cheaper than Arlington, but buying a home in Alexandria might actually cost you a bigger percent of your income. Check it out:
| | |
| --- | --- |
| Home Value | $909,390 |
| Down Payment (20%) | $181,878 |
| Monthly Payment | $5,258 |
| Total Interest | $218,965 |
| Total Home Cost | $1.13 million |
You can see homes are slightly cheaper. But the mortgage payment is actually about 62% of the median yearly salary in Alexandria, which is $102,227.11 That's an even bigger chunk of your income than in Arlington. Yikes! No, thank you.

Find expert agents to help you buy your home.
Okay, you get it. Virginia's most popular cities have expensive housing. So let's talk about how you can afford a home there—you know, without robbing a bank.
How to Handle Housing Costs in Virginia
First things first: You've got to set a housing budget. Whether you decide to buy or rent, we recommend keeping housing costs to 25% or less of your take-home pay. If you're getting a mortgage, that includes property taxes, homeowners insurance, private mortgage insurance (PMI) and HOA fees.
Once you and your spouse—if you're married—set a budget, start looking at places where you want to live. High costs may knock a few neighborhoods out of the running, but don't give up! You can find a home or apartment that's truly in your budget.
When you're ready to buy, choose a 15-year, fixed-rate conventional mortgage so you can own your Virginia home faster. And put at least 10% down (20% is better so you can avoid private mortgage insurance). For a smart mortgage you can pay off fast, check out Churchill Mortgage. They'll help you find a mortgage that keeps your financial goals in mind.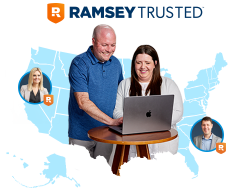 Don't buy or sell without an agent you can trust.
There are RamseyTrusted real estate agents all over the country who are ready to help you win.
Find a Local Agent
Utilities
Utilities like electricity, water and natural gas cost 3% less in Virginia than the average state.12 Blacksburg has the cheapest utilities at 13% below average.13 But in six cities—Charlottesville, Danville, Lynchburg, Richmond, Hampton Roads and Lexington—you can expect to pay at or above the national average.14
So if you move to Blacksburg, you'll only pay around $134 a month for all types of energy—$36 cheaper than average!15 You'll pay around $181 per month in Lexington, the most expensive city.16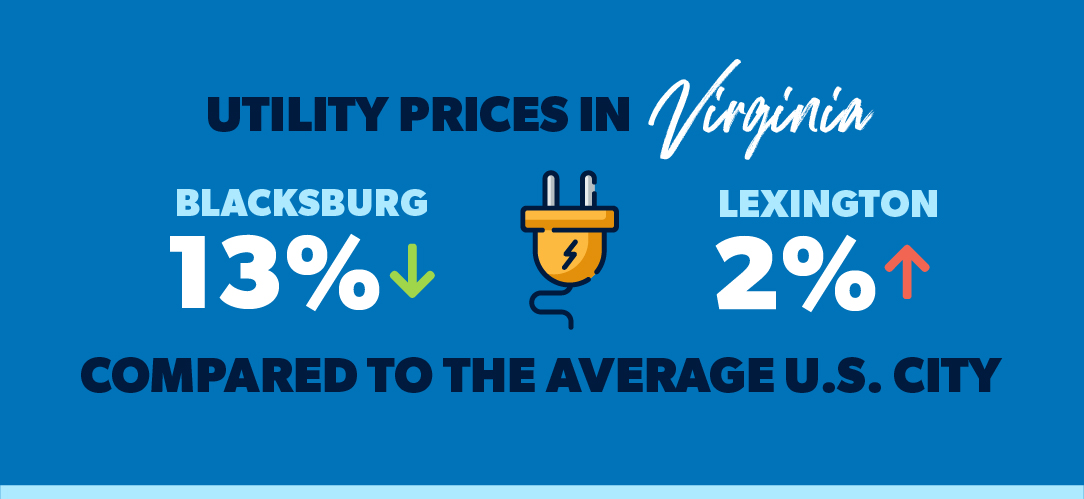 Groceries
You'll probably do some grocery shopping at Wegman's, Giant Food or Harris Teeter in Virginia—and when you get to the checkout lane, you'll actually catch a bit of a break. Groceries in Virginia cost 5% less than the national average.17 (That's a huge win, because a lot of states break the bank in this category!)
Groceries are cheapest in Roanoke (around 14% below average).18 And no surprise here: They're most expensive in Arlington and Alexandria. There, you can expect to pay 10–12% above average.19
If you find yourself paying more for groceries because of where you live or how much your family eats, stay calm and take some tips from our friend Rachel Cruze. She'll teach you how to save at the grocery store like a boss!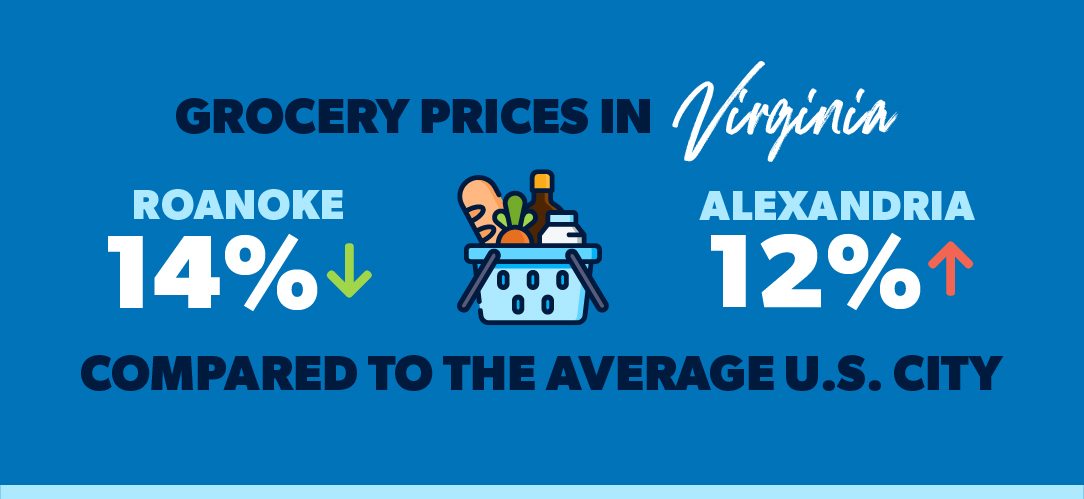 Transportation
Great news: Transportation is the cheapest cost of living category in the whole state of Virginia! Generally, residents of the Old Dominion State pay 9% less for things like gas and car maintenance than their fellow Americans.20
Of course, that all changes when you get to Lynchburg. Move to this little town near the North Carolina border, and you'll pay a whopping 20% less than normal for transportation!21
Wherever you live, just remember to include car insurance costs in your transportation budget. Virginia's got snarly traffic in the D.C. area, and the small towns have windy roads (not to mention wildlife that might run onto them).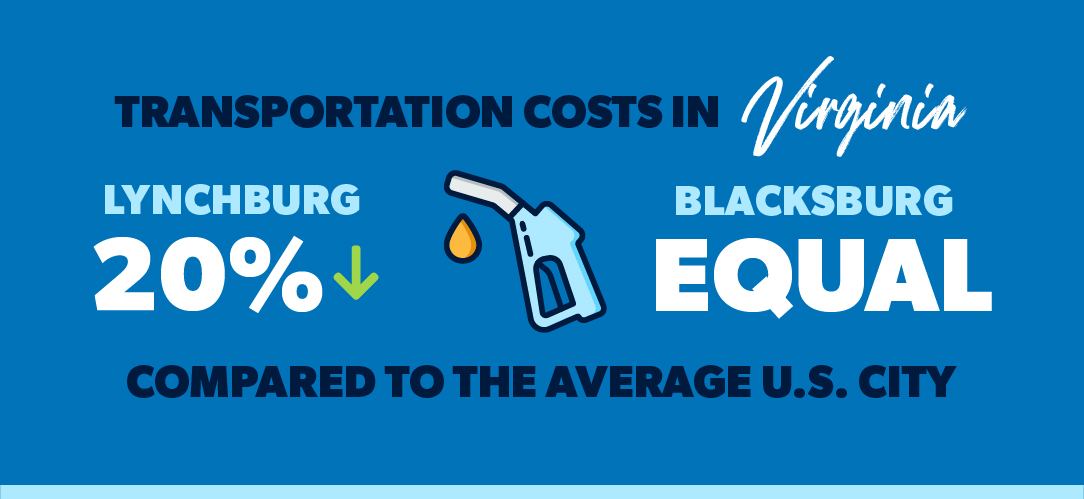 Health Care
Virginia health care costs range anywhere from 6% lower to 12% above the national average.22
Surprisingly, Arlington is one of the cheapest cities for health care (Hampton Roads is the other). Lexington charges about the average among Virginia cities—right on par with the national average.23 And the most expensive city? Charlottesville, where health care costs 12% more than average.24
Here's how much common health care services and products cost in Lexington compared to the average U.S. city:
| | | | |
| --- | --- | --- | --- |
| Health Care Type | Lexington Cost | Average U.S. City Cost | Cost Difference |
| General doctor | $105 | $118 | -11% |
| Dentist | $104 | $101 | +3% |
| Eye doctor | $108 | $109 | -0.9% |
| Ibuprofen | $10.87 | $9.93 | +9.5% |
| Prescription drug | $491 | $470 | +4.5%25 |
Taxes
Like most other states, Virginia has a graduated-rate income tax. That's when some residents pay more than others based on their income. In Virginia, the tax rate runs from 2–5.75%.26
But unlike states that require big jumps in income before your taxes go up, Virginia's "graduation" requirements are a lot lower. Anyone who makes over $17,000 per year will pay the highest 5.75% tax rate—whether they're single or married.27 That's about the middle of the pack compared to other states' maximum graduated rates.
Virginia's state sales tax is 5.3%, and average local sales taxes run about 0.45%.28 Fortunately, the combined state and local sales taxes are actually pretty low compared to other places around the country. Virginia has the 9th lowest combined sales tax rate.29
If all this tax talk makes your head spin, don't worry. You can find out exactly how moving to Virginia will impact your taxes by connecting with one of our trusted tax advisors.
Miscellaneous Goods and Services
Miscellaneous goods and services are basically all the things that help us live our lives and have fun doing it. We're talking toilet paper, your kid's clothes, tickets to a comedy show, or your pet's latest trip to the vet—all of it.
Virginians pay close to the national average for these items, but that number ranges anywhere from 8% less in Lexington to 15% more in Arlington.30
Richmond is in the middle of the road for miscellaneous costs of living. There, you can go to the movies for $11.35, get a haircut for $22.29, and buy a new shirt for $26.74—compared to $11.01, $20.36 and $30.77 in the average U.S. city.31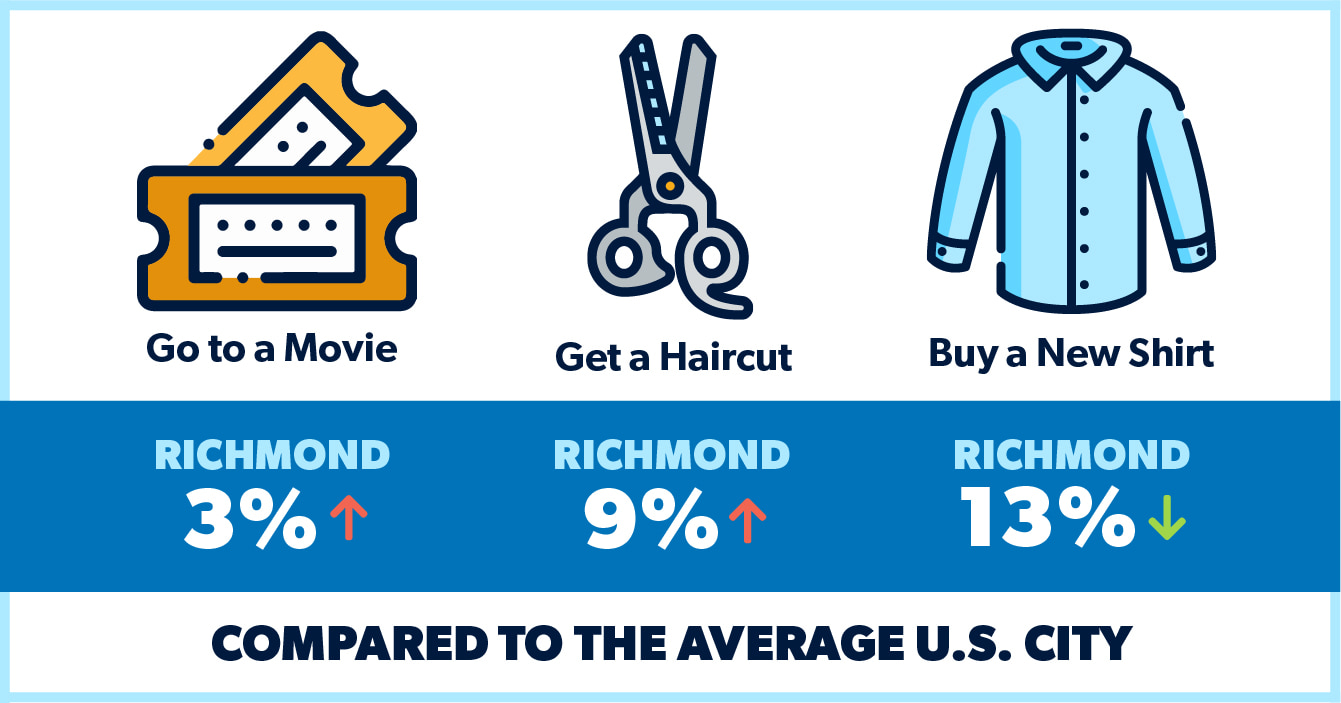 Which Virginia Cities Have the Lowest Cost of Living?
If you're thinking of moving to Virginia, it's good to get a feel for which cities cost the least (or most) in the state.
Martinsville has the lowest cost of living—15% lower than the average U.S. city. Close behind are Lynchburg, Roanoke, Danville and Lexington.32 (They're all anywhere from 10–13% below average.)33 Most of these cheaper places are in southern and western Virginia, away from the big city areas.
On the flip side, the D.C. area is the most expensive: Alexandria costs around 40% more than the average city, and Arlington costs around 46% more.34
If you're looking for a middle ground, you may want to check out central Virginia (like Charlottesville or Richmond) or head to the coast near Hampton Roads, Newport and Virginia Beach. They all have costs of living that are within 4% of the national average.35
Compare the Cost of Living in Virginia With Your Current City
So, how does the cost of living in Virginia compare to where you live now? Try our free Cost of Living Calculator to find out! It'll show you a side-by-side comparison to help you decide if you can afford to live in the Virginia city that's calling your name.
If you can't afford the cost of living in your dream city in Virginia just yet, don't worry. You can still make that dream come true. Try one of these ideas:
Moving to Virginia
Alright—you learned about Virginia's cost of living, you made your budget, you found out which Virginia cities are safest, and you're ready to move to Virginia! But you need somewhere to move to.
That's where RamseyTrusted real estate agents come in. These local experts are on a mission to serve you—even if it means less money in their pockets. And since they're local, you can find a great agent to help you sell your current house and one to help you find the perfect place in Virginia.
Connect with a RamseyTrusted real estate agent!
Where Did We Get Our Data?
We use the Cost of Living Index published by the Council for Community and Economic Research (C2ER) to get the data for this article and to power our Cost of Living Calculator. Since the cost of living in any area is constantly changing, you can always check our calculator to find the most recent data.
Did you find this article helpful? Share it!