So you're thinking about moving to North Carolina. Rock on! It's a great state with a lot to offer, like the Blue Ridge Mountains, the Outer Banks islands, and some awesome art, music and sports teams. (Go Panthers!)
North Carolina could be a great place for you to live. But before you go, you've gotta know: Just how much is all that living going to cost?
Let's look at the true cost of living in North Carolina. We'll walk you through how much you can expect to pay for things like housing, utilities, transportation or even just a haircut.
Here we go!
What's the Average Cost of Living in North Carolina?
The cost of living in North Carolina is about 4% lower than in the average U.S. city.1 So North Carolina is sort of like a Goldilocks state: It isn't too expensive or too cheap to live here.
If you currently live someplace expensive, you can expect to save a little money by moving to N.C. But if you already live someplace really cheap, your cost of living will likely go up in North Carolina.
How do we know? We look at a cost of living index that compares nine cities in North Carolina with hundreds of other cities around the country. On the index, the number 100 represents the national average cost of living. Anything below 100 means North Carolina is cheaper than average in that category. Anything above 100 means North Carolina is more expensive. Make sense?
Let's take a look:
| | | |
| --- | --- | --- |
| Cost of Living Category | North Carolina | U.S. |
| Housing | 91 | 100 |
| Utilities | 94 | 100 |
| Groceries | 100 | 100 |
| Transportation | 97 | 100 |
| Health Care | 112 | 100 |
| Miscellaneous | 98 | 100 |
| Total | 96 | 1002 |
So what do all those numbers mean? Let's dig into each category and find out.
Housing
North Carolina has some amazing places to live. And in early 2022, the median price of a single family home was $369,500.3 That's 1% lower than the national median price of $375,000.4
And good news for renters: The median monthly rent for a two-bedroom apartment in North Carolina is $1,137.5 That's 11% lower than the national median of $1,286.6 (Hey, sometimes renting has benefits!)
Those low prices could have you speeding over to North Carolina like you're on a NASCAR pit crew. But remember, housing prices vary depending on where you go in the state.
You could enjoy low housing prices if you move to a smaller city like Greenville, where a home costs around $252,000 and an apartment costs about $875 a month.7,8 But move to the mountains, the beach or a big metro area like Raleigh, and you'll see way higher housing prices. Check it out:
North Carolina

Metro Area

Median Home Price

Median Apartment Rent*

Asheville

$499,900

$1,175

Wilmington

$475,000

$1,295

Durham-Chapel Hill

$469,760

$1,386

Raleigh

$424,700

$1,468

Charlotte

$399,950

$1,287

Winston-Salem

$295,000

$1,056

Greenville

$252,0009

$88010
*Median Apartment Rent numbers refer to two-bedroom apartments.
So how do you find housing that fits into your budget? That's up next. Read on!
What to Do About Housing Costs
When you move, you'll have to decide if you should rent or buy. But whichever you choose, you should always stick to the 25% rule.
What's that? We're glad you asked!
We teach people to spend 25% or less of their take-home pay on housing—and that includes insurance, HOA fees and property taxes.
That may sound extreme, but there's a reason behind it. If you overspend on housing, you won't have anything left to live on. But the 25% rule helps you make sure you have enough money left each month to cover emergencies, pay off debt, save for retirement, and enjoy your new city.

Find expert agents to help you buy your home in North Carolina.
To get a better idea of how much house you can afford, use our mortgage calculator. Just plug in a home price and your 10–20% down payment to see what your monthly mortgage would be if you actually bought that house. Remember, if it's more than 25%, you may need to look for a different house or even a different city in North Carolina.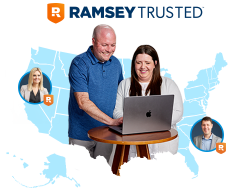 Don't buy or sell without an agent you can trust.
There are RamseyTrusted real estate agents all over the country who are ready to help you win.
Find a Local Agent
Utilities
North Carolina's got hot, humid summers if you live in the Piedmont region or on the beach—and cold, snowy winters in the mountains. So you'll either be cranking up the AC or dialing up the heat! Fortunately, you'll pay almost 6% less for utilities here than in the average U.S. city.11
Of course, like housing prices, utility prices vary based on where you live. Utilities cost nearly 8% more than the national average in Kill Devil Hills.12 (That's the price you pay for living right on the ocean.) But utilities cost 10% less than average in Durham-Chapel Hill.13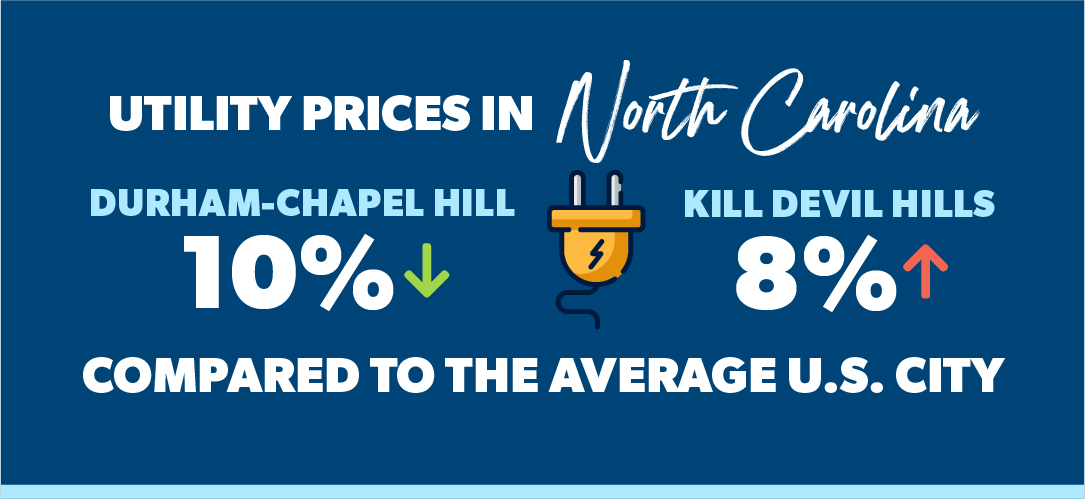 Groceries
North Carolina's got some grocery stores you may never have heard of—like Publix, Harris Teeter and Food Lion. Wherever you do your shopping, groceries cost about the same here as they do throughout the U.S.
And grocery prices hold pretty steady across North Carolina. The most expensive groceries in the state are in Chapel Hill, and even then you'll only pay about 2% more than the national average.14 The one exception? In Raleigh, groceries cost 12% less than average.15 Yay!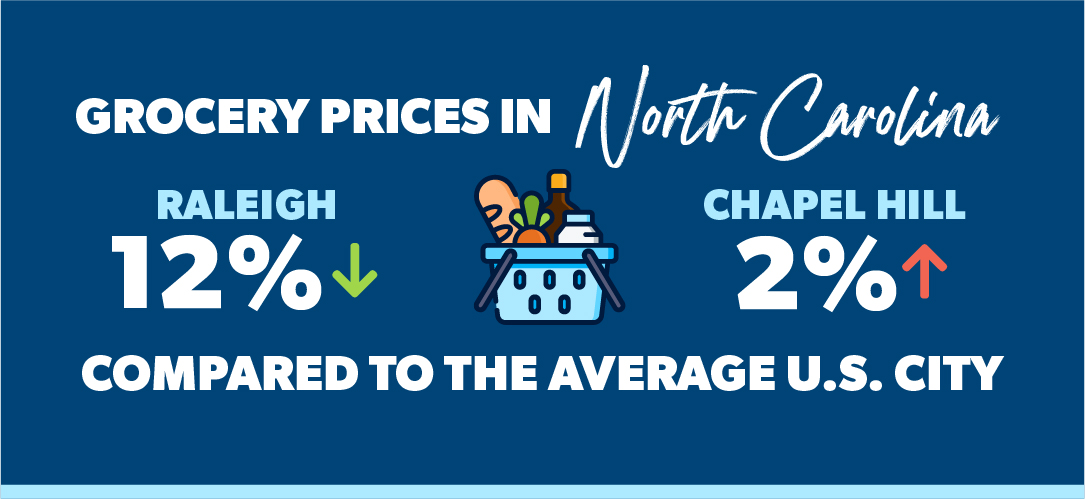 Transportation
Transportation costs include things like gasoline and oil changes. In North Carolina, you can expect to pay 3% less for these things than in the average U.S. city.16
Once again, Kill Devil Hills has the highest costs at 7% above average.17 The Thomasville-Lexington area has the lowest costs at a whopping 27% less than average.18
By the way, in North Carolina you're never more than a few hours from the mountains or the beach. So you may just find yourself itching to hop in the car and hit the road for a long weekend. Before you do, make sure you get the right car insurance from an agent you can trust.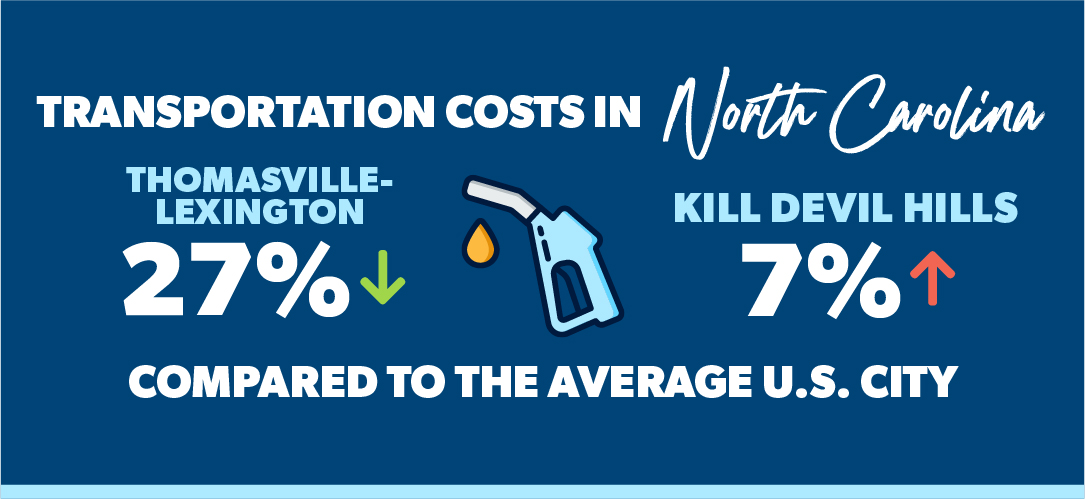 Health Care
North Carolina is known for fantastic health care systems and tons of medical and pharmaceutical companies. But how do the state's health care costs compare to the rest of the country? They're 12% higher.19 (Being on the cutting edge of the health care industry comes at a price.)
You'll get the cheapest health care in Raleigh, at around 3% below the national average.20 The most expensive health care is in Thomasville-Lexington, which is 21% higher than average.21 In the middle of the road, you'll find Burlington . . . but it's still 12% higher than in the average U.S. city.22
Here's a breakdown of what you can expect to pay for common types of health care in Burlington and around the country:
| | | | |
| --- | --- | --- | --- |
| Health Care Type | Burlington, NC Cost | Average U.S. City Cost | Cost Difference |
| General doctor | $176 | $117 | +50% ­ |
| Dentist | $100 | $101 | -1% |
| Eye doctor | $99 | $109 | -9% |
| Ibuprofen | $10.44 | $9.90 | +5% ­ |
| Prescription drug | $450 | $47023 | -4% |
Taxes
Taxes—yuck! This cost of living in North Carolina isn't fun. Actually it isn't fun anywhere—which might be why people forget that taxes affect their cost of living when they move to a new state.
North Carolina is one of only 11 states with a flat income tax rate.24 That means everyone gets taxed the same percentage of their income, no matter how much or how little money they make. In North Carolina, the 2022 state income tax rate is 4.99%.25 And good news: The state is working on lowering that rate to 3.99% by 2027.26
Of course, you've also got sales tax and local tax to think about too. North Carolina has a fairly low sales tax at 4.75%.27 The average local tax rate is 2.23%.28 But remember, not every city has local taxes. You can talk to your real estate agent to find out what the taxes are like in the specific area where you're looking to buy.
And when you're ready to file your first North Carolina tax return, we've got the people and programs to help you do it all. Check out our trusted tax services.
Miscellaneous Goods & Services
This category covers everything from entertainment to personal care. Want to eat at a restaurant or take the kids to the zoo? Need to buy a shirt for work or stock up on your favorite toothpaste? Yep, that all goes here.
In North Carolina, miscellaneous goods and services cost around 2% less than the national average.29 So you won't save a ton of money, but it's nothing to sneeze at either. These costs are lowest in Burlington (6% below average) and highest in Kill Devil Hills (8% above average).30
Raleigh is the mid-range city. Here, you can get a haircut for $21.80, buy a shirt for $22.53, or catch a movie for $10.24.31 The national average cost for those items is $20.16 for a haircut, $30.70 for a shirt and $10.90 for a movie ticket.32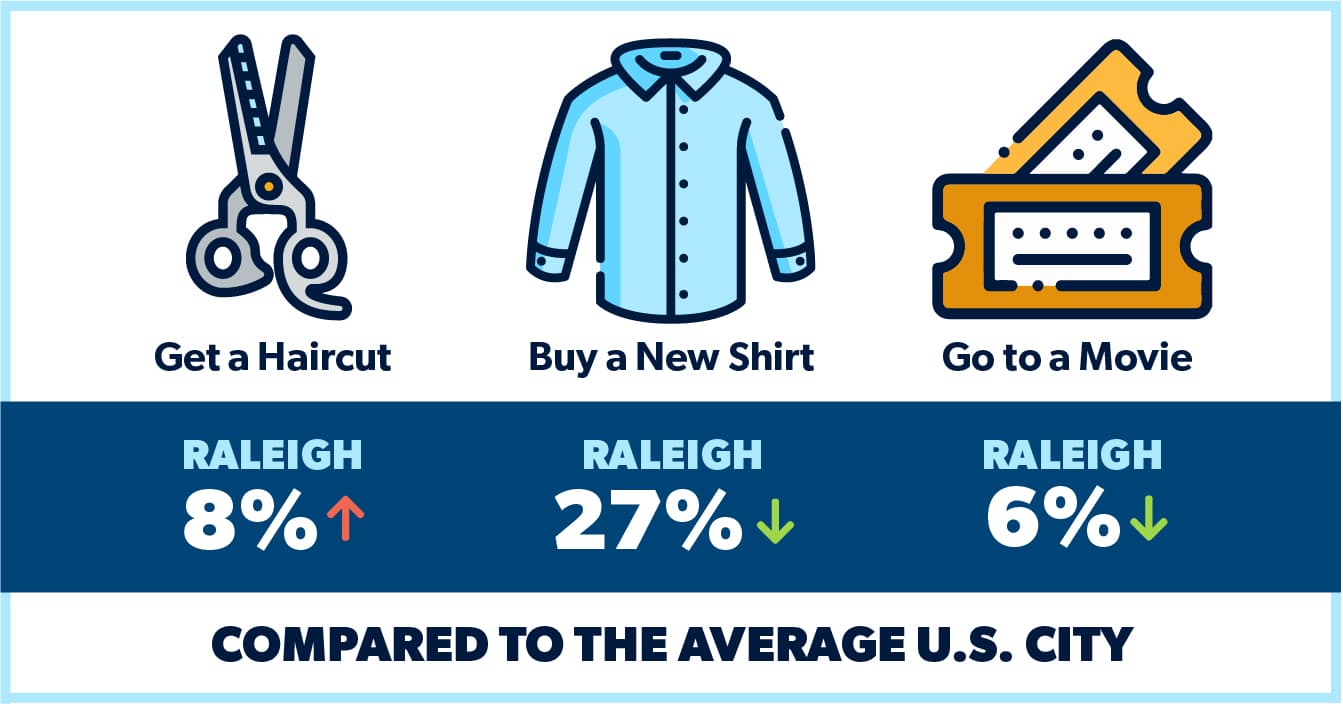 How Much Money Do You Need to Live Comfortably in North Carolina?
The median income in North Carolina is $54,600.33 But we'll be honest with you: Living comfortably isn't just about how much money you make. It's about what you do with that money.
Wherever you live, you have to take charge of your money and tell it where to go—instead of wondering where it went. When you stick to a written budget, you may find that you can actually afford to live in a more expensive city if you lower some other costs. Or you may realize that you need to look for a place with a lower cost of living so you can reach your financial goals.
Want to learn how to take control of your money? Check out Ramsey+. It's an all-access membership that gives you the tools and easy-to-understand courses you need to win with money.
North Carolina's Lowest Cost of Living by County
If you're looking for some of the most affordable places to live in North Carolina, you may want to check out some of these counties:
Graham County
Caswell County
Duplin County
Montgomery County
Sampson County34
Now, living in these places might put you farther away from big cities and all the cool things they have to offer. But living in a smaller, more affordable town can also put you closer to your money goals. (Plus, it gives you a great excuse for a road trip!)
Compare the Cost of Living in North Carolina With Your Current City
Okay, so you know how North Carolina's cost of living compares to the average U.S. city. But what about your city?
That's important to find out! Because the reality is, there's a huge difference between knowing groceries cost more in North Carolina and actually paying for those groceries every week. To see how your city stacks up, try our free Cost of Living Calculator.
And if you're thinking North Carolina's just a little too expensive right now? That's okay—there's hope! You may be able to make up for that higher cost of living if you:
Change your standard of living (do you really need all those fancy memberships and organic groceries?).
Look for ways to raise your income, like a side hustle or a better-paying job (hey, The Great Resignation might do you some favors!).
Move to a more affordable zip code near your desired city (commuting through North Carolina's beautiful scenery can't be all bad).
Ready to Move to North Carolina?
A new adventure is coming your way, and we know top-performing real estate agents all over the country who can help. We can connect you with a RamseyTrusted agent in your area to help sell your current house and with an agent in North Carolina to help you buy your next house. And don't worry—we only recommend agents who actually listen to your wants and needs. (That's why they're RamseyTrusted.)
Find a RamseyTrusted real estate agent in North Carolina!
P.S. Want to Know Where We Got Our Data?
Most of these numbers came from the Cost of Living Index (COLI). The Council for Community and Economic Research (C2ER) publishes this data every few months, and we use that info to help keep our Cost of Living Calculator as up-to-date as possible. Learn more about C2ER here.
Did you find this article helpful? Share it!