You want to build your dream home. You're ready to buy an investment property. You want to run a farm or a ranch. Or maybe you want a big piece of land where you can get away from it all.
There are lots of reasons people are buying land in Texas. And with the number of land sales up 15% in the past year, you may feel like you need to buy right now.1
But how do you find the perfect plot of land for you and your family to enjoy? We'll help you—starting now!
How to Buy Land in Texas
Most guidelines for finding and buying land are the same anywhere you go. But Texas is different in some ways. Use this checklist for buying land in Texas to make sure you cover all your bases.
1. Decide how you'll use the land.
In Texas, you can use land for some things that are normal in other parts of the country . . . and some that aren't. So it's important to learn about land use if you're moving to Texas from out of state.
Plus, knowing what you want to do with your land helps narrow down your search for the right property. In Texas, you can buy land for:
Agriculture – This includes growing crops, raising cattle, harvesting timber, and sometimes managing wildlife. If you buy agricultural land, you may be exempt from certain taxes. (More on that later.)
Homebuilding – Building a house takes lots of extra work, so make sure you weigh the pros and cons before you buy land to build on.
Hunting or recreation – Texans love outdoor activities like hunting, camping and horseback riding. Any land you buy for outdoor enjoyment fits this category.
Mineral extraction – Bet you didn't think of this one! Texas has lots of oil and natural gas wells, so you may want a property with minerals that can help you make extra money.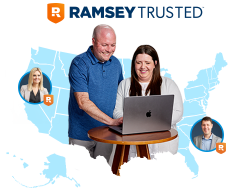 Don't buy or sell without an agent you can trust.
There are RamseyTrusted real estate agents all over the country who are ready to help you win.
Find a Local Agent
2. Set a budget.
Texas may have a lower cost of living than some states, but land can still be expensive. You can't stick your head in the sand and ignore the costs—that's a surefire way to ruin your finances! You've got to set a budget and stick to it.
The costs of building a home on your new land can add up fast. So if that's your goal, keep your monthly housing payment (including the land and your home) to no more than 25% of your take-home pay. That way, you have enough money left to live comfortably and handle unexpected expenses. And only go with a 15-year fixed-rate mortgage. Any other type of mortgage leaves you in debt for decades and can cost you tens of thousands of dollars more in interest.
If you're investing in real estate, the sky's the limit! There's just one thing: You should always pay 100% cash. You've worked hard, and you don't want to risk losing what you already have for a property that's supposed to be a blessing.
3. Look for land that fits your needs.
Texas has tons of land. That's good because you get a lot of choices—but it can cause problems if your new property can't meet your needs. So before you buy, consider things like:
Terrain

Find expert agents to help you buy your home.
When we say terrain, we're talking about the land's physical features. Is it at a high elevation? Does it have a river or pond? Is the ground flat or hilly? What kind of plants grow there? Does it have any buildings?
These things all affect whether the land will work for you. For instance, you'll have a hard time growing crops on a rocky hillside. And you won't be able to raise cattle if there's no grass for them to eat.
Wildlife
If you're a hunter or fisherman, you want property with lots of deer, hogs, bass and other animals.
But some animals make owning land in Texas harder. We're talking fire ants, feral hogs, bobcats, bears and coyotes. Even cute animals—like prairie dogs—can be a real pain when they're digging up your land. So it's important to learn how to live with the local wildlife.
Utility and Water Access
Maybe you're planning to create a rustic hunting camp—no plumbing or light switches needed! But if you're looking to build on undeveloped land, make sure you can get utility and water lines to your new home.
Zoning and Regulations
Zoning laws determine how you can use your property. And if you want to buy land and build a house in Texas, you may have to deal with a homeowners association (HOA) as well.
Find out what rules come along with your land and if there are any restrictions for how you can use it. If there are, can you live with them—or do you need to look elsewhere?
P.S. Sometimes Mother Nature makes her own zoning laws. If your potential property is in a flood zone, you'll probably need flood insurance.
Legal Access
When you buy land in Texas, you may legally have to let someone else access it. That's because some companies build things like oil wells, cell phone towers and public utility lines on private property. So you may have to honor the last landowner's contract with the company.
Property Lines and History
Sometimes, landowners think the property line is in one spot, but they may be off a bit—especially if the land has been in the same family for generations. Have the lot surveyed to know where the boundaries truly are.
You'll also want to ask questions like: What have people used this land for before? How much were the property taxes? Are there any environmental issues?
Community
Get to know the neighbors to make sure you'll like living near them. And if you plan to raise your kids on the land, check out the local schools too. (Who knows? You may be near the best schools in Texas.)
That's a lot to remember! So when you're ready to start searching, hire a great real estate agent who specializes in the type of land you want to buy. They can help you find the right property to fit your needs.
4. Make an offer and close the deal.
Remember, we'll always tell you to pay 100% cash for investment or recreational property. But when you're buying land and building a house in Texas, you'll either need to save up to make an all-cash offer or take out a construction loan (avoid land loans—they're a bad deal). Again, keep your monthly loan payment to 25% or less of your take-home pay.
Oh, and no matter what type of land you buy, you'll need title insurance. It protects you if there's ever a question about who owns your land (trust us, it happens more often than you think). It also protects you if the old owner left an unpaid tax bill or lawsuit behind.
5. Build or improve on your land.
The sale's final, and you're the proud owner of a plot of Texas land—yeehaw! Now it's time to start improving your land and putting it to good use.
Maybe you build a house. Maybe you plant your first wheat crop or truck in a herd of cattle. Maybe you make a campground for local families to enjoy. (Word to the wise: If you turn your land into a business, you'll have to follow more state and local laws. Do your homework to make sure you don't miss anything!)
Whatever you do, you can enjoy the fact that you're doing it on your own Texas land. That's the dream!
What to Know When Buying Land in Texas
What, you thought we were done? Not quite! There are still a couple things you need to know about buying land in Texas.
How Much an Acre of Land Costs in Texas
An acre of rural land cost around $3,954 in 2021.2 But not all land is rural. If you want to buy developed residential land, you're looking at a median price of $110,000 per acre.3
Prices also vary based on location and how much land you want. Rural places like the panhandle are cheaper because they're farther from big cities and jobs. More desirable regions, like the northeast or Gulf Coast–Brazos areas, cost more.
And believe it or not, you may actually get a better price for a bigger chunk of land. It's sort of like getting a discount when you buy groceries in bulk, but for acreage.
Keep all these things in mind but remember—they don't determine how much you spend. Your budget does.
Tax Deductions and Exemptions
Texas land can come with some pretty unique tax situations. Let's talk about 'em!
A conservation easement can apply to agricultural, hunting or recreational land. In this agreement, you use part of your land, but you let an individual or group use the rest to preserve natural or cultural areas. Some conservation easements count as charitable donations, so you may be able to get a tax deduction.4
Some agricultural land qualifies for an agricultural appraisal. That's when the government bases your property taxes on the value of your land's products—not the value of the land itself.
You may also be able to get an agricultural exemption (ag exemption for short). That way, you won't have to pay taxes on certain things you use to produce agricultural goods or timber.
Check out the rules on the Texas Comptroller website to learn more about ag exempt land in Texas. And if you buy agricultural land or have an easement, work with a tax advisor you trust to help you handle your taxes.
Is Buying Land in Texas a Good Investment?
Buying land in Texas can be a good investment—as long as you can actually afford it! If you're going into a ton of debt to buy land, then it's a bad idea . . . no matter how good of a deal you think you're getting.
But if you can afford it, buying land in Texas is a great idea. Land values are going up like crazy—and they'll likely keep going up. So your property should be worth more in a few years than what you paid for it.
Other benefits include tax deductions, low property taxes on undeveloped land, and the ability to make money by leasing your land to others for agricultural or recreational use. Plus, you'll have a place to enjoy with your family for years to come—and you can leave it as part of your legacy.
When You're Ready to Buy Land in Texas
You've got your ducks in a row, and you're ready to buy. Way to go! Now it's time to bring in the experts.

Your next step should be to talk to a RamseyTrusted real estate agent. They're the best in the business. Plus, the Ramsey team has vetted them and given them our stamp of approval because of their hard work, experience and servant-heartedness—so you can find a Texas real estate agent who knows the area like the back of their hand and who will always have your best interests at heart.

So start the journey and connect with a Texas-based RamseyTrusted real estate agent today!
Did you find this article helpful? Share it!