Ah, sweet home Alabama . . . where the skies are so blue.
Whether you're looking for mountains and pine trees or white sandy beaches, you'll find it in Alabama. Plus, the low cost of living mixed with a healthy dose of Southern hospitality makes Alabama a great place for families. And you don't even have to be a college football fan to call the state home—though it'll definitely help!
But before you pack your bags, here's a list of the 10 best places to live in Alabama.
Huntsville
Located in northern Alabama near the Tennessee River, Huntsville often makes national "best cities" lists for its rich mix of Southern hospitality and high-tech industries.
Huntsville has a good blend of places to work—from small businesses to Fortune 500 companies. It's also home to the U.S. Space & Rocket Center and NASA's Marshall Space Flight Center, where the Apollo program originated. (That's the one that landed humans on the moon.)
The Huntsville Museum of Art is in Big Spring Park. The park is a magnet for cultural activities in downtown Huntsville. Nearby, you'll find a lively local bar and dining scene.
The lower cost of living makes Huntsville ideal for families, and the temperate weather makes it great for outdoor activities like golf, hiking, biking and fishing.
Metro Area Population*: 502,7281
Median Household Income: $76,9632
Average Monthly Rent: $1,1463
Median Home Price: $394,9504
Average Annual Rainfall: 54 inches5
*Each data point refers to the city itself except when called out as metro. Metro numbers include the city and the surrounding urban and suburban areas.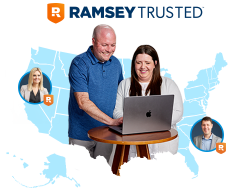 Don't buy or sell without an agent you can trust.
There are RamseyTrusted real estate agents all over the country who are ready to help you win.
Find a Local Agent
Madison
Madison is right next door to Huntsville and is part of the Huntsville metropolitan area. Due to Huntsville's popularity, Madison is one of the fastest growing cities in Alabama.
Going to downtown Madison is like taking a trip back to a simpler time—it's filled with quaint buildings and a collection of historic Colonial, Craftsman and Victorian homes.
Madison bills itself as "the place, for people and businesses going places." The city has more than 1,000 businesses, and it's a great place for young professionals (especially in tech). Families will enjoy schools that are consistently rated as the best in the state.
Population: 50,7176
Median Household Income: $94,2147
Average Monthly Rent: $1,3238
Median Home Price: $496,1799
Average Annual Rainfall: 54 inches10
Birmingham
Nicknamed the Magic City for its quick growth at the start of the 20th century, Birmingham is the third largest city in Alabama. But if you include its entire area, the Birmingham-Hoover metro area has the largest population by far. Inside the metro area, you'll find desirable suburbs like Homewood and Mountain Brook.
Some of Birmingham's top industries include advanced manufacturing, financial services and health care.
Located nearly smack-dab in the middle of Alabama, Birmingham has a diverse mix of activities, from hiking at Ruffner Mountain Nature Preserve to enjoying the nightlife downtown. Birmingham has four restaurants that were 2020 James Beard Award semifinalists, including Chez Fonfon and Automatic Seafood and Oysters.
The Birmingham Museum of Art has one of the largest collections of art in the Southeast, but if sports are more your thing, the city has a professional soccer team (the Birmingham Legion) and a minor-league baseball team (the Birmingham Barons).
Metro Area Population: 1.11 million11
Median Household Income: $60,72512

See how much house you can afford with our free mortgage calculator!
Average Monthly Rent: $1,27813
Median Home Price: $276,72814
Average Annual Rainfall: 54 inches15
Vestavia Hills
Vestavia Hills is a suburb of Birmingham that calls itself "Alabama's premier place to live, shop, work and play."16 The city is home to many historical sites, and its northern entrance is highlighted by a replica of a stately Roman temple that was built in the 1920s.
The city offers top-notch public services, including its own school system and beautiful parks. And Vestavia's annual Dogwood Festival includes fun events for the whole family. Vestavia Country Club has golf, tennis and swimming.
But keep in mind, Vestavia Hills is a pretty ritzy community, so it'll definitely cost more to live there than in other parts of Birmingham.
Population: 34,48217
Median Household Income: $110,47818
Average Monthly Rent: $1,31319
Median Home Price: $591,61520
Average Annual Rainfall: 54 inches21
Trussville
You might not find Trussville on a lot of "best places" lists, but it's an up-and-coming area in the northeastern part of the Birmingham metro area. Trussville is more affordable than Birmingham suburbs like Vestavia Hills and Mountain Brook, and it has its own school system.
Trussville is known for its churches and has over 75 restaurants to suit your taste. The Cahaba River meanders through the city, and there are lots of community events at the Trussville Mall, a green space designed to look like the National Mall in Washington, D.C.
Trussville has such great hometown vibes that some residents affectionately refer to it as Mayberry.
Population: 22,59022
Median Household Income: $104,97623
Average Monthly Rent: $1,13824
Median Home Price: $445,556 25
Average Annual Rainfall: 54 inches26
Montgomery
The governor of Alabama hangs out in Montgomery. Alabama's capital city is located in the southern part of the state, which means it's just a few hours away from fun and sun in the Gulf of Mexico.
Montgomery has lots of history—it was the birthplace of the civil rights movement, and Dr. Martin Luther King Jr. made his "How Long, Not Long" speech on the steps of the state Capitol. The city has several civil rights museums, as well as the Hank Williams Museum and the Montgomery Museum of Fine Arts.
Downtown Montgomery has been revitalized over the last 15 years and it now includes an entertainment district and lots of restaurants. Chris' Famous Hotdogs has been a mainstay in Montgomery since 1917 (President Franklin Roosevelt loved it).
The city borders the Alabama River, and Riverfront Park is a great place to take a stroll and then stop and watch the minor-league baseball team (the Montgomery Biscuits) play a game.
Montgomery's major employers include state government , defense (Maxwell Air Force Base), health care and manufacturing (Hyundai Motor Manufacturing).27
Metro Area Population: 386,81428
Median Household Income: $52,67729
Average Monthly Rent: $1,15430
Median Home Price: $259,92531
Average Annual Rainfall: 46 inches32
Mobile
You can smell the saltwater in the air in Mobile. Located along the western shore of Mobile Bay, Mobile is nicknamed the Port City because of its busy shipping port. And it's less than an hour from the Gulf of Mexico.
Mobile is the oldest city in Alabama, and its historic downtown has Spanish and French influenced architecture, with kind of a Mardi Gras flavor. The city has lots of cultural attractions—like the Mobile Symphony Orchestra and the Mobile Museum of Art, as well as a ballet and opera company.
Being in the South, barbecue is a popular food choice, but a lot of restaurants in the area serve fresh-caught seafood. About once a year, Mobile experiences a natural phenomenon called a jubilee, when fish and crabs fill the shallows of the bay and can be easily caught.
Metro Area Population: 430,71433
Median Household Income: $49,69134
Average Monthly Rent: $1,08335
Median Home Price: $245,27536
Average Annual Rainfall: 55 inches37
Fairhope
Fairhope is an adorable coastal town on the eastern shore of Mobile Bay. It's small-town living at its best. Fairhope's waterfront area is lined with several parks and beaches with beautiful views of the bay. And the Fairhope Municipal Pier extends a quarter mile into Mobile Bay.
Downtown Fairhope has plenty of shops, cafes, art galleries and seafood restaurants to keep you busy.
Population: 22,03538
Median Household Income: $80,10639
Average Monthly Rent: $1,43040
Median Home Price: $498,97541
Average Annual Rainfall: 60 inches42
Auburn
Auburn is home to Auburn University, but it's not just a college town. It has a small-town feel with a walkable downtown that includes plenty of restaurants and stores. You can also stop in at Toomer's Drugstore to try some of their world-famous lemonade.
Throughout the year in Auburn, you'll get your fill of college sports—especially football and basketball (War Eagle!).
Auburn is popular with retirees and students alike, and it offers activities like outdoor concerts and community events. If getting active is more your thing, Chewacla State Park is great for hiking and mountain biking.
And if you need to make a trip to the big city, Montgomery is nearby.
Population: 78,55243
Median Household Income: $48,53144
Average Monthly Rent: $1,38945
Median Home Price: $373,58246
Average Annual Rainfall: 48 inches47
Muscle Shoals/Florence
Nestled along the banks of the Tennessee River in northwest Alabama, Muscle Shoals has a rich musical history as the place where countless musicians—from The Rolling Stones to Percy Sledge (famous for "When a Man Loves a Woman")—recorded songs. Muscle Shoals Sound Studio and FAME Studios were known for producing Southern soul and R&B records from the 1950s through the 1970s.
Muscle Shoals is a small town with a strong educational system. The Shoals, as the area is commonly called, includes the cities of Florence, Sheffield and Tuscumbia. W.C. Handy (aka the Father of the Blues) was born in Florence, and Helen Keller was born in Tuscumbia.
There are also lots of outdoor activities near Muscle Shoals—from hiking at Cane Creek Canyon Nature Preserve (in Tuscumbia) to fishing and boating at McFarland Park in Florence. And every July Fourth, a fireworks show lights up the night sky from a barge in the Tennessee River.
Metro Area Population: 151,51748
Median Household Income: $51,63949
Median Home Price: $269,90050
Average Annual Rainfall: 53 inches51
Work With a Pro if You're Planning to Relocate
So, Alabama sounds like a pretty nice place, right? If you're serious about making it your new "sweet home," you need a professional in your corner who's earned the RamseyTrusted shield.
A local real estate agent can help you find the part of the state that's just right for you. And you can find them through our RamseyTrusted program. The agents we recommend are top-notch real estate experts who can help you find the house of your dreams.
Did you find this article helpful? Share it!