When it came time for Terri S. to upgrade her home, she knew exactly who to call—the same agent who helped her buy her home years ago. Unfortunately, Terri found out that her former agent was no longer in real estate.
But her agent didn't leave Terri empty-handed—he recommended a new agent.
Wanting to sell quickly in a hot market, Terri had the agent take pictures to post for homebuyers shopping online. "They just were not up to par . . . very poor quality and dark," she said. "Anyone looking at the site would just pass by."
After a month with no activity, Terri started asking questions. "I suggested new photos. But she made excuses—it was a slow time, I missed the hot market as kids were back in school—a lot of excuses."
The Deal Breaker: Only 4 Home Showings in 90 Days
Those excuses were only the beginning. Terri's house sat on the market for 90 days, with only four showings! After three months, she finally landed a buyer—only to have them back out two days later.
When the deal fell through, Terri decided she'd had enough. She told her agent to take her house off the market and cancel the 90-day listing contract. Smart move, Terri. "She was very reluctant to let me out of contract," Terri said.
Terri decided to work with a real estate agent through our Endorsed Local Provider (ELP) program. Our team connected her with Aaron K., an agent in her area. "And the rest is history," Terri said. "I liked his easy-going style, and he wasn't pushy but took time to explain what his agency could do for me to sell my house."
Terri signed a listing agreement with Aaron, and her house was soon back on the market.
The Deal Maker: 40 Home Showings in 60 Days!
Terri's experience with Aaron as her agent was totally different right from the beginning. "Pictures were taken . . . I was so pleased with the layout," Terri said. "And then the showings began! Instead of just four showings in 90 days, Aaron's agency generated 40 showings in less than 60 days."
Terri soon had multiple offers for her home. "I ended up taking the one that was the best, and I got [the price] I was asking for," she said. "I highly recommend Aaron—he got results, didn't make big promises he couldn't keep, and sold my house."
"What a difference an agent makes."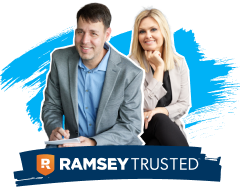 With the right agent, taking on the housing market can be easy.
Buy or sell your home with an agent the Ramsey team trusts.
Connect for Free
What Makes a Rock Star Real Estate Agent?
Maybe you're like Terri and had a bad experience with a previous agent—or maybe you're about to buy a home for the first time. Either way, learn from Terri's story! She shows us firsthand how a great real estate agent can make a huge difference on the sale of a home.
You have too much money at stake to settle for an agent who is anything but a top-notch thoroughbred. Here's what you want in a real estate agent:
Experienced (Do they have a successful track record of 4–10 years?)


Skilled negotiator (Can they navigate through complex contract details?)


Heart of a teacher (Will they answer your questions so you're confident about their plan to get your home sold?)
There's a good reason Terri scored more showings in less time than with her previous agent. When she dumped that agent for one of Dave's recommended real estate ELPs, she chose a high-caliber professional.

Find expert agents to help you sell your home.
The real estate agents we recommend through our ELP program must meet specific qualifications before we risk our reputation by referring them. Here's what sets our ELPs apart from your typical real estate agent:
3x more home sales than a typical agent (approximately 35 homes every year)(1)


2.3x faster at selling homes


2x more likely to sell your home above asking price
Sound like someone you'd want to have on your home-selling team? You better believe it! Find a real estate agent who will keep your home sale moving swiftly and smoothly so you can focus on the life of your dreams.
Did you find this article helpful? Share it!