No one wants to get old. In fact, millions of Americans live like they'll stay young forever. But the reality is that we all age, and as we do, health conditions crop up and begin robbing us of things like mobility and everyday activities.
This is where long-term care insurance comes in. Having a plan for the future can make a huge difference.
If you want to protect your nest egg, take some of the burden off family members and be more in control of your golden years, long-term care insurance is a must!
Why Long-Term Care Insurance Matters
The numbers show that 65-year-olds today have a 70% chance of needing long-term care and an estimated 20% of Americans will need it for longer than five years.1 That's some math you don't want to roll the dice on.
Take Steve and Rachel, for example. They weren't always smart with money, but they worked hard and built up a nest egg of $300,000.

Long-term care is an important decision. Connect with a trusted pro to make sure you have the right coverage.
When Steve was 67 years old, he developed Alzheimer's disease. At first, it wasn't too bad. Rachel used some of their nest egg to hire a home care specialist to help for a few hours every day. But as Steve's condition worsened, he eventually had to go into a nursing home. Sadly, after five years in the home, Steve died. Rachel, now 72, is healthy for her age, but she has to work full time because her husband's stay in the nursing home wiped out most of their nest egg.
Sadly, Steve and Rachel's story isn't unique. An estimated one in six Americans will pay at least $100,000 in out-of-pocket expenses for long-term care—out-of-pocket!2 As in directly out of their savings and retirement funds. And only 7.5 million Americans have some form of long-term care insurance.3
But you can be different. You can set yourself up for success by having a plan. And that plan is called long-term care insurance.
What Is Long-Term Care Insurance?
Long-term care insurance helps cover costs related to a nursing home stay, assisted living facility, or caretakers coming to your house when someone gets older or starts dealing with health issues. It covers services—like getting dressed or taking a bath—that some folks will need help with as they age. Long-term care is any care that lasts longer than three months.
For many Americans, long-term care insurance is crucial since it can be so expensive—like really expensive. The average cost in the United States of one month in a nursing home is $7,698.4 (Yes, you read that right.)
According to the Alzheimer's Association, the estimated cost for care in the final five years of life is $367,000 for people with dementia and $234,000 for those without.5 The average American will pay $172,000 for long-term care.6 And while regular health insurance won't cover these costs, long-term care insurance will.
The Alzheimer's Association estimated end-of-life care costs in the final five years of life start around $234,000. Simply put, long-term care is expensive.
What Does Long-Term Care Insurance Cover?
Long-term care insurance covers most of the expenses that aren't covered by Medicare. (Surprise! The government isn't going to take care of all your needs). Costs could be for things like:
Nursing home care
Assisted living facilities
Adult day care services
In-home care
Home modifications
Medical equipment
Care coordination
One of the great things about long-term care insurance is that it covers in-home care costs. So you'll be able to live in your home longer.
If you think about it, for insurance carriers, a lot comes down to dollars and cents. Insurance companies have a financial interest in you living in your home for as long as possible. It's a lot cheaper for them to foot the bill for a small home modification like a ramp than it is to pay a claim for a nursing home stay.
Doesn't Medicare or Medicaid Cover Long-Term Care?
You may be thinking: What about government programs? Won't they cover long-term care?
Don't make the mistake of believing Medicare will cover long-term care costs. It won't. Medicare only pays for hospitalization and short-term rehabilitative care, and it only covers you for up to 100 days.
And while Medicaid—the government program for those who truly don't have any money—will cover long-term care expenses, it should never be your first choice. You won't have the quality of care you want, and you'll have limited options.
Oh, and one other thing. For Medicaid to even kick in and cover long-term care, you'd first have to use up whatever assets you had. This can mean you're knocking on poverty's door before Medicaid decides to lend a hand.
Side note: It's common for people to try to cheat the system by moving their folks' assets around to try to get them to look broke so they'll qualify for government help. That's considered fraud—a federal crime—and the government will prosecute you! Don't become a criminal just because you failed to plan ahead.
5 Benefits of Long-Term Care Insurance
When it comes to long-term care insurance, there are a ton of benefits (well, five to be exact). Let's take a look!
1. Your assets will be protected.
You worked your whole life to save and invest for the future. Great job! But now that you're getting older, the last thing you want is to spend a big chunk of your hard-earned cash on long-term care. (If you have a high enough net worth though, you may be able to self-insure.)
Long-term care insurance will keep that nest egg warm and cozy so you can have a more comfortable retirement. You'll know that if you do become ill, you can afford the care you need and still have enough money left over so you and your spouse can eat.
2. Your loved ones won't have the full burden of care.
When you or a loved one needs care, this can be a big burden on a spouse or family members. Long-term care insurance can provide the extra support you and your family need through what can often be a challenging time. And sometimes the amount of care is more than a spouse or family member can handle. This is where it's always good to have other options.
Plus, your kids won't be burdened with huge payments for your care.
3. You and your family will have less stress with care management services.
Long-term care insurance doesn't just pay for in-home care or a nursing home stay. It also can help with care management (or care coordination). This is someone who can come in and find the support that's needed, set it up, and supervise it to make sure you're being taken care of. This extra support is a big blessing for family members during times that are often physically and emotionally exhausting.
4. You can live in your home longer.
Many people associate long-term care insurance with coverage that simply pays for a nursing home stay. But as we saw earlier, long-term care insurance also covers a lot of in-home expenses. You'll be able to live in your home longer because of things like home modifications and medical equipment.
In-home caretakers can also make things much more comfortable for you as you deal with lower mobility and other health situations.
5. You'll pay less taxes with tax-deductible premiums.
Long-term care insurance premiums are tax deductible up to a certain amount. So you'll keep more of those Benjamins in the bank. And you might even be able to pay premiums out of a tax-free Health Savings Account. (More on tax advantages in a second.)
How Much Does Long-Term Care Insurance Cost?
The cost of long-term care insurance can vary pretty widely. Yearly premiums can run as low as $1,000 to around $10,000. The insurance company will look at things like your age, gender, location, current health and family health history. You'll also pay more if you choose a longer term or a bigger benefit. Also keep in mind that your carrier can raise your premiums after you bought the policy.
Right now, the average 55-year-old man will pay $1,700 per year for a three-year policy that covers $164,000 in care and a daily max of $150.7 The average 55-year-old woman will pay $2,675 for the same level of coverage.8 This is because women tend to outlive men, so insurance companies require ladies to fork over more money. According to federal data, women outlive men by about five years and need an average of 3.7 years of care as opposed to only 2.2 years for the average man.9,10
The good news is that couples get discounts. Some states allow for savings up to 30%, but others are trimming them back to around 15%.11
Types of Long-Term Care Insurance
Traditional Long-Term Care Insurance
Traditional long-term care insurance is a no-frills, stand-alone insurance policy. It will pay for long-term care services when you need them. That's it!
When does a traditional policy kick in? The policy is triggered when you can no longer perform two out of six activities of daily living:
Dressing
Bathing
Eating
Caring for incontinence
Mobility
Using the toilet
Your policy can also start if you suffer from severe cognitive impairment. Under most policies, you'll have a waiting period between 30 and 90 days before insurance kicks in. This means you'll need to plan for about three months of out-of-pocket expenses even with long-term care insurance in place.12
As far as the payout, the typical long-term insurance policy provides a benefit of $160 per day for nursing home care for a term, or set number of years (three is most common).13
You can also add an inflation rider, which is a fancy way to say "inflation protection." With an inflation rider, your benefit will increase over time (usually about 3% a year) to keep up with inflation. But fair warning, adding a rider will probably cost you a little extra.
Hybrid Life and Long-Term Care Policies
Another option is a policy that combines life insurance with long-term care coverage. With a hybrid policy, you can access the death benefit—the money that your beneficiaries would receive when you die—while you are still alive to pay for long-term care.
And if you end up not needing care, your heirs get the full payout. Rates are considered "noncancelable," which means premiums are fixed for life.
But brace yourself—the price tag for a hybrid policy is usually thousands of dollars more than a traditional policy. That's because you're also buying life insurance you might not even need along with long-term care coverage. And unlike traditional long-term care insurance, the premiums for hybrid policies are not tax deductible.
Similar to whole life insurance, a hybrid policy means that insurance companies are investing your money for you. The problem is, they're not making good investments, and your returns will probably barely keep up with inflation. If you take into account all the lost earnings, hybrids may be the most expensive long-term care policy of all. That's why hybrid policies should generally be a last resort.
The only time you might consider buying a hybrid is if you don't qualify for a traditional long-term care insurance policy based on your health status. If that's not the case, buy long-term care insurance and life insurance separately—don't try to marry the two! (And while we're on the subject of life insurance, learn why term life is your best option to protect your income and your family's future.)
When to Buy Long-Term Care Insurance
Dave suggests waiting until age 60 to buy long-term care insurance because the likelihood of you filing a claim before then is slim. So, on your 60th birthday, go out and buy yourself the gift of a long-term care policy! (We know, it's not the most exciting birthday present, but it's definitely one of the smartest.)
Get this—about 95% of long-term care claims are filed for people older than age 70, with most new claims starting after age 85.14 But remember, insurance is not one-size-fits-all. You need to do what's best for you and your family. If you or your spouse has a family history of illness at a young age or have a few health issues, you may need to get long-term care earlier. If you're in your late 60s, you might feel like it's too late, but it's still good to see what you can qualify for.
You may have heard that you'll pay less and lock in a lower monthly premium if you buy your policy at age 50 instead of age 60. That might be true, but you'll also be dishing out money for an extra decade—for no reason. Dave will never tell you to buy something based on how much the monthly payment is. That's what broke people do. It's about what you need, when you need it.
Many people worry that if they wait until age 60 to buy long-term care, they'll develop a medical condition that will either prevent them from qualifying for coverage or significantly raise their premiums. Again, if you have genetic health concerns or you're losing sleep because you're worried about getting sick and not being able to afford care, then buy long-term care when you can afford it. The peace of mind is worth more than any cash you'll save on premiums. But don't buy long-term care at a young age just because you think you'll save money by doing it.
How to Buy Long-Term Care Insurance
You can either buy long-term insurance on your own or you can work with an insurance agent. Some employers also offer group plans through one of their insurance brokers. The benefits of working with an insurance pro is that you can have someone on your side to look at your situation and make sure you're getting the right plan.
The next step is to fill out an application. You'll answer a few questions about your health status. Also be prepared to provide medical records if they're requested.
Next, you'll go through an interview process over the phone or sometimes in person.
You'll then choose the coverage that fits your needs. Pick a term length and benefit (the amount your insurer will pay). When you need in-home, assisted living or nursing home care, your insurer will pay your monthly benefit to help cover those costs for the length of your term.
Once it's approved, you start paying the monthly premiums and you're good to go!
Finally, keep in mind that long-term care insurers may deny you if you have a number of health issues. One of our trusted insurance pros who are part of our Endorsed Local Providers (ELP) program can help you find out if you qualify for traditional long-term care insurance. And if you do have a disqualifying health issue, they'll help you understand your other options—so you can get the care you deserve.
Tax Advantages of Buying Long-Term Care Insurance
If you itemize your deductions, long-term care insurance can have some tax advantages. This is because the federal government and some states let you count some or all of your premiums as tax-deductible medical expenses. But they have to rise to a certain level.
And not all long-term care insurance plans are applicable for these tax breaks. Be sure to ask an insurance pro to see if yours is tax qualified.
Here's a handy breakdown from the IRS showing the maximum amount of your premiums you can deduct based on your age.15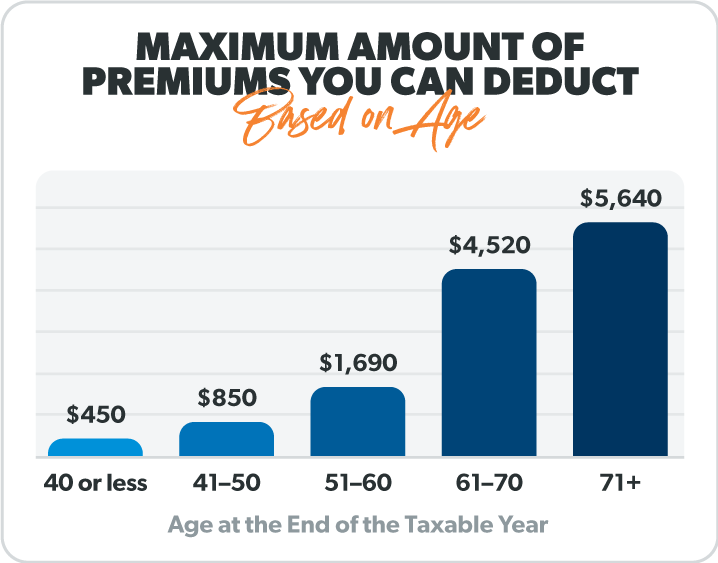 The Best Way to Get Long-Term Care Insurance
So, what's the best way to find long-term care insurance? Go to an independent insurance agent. They'll shop around several different long-term care insurance companies and get you quotes that can save you thousands of dollars and loads of unnecessary worries. Long-term care is an important decision, so make sure you get a professional on your side!
Don't know where to look? Our ELPs are trusted insurance experts who can answer all your questions. Your ELP will listen to your needs and help you make the right decision for you and your family—and your budget.
Once you get a solid long-term care insurance policy in place, you'll have a lot more peace of mind when you're thinking about old age.
Share This Article