You're almost there. Almost ready to sign up for long-term care insurance. But you're just doing a little more research . . .
Well, we're about to make your decision super easy. Because if you itemize your deductions, you can count long-term care insurance premiums toward your tax bill.
Yep. You read that right. This means less money going toward taxes, and more money in your pocket.
If you're wondering, Is long-term care insurance tax deductible?, the answer is yes. As long as you itemize your deductions. And while we'd never tell you to buy long-term care insurance just to get a tax deduction, if the time is right for you to get coverage, that tax break can come in handy!
We'll show you how it works and how much you can deduct.
What Is Long-Term Care Insurance?
Long-term care insurance is one of the most affordable ways to deal with those hefty costs folks run into as they age and begin needing help with everyday tasks. Ongoing care like that, often called custodial care, isn't covered by Medicare or other health insurance. But long-term care insurance will help cover the costs of a nursing home stay (that lasts more than 100 days) or an assisted living facility. Even better, long-term care insurance also helps pay for in-home caretakers and even home modifications that allow you to live in your home longer (and who doesn't want that?).
Chances are, you're eventually going to need long-term care. Sixty-five-year-olds today have a 70% chance of needing long-term care, and an estimated 20% of Americans will need it for longer than five years.1 Those are odds you don't want to be on the wrong side of.
We can all agree, the last thing anyone wants to do is drain their retirement savings or rely on family and friends to take care of them. But only 7.5 million Americans have some form of long-term care insurance.2
Tax Advantages of Long-Term Care Insurance
Long-term care insurance has a ton of benefits. It's affordable and it prevents you from tapping into your nest egg to pay for the costs of long-term care. It also has some nice tax advantages.
First, Uncle Sam and certain states allow you to count some or all of your premiums as tax-deductible medical expenses. Second, the money you receive from your insurer to cover long-term expenses isn't usually counted toward your income.
But like everything in life, there's some fine print:
Your premiums and other medical expenses have to reach a certain amount (7.5% of your income) before you can deduct them.3
You have to itemize your tax deductions.
Not all long-term care insurance policies are eligible. For instance, one requirement is that your insurer has to at least offer you the option of adding inflation and nonforfeiture coverage. (Work with an independent insurance agent to see if your plan qualifies.)
Here is a breakdown of the maximum amount of your premiums you can deduct depending on your age.4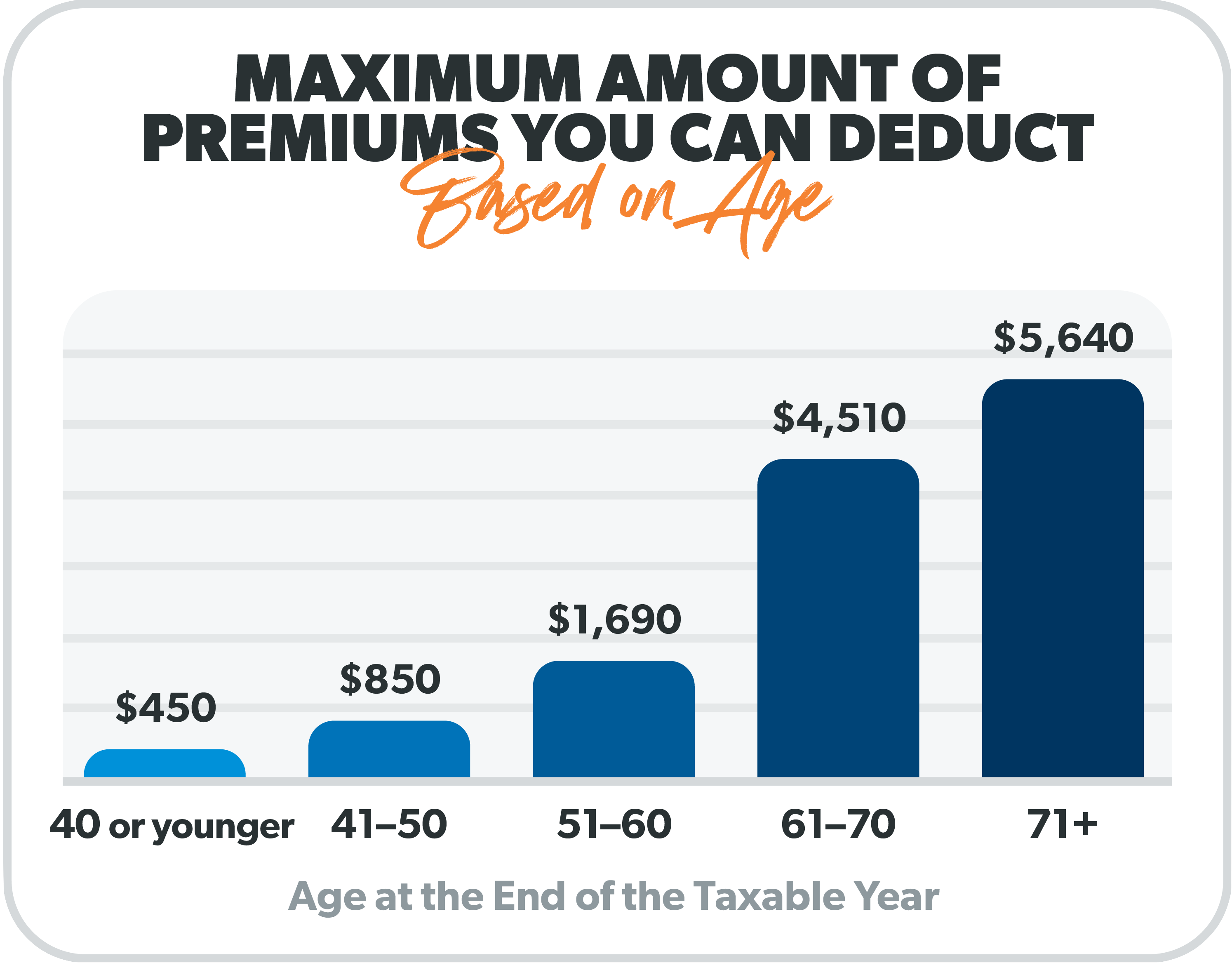 And if you're self-employed, you can typically deduct 100% of your premiums up to the amounts above.5
Don't Put This One Off . . .
If you're 60 or older, now's the time to protect your financial future and get long-term care insurance. Plus, you'll get some sweet tax perks along the way.
But it can be tough to figure out exactly what you need. That's why we created our Endorsed Local Providers (ELP) program. It's a network of hand-selected independent insurance agents who have the heart of a teacher. They'll explain your options so you actually understand what you're buying. Plus, they're RamseyTrusted, so you know you're working with top agents.

Long-term care is an important decision. Connect with a trusted pro to make sure you have the right coverage.
This is one to-do list item you don't want to put off. Your golden years could look a lot different without a solid plan in place. Long-term care insurance allows you to enjoy life without wondering how you'll pay for long-term care if you need it.
Did you find this article helpful? Share it!