Get All the Benefits of a Health Savings Account
Take advantage of lower taxes and long-term savings with your HSA.
Get All the Benefits of a Health Savings Account
Take advantage of lower taxes and long-term savings with your HSA.
FREE 2-MINUTE ASSESSMENT
Find out if you're eligible for an HSA.
Already know you're eligible for an HSA?
Skip the quiz and sign up now.
Want to understand more about the HSA process? Our FAQ section is here to help.
Why Open a Health Savings Account (HSA)?
Tax-Free Contributions
An HSA helps you save up money tax-free for planned (or unplanned) medical expenses. And since the money you put into it doesn't get taxed, you'll have a lower taxable income (translation: It lowers your income tax). It's like your supercharged medical emergency fund. But it can do more than that—if you know what you're doing, an HSA can be a really useful investment tool.
Lower Premiums
With a traditional health insurance plan, you're paying a high premium for benefits, whether you use them or not. With a high-deductible health plan (HDHP), you get the advantage of lower premiums—which leaves more money in your pocket.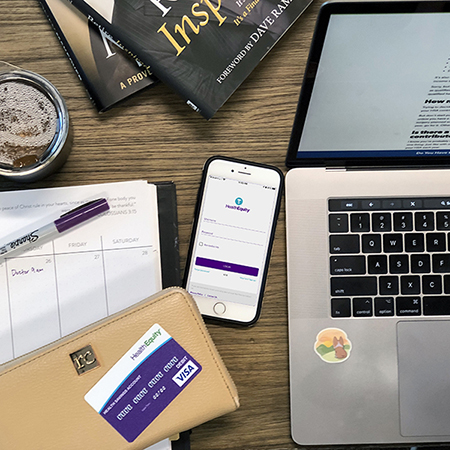 Why Dave Chose HealthEquity to Serve You
Easy to Use
HealthEquity's website, mobile app and debit card make it easy for you to manage your account.

Trustworthy
HealthEquity's team will show you how to use your HSA account and answer any questions that come up during the process.

Keeping Costs Low
Having an HDHP with an HSA is the best way to help offset expensive medical bills.

"A health savings account is the perfect plan for managing the high cost of health care . . . At Ramsey Solutions and even for my family, we trust the team at HealthEquity."
— Dave Ramsey, author of The Total Money Makeover
Open Your HSA

Sign Up With an HSA
Take the quick HSA eligibility assessment, and if it's a thumbs up, HealthEquity can show you how to set up an HSA that best fits you and your family's needs. Their customer support is available 24/7 if you have questions during the process.

Make a Deposit
Decide how much you want saved in your account and set up your first (or ongoing) deposit.

Cover Your Qualified Expenses
Whether you know you have a doctor's appointment coming up or something pops up out of nowhere, have peace of mind knowing you've already saved for it.
HSA Frequently Asked Questions
What is a health savings account?

A health savings account is a great way to set aside money for qualified medical expenses and take advantage of tax breaks at the same time. You get to roll over any extra money from year to year, so you can save up for those unexpected emergencies. You'll have added benefits like a separate debit card for medical expenses. Or you can reimburse yourself. But you can only open an HSA if you opt for a high-deductible health plan.

How is an HSA tax-free?

HSAs don't get taxed at a federal income tax level when used for qualified medical expenses. Check with your tax advisor regarding your state's specific rules.

When you make your own HSA contributions during the year with after-tax money (if you aren't using one through your employer), then you get to deduct your contributions on your tax return (line 25 on Form 1040). This happens regardless of whether you itemize deductions or take the standard deduction.

Why do I need an HDHP to have an HSA?

Uncle Sam requires you to have a high-deductible health plan in order to have an HSA. You can't take the benefit of an HSA and the benefit of lower deductibles too.

On the positive side, pairing an HSA with an HDHP is great for healthy families who don't go to the doctor too much. You can enjoy lower premiums and build up a big medical emergency fund in an HSA tax-free.

What if I'm enrolled in other medical plans or have an FSA?

Sorry, but you can't have both a Flexible Spending Account (FSA) and an HSA, unless your company offers it for dental or vision expenses. Same goes with low-deductible insurance and an HSA—you can't have both. But HSAs are so helpful for your budget, you can probably drop other programs. (Just do the math to make sure.)

What if I'm enrolled in Medicare?

Medicare enrollees aren't eligible to get an HSA. But you might be able to open a Medicare Advantage Medical Savings Account (MSA). It's like an HSA, but for folks enrolled in Medicare. You still have to opt for a high-deductible health plan (HDHP), and money put into an MSA can only come from Medicare. But you can still pay for expenses not covered by Medicare.

What if I'm claimed as a dependent on someone else's tax return?

This is another thing that's not allowed in the HSA world because that person already gets the tax benefit of claiming you as a dependent. You can't both get the tax benefits. (We wish you could!)

What can I use my HSA for?

You can use your HSA to pay for hundreds of qualified items and services, including deductibles, co-insurance, and dental and vision care. You can also use your HSA for items not typically covered by insurance, including:

Over-the-counter medicine
Office visits
Crutches
Baby rash ointment
Flu shots
Medical alert bracelets

What's the downside of an HSA?

We don't really see a downside to an HSA. But to get the most out of it, it's always a smart idea to crunch the numbers—high premiums vs. low, high deductibles vs. low, and even cost estimates, if at all possible. Always choose what's best for your lifestyle and financial situation.

Does an HSA cost money?

Some HSAs regularly charge an account fee, but our partner, HealthEquity, does not. It's free to open an account, and you can start investing with as little as $500.

Is an HSA a good investment?

We're big fans. Since your HSA contributions come straight from your paycheck, they're not taxed—and neither is the growth! You can either let the money sit in the HSA and grow tax-free or you can put it into carefully selected mutual funds as a nice addition to your retirement portfolio. If you're maxing out your 401(k) and IRA contributions and are looking for another place to invest, your HSA is a great place to start.
The HealthEquity® Visa® Health Account Card is issued by The Bancorp Bank; member FDIC pursuant to a license from Visa U.S.A. Inc. Your card can be used everywhere Visa debit cards are accepted for qualified expenses. This card cannot be used at ATMs and you cannot get cash back, and cannot be used at gas stations, restaurants, or other establishments not health related. See Cardholder Agreement for complete usage restrictions.
HSAs are never taxed at a federal income tax level when used appropriately for qualified medical expenses. Also, most states recognize HSA funds as tax-free with very few exceptions. Please consult a tax advisor regarding your state's specific rules.