Foundations in Personal Finance: Middle School Edition has been taught in all 50 states.
This supplemental curriculum consists of six stand-alone chapters featuring 22 lessons, which weave together humor and real-life stories to educate and reinforce sound principles for managing money.
Flexible for use
in a variety of
subject areas
Teacher's Edition
with activities
and resources
Syllabi options
for 6-, 9-, or
18-week terms
3.5+ hours of
engaging video
Aligned with
national standards
for financial literacy
Dedicated
Curriculum Advisor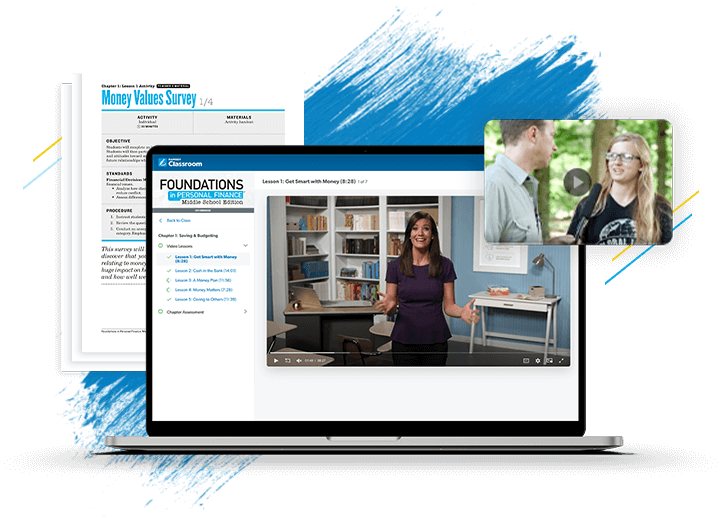 Try Foundations today—for free!
That's right. Test drive the curriculum with a free trial. You'll get access to all of Chapter 1—including reading content, video lessons and classroom activities.



A Solution for Every Classroom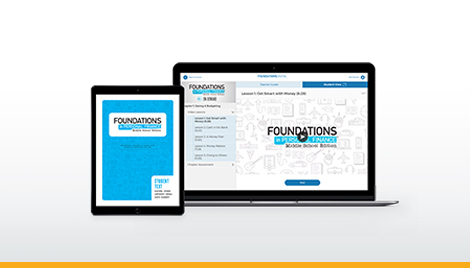 Fully Digital
Best for classrooms where students have consistent access to technology devices like tablets, computers, and smartphones.
Classroom mode gives you the option to watch videos together as a class or allow students to stream individually
Integrated teacher resources allow you to view and download resources for each lesson
Student assessments built using randomization to increase academic integrity
Students watch videos and complete auto-graded assessments online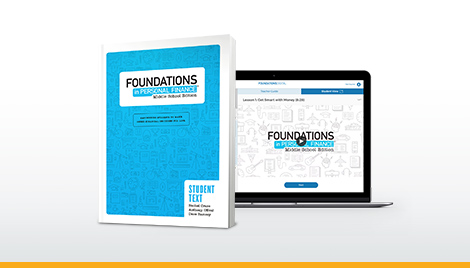 Print and Streaming
Blend tradition and technology with soft-cover student texts and online video.

Site license of online video streaming
Anywhere access so you can "flip" your classroom
Engaging 144-page student text that correlates to each video lesson
Digital Teacher's Edition includes activities, case studies, lesson plans and more
Student assessments can be taken online
Can't decide? Contact your state's Curriculum Advisor today: 800.781.8914
"This curriculum has begun to open my students' eyes to the world of personal finance. It has proven very useful to introduce students to a subject that will so personally impact their lives."
LUKE CROSSAN, ALFRED G. WATERS MIDDLE SCHOOL (DE)
Wait, there's more!
TABLE OF
CONTENTS
STANDARDS
CORRELATIONS
Frequently Asked Questions
You asked, we answered. Here are some of our most frequently asked questions about Foundations in Personal Finance: Middle School Edition.
How long does it take to teach Foundations in Personal Finance: Middle School Edition?

Foundations in Personal Finance: Middle School Edition is a supplemental curriculum that comes with a 6-week, 9-week, and 18-week syllabus. If you were to teach this 5 days a week in 50-minute class periods, you could finish the course in 6 weeks. And like our high school curriculum, these chapters are stand-alone and flexible enough to fit around YOUR schedule and not the other way around.

What's included in the Foundations in Personal Finance: Middle School Edition Digital Teacher's Edition?

The Digital Teacher's Edition includes all of the ready-made lesson plans, learning activities, assessments and case studies designed for use with the video and chapter lessons. All of the resources in the Teacher's Edition are in PDF format, so they're easy for you to print off and use on a daily basis.

Is there a digital option for Foundations in Personal Finance: Middle School Edition?

While there's not a fully digital option for the middle school edition yet, we do have a blended format of this curriculum that includes streaming videos and online activities available through our FoundationsDigital platform. For more information or a quote, please contact your Curriculum Advisor.

I can't afford Foundations in Personal Finance. Are there other options?

At Ramsey Education, we have an entire team here to help schools find sponsors who are also passionate about financial education in schools! If you are interested in teaching the curriculum and funding is your only obstacle, please fill out a Sponsorship Request form, and our team will be thrilled to begin looking for a local sponsor so that you can use the resources at no cost.

What is On Demand Video?

On Demand Video is an exciting Foundations feature that allows teachers and students to access the curriculum videos anytime, anywhere, using any device with a modern browser. It's a great for flipped instruction, absent students, and parent involvement.

Do I need training or certification to teach Foundations in Personal Finance?

Foundations in Personal Finance is easy to implement and fully turnkey. No additional training or expertise is needed on your part. Your district may require training, but most Foundations teachers tell us that they learn right along with their students as they listen to Dave Ramsey and his team of experts featured in the chapter videos.

How much does Foundations in Personal Finance cost?

We offer both print and digital formats, and the cost varies depending on the number of students enrolled in your classes. To learn more about how you can get Foundations for your classroom, fill out this form.

How many schools use Foundations in Personal Finance?

More than 12,000 public and private schools across the country have used the Foundations curriculum. This means more than 4 million students have learned how to budget, save, spend wisely, invest. It's a generation equipped to live out their dreams and give to the world around them.

Does Foundations in Personal Finance meet state and national standards?

Our curriculum aligns with both state and national standards for personal financial literacy. We also align with a variety of economics and entrepreneurship standards. You can view your state standards correlations or talk with a Curriculum Advisor for more information.

Is Foundations in Personal Finance appropriate for a public school classroom?

Yes! Foundations in Personal Finance meets constitutional guidelines for use in public schools. The curriculum is textbook adopted in seven states, and it has been used by more than 12,000 schools nationwide with the vast majority of those being public schools.
Don't see what you're looking for? Contact your state's Curriculum Advisor: 800.781.8914
State and National
Standards Correlations
The Foundations in Personal Finance curriculum meets or exceeds standards in all 50 states. The curriculum also meets all national standards for personal finance.
Table of Contents with
Chapter Summaries
Chapter 1: Saving & Budgeting
Introduces personal finance concepts; explores what it means to be smart with money; emphasizes three reasons to save money; compares simple interest and compound interest; explains the purpose of a budget; identifies the difference between debit and credit cards; explores how to talk about money and money goals; and highlights the importance and benefits of giving and serving others.
Chapter 2: Credit & Debt
Identifies terms associated with debt; evaluates the financial impact of debt on a household budget; examines the elements of a credit report and credit score; highlights the importance of avoiding debt; identifies ways to stay out of debt; explores the cost of a college education and the long-term cost of student loan debt; and explains ways to pay for college without going into debt.
Chapter 3: Education, Careers, & Entrepreneurship
Examines the importance of exploring career options that line up with personal skills and interests; introduces career options and highlights their varying, post-secondary education requirements; explains the impact education can have on income; examines various types of income and taxes; identifies elements of employer benefits; introduces the topic of entrepreneurship; and explores the risks and benefits associated with starting your own business.
Chapter 4: Investing, Insurance, & Identity Theft
Explains the difference between saving and investing; introduces investing as a way to build wealth; highlights the impact of compound interest and introduces the time-value of money; explores different types of investments; identifies different types of insurance; examines the impact of and problems associated with identity theft; and examines ways to protect yourself from identity theft.
Chapter 5: Global Economics
Explains the differences between various economic systems; examines the movement of goods and services; explores supply and demand; explains the chain of production and gross domestic product; highlights the differences between developed and developing countries; explores global economics and trade matters; and examines the impact of scarcity and rationing.
Chapter 6: Marketing & Consumerism
Introduces consumerism and spending habits; explores the impact of marketing, product placement, and peer pressure on consumer behavior; explains the concept of economic incentives; compares contentment and discontentment in regard to consumerism; explores various consumer protection agencies and laws; and identifies ways to be a wise consumer.
Let's Connect
Fill out the form to learn more about how Ramsey Education can help you.
Thank you!
We'll get you connected with one of our Ramsey Education team members who will reach out soon!
Whoops! We ran into an error. Please try again later.
Request a Sponsor
Our Sponsorship team is committed to finding local businesses to help schools like yours. Please know that the amount of information you provide on this form will directly impact our ability to find a sponsor for you.
Thank you!
We'll get you connected with one of our Ramsey Education team members who will reach out soon!
Whoops! We ran into an error. Please try again later.
Get Your Free Trial
Fill out the form below to get started.
Thank you!
Be on the lookout for a welcome email with instructions on how to get started.
Whoops! We ran into an error. Please try again later.