You're ramping up your tech game to grow your insurance business. Great! The right internet strategy can juice almost any kind of business. And insurance is no exception.
But what are the best online tools for insurance agents? How can they help you grow your business? And which insurance software options will serve you and your customers the most?
We've got a lot of ideas and options for you. Let's go!
Most business today at least begins online, and a lot of insurance sales close that way too.
Many insurance customers have never set foot in a brick-and-mortar agency or office to buy coverage.
The best online tools for insurance agents can help your business get more leads, close more sales, and serve customers better than ever.
How Can Online Tools Help Insurance Agents?
Online tools help agents find and serve customers better. Today, most people start their search for insurance by comparing providers online, so finding tools to help with that is key for your business.
Even if you're all about meeting with customers and selling insurance to them in person, most insurance leads don't get near buying until after they've found you through your website, social media or emails. (You do have all those, right? Right. You better!)
Here are some key areas where you can drive business with online tools (we'll dive deeper into each one below).
Customer service
Agency management systems (simpler than it sounds)
Social media
Cross-channel communication (nothing to do with your Roku remote)
Office organization
Document management
Quotes
Lead generation
How Can Insurance Agents Adapt to Changing Insurance Technology?
Adapting to changing technology may sound hard—but don't be intimidated! It boils down to working smarter, not harder.
Whether you're a grizzled veteran or just starting out, every business has one pain point (or three) that seems to take up way too much of your time and attention. But the right technology can help you solve those problems and grow.
Insurance software can help your business in three big ways. It can:
Bring in more leads
Close more sales
Empower you to serve leads better once they become customers
Maybe you're thinking, Ugh, I don't have time to master a bunch of new technology. I just want to stay focused on growing the business and making it awesome.
We get why you'd feel that way as a busy independent insurance agent. But instead of focusing on (and dreading) the learning curve, try to see these tools as an opportunity to improve the customer service skills you already have.
The fact you're researching the best online tools to grow your insurance business means you're a strategic thinker—and that's the main ingredient for growth. Let's see how you can use technology to level up even more.
What Types of Tools Do Insurance Agents Use?
Each online tool below was designed to simplify one or more parts of your insurance business. Some will tweak your calendar. Others will streamline how (and how often) you talk to customers. And still others will help you get a handle on data.
Whichever part of your business makes you feel like you're swimming in quicksand, there's probably a life-preserving online tool for that.
Let's check some out!
Customer Relationship Management (CRM) Software
Customer relationship management (CRM) seems like an awfully technical-sounding term for the bread and butter of your business, right?

Every business goes through five distinct stages. Find out which stage your business is in with our free assessment.
But don't let that acronym scare you. CRM software can help you super-serve your market by providing a platform to store and track key data about customers and leads.
For example, you've probably had an interaction with a potential customer who just won't buy from your first pitch. Let's call him Mr. Coldfoot. But then months later, he warms up and reaches back out. Sweet!
But wait—that first conversation was in January, and now it's July and you can't remember a thing Coldfoot told you way back when. Recalling his situation would save both you and your hot new lead time and effort.
Cue your CRM tool. Thankfully, you used CRM during that first call to track Coldfoot's details: his family size, what kind of insurance he's shopping for, and even any quotes you've already passed his way.
Having those details handy for the second conversation could be the difference between closing a lead and seeing him turn cold forever.
Here are some CRM options:
Copper
Hubspot CRM
InsuranceToolkits
Oracle
Pipedrive
Salesforce
Zoho
Agency Management Software (AMS)
Another acronym? Yeah, you'll learn several of these as you add awesome online tools to your insurance business. AMS stands for agency management system. Your AMS tool helps you organize your customer list and smooth out your operations. It can even let you sort customers by coverage type, policy details or policy history for easier targeted marketing.
AMS programs are all about maximizing the pace of how you GSD (an acronym we can all get behind). We're talking stuff like:
Basic administrative tasks
Communications to your leads and customers
Keeping customer data secure
Here's a list of AMS winners:
Agency Revolution
Agency Zoom
Better Agency
Glovebox
Levitate
Partner Platform
Podium
Radiusbob
Relativity 6
Vertafore
ZyWave
Website Monitoring Tools
Remember when we said you need a website for your insurance business? Well, it's true—you can't do marketing, customer service or sales without one.
But you're in the insurance business—not the website business. So to make sure your website is doing its job, you need website monitoring software.
Ever googled a local service and clicked on a result, only to see "503 Service Unavailable?" Yeah. Not a good look. And that's not a site you'll be revisiting!
Website monitoring tools run routine tests on your site and alert you when it's down (or just running slow) so you can get it fixed ASAP. That way you'll miss out on as little business as possible during the (hopefully short) lag.
Here are some other website monitoring features to explore as ways to keep your site running healthy and fast:
Heartbeat
Keywords
Maintenance windows
Response times
Some of the best tools out there include:
AlertSite
New Relic
AppDynamics
Email Marketing Tools
Remember AMS above? Some of those tools may include basic email marketing options, like templates for campaigns or special sends for coverage types and age groups. But to take full advantage of email, you'll probably want to add a specific tool to give you more robust features. The best tools will help you with email marketing strategies like:
Newsletters
Engagement
Reminders
Drip campaigns
Customer support
Triggered sends that nurture prospects and customers at every step of the customer journey
Segmenting that targets parts of your customer base with helpful emails for each specific group
Check out these awesome email marketing tools:
ActiveCampaign
Constant Contact
Mailchimp
Social Media Marketing Tools
Here's another must for your insurance business to grow: a tool to help you max out your social media footprint. A 2023 study found that 38% of worldwide daily hours logged online go to scrolling social media.1 That's a whole lot of social media market!
You don't have time to make daily posts promoting your new product launch on 12 different social media platforms. But you know who (or what) does? A social media marketing tool. It lets you schedule posts in batches and across platforms.
Don't just flirt with customers. Engage them with one of these tools:
Buffer
HootSuite
SocialPilot
Sprout Social
Cross-Channel Communication Tools
Customers hate confusion. And if you care about helping them get insured, you should hate it too. Consistent messaging is essential!
One easy way to confuse customers is by sending mixed messages across different channels. Without even meaning to, you can describe your products or pricing one way over email and another over SMS. The right cross-channel communication (CCC) tool will make sure that when a customer requests an insurance application on their smartphone, it'll actually trigger an email from you they can use to apply. And if they open that email on a desktop browser, a good cross-channel tool ensures that what they open up looks consistent with what they already experienced on their phone.
Let's look at an example of how CCC can help your business. Picture a one-month sales campaign where you offer bundling or discounts for that month only. Of course, you involve all the channels: email, social media and banner ads on your website. All the things. And you even remember to set those messages up to expire when the campaign ends so there's no wrong pricing hitting anyone's inboxes.
Or you thought you did that. Unfortunately, the updates had to be done manually (instead of with a handy cross-channel communication tool). Result: You forgot to update the SMS part of your campaign—and you accidentally kept blasting customers with a discount offer past the time your sale ended.
What? Yes, this can happen. And when it does, you either honor the inaccurate pricing (something you didn't budget for) or kiss those bargain-hunting customers goodbye.
Ouch!
So, how can you prevent unclear messaging? We recommend a great cross-channel communication clarifier (CCCC for short . . . kidding!).
But seriously, the right cross-channel tool can help you make all your customer communications crisp, consistent and clear.
These are your best bets:
Constant Contact
Google Meet
HubSpot CRM
If This Then That
MailChimp
MobileMonkey
Zapier
Zoom
Office Organization Software
Ever had a power outage or computer crash shut your business down for the day—or even longer? It's a sickening experience that can break your heart and really tick off your customers. We don't want that for you!
So, it's time to buy some office organization software.
Office organization tools can help streamline tasks like taking notes, scheduling meetings, and saving those key to-do lists. More importantly, a web- or cloud-backed option makes sure all your docs and data are backed up and available if you're ever hit with a random technological hiccup—which means you don't have to stop serving your customers, even if you have to do it by candlelight.
Get organized with one of these tools.
Acuity Scheduling
Adobe Scan
Calendly
Google Workspace
Microsoft To Do
Trello
Document Management Tools
As an insurance agent, you know what compliance means. And you know slipping up in that department can spell big legal trouble. So it's pretty important to manage your business' documents with excellence and airtight recordkeeping.
In comes the proper document management tool. It not only protects all of your official documents, but it can even help you cut down on paperwork and speed up your close rate.
Look for a tool that helps with:
Compliance updates
Remote signing
Data and document collection
Businesses of all kinds rely on DocuSign to take care of document needs like these.
Quote Software
You know one of our favorite parts of serving customers—especially in the insurance space? The moment when you get to show them all their available plans and quotes. But finding those quotes can be pretty time-consuming—unless you have the right tool!
If there's any area of your insurance business where you want a great software solution, it's quotes. Think about it. With the right quote engine, you can deliver the best range of plans, coverage options and prices faster than ever. And that frees you up for more personal face time with customers to answer their questions and help them choose the best plan.
These are your best friends in the world of quote software:
EZLynx
PandaDoc
QuoteWerks
Quotient
Salesforce CPQ
Getting Insurance Leads Online
So far, you've heard about some great ways online tools can help you better manage and grow your insurance business. But we figure you're just as keen—if not more—to pull in more insurance leads online. Have we got a solution for you!
We have quite a few fans—and these folks know they need insurance. They also need an agent they can trust to find them the perfect policy. That could be you! Through the RamseyTrusted program, we'll match you with exclusive property and casualty insurance leads online. We'll even coach you through the process so you can serve your leads in the best way possible.
Brandon S., a RamseyTrusted insurance pro working in Missoula, Montana, has tons of great things to say about becoming RamseyTrusted.
"We've more than doubled our growth since joining RamseyTrusted and it helps us stand out from our competitors," says Brandon. "The relationships we have built have been the most valuable asset of the program. Working with individuals who care more about people than premium, policies, or profits is simply incredible."
Keep killing it, Brandon!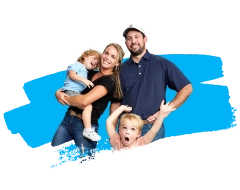 Get exclusive insurance leads who close.
Our Ramsey fans are your leads-and you don't have to share them with other agents! Plus, they want the right insurance, which means they close at a higher rate with more policies on average.
Become a Pro
Did you find this article helpful? Share it!