If you're a business owner or HR leader, you know that evaluating the return on investment for your benefits is really important. It's simple—the ROI your business gets from offering a benefit to employees is a sign that the benefit is working. And if you're not seeing it, the benefit is probably junk. 2 + 2 = 4. That's easy math.
But the ROI isn't always just dollars and cents. It can be measured in employees improving their quality of life, feeling confident in the future, being more productive, and bringing less stress into work. That's what the right benefit can do. When you're able to offer something that helps both your employees and your business, you're winning with benefits. That's what financial wellness does.
Of course, you probably want to see more than just marketing language when you're looking at which benefits to add. That's why we surveyed more than 1,000 benefits decision-makers in a variety of industries across the U.S.—to get a picture of how financial wellness benefits specifically can help your company. This is what we found.
The Impact of Financial Wellness
A lot of folks who aren't familiar with financial wellness as a benefit have a hard time understanding how it can help their business. And that's OK! We all have to start somewhere. That's why we asked, first and foremost, how businesses that do offer financial wellness see it performing for them. The majority of companies that offer it say they've seen it pay off in a lot of ways, from employees building up their savings and becoming debt-free to boosted productivity and improved employee retention rates. These companies can draw a straight line from the financial health of their employees to the health of their bottom line.

Employees leaving for better benefits or company culture? Stop the cycle with Dave Ramsey's financial wellness program.
Here are the positive impacts of offering a financial wellness benefit:
Higher participation in employee-sponsored retirement savings plan
Higher productivity levels
Employees adding to their emergency savings
Higher participation in voluntary benefits
Higher employee retention rate/lower turnover
Employees becoming debt-free
Fewer days of work missed by employees
Reduction in 401(k) loans
Lower health care costs
Fewer workers' comp claims
Less reported stress from employees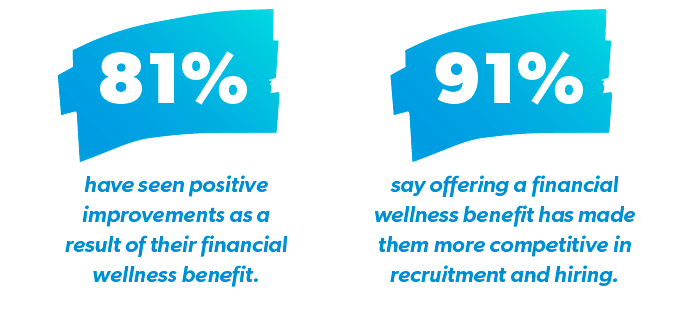 The Positive Impact on Employee Morale
Employee morale is a huge deal right now. Obviously because of the pandemic, supporting employee morale has become a major focal point for employers. And one of the best ways to do that has proven to be financial wellness. Our study found that employees who have access to a financial wellness benefit are more likely to have high morale than those who don't. And 88% of employers who offer one to their team said their employees report less stress because of it. That's a seriously awesome result.
Good/Great Employee Morale

Employees Are Less Stressed With Financial Wellness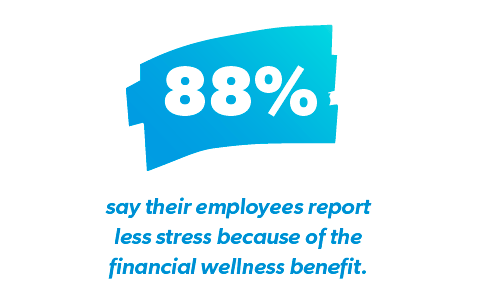 Financial Wellness Is Essential
You can't just wish away the side effects of your employees' financial stress. And it's clear from the leaders we talked to that they do see money stress hurting their businesses. Plus, more and more are thinking financial wellness is a good idea. But good intentions only go so far. The only ones making progress against the consequences of financial stress on their business are the ones actually offering financial wellness to their employees.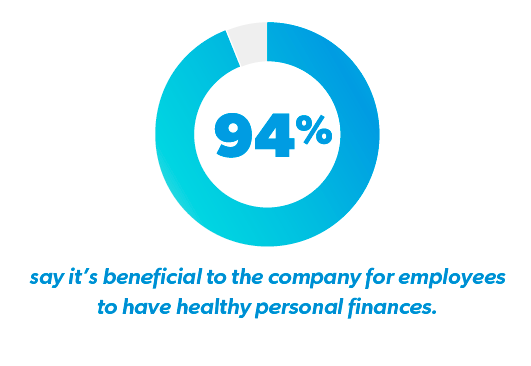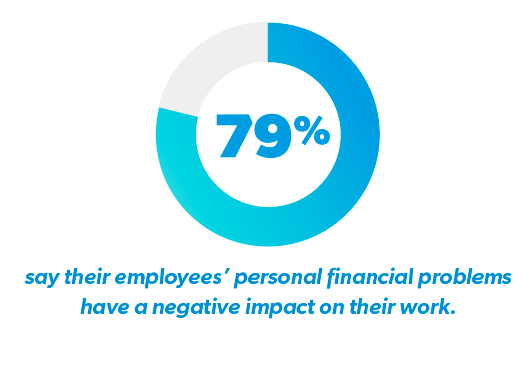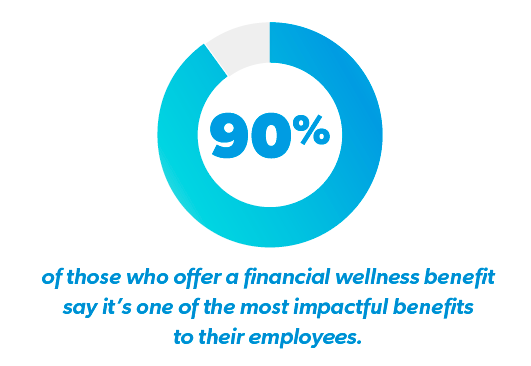 Waiting on Financial Wellness Wastes Your Company's Money
The bottom line is this: The longer companies wait to add financial wellness to their employee benefits packages, the longer their employees suffer. Not to mention, the more money gets leeched from the bottom line.
The numbers don't lie—when a company chooses to add a financial wellness benefit to their offerings, they see improvements in their employees' money situations and morale as well as the business in general. In fact, 90% say it's one of the most impactful benefits they offer. That's overwhelming evidence that financial wellness isn't just some fad. It's an essential part of employee benefits packages both now and into the future.
This is your opportunity: Learn how financial wellness can transform both your employees' lives and your business.