Whether you're a casual tinkerer or a serial entrepreneur, you already know this about yourself: You've got innovation, passion and a little bit of crazy coursing through your veins. You dream of turning a new idea into income and impact. Sound about right? If so, this could be the year you tap into that passion and build something from nothing, taking your place among the other 33.2 million small businesses in the U.S. today.1
Related article: EntreLeadership: What Are the 5 Stages of Business?
We get it though—you want to start your business venture strong. So we know you're probably asking yourself, What are the best places for businesses? And that's why we've already looked at the data, crunched the numbers, and found the major cities (along with their surrounding areas) that top our list of best places to start a business.
Here are the factors we looked at to make our list:
Population: This is the number of people in the city and its surrounding area.
Taxes: We included both sales tax and state income tax so you can see how much of your money will stay in your pocket rather than the pockets of your local and state governments.
Gross domestic product (GDP): GDP is a fancy way of saying how well the economy is doing and how much it's changed year over year. For perspective, the top GDP growth percentage for any metro area was 13.9 and the lowest was -0.9.2
Real per capita personal income: When you know the average income of each person in an area, you get a better idea of what most people's standard of living is like and how much money they have to spend. (The "real" part just means income has been adjusted for inflation.)
Unemployment rate: This will help you gauge how strong the local economy and labor force are.
Average single-family home cost: Getting a glimpse of a city's Average single-family home cost will help you estimate single-family home prices.
Now, with all those terms and factors squared away, take a look at the 10 best cities for start-ups and see which gets you revved up to make a bold move.
Related article: What is Decision-Making?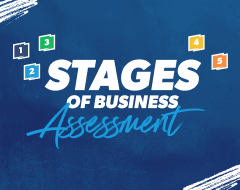 Ready to Level Up Your Business?
Find out your Stage of Business with our free assessment and get free resources to help you level up by focusing on the right things at the right time.
Discover Your Stage
Top 10 Best Cities for a Small Business
10. Indianapolis, Indiana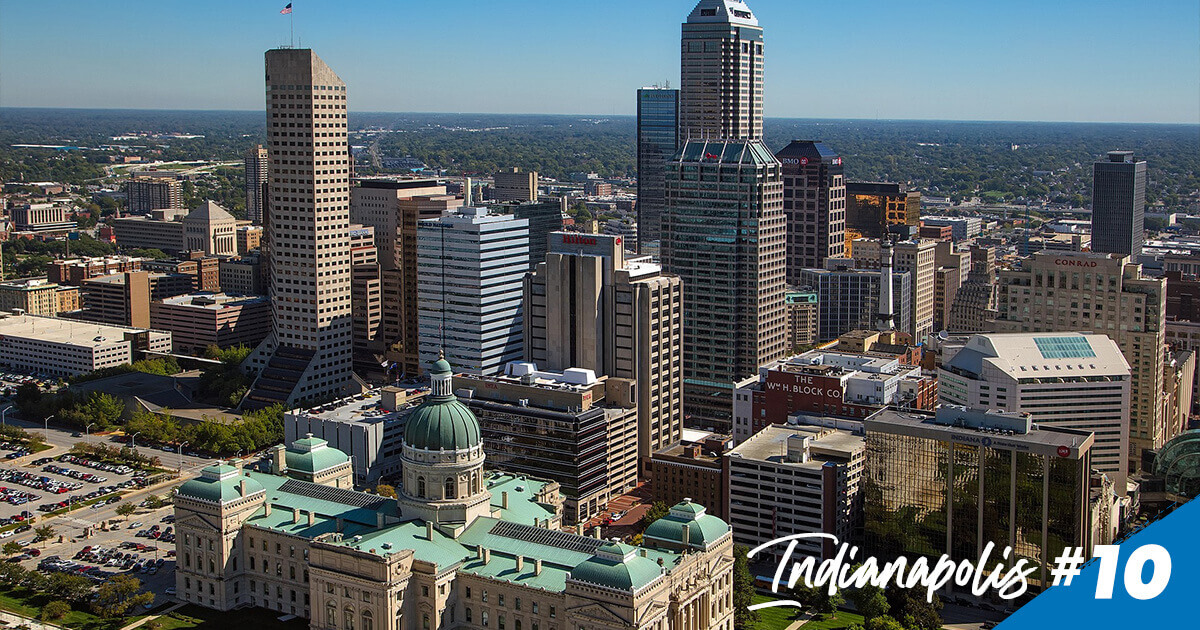 Indiana is the Hoosier state. And what's a Hoosier? Well, that's up for debate. But one thing's for sure: Indiana's capital city, Indianapolis, knocks business potential out of the park with its booming city center, affordable housing and endless development of new businesses. Indy is arguably most known for its sporting events (Indianapolis 500 or a Colts game, anyone?), but it also offers this other major benefit: connection—specifically, connected skywalks. Indianapolis has more climate-controlled walkways linking downtown hotels and offices to its convention center and other points of interest than most other major U.S. cities. All of this convenience and buzz makes Indianapolis our 10th best city to start a business.
Metro population: 2,126,8043​
Sales tax: 7%*
State income tax: 3.23%*
GDP: 5%4
Real per capita personal income: $60,1245
Unemployment rate: 2.2%*
Average single-family home cost: $277,715*

Every business goes through five distinct stages. Find out which stage your business is in with our free assessment.
*All sales tax rates are from the Tax Foundation, state tax rates are from the Tax Foundation, unemployment rates are from the U.S. Bureau of Labor Statistics, and Average single-family home costs are from the Zillow Home Value Index.6,7,8,9
9. Seattle, Washington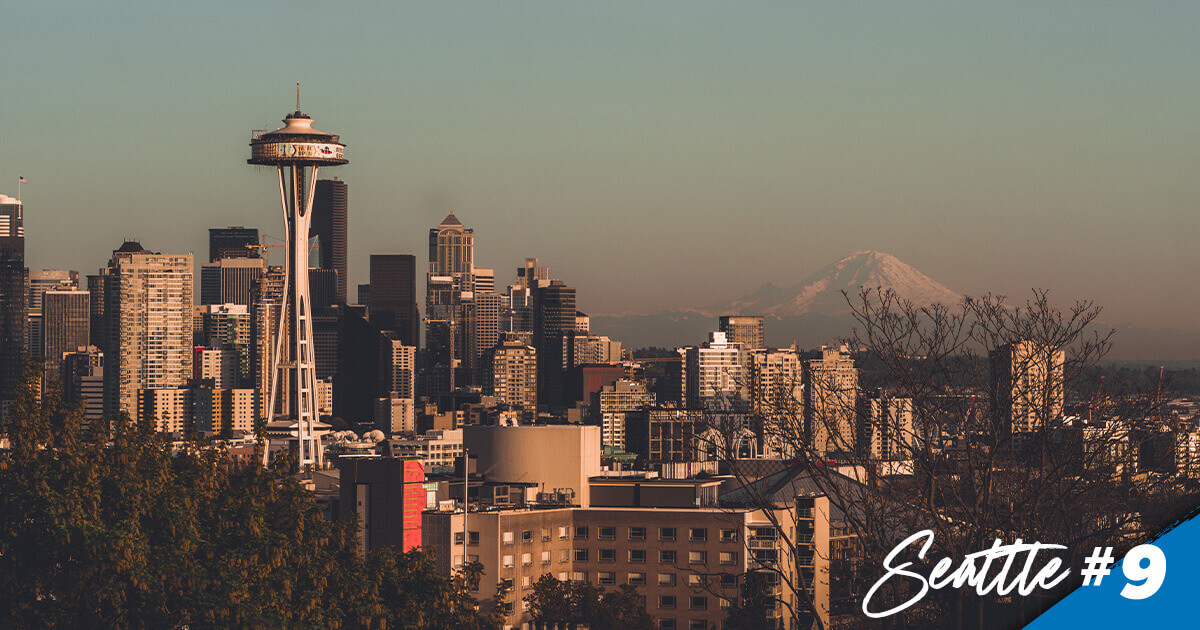 Number nine on our best cities for small business list is the stunning Seattle. On the downside, Seattle's sales tax and home costs are high—ouch! But so is the personal income of most Seattleites, thanks to a strong job economy and no state income tax. Starbucks, Costco and Boeing all started as baby businesses in Seattle—which just goes to show that Seattle knows how to support businesses and help them grow.
Metro population: 4,011,55310
Sales tax: 10.25%
State income tax: None
GDP: 7.7%11
Real per capita personal income: $67,65412
Unemployment rate: 3.4%
Average single-family home cost: $782,874
8. Dallas, Texas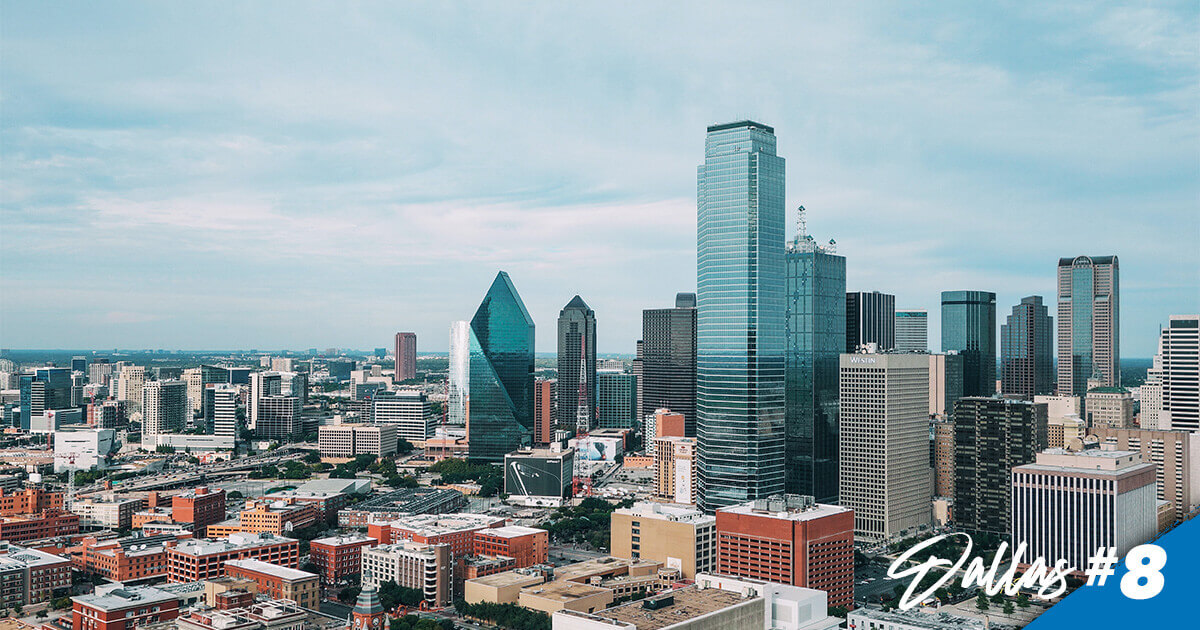 Just like its fresh, newish slogan says, Dallas is a great place to "find your all," thanks to its thriving art, music and sports scene, flavorful food, and decent cost of living. You'll find the local economy is booming in Dallas—helping make it our eighth best city for small businesses. Dallas is home to more than 20 of America's Fortune 500 companies, including American Airlines, Exxon Mobil Corp. and AT&T. But out of the 12 largest metro areas in the U.S., the city also ranks among the top for job growth, which could mean new opportunities you as your start your business.13
Related article: How to Improve Your Decision-Making Skills
Metro population: 7,759,61514
Sales tax: 8.25%
State income tax: None
GDP: 6.9%15
Real per capita personal income: $55,78616
Unemployment rate: 3.2%
Average single-family home cost: $390,257
7. Phoenix, Arizona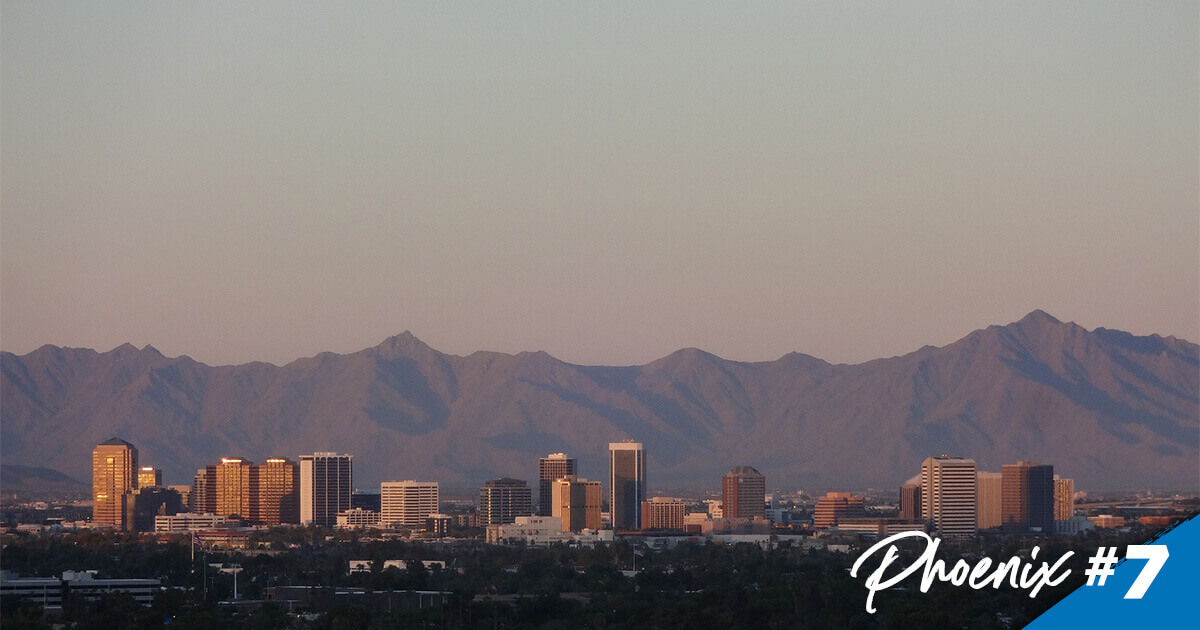 What's not to love about year-round sun, desert beauty and major recreation and relaxation? Of course, you'll be doing more work than play as you launch your new business. But you just might find some time to hit one of Phoenix's golf courses (there are almost 200 of them) or resorts sooner than expected. What else makes the Valley of the Sun one of the best cities for start-ups? Its Center for Entrepreneurial Innovation. This center is all about helping start-ups get to the market and weather the ups and downs during their first few years of business.
Related article: Everything You Need to Know About Critical-Thinking Skills for Business Leaders
Metro population: 4,946,14517
Sales tax: 8.6%
State income tax: 4.5%
GDP: 6.9%18
Real per capita personal income: $51,04519
Unemployment rate: 2.7%
Average single-family home cost: $452,881
6. Orlando, Florida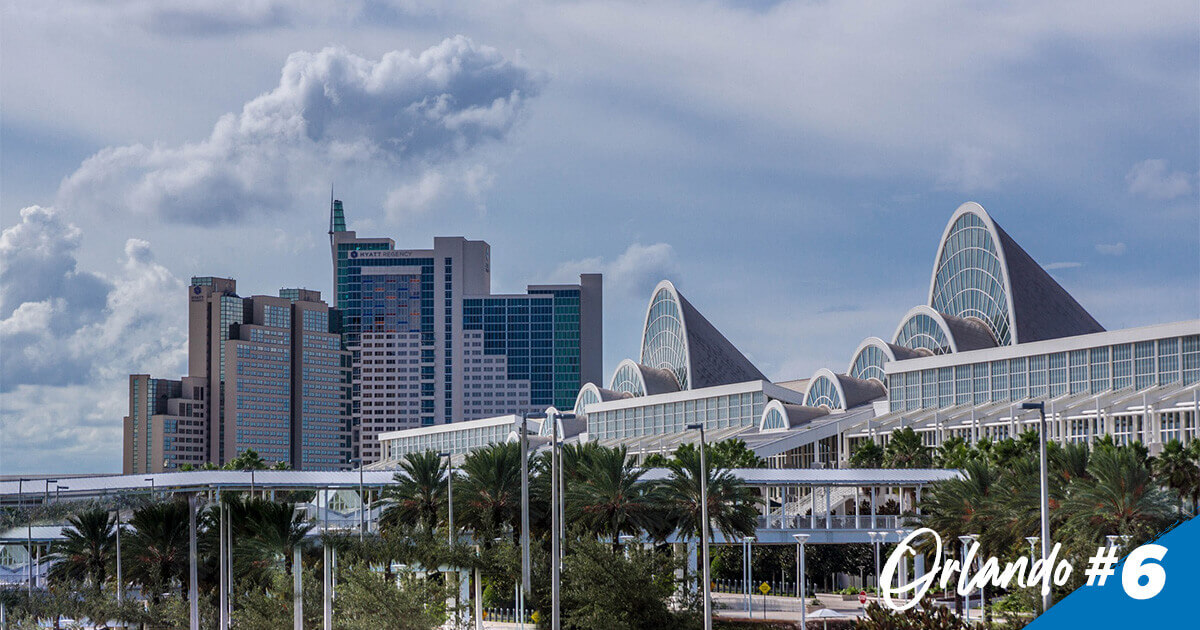 You may think of snowbirds when you first consider the Sunshine State, but Orlando is one of the exceptions. With a median age of around 38, the city is a bustling hub for students, families and young professionals.20 Orlando offers affordable housing, cheap flights, and an impressive GDP. Of course, we can't leave off the city's most obvious bonus: theme parks! Having Universal Studios and Disney World in your backyard helps make Orlando one of the best places for businesses (can you say popular customer and vendor destination?). But even if that doesn't sweeten the location for you, the Florida-resident entertainment discounts you'll enjoy might inspire you to whistle while you work.
Metro population: 2,691,92521
Sales tax: 6.5%
State income tax: None
GDP: 10.9%22
Real per capita personal income: $46,19023
Unemployment rate: 2.3%
Average single-family home cost: $416,310
5. Boise, Idaho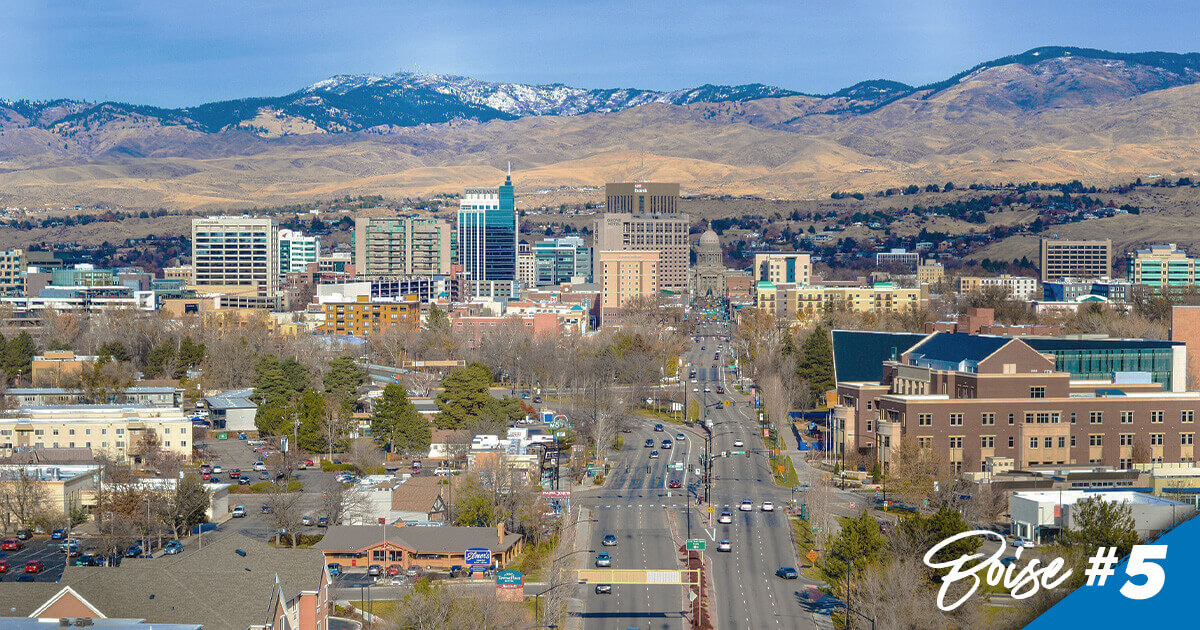 Yes, it's true: One of America's fastest-growing cities is nestled in a state most known for its potatoes. Welcome to Boise. Its affordable cost of living, short commutes and innovative college-town culture have made Boise especially attractive to tech professionals who are tired of the grind of Silicon Valley and other hectic Big Tech cities. Boise State University's Venture College has also helped turn the city into an up-and-coming technology hub for entrepreneurs and into one of the best cities for businesses. And if you're a fan of the great outdoors, you'll love taking time to explore Boise's stunning wilderness, parks and trails.
Metro population: 795,26824
Sales tax: 6%
State income tax: 6%
GDP: 9%25
Real per capita personal income: $51,33226
Unemployment rate: 2.1%
Average single-family home cost: $481,736
4. Salt Lake City, Utah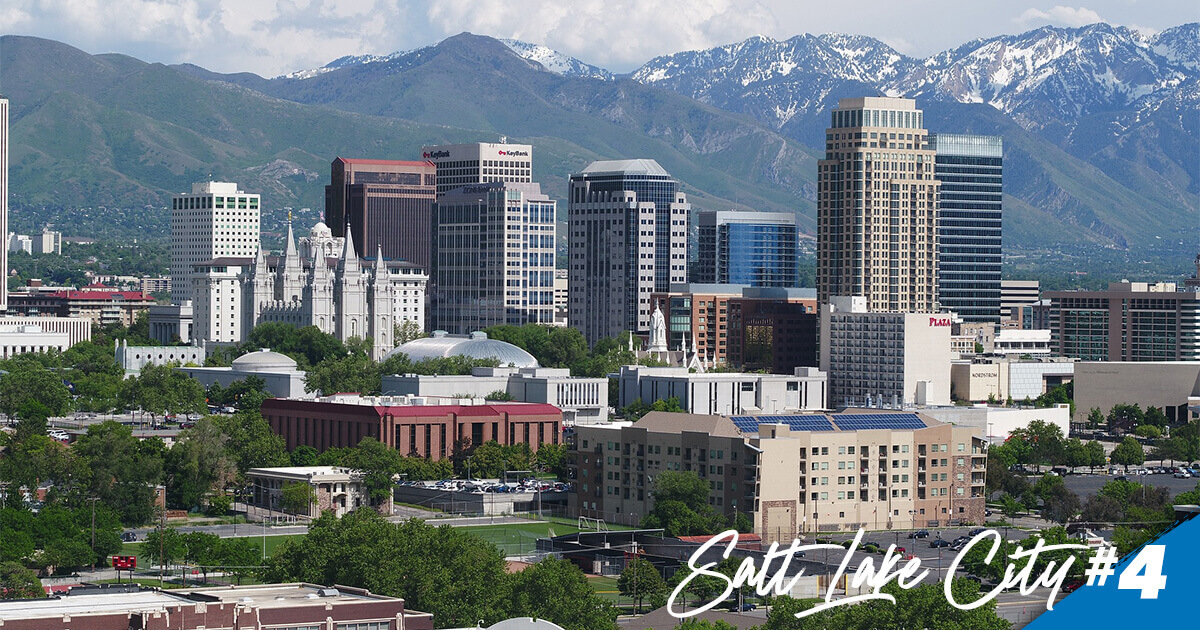 The capital city of Utah comes in at number four for its combination of strong employment, high personal income and rocking GDP. Plus, the city is home to several top universities, creating a talented labor force. Salt Lake City is also booming as a tax-friendly, family-friendly and techpreneur-friendly paradise—and even has one of the highest rates of volunteerism in the nation.27 Imagine all the ways you could pour into your community as your business takes off.
Metro population: 1,263,06128
Sales tax: 7.75%
State income tax: 4.95%
GDP: 7.1%29
Real per capita personal income: $55,53330
Unemployment rate: 2%
Average single-family home cost: $597,005
3. Tampa, Florida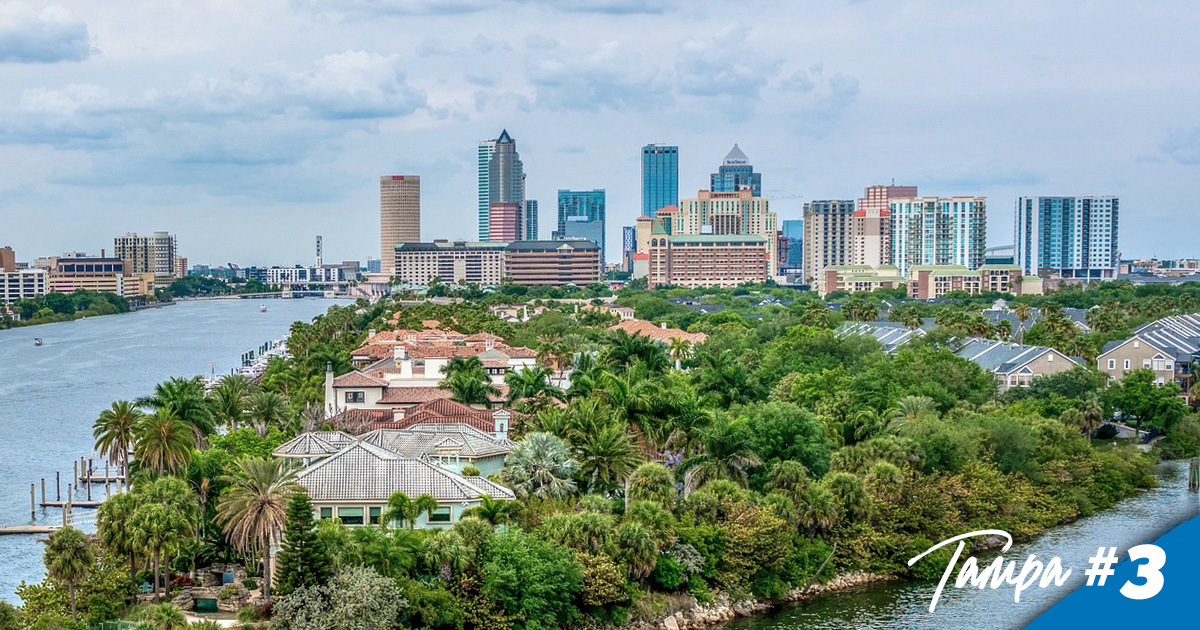 Think "laid-back beach vibes meets metropolitan bustle" and you've imagined Tampa—the largest city within the greater Tampa Bay area. Between its beautiful weather, diverse culture and incredible tax savings (yes, tax savings are still alive), it's no wonder entrepreneurs and start-ups flock here. If connection to the rest of the world is important for your business, you'll be a super fan of Tampa's amazing airport, seaport and railway systems. The city also has revived its riverfront to bring in more business opportunities.
Metro population: 3,219,51431
Sales tax: 7%
State income tax: None
GDP: 7.8%32
Real per capita personal income: $51,16033
Unemployment rate: 2.2%
Average single-family home cost: $402,392
2. Nashville, Tennessee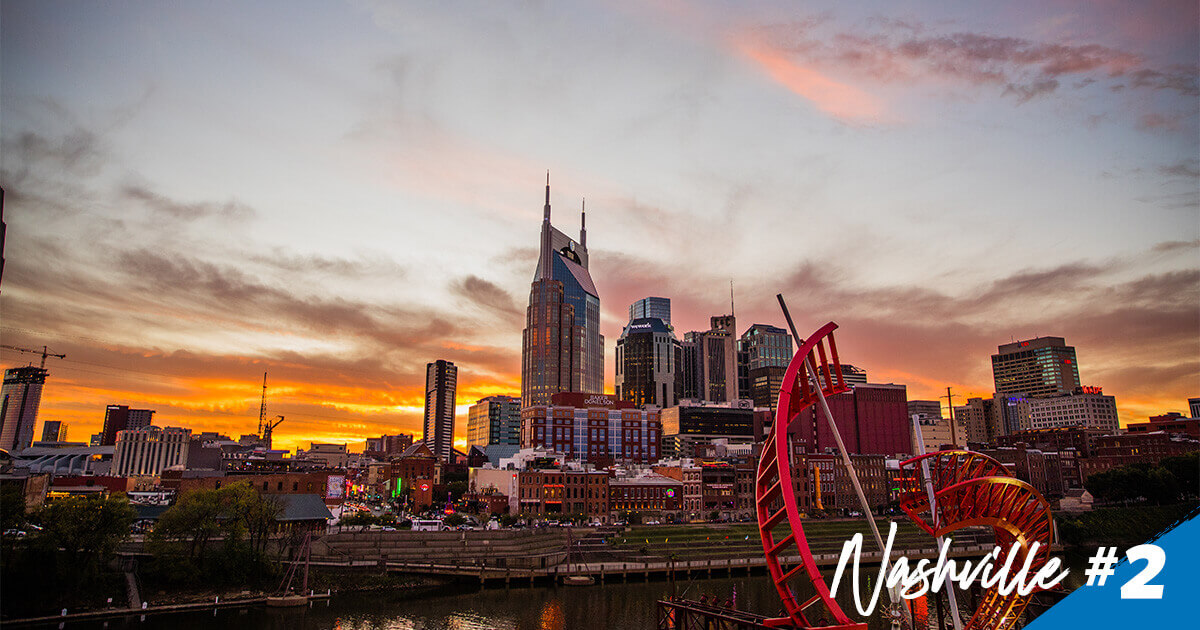 Nashville, also called Music City, lands almost at the top of the list—and it's easy to see why. From the lush landscapes, creative culture and friendly smiles, there's a lot to love about the city—and the whole Volunteer State. What's another thing to love? There's no state income tax in Tennessee (heck yes!), which helps make it one of the best states for small businesses. Nashville also has low unemployment and low property tax but high personal income. (That means people have more money to help keep the local economy alive and well.) Speaking of alive and well, Music City is home to more than 53,000 businesses, including plenty of start-ups—just one more incentive for you to toss your hat into Nashville's entrepreneurial ring.34
Related article: The 3 Best Leadership Conferences
Metro population: 2,012,47635
Sales tax: 9.25%
State income tax: None
GDP: 12%36
Real per capita personal income: $63,64237
Unemployment rate: 2.3%
Average single-family home cost: $455,035
1. Raleigh, North Carolina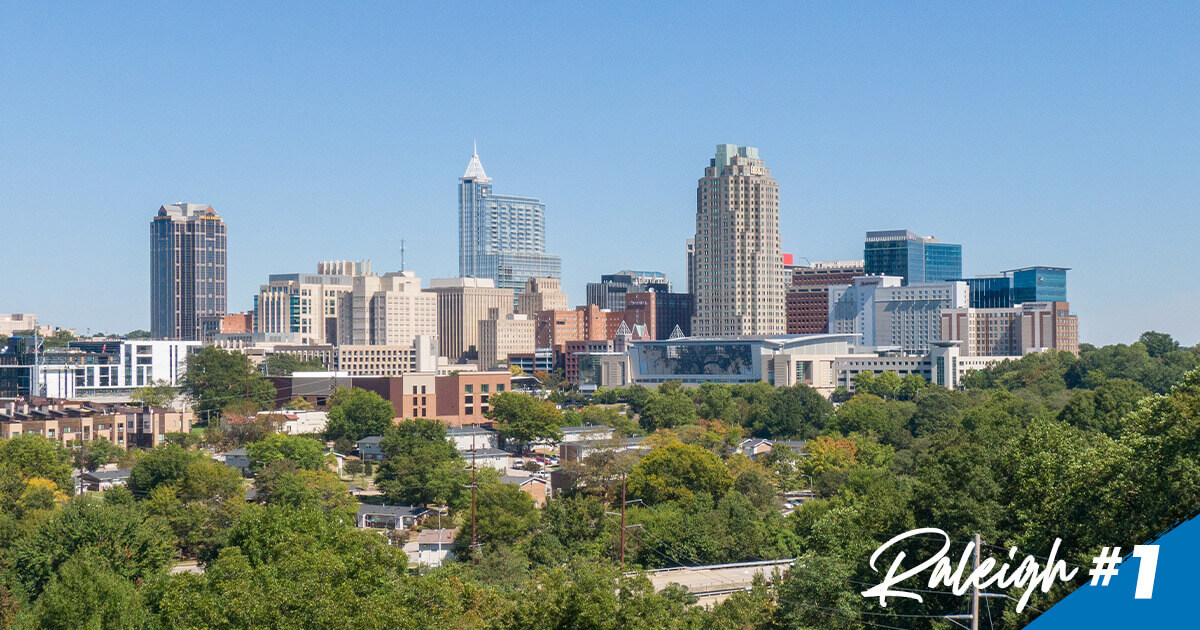 And finally . . . (drumroll, please) Raleigh tops our list of best places for businesses for its quality of life, location, affordability and friendliness to businesses big and small, established and new. Along with Durham and Chapel Hill, Raleigh is part of the Research Triangle—a region of North Carolina that's a hotbed of innovation and entrepreneurship. Raleigh is so serious about turning good ideas into booming businesses that the city offers the Innovators Program to help fund the work of new founders and innovators. Raleigh ranks fourth for the fastest-growing cities in the U.S. for 2022.38, Beyond the rankings and numbers, Raleigh's free parks and museums, miles of greenways, and southern charm make it a great place to relax and catch your breath as you set up shop.
Related article: 7 Tips for How to Run a Business Debt-Free
Metro population: 1,448,41139
Sales tax: 7.25%
State income tax: 4.99%
GDP: 9%40
Real per capita personal income: $59,10441
Unemployment rate: 2.7%
Average single-family home cost: $441,982
"We serve the Triangle area with a fitness community that truly cares about each other. Our clients come to our studio because they need fitness help—and they also receive love and support that is life changing. Helping our community with something we love doing is an amazing gift from God. We love it!"
- Ginny G., Jazzercise Cary Fitness Center | EntreLeadership Advisory Group Member
What's Next: Make Your Small-Business Dream a Reality
That's a lot of facts and figures to chew on as you plan your next step in starting a business, but don't let that fire for owning a small business fizzle. Your courage, passion and clear vision will get you going, but focused goals, high intensity and great people will help you win.
That's where EntreLeadership comes in. This tactical business system gives entrepreneurs and small-business leaders proven principles, detailed plans and personalized support to help them go from dreaming to doing. Check out The EntreLeadership Podcast to learn from the successes (and failures) of others as you put your business ideas into action.
Did you find this article helpful? Share it!