Everything You Need to Know About Critical Thinking Skills for Business Leaders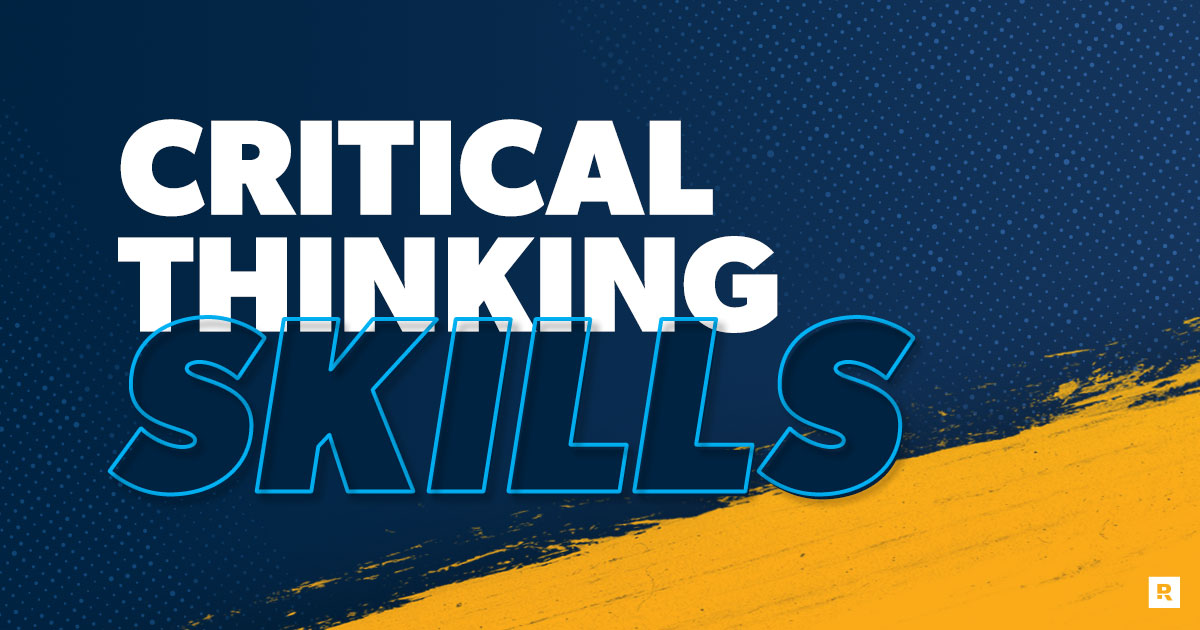 We all have moments of bad decision-making. (Like that time you hired your best friend's cousin's neighbor without interviewing them. Wrong move.) But consistently making decisions by the seat of your pants is no way to live your life—or build your business. What you can build your company on is the momentum that comes from critical thinking, aka making smart decisions and solving tough problems like it's your job. Because if you're a leader, it is.
Now, don't get tripped up on the word critical. We're not talking about overthinking every little thing and never really deciding on anything. And we're also not talking about being critical or judgmental of your team. Both suck the life out teams and businesses. Critical thinking is really just about asking great questions, analyzing possible solutions, and taking action.
Let's explore what critical thinking is, why it matters to you as a business leader, and how to apply how to apply critical-thinking skills examples to your work.
What Is Critical Thinking?
One scholarly explanation of critical thinking goes something like: a system of thought incorporated in scientific, mathematical, historical, anthropological, moral, philosophical and economic thinking. Yeah, that definition's a 0 out of 10 on the helpfulness scale. Critical thinking is more than knowing about something. It's actively exploring facts and making discoveries. It's getting to the bottom of problems by asking smart questions so you can make a good judgment based on facts—not feelings.
You already use critical thinking in your everyday decisions without realizing it. As a leader, you probably have 50 "great" ideas before you get to work in the morning. But do you act on all of them? Of course not. Because after you take a closer look at your priorities and available time and resources, you realize some of those ideas aren't worth pursuing, at least right now. That's critical thought.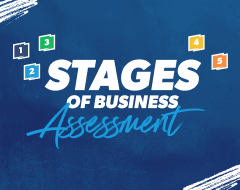 Ready to Level Up Your Business?
Find out your Stage of Business with our free assessment and get additional resources to help you level up by focusing on the right things at the right time.
Discover Your Stage
When you use critical thinking, you don't just take things at face value or go with your initial gut reaction. You weigh, measure and challenge information carefully, with the goal to improve what and how you think. One quick note though. Don't mistake critical thinking for memorizing facts and figures. That's what you do when you're prepping for your fifth-grade multiplication test. It's not how you make new discoveries.
If you want to solve problems and find better ways of doing things like the great leader you're meant to be, you will rely on a combination of data, facts, research, wise counsel, and assumptions from your knowledge and experience.
Pro tip: Being wishy washy can paralyze your team, your business and your mission. That's what's called indecisive leadership, and that's an oxymoron. Don't do that. Once you think through your information and options, make up your mind.
Why Is Critical Thinking Important to Leaders?
As if paralyzing your team isn't bad enough, indecision also costs your business time and money. You give life permission to make decisions for you when you don't move. Yuk! But when you think and move your way through obstacles, you hold the reins and can overcome challenges when others just give up.

Every business goes through five distinct stages. Find out which stage your business is in with our free assessment.
Are you losing steam with your current ad strategy? Critical thinking can lead you to new advertising ideas and marketing streams—and create even more business traffic. Stressed out by supply chain issues? Critical thinking can help you find new vendors and ways of doing business. When you think boldly and keep control of the situation, you impose your will (and good sense) on the world around you.
Here's one more example of why critical thinking is important: Say you notice a dip in sales one month. You could blow it off as a fluke and charge ahead blindly. Or you could panic, treat it as the beginning of the end, and pressure your sales team to turn the ship before you're forced to close your doors. Which one is right? Probably neither. But you won't know how to respond until you carefully look at your business trends, analyze market conditions, and talk with some other smart, experienced leaders.
Your team and your business are just as good as your reasoning and decision-making skills.
Critical thinking helps you:
Keep emotions and chaos in check as you approach problems with facts, not feelings
Understand the importance and relevance of ideas
Know when to challenge information and when to stop overthinking
See how ideas are linked and call out inconsistencies and mistakes
Appreciate different perspectives
Consider others' needs and show respect
Ask yourself how much you prioritize running your business with clarity, fairness, accuracy, and relevance. Your answer will give you a good picture of how much you value critical thinking.
Related article: What is Transformational Leadership?
Critical thinking has plenty of enemies though. Beware of these traits and behaviors that can lead to bad thinking and bad business:
Bias
Greed
Arrogance
Self-interest
Panic
Blind acceptance of what's "normal"
Have you ever heard the phrase, "ready, fire, aim"? Probably not—but that's what it looks like to act before you get a clear picture of the situation. Things run smoother the less you shoot from the hip and the more you carefully consider your decisions.
Examples of Critical Thinking Skills in Business
Here are some examples leaders in different lines of work who use critical thinking to solve everyday business problems:
A funeral home director who considers a grieving family's budget and wishes and guides them to the best choices
A home health care manager who analyzes their cases and matches team members with clients based on their needs and schedule preferences
A home contractor who weighs out which subcontractors are the right fit for the job
A customer service leader who uses feedback forms to decide on training needs for their team
A landscaper who evaluates the risk versus the potential revenue growth of adding team members
The Critical Thinking Process
We've looked at why and when to put some extra thought into your business decisions, but let's be real. Not every decision requires deep-level thinking. The amount of time and energy you spend deciding should be based on the size of the decision's impact on your business.
If it's your job to choose whether your company's Christmas card envelope is white or red, for the love of holiday cheer, just decide. But if you're about to make a major purchase or new hire, you've got some big investments on the line. Pause to think over the details before you advance.
Related article: Product Launch: 10 Questions to Ask Before You Launch a New Product
Also, as you prepare to solve a tricky problem, ask yourself these questions:
What's the real issue?
Why does this problem or challenge exist?
What information do I need to gather to understand more?
How should I keep my notes organized?
Let's say, for example, that your business issue is consistently unhappy customers. On the surface, it looks like your team members serve customers too slowly. Since both team members and customers are involved, you need to get perspective from both sides to learn why the problem exists. So, you gather details from them on when and where the issue shows up and how they think it is or isn't being handled. As for how to keep track of the information you learn, you could simply take notes on your phone or computer to review later. Or, you might need to put them in a shared document so your key leaders can see them as you work on a solution together.
After doing some high-level digging, you may find that your team members really are slow, but why? That's the next thing you need to discover. Are they poorly trained? Working in a role they're not good at? Using faulty equipment?
Following these steps of deeper-level critical thinking will help you uncover root issues—so you can fix any problems:
Observe: Look at the issue from different angles and ask questions about it.
Analyze: Test how true your information is.
Reason: Come up with your top theories for why there's a problem, then list possible conclusions and solutions. (We've already established that you're an idea machine. That's great! Keep those possible solutions flowing.)
Communicate: Talk with people who are smarter and further ahead in their career than you for deeper insight. That doesn't mean to just ask anyone with an opinion—find someone with experience.
Solve: Decide and act.
Now for an important reminder: Thinking critically means you're always discovering, changing and improving. Afterall, the one thing thriving businesses count on is change. That means you might solve a customer concern one way today but find better ways to solve it in the future. The same is true in any situation where you use critical thinking steps. The more you want to grow, the more you challenge your ideas and ways of doing things to get the positive change!
How to Think More Critically
We get it. You're reading this because you're serious about taking new ground and winning in business. You're serious about going the extra mile to raise your critical thinking game even more. Here are four practical ways to build stronger critical thinking skills:
Take a course or play video and board games that challenge your brain.
Volunteer to solve problems at work and home for practice.
Talk to others who are really good at thinking critically.
Expand your job knowledge and skills so you can see problems more clearly.
Related article: Mastermind Groups: What Are They, and How Can They Help You Grow Your Business?
What's Next: Decision Time
Great leaders are people of action. They're neither knee-jerk and emotional or passive and indecisive. They get the facts, think them through, then make the call. Of course, your personality style will influence whether you naturally make decisions quickly or need more time—and that's okay. But, when it's go time, leaders lead. Those who don't end up like the squirrel in the middle of the road looking back and forth, then moving in circles or not at all. We all know what happens to that squirrel.
One way to stretch your critical thinking skills is to learn from today's top voices in business and leadership through The EntreLeadership Podcast. You'll hear practical decision-making insights that help you lead with confidence, solve big problems and grow your business.
Did you find this article helpful? Share it!