Navigating the used car market right now can feel a lot like navigating the online dating scene: hopeless, disheartening and out of control. (Seriously, what's up with all the fish pictures, guys? Nobody's taking the bait.) The good news is, there are plenty of decent fish (and used cars) in a sea full of scummy dealerships. You just have to know where to look.
I'm here to help you find the best place to buy a used car—and know what to watch out for—so you can get the best deal on a new (to you) ride. Let's get to it!
Where's the Best Place to Buy a Used Car?
The best place to buy a used car . . . is the one that will give you the best deal. (Shocker, right?) But you also don't want to get ripped off and end up with a car that will fall apart the moment you drive it off the lot (think Danny DeVito's character from Matilda).
I wish I could just point you to a magical place less than 10 minutes away with cheap rides that fit exactly what you're looking for. But the reality is, where to buy a used car really depends on your budget, the type of car you're looking for, and the kind of seller you're dealing with.
To help guide you in the right direction, I've broken down the best places to buy used cars into three main categories: car dealerships, online retailers and private sellers—along with the pros and cons of each.
Best Used Car Dealers
Franchise Dealerships
A lot of franchise dealerships carry used cars from all sorts of brands, but they usually specialize in a specific brand. So, if you're on the hunt for a certain make (Ford, Subaru, Tesla, etc.), these can be good places to check out a bunch of different models and get a feel for what you like. Franchise dealerships also sell certified pre-owned vehicles—which is just a fancy name for used cars that have been inspected and may still be under warranty.
But the bigger the dealership, the more you'll have to pay in dealer costs. And one thing you can count on with dealers: They are going to push you to finance. Every time. It's how they make the most money. But hear me loud and clear: A car payment always costs you more.
And even though you came to the dealership looking for a used car, they'll probably try to talk you into getting the latest new model instead (you know, for "safety reasons" or because you "deserve" it). But unless you're a millionaire, a used car is still a better deal than a new one.
Bottom line: If you're going to do business with a dealership, you need to be ready to stand your ground and negotiate the best car price.
Pros: Specialize in a certain brand; carry certified pre-owned vehicles
Cons: Higher prices; will push you to finance and buy new
Independent Used Car Dealerships
When you think of used car dealerships, you probably picture your local independent dealer with the corny (but incredibly catchy) commercial. Here at Kamel Kars, we're spitting out looooow prices that won't break the bank—or your back! (Admit it, that's a pretty good ad.)
With a used car dealer, you can avoid the temptation of a brand-new car staring you down as you shop. And you may have more makes and models to choose from than you would at a franchise dealership. Plus, they usually have lower costs than the bigger dealerships.

Dave's easiest money-saving tip: See if you're over paying for car insurance.
But a salesman is a salesman. And used car salesmen have plenty of tricks to get you to spend more. So, put on your haggling hat (whether it's an actual hat or a metaphorical one). You'll also want to get a thorough inspection and a vehicle history report (VHR) to make sure you're not buying a dud.
Pros: Lower costs than a franchise dealership; different kinds of cars to choose from
Con: Have to go back and forth with a salesman
National Used Car Dealerships
CarMax
AutoNation
DriveTime
These companies are basically independent car dealerships—but on a much larger scale. With multiple locations across the country, these used car superstores have massive inventories to explore.
The main perk of these dealerships is the easy buying process. And in most cases, the price you see is the price you pay. But that also means they're probably not going to haggle with you. Also, large companies like these are expensive to operate—so don't be surprised if the price you pay is a little higher to make up for extra costs on their end.
Pros: Huge inventory; hassle-free process
Cons: Dealer costs might be higher; no negotiating on price
Best Used Car Websites
Carfax
Cars.com
Edmunds
CarGurus
Carvana
Vroom
eBay Motors
Online sellers make it super easy to compare multiple cars and find the best price from the comfort of your couch. And if you love the thrill of an auction, sites like eBay Motors can help you snag a specific car for a good price. (Just don't get so caught up in the bidding that you end up buying a car for more than it's worth.)
But just because you're buying a car online, it doesn't guarantee you're getting a better deal. And since you're relying only on the seller's description, you won't know if the car has a BBQ sauce stain on the front seat or if it makes a sound like a pterodactyl every time you turn left. My advice is to use car websites to help you narrow down your options—then go check out the car in person before you commit to anything.
And keep in mind, if you end up buying an out-of-state car and don't have it delivered, you usually need to get a temporary registration from that state to drive it back home. That means you'll have to deal with two different Departments of Motor Vehicles (which is double the fun of one DMV visit!).
Pros: Easy to find cars and compare prices; can shop from anywhere
Cons: May not catch problems you can only see in person; extra hoops to jump through if you get an out-of-state car
Private Used Car Sellers
With a private seller, you're cutting out the middleman of a dealer (along with the dealer costs), so you can usually get a car for a much lower price. And since you're paying in cash and not financing, you might be able to talk the seller down to an even lower price.
You can find private sellers on:
Craigslist
Facebook Marketplace
Autotrader
Or look for ads in the newspaper (if that's still your thing). You can also ask your friends and family if they or someone they know is looking to sell.
Keep in mind, though: Joe Schmo selling a truck on Facebook isn't held to the same standards as a dealership. So, you've got to be on the lookout for any shady scams and do a bit more investigating. Be sure to ask the right questions, bring a friend, have the car inspected, and confirm the title is clean. If everything checks out, all you have to do is hand them the cash or cashier's check, have the seller sign over the title, and you're good to go!
Pros: Lower prices; straightforward process; able to negotiate
Con: Some private sellers are shady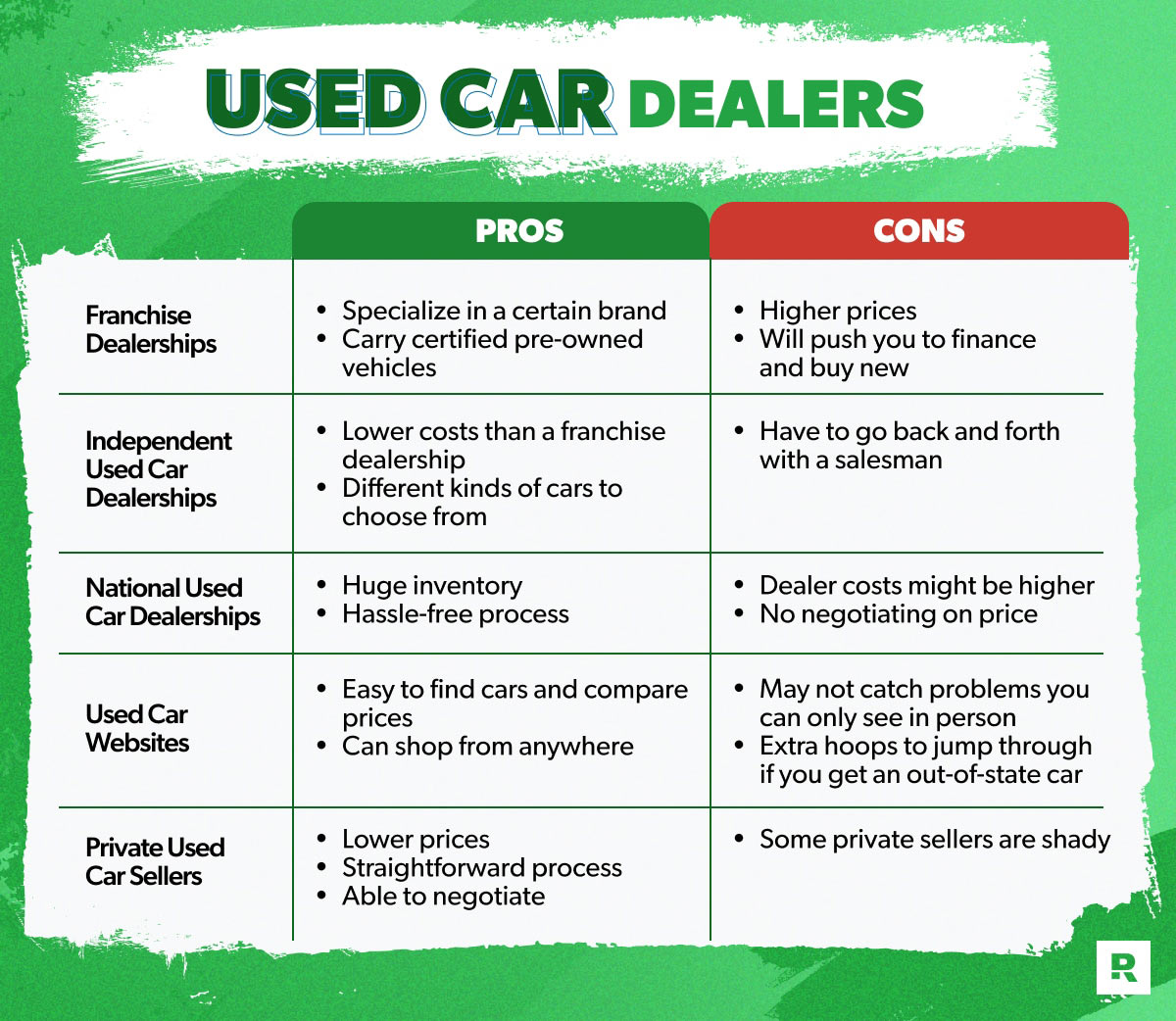 Where Does the Ramsey Community Buy Used Cars?
As you can see, there's no one right place to buy a used car. Each has its own pros and cons. But here's what The Ramsey Baby Steps Community on Facebook has to say when it comes to buying a used car:
"I would rather buy from a reputable dealer (used or not) because there are some better guarantees." — Steven T.
"Private sales. My reasoning is that I can usually get more maintenance history on them than a dealership would give me. . . . You can also generally get a better deal on private sales because an individual isn't worried about the overhead that a business would have. They want to get rid of a vehicle and you might be the one to make it happen." — Jarrod B.
"Overall, I've had better luck buying 2- to 4-year-old cars from dealerships. Many of the private sales I've looked at were priced similar to dealerships and they all still owed on them. I don't buy a used car where I don't walk away with the signed title." — Martin L.
"We went to the dealerships looking for an SUV. Everything was $30–40k. We got on FB Marketplace and bought a one-owner 10-year-old used Tahoe for $10k. No dealer fees. No hassle." — Roderick H.
"It really depends on why I am buying a new car and for whom. My 16-year-olds drive cars from private sales and a used car dealership. I paid for the Carfax for the one from the dealership, and it was great. Both cars were under $5,000. My husband and my adult son both bought used cars (one certified) from a large reputable dealership. Both of those cars were $20,000." — Heather G.
The Best Way to Buy a Used Car
There may not be a one-size-fits-all place to buy a used car. But there is a best way to buy one. Here are some things you should always do when used car shopping—no matter where you end up buying from.
Pay in Cash
I said it before, and I'll say it again (and again and again): Always buy a car you can pay for in cash. If you can't afford to pay up front and in full, you can't afford it. You need to keep saving up or just look for a more affordable car. A car payment steals your paycheck and your peace.
So, instead of being talked into a car loan with terms that only benefit the dealer, narrow down your search to used cars you could write a check for today. And avoid any dealership that won't sell you a car unless you finance. Because the best deal is the one where you drive off in a paid-for car, with no payments weighing you down.
Don't Rush Into It
Buying a car at the right time is just as important as where you buy it from. A car is one of the biggest purchases you make, so you don't want to rush into a decision that can literally wreck your finances. Take the time to do your research.
Also, if you need to spend the next six months saving up for a car you can afford, that's okay! Just don't let any pushy salesman pressure you into a bad deal you'll regret the moment he hands you the keys.
Stick to Your Budget
Your budget should decide what kind of car you get—not a car salesman or your need to impress your friends. You also need to make sure you'll have enough to cover sales tax, DMV fees, plus car insurance, car repairs and gas each month. Beyond those costs, it's hard to know how much car you can afford if you have no clue what's going on with your money on the daily.
So, now's the time to create a budget if you haven't already. Because the sooner you make a plan for your money, the faster you can save up for your dream car (or at least a nice, used Honda to get you through the next year). Get started with the EveryDollar budgeting app!
Don't Let Marketing Tactics Wreck Your Budget
Financial Peace University (FPU) will teach you how to take control of your spending in a culture that runs on debt.
Check Out FPU
Did you find this article helpful? Share it!