Listen to this article
When you hear the term financial advisor, what comes to mind?
A lot of people think about an expert who can give them financial advice, especially when it comes to investing. That's a great place to start, but it doesn't paint the full picture. Not even close! Financial advisors can help people with a bunch of other money goals too.
What Is a Financial Advisor?
A financial advisor helps people create long-term strategies for building wealth and managing risk. They can help you track, manage and balance your investment portfolio. They can also provide helpful advice on lots of other financial issues and decisions.
Here's the gist of it: Financial advisors help you with all types of financial planning. This means everything from saving for retirement to handling an inheritance. The best advisors break down confusing financial jargon in ways you can understand. And they'll work with you—as a partner—to make a game plan that puts you on track to achieve your financial goals and retirement dreams.
What Does a Financial Advisor Do?
Financial advisors don't come in a one-size-fits-all package. They often come from diverse backgrounds, can hold various degrees and certifications, and offer a wide range of services. Here are some types of financial advisors you might come across as you plan your financial future:
Investment professionals
Tax professionals
Wealth managers
Financial planners
Think of the term financial advisor as an umbrella. And under that umbrella are different types of financial professionals. It's sort of like how we call most medical professionals doctors even though they specialize in different areas of medicine.
Let's check out some of the things a financial advisor can help you with.
Retirement Planning
What does your dream retirement look like? Do you want to travel the world? Visit your grandkids? Maybe you want to open your own business or volunteer at a local homeless shelter. No matter your dream, you need a stable income to carry you through two or three decades—or more.
A financial advisor can help you build wealth and protect it for the long term. They can estimate your future financial needs and plan ways to stretch your retirement savings. They can also advise you on when to start tapping into Social Security and using the money in your retirement accounts so you can avoid any nasty penalties.
Investments
Some financial advisors are also investment professionals, like SmartVestor Pros. They can help you figure out what mutual funds are right for you and show you how to manage and make the most of your investments. They can also help you understand the risks and what you'll need to do to achieve your goals.
A seasoned investment pro can also help you stay on the roller coaster of investing—even when your investments take a dive. They know what goes down will likely come back up, and they can help you make decisions based on facts instead of fear. They'll remind you to look at your investments with a long-term lens. Remember: You're building wealth for retirement, not going after short-term wins.
Investment professionals offer a level of service and peace of mind that makes their expertise a much-needed part of any retirement plan.
Tax Planning
Let's face it: Nobody likes taxes. No matter how old you are, dealing with taxes can feel overwhelming—especially as you grow your wealth and get closer to that dream retirement. A tax professional can explain in plain English how taxes impact your finances.

Market chaos, inflation, your future—work with a pro to navigate this stuff.
Whether it's advising on charitable donations, creating a tax-efficient estate plan, or making the most of tax breaks and deductions available to you, their ultimate goal is to help you save money on taxes.That means more money in your pocket instead of Uncle Sam's! Pretty sweet deal, right?
But keep in mind, you should never make investing decisions based solely on taxes.
Estate Planning
Talking about end-of-life planning may seem downright depressing, but it doesn't have to be. Whether you just bought your first home or have been running your own business for 30 years, you get to choose what to do with those assets you've worked so hard for.
This stuff is too important to put off for tomorrow! Just making a will and getting term life insurance is enough for most people (you can always adjust and adapt as your life circumstances change).
But if your situation is more complex, working with a financial advisor (particularly a wealth manager if you're managing an estate worth millions of dollars) or an attorney with estate-planning experience is a must. They can give you the guidance you need to create a plan so you can make sure your wishes are carried out. And you can't put a price tag on the peace of mind that comes with that.
Health and Long-Term Care Planning
According to a recent study, the average 65-year-old couple in 2022 needs to have around $315,000 saved to cover health care costs in retirement.1 And these costs can go up or down depending on chronic health conditions or coverage choices.
So, what can you do to prepare for those major expenses in that chapter of your life? A financial advisor or insurance agent can explain your options for long-term care insurance. Then you can choose a plan that's affordable both now and in the future when you'll need it the most.
Inheritance
If you expect to receive an inheritance down the road, you may be wondering about everything from the tax implications to the best way to use the funds. A financial advisor—think wealth managers and financial coaches—can help keep that blessing from becoming a burden.
They can advise you on how to adjust your financial goals and strategies and tackle hard topics—like projected taxes. They can also walk you through the practical steps to take when that time comes.
Okay. Now that we've gone over what financial advisors do, let's dig into the different types.
Financial Advisor vs. Financial Planner
Here's a good rule of thumb: All financial planners are financial advisors, but not all advisors are planners. A financial planner focuses on helping people create plans to reach long-term goals—things like starting a college fund or saving for a down payment on a home. Think of them as financial mapmakers, charting your financial journey. They can also make investment plans but don't always handle direct investments.
Financial Advisor vs. Wealth Manager
Most financial advisors work with many different income levels. Wealth managers mainly focus their services on people who already have a lot of money or large estates—we're talking millions of dollars. And like we said before, wealth managers are great resources if you're expecting or have already gotten a large inheritance.
Financial Advisor vs. Robo-Advisor
Robo-advisors offer low-cost automated services without the personal touch of a full-service financial advisor. While they can have lower fees, you only get basic investment advice based on algorithms (aka fancy math equations). Plus, no algorithm will give you the teaching and personal guidance you'll get from an experienced, in-person financial advisor who knows you and your goals.
How to Choose a Financial Advisor
Choosing a financial advisor is a big deal, folks! This is someone you could end up partnering with for years, maybe even decades, to help you build your wealth. You'll rely on this person for wise advice on how to invest your hard-earned money so you can retire on your terms someday.
So how do you know which financial advisor is right for you? Here are some things you can do to make sure you're hiring the right person.
1. Interview a few different advisors.
What do you do when you have two bad options to choose from? Easy! Find more options. The more options you have, the more likely you are to make a good decision.
A good rule of thumb is to try to interview at least two or three financial advisors before you decide who you want to work with. Our SmartVestor program can make it easy for you by showing you up to five financial advisors who can serve you. The best part is, it's completely free to get connected with an advisor!
And don't forget to come to the interview prepared with a list of questions to ask so you can figure out if they're a good fit.
2. Find an advisor who wants to teach you, not sell to you.
You want to hire a financial advisor who has the heart of a teacher. You should leave their office feeling smarter than when you walked in—that's how you know they're a teacher first! A good financial advisor wants you to understand the facts, your situation, the stock market and how your investment options work so you can make a wise buying decision.
3. Look for an advisor who's qualified and knowledgeable.
Let's cut right to it: You want someone who knows their stuff. Someone who's on top of what's happening in the stock market and can answer any questions you have about retirement and investing—from the difference between a Roth and traditional IRA to what stocks and mutual fund options you have.
But listen, just because an advisor is smarter than the average bear doesn't give them the right to tell you what to do. Sometimes, advisors are full of themselves because they have more degrees than a thermometer. If an advisor starts talking down to you, it's time to show them the door. A financial advisor works for you—not the other way around. Remember that!
4. Find out if their advice will be consistent with your beliefs.
It's important that you and your financial advisor (whoever it ends up being) are on the same page. You want an advisor who has a long-term investing strategy—someone who'll encourage you to keep investing consistently whether the market is up or down.
You also don't want to work with someone who pushes you to invest in something that's too risky or you're not comfortable with. We recommend spreading out your investments between four different types of mutual funds: growth, growth and income, aggressive growth, and international. That mix will give you the diversification you need to successfully invest for the long haul.
What Is Fiduciary Duty?
As you research financial advisors, you'll probably come across the term fiduciary duty. All this means is any advisor you hire has to act in a way that benefits their client and not their own self-interest. If your financial advisor has a fiduciary duty, they have to recommend investments that'll best fit your needs and not their own bottom line.
How Much Does a Financial Advisor Cost?
Before you hire a financial advisor, make sure you have a good understanding of what you're actually paying for. The cost of a financial advisor can vary depending on how they charge their fees. Some common fee structures are commission-only, fee-only and fee-based.
Commission-Only
Some advisors charge a commission for their services. This means they get a portion of money when someone uses their services to invest their money.
Fee-Only
Fee-only advisors usually set up their fees in several different ways. Sometimes they'll charge you at an hourly rate (usually somewhere between $200 to $400 an hour) based on how much time they spend working with you.2 They could also have a flat fee structure based on the services you're getting from your advisor.
Other financial advisors charge a retainer fee based on a certain percentage of the assets they're managing for you, which usually is somewhere between 0.2% and 2%.3
Commissions and Fees (Fee-Based)
Fee-based advisors take commissions and fees and combine them as part of their payment structure. They might charge an hourly rate to sit down with you to create an investing plan tailored for you and a commission based on the funds they recommend.
How much does a financial advisor cost?
| | |
| --- | --- |
| Commission | Usually between 3–6% (based on a percentage of how much you invest)4 |
| Hourly Fee | Between $200–400 an hour (on average) |
| Flat Fee | Between $2,000 and $4,000, depending on which services are provided5 |
| Retainer Fee | Usually between 0.2–2% of assets under management (AUM) |
Remember, fees can vary from one financial advisor to another.It's important to understand exactly what their fees are and how those fees stack up over the life of your investment before you work with them.
When to Choose a Financial Advisor
Not sure when to choose a financial advisor? Don't sweat it. You can start developing a relationship with a financial advisor at any point during your financial journey. But the best time to choose a financial advisor depends on what you need help with.
Let's say you're ready to build wealth through investing. Now is a great time to chat with an investment pro. They'll help you pick the right funds for your portfolio and educate you along the way. Remember, it's never a good idea to invest in something you don't understand.
But you never know what situations life will bring you. If you're ever feeling uneasy or uncertain about a financial decision, speak with an advisor. Even if you think you might need help, all it takes is a phone call to an advisor you trust to put your mind at ease. This is why you need a financial advisor who is always willing to listen and help.
Find a Financial Advisor
There's a lot more to creating a financial plan than just picking the right mutual funds. You need to get on a budget and stick to it. You need a strategy and action steps to grow and build your retirement accounts. And you need to be intentional about planning for the future.
A financial advisor can walk alongside you to educate and encourage you as you work toward your goals. Think of them like your own personal coach and cheerleading squad.
If you're out of debt and ready to start investing, go talk to a SmartVestor Pro—it's free to get connected with an investment professional in your area. With SmartVestor, you'll have the peace of mind knowing you're working with someone who really does have your best interests at heart.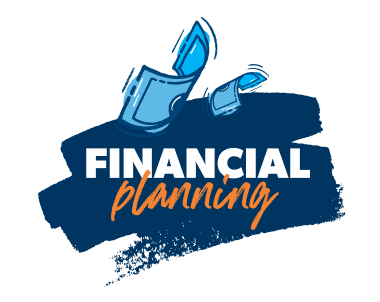 Make an Investment Plan With a Pro
SmartVestor shows you up to five investing professionals in your area for free. No commitments, no hidden fees.
Find Your Pros
Frequently Asked Questions
Is having a financial advisor worth it?

Yes. A good financial advisor works closely with you—as a partner—to help you plan and achieve your financial goals and build wealth. The best financial advisors act as teachers, educating and empowering you to put your hard-earned dollars where they'll benefit you most.

What questions should I ask a financial advisor

Here are some questions to get you started:

What do you love about your job?
What services do you provide clients?
What is your investment philosophy?
How will we communicate about my investments?
How do you get paid?
How will you measure and evaluate my investment performance?
Can you tell me why the last two clients you lost stopped working with you?
Do you personally invest in the funds you recommend?

Where can I get free financial advice?

There are a few resources you can take advantage of. These include your local credit union, your employer or your 401(k) provider. There are also various organizations that provide free financial advice. But remember the old saying: You get what you pay for.
This article provides general guidelines about investing topics. Your situation may be unique. If you have questions, connect with a SmartVestor Pro. Ramsey Solutions is a paid, non-client promoter of participating Pros.
Did you find this article helpful? Share it!