Listen to this article
If you've heard it once, you've heard it a thousand times: You need to invest for retirement, especially if you want to build wealth and retire with a nice nest egg.
That means you're going to need a financial advisor at some point—someone who can explain complex investments in ways you can understand.
Finding the best financial advisor near you might seem intimidating at first, but we promise, it's not as hard as it seems! Here's the gist of it: Pick a financial advisor committed to educating and empowering you. That way, you can make the best decisions about your financial future.
What Is a Financial Advisor?
A financial advisor is a qualified professional who will help you understand, track and balance your retirement savings, college savings or other investment goals.
Here's the thing: The term financial advisor isn't a one-size-fits-all title. Financial advisors come from diverse backgrounds and offer a wide range of services. They can also hold different degrees and certifications. So finding a trustworthy advisor that fits your needs—like a SmartVestor Pro for investing—is very important.
There are many options out there and not all of them are good. But don't worry—here are a few simple steps for finding a financial advisor you can trust.
How to Choose a Financial Advisor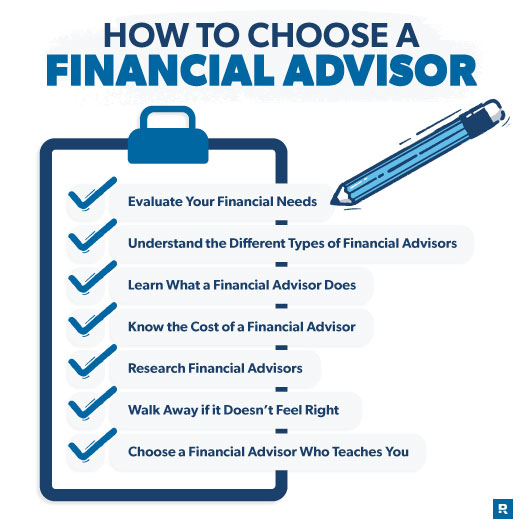 1. Evaluate your financial needs.
First things first—think about what financial services you need. This is a great time to take a good, hard look at where you are on your financial journey.
Are you ready to invest for retirement? (Remember, first you need to pay off all debt other than your home and have an emergency fund that covers 3­­­­­­­­­–­6 months of expenses. No exceptions!). Do you need help rebalancing your investments? Or maybe you just don't have the time or the know-how to choose and track investments on your own. A good advisor can help you with all this and more.
Look, no one wants to pay for anything they don't actually need. By figuring out what you need right now, you can choose the best financial advisor to help with your current goals.
2. Understand the different types of financial advisors.
Think of the term financial advisor as a big umbrella. Under that umbrella, you'll find investment professionals, tax professionals, wealth managers, financial consultants and financial planners. All these people can call themselves financial advisors.
There are also many titles financial advisors can have depending on their specific trainings or exams they've passed. Here are just a few:
Certified Public Accountant (CPA)
Personal Finance Specialist (PFS)
Registered Investment Advisor (RIA)
Certified Financial Planner (CFP)
Chartered Financial Analyst (CFA)
So yeah, you have options—a lot of options—and it can get pretty confusing. But here's what it boils down to: You want a financial advisor who has solid training and experience and who treats you with respect. A good advisor uses their knowledge to teach you and treats you like a partner. A bad advisor talks down to you and simply expects you to go along with whatever they say. No, thanks!
3. Learn what a financial advisor does.
Okay, so we know a few types of financial advisors. But what does a financial advisor do? Well, a lot! This is why it's so important to figure out your financial needs before sitting down with an advisor. That way, you can interview the best financial advisors for your situation.

Market chaos, inflation, your future—work with a pro to navigate this stuff.
But which ones should you go to for advice? Here are just a few services financial advisors provide and which type of advisor you should talk to for each:
Investments: If you need help with investments, you want to chat with an investment professional. They'll let you know which investments are right for you, help keep your investments balanced, and keep your mind at ease.

Retirement planning: What's your dream retirement? Here, you'll also want to talk to an investment professional. They can project your future financial needs and strategize the best way to stretch your investments and retirement savings—helping you reach that dream.

Tax planning: Do taxes make your head spin? You can visit a tax professional if you have complicated taxes. These financial advisors help minimize your tax burden.

Estate planning: Talking about end-of-life plans isn't easy, but it's very important. Wealth managers and attorneys with estate planning experience can put a plan together and provide peace of mind if you have a complex financial situation.

Health and long-term care planning: There's a good chance you'll need more medical services as you get older—it's just a fact of life. A good financial advisor or insurance agent can make sure you have a long-term plan for these expenses.

Inheritance: Are you expecting a large inheritance? A wealth manager (or even a financial coach) can help you decide the best ways to use those funds. They'll also walk you through any tax implications you might have to deal with.
4. Know the cost of a financial advisor.
When picking a potential financial advisor, it's also good to know how they get paid. In other words, are they commission-only or fee-only?
Commission-only: You pay the commission up front as a portion of the money you invest. Let's say you want to invest $10,000 into a mutual fund and the fund has a 5% fee. You would pay a $500 commission while the rest of your money is invested in the fund.

Fee-only: A fee-only financial advisor accepts either a percentage, hourly or flat-rate fee for their services. They can also work on retainer. RIAs are usually fee-only advisors.
There are positives and negatives to each approach, and professionals on either side have extreme levels of integrity. Just watch out for possible conflicts of interest. You should always ask a financial advisor how they get paid. If they won't give you a straight answer, you could have a problem on your hands.
How much will that cost you?
Okay, we know how financial advisors get paid, but how much will that cost you? The answer depends on a lot of things—like your investment amount or the number of services you want. But you can actually use some averages to estimate your costs.
Here's how much you can typically expect to pay a financial advisor:
How Much Does a Financial Advisor Cost?
| | |
| --- | --- |
| Commission | Based on a percentage of how much you invest, usually between 3-6% |
| Hourly Fee | Average financial planner hourly fee ranges from $120-300 per hour |
| Flat Fee | Flat fees can be anywhere from $500 to $10,000 depending on a wide range of factors, including services provided |
| Retainer Fee | Usually somewhere between 0.5-2% of assets under management |
5. Research financial advisors.
Now we're getting to the good stuff: Researching and interviewing possible financial advisors. Remember, it can take a few tries to find the best financial advisor for you—and that's okay! You're building a relationship here, not a fantasy football team.
Here are a few key things to keep in mind:
Interview a few different advisors.
When you're ready, you should interview a few different financial advisors. You're more likely to make a good decision if you have more options in front of you.
If you're not sure where to start, our SmartVestor program makes it easy. We'll show you up to five financial advisors near you. From there, you can interview each one to see who fits your needs best. And it's completely free to get connected!
Ask a lot of questions.
You should never be afraid to ask financial advisors questions —a lot of them. And a good investment pro should always give straight answers. The interview phase is a great time to test this and get the information you need to choose the right professional for you.
So, come prepared with a list of questions. Here are some we recommend:
What do you love about your job?
What services do you provide clients?
What is your investment philosophy?
How will we communicate about my investments?
How do you get paid?
How will you measure and evaluate my investment performance?
Can you tell me why the last two clients you lost stopped working with you?
Another great question to ask when an advisor recommends a particular fund is: Do you personally invest in this fund yourself? If an advisor is confident enough in a fund to invest their own money into it, that can give you some confidence.
Any experienced financial advisor will be able to answer all of these questions. You need to trust the person you're getting investing and retirement advice from. So if they can't answer these questions, they're not the right advisor for you.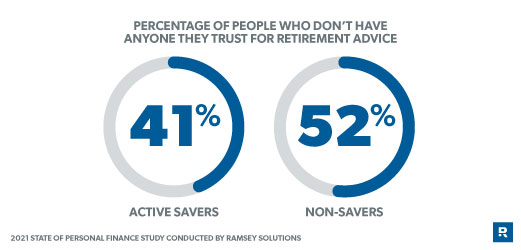 Make sure you share investing philosophies.
No matter what, you want a financial advisor who clearly explains their investing philosophy. Make sure they have a long-term investing strategy that matches your wants and goals. And they should always respect your opinion.
6. Walk away if it doesn't feel right.
If something doesn't feel right about a potential advisor, then keep looking. Hiring a professional can be difficult, and you have to feel good about the relationship.
Avoid sales-minded pros or "experts" who make you feel dumb for asking questions—you're not. The right financial advisor will explain every detail to you until you get it—no matter how long it takes. You should never feel left out in the dark. If you do, you're speaking to the wrong person.
Again, interview as many financial advisors as it takes to find someone you can trust to educate you. That way, you'll know your options so you can make the best investment choices.
7. Choose a financial advisor who teaches you.
You can't make an informed decision with your money if you don't understand what you're investing in. That's why you need a financial advisor with the heart of a teacher.
It's important to choose someone who takes the time to help you learn about your investments. They should be able to explain to you—in a way that you can understand—the difference between a 401(k) and IRA. Or why you should choose a Roth 401(k) over a traditional 401(k). Or how to choose mutual funds that outperform the stock market. Like we said, they should empower you.
This stuff gets complicated. So when you find a professional who answers all your questions and leaves you feeling confident about your future—no matter the market conditions—you've found the right financial advisor for you.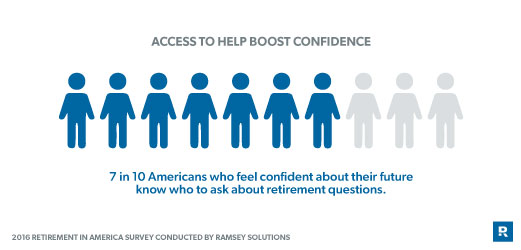 Remember, You're in Charge of Your Money
Some celebrities and pro athletes lose their entire fortunes because they let other people manage their investments for them. The truth is, no one will care about your money like you will. Whether you're investing thousands or millions each year, you need a plan that puts you in control. It's your retirement and your future, so don't be shy about taking charge of it! If you haven't thought about what your investments might look like when it's time to retire, calculate your estimated retirement savings with our Retirement Calculator.
A good financial advisor shares their expert advice but knows you still call the shots. If an advisor wants you to do something simply "because they said so," find someone else to partner with. Remember, you should never invest in something you don't fully understand, and you should certainly never feel pressured to. You aren't hiring a parent—you're gathering counsel. You want someone who will guide you to make the best decisions for you.
Find the Right Financial Advisor Today!
Keep all of this in mind when you're hunting for the right advisor, and you'll be on your way to building a retirement strategy you can feel good about.
Not sure where to start? Try SmartVestor! It's a free and easy way to find and interview financial advisors near you. Find a pro today!
Interested in becoming a SmartVestor Pro? Let us know.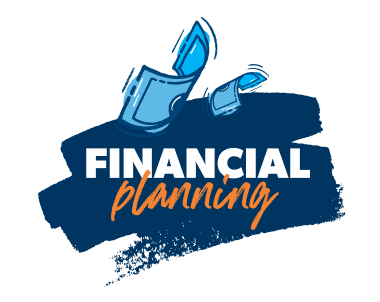 Make an Investment Plan With a Pro
SmartVestor shows you up to five investing professionals in your area for free. No commitments, no hidden fees.
Find Your Pros
Ramsey Solutions is a paid, non-client promoter of participating pros.
Frequently Asked Questions
When should you talk to a financial advisor?

You can talk to a financial advisor at any point during your financial journey. This also depends on what your current goals are. For example, the best time to talk to an investment professional is when you're ready to invest. This means you have no debt except your home and an emergency fund that covers 3–6 months of expenses. You should also speak to a financial advisor when you need to roll over an old 401(k) into either a new 401(k) at a new job or an IRA. They'll walk you through the steps.

Where can I get free financial advice?

There are a few resources you can take advantage of. These include your local credit union, your employer or your 401(k) provider. There are also various organizations that provide free financial advice. But remember the old saying: You get what you pay for.

Is it worth paying for a financial advisor?

Yes! When you're ready, a financial advisor can provide ongoing, in-depth and personal investment advice centered on your needs and goals. A good pro can also help you make a personal budget, plan for retirement, and start a college fund. They'll help you track and maintain your investments and make smart financial decisions—including filing your taxes right. When you pay for the right advisor, you're getting a trusted, long-term relationship.

Do I need a financial advisor for my 401(k)?

The short answer is no. You do not need a financial advisor for your 401(k). But having one can be extremely helpful! A financial advisor can help you make sure that you're invested in the right mutual funds and that your investments stay balanced.

How much does a financial advisor cost?

The cost depends on how financial advisors get paid. Some are paid by commission while others charge a fee. Generally, you can expect to pay around 3–6% of your investment for a commission-only advisor. Fee-only advisors usually cost around $120–300 per hour. Some fee-only advisors charge flat fees of $500 to $10,000, but this depends on a lot of different factors and services provided.

What exactly does a financial advisor do?

A financial advisor helps you track and maintain your investments—like your 401(k) or IRA. They can also help you with other financial stuff like taxes, personal budgets, college funds and estate planning. And that's just to name a few. The best financial advisors do all of this while explaining it to you in ways you understand.
This article provides general guidelines about investing topics. Your situation may be unique. If you have questions, connect with a SmartVestor Pro. Ramsey Solutions is a paid, non-client promoter of participating Pros.
Did you find this article helpful? Share it!