Ah, chores. Every kid's favorite word, right? Okay, maybe not, but there are plenty of reasons why chores are an important part of kids' daily routines. Chores help them learn responsibility, confidence and even how to handle money—while giving you some help around the house!
We're going to look at the best age-appropriate chores for kids, so whether you're just getting your kids started with chores or you're getting them back in the swing of helping out at home, you'll all get off on the right foot. After all, it's never too early to help them learn the important life skills that come along with doing jobs around the house, so let's get started!
Why Chores for Kids Are Important
Taking part in home activities is so important for kids to feel valued and grow in their confidence. Not only do age-appropriate chores for kids help them build a work ethic and learn responsibility, but if you pay them a commission for a job well done (instead of a weekly allowance), kids can get a head start on learning how to make money and handle money. It's never too early to learn how to spend, save and give. (And hey, no mom guilt here . . . I appreciate having my kids help with odd jobs around the house!)
How to Get Kids Started With Chores at Home
When your family starts adding chores for kids into the weekly routine, it can take some adjusting. You're learning how to teach your little ones new skills, and they're learning how to do jobs they've never done! So be patient and start small. It's good to keep things lighthearted. Here are some tips to help make chores a fun process to learn for your kids and low stress for you.
1. Take chores step by step.
Patience will be key when your kids are working through their chore list. Be patient as you explain and demonstrate how to do whatever job is on their list. You might have to tailor your teaching style to each kid. For example, one might learn best by watching and hearing you explain each step, and another might learn best by doing it themselves with your guidance.
2. Let them be imperfect.
No matter how old your kids are, don't expect them to get the jobs on their chore list done perfectly when they're first learning. Do you remember making your bed for the first time? Probably not, but I'll bet it wasn't perfect! Give your kids (and yourself) grace as you get the hang of these new responsibilities.
3. Get started early.
Let's not beat around the bush here. The earlier you can get your kids used to helping out at home, the better! And this is for a few reasons. One, the sooner you start teaching age-appropriate chores for kids, like cleaning, caring for pets, and being responsible for their belongings, the more your kids will embrace responsibility as they get older. And two, the earlier they learn chores, the more their confidence will grow as they see how much they contribute to the family.
4. Give your kids praise.
Remember what I said about not expecting chores to be done perfectly? Praise will be such an important tool to help your kids get motivated and excited about doing chores. Who doesn't love hearing they're doing a good job? Your kids are no exception. Keep it simple but meaningful with words of affirmation and tell your kids how great they're doing as they try new things around the house (even if they don't do the chore perfectly).
Chores for Kids by Age
Need some age-appropriate ideas about chores for kids? Here are some lists for you to get started! If your kids are older, they can also complete any of the chores listed for the younger age groups. So, if you have a 12-year-old, they can help out with chores from the lists for elementary school kids, preschoolers and toddlers too.
Chores for Toddlers (Ages 2–3)
When you're giving toddlers chores to do, you'll want to keep the job super simple. Give them a task with one step, like moving a pile of toys into a toy chest, so they can feel successful when they accomplish it!
Put dirty clothes in the hamper.
Put toys and books away.
Fill up the pet's food bowl.
Clean up spills.
Bring dishes to the sink.
Chores for Preschoolers (Ages 4–5)
Preschoolers can start building on their chore schedule to include jobs with more steps. You'll still want to keep the chores simple, but at this age your kids can begin to do more active tasks around the house.
Make their bed.
Put clothes in the washing machine and dryer.
Put dishes from the sink into the dishwasher.
Dust furniture.
Chores for Elementary School Kids (Ages 6–10)
Elementary school kids will have a better sense of independence, so you can feel confident they'll be able to tackle their chore list with fewer directions and supervision.
Put groceries away.
Check the mail.
Fold clothes and put them away.
Set the table before meals.
Empty trash cans.
Pack their lunch.
Water houseplants.
Vacuum the floors.
Pull weeds in the yard.
Unload the dishwasher.
Sort laundry into whites and darks.
Keep bedroom neat.
Chores for Middle Schoolers (Ages 11­–13)
Middle schoolers will have the strength and skill to start doing bigger jobs around the house, like carrying groceries or moving large trash cans. Depending on your kid's abilities, you can start giving them bigger and more detailed jobs throughout the house and yard.
Wash cars.
Take garbage cans to the street.
Clean pet cages or litter boxes.
Change bedsheets.
Clean bathroom mirrors and counters.
Sweep out the garage.
Rake leaves.
Shovel sidewalks.
Walk the dog.
Bring groceries inside from the car.
Chores for Teenagers (Age 14+)
Once they hit high school, your kids can tackle just about any chore you give them. But if you give them any big outdoor jobs, like cleaning out rain gutters, you'll probably want to supervise for safety reasons.
Scrub tubs and showers.
Mow the lawn.
Clean rain gutters.
Wash windows.
Help with grocery shopping.
Help younger siblings with homework.
How to Make a Chore Chart
Now that you've got plenty of ideas of chores for kids by age, you might be wondering how to keep their new chore schedule organized. Don't get overwhelmed—a chore chart will save the day! And we've got one you can begin using today.
Remember to start slow. Help your kids get in the habit of mastering one chore before adding the next one. For example, for the first week, only list one chore per day for each kid. Check them off when the chores are done each day, and then add a second chore per kid to the schedule next week. Getting your kids involved in crossing off their chores each day is a great way to help them stay motivated.
How Much Time Should Kids Spend on Chores?
As you're planning your chore schedule, don't forget to keep homework and other family activities in mind. Your kids won't be able to stick to the schedule if their chores take up too much time. However, you want them to understand they're responsible for these tasks, and they need to spend some time crossing their chores off the list each day! Here are some guidelines to help you plan how long kids should spend on chores every day.
Small kids should spend about 10–20 minutes doing chores each day. These can include a few small jobs with your supervision or one longer activity, like tidying their bedroom.
Older kids should spend about 20–30 minutes a day taking care of their chores outside of homework. They probably won't need your help unless you're teaching them how to do something for the first time.
Teenagers can do their chores without supervision (unless it's a big job that could use some adult help for safety reasons). Because they usually have busier schedules than younger kids, keep an eye on their schedule to make sure chores don't take up more than a few hours per week.
How Much Should I Pay for Chores?
Different families have different approaches when it comes to paying kids for chores. Some parents think kids shouldn't be paid at all—because being involved with chores helps the family and helps the kids understand how the house runs. Other parents pay an allowance no matter how many chores kids do (which really means they can get paid without doing anything). When it comes to the Cruze family, our kids earn a commission. This means when the kids do chores, they get paid. Yep! Just hanging around and being cute isn't enough to make money . . . they've got to put a little elbow grease into helping around the house if they want to earn money! (Now, there will be chores and responsibilities your kids do that they don't get paid for. This helps teach them that there will be things in life that they need to do simply because they are part of a family or community.)

Use the best tools to teach your kids about money.
A common rate I've seen is up to $1–2 per year of your kid's age, per week—depending on how old they are (and how much they work). So, kids up to 12 or 13 years old might earn up to $1 a week for each year of their age ($10, $11, $12 or $13 per week), while kids 14 and older could earn up to $2 per week per year of their age ($28 and up) depending on how many chores they complete. (But as a sidenote: You should only pay your kids what your budget will allow. If you're paying off debt, that means the allowance and commission budget will be a lot lower, and even nonexistent. And there's no shame in that!)
Raising Money Smart Kids Starts at Home
If teaching your kids smart money habits and contentment is a priority in this season of life, I have an amazing resource for you to use. It's a children's book I wrote called I'm Glad For What I Have—complete with rhyming words and adorable animals. It's a great reminder that more "stuff" won't bring lasting joy. Check it out today!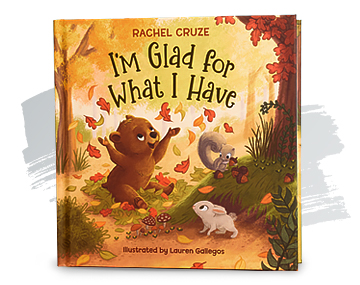 Want to Teach Your Kids About Contentment?
Rachel Cruze's new book—complete with rhyming words and adorable animals—is a great reminder that more "stuff" won't bring lasting joy.
Get the Book
Did you find this article helpful? Share it!