Kids are like little sponges. They absorb everything around them—especially what their parents teach them, including their habits.
But here's the thing: Lots of parents today are so focused on giving their kids what they want that they lose perspective on what their kids really need—which is understanding the value of hard work and learning how to earn money. So, that brings up the question: Should I give my kids an allowance? How much is too much allowance? The answers might surprise you, so let's get into it.
Should Kids Get Allowances?
I'm all for teaching your kids about money at a young age. But the worst thing a parent can do is become a human ATM, handing out cash whenever their kid wants to buy something. What parent likes that, anyway? (Hello, inflation.) But that's basically the idea behind traditional kid allowances: You give your kids money whether they've earned it or not. Even the word allowance means they're entitled to a certain amount of money just because.
I'm not saying you should be stingy with your kids. A surprise or gift here and there is totally fine. And as a parent, it makes me happy to be generous with my kids. But automatic allowances don't teach kids anything—except that Mom and Dad will basically buy them whatever they want without them lifting a finger. (And all that to say, what they learn as kids will stick with them even when they're adults.)
Wondering why people pay kids an allowance anyway? Well, it's a good way to introduce kids to how money works and help them learn how to spend or save what they get. But it's not the best way to teach them how to earn money, which we'll get into in a minute.
What's the Difference Between Commission and Allowance?
Once your children are old enough to do basic chores, they're old enough to make a little money for doing them. But an allowance for kids isn't the answer. Want to know what is? It's the commission system, and it's actually really easy to do.
The commission system is exactly what you'd expect: If (and when) your kids work, they get paid. And if they don't work, they don't get paid. If they can understand money comes from work at age 4, then they'll hit the real world running when they're old enough to get a real job. But paying them an allowance, which is basically free money, won't teach them to have a work ethic.
Keep in mind that commissioned chores should be separate from routine family chores (those things your kids do to help out around the house because they're a part of the family and live under your roof).
What's the Average Allowance for Kids?
If you decide to pay your kids a commission—or an allowance if that's what you feel is right for your family—how much money is appropriate to pay them each week? A common rate I've seen is up to $1–2 per year of your kid's age, per week—depending on how old they are (and how much they work). So, kids up to 12 or 13 years old might earn up to $1 a week for each year of their age ($10, $11, $12 or $13 per week), while kids 14 and older could earn up to $2 per week per year of their age ($28 and up) depending on how many chores they complete.
Here's the thing—personal finance, including paying your kids a commission or allowance, is personal. So how much you pay them will depend on a few things, like:
What you think is a fair value for household chores, and how often kids do them
How much you can realistically fit into your budget
How old your kids are
What they might spend their money on
If they'll be expected to tithe or donate any money to a cause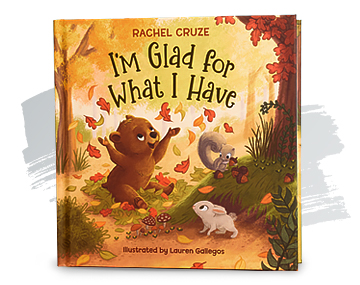 Want to Teach Your Kids About Contentment?
Rachel Cruze's new book—complete with rhyming words and adorable animals—is a great reminder that more "stuff" won't bring lasting joy.
Get the Book
How to Pay Kids for Chores
When you're deciding how to pay kids for chores, first, keep the jobs and the pay rate age appropriate. For example, you can pay your 5-year-old a quarter if they put away their toys or 50 cents when they make their bed. Don't worry about how perfectly they do the job at this point. Just make a big deal about finishing the task with a little cheer and then pay them immediately. Then they'll make the connection between working and getting paid.

Use the best tools to teach your kids about money.
Younger kids will jump on board with new things quicker than you might think. Try this and see for yourself!
On the other hand, let's say you have a 10-year-old. Give them more responsibility and the independence to succeed or fail. Come up with a list of chores they need to complete throughout the week, like feeding the dog, washing the dishes, or taking out the trash. (Anything outside of normal daily responsibilities, like making their bed or putting their shoes away.)
How often should you pay kids pay kids for chores? At the end of the week, add up how much they earned based on the extra jobs they completed, and pay out that amount. I've found that once a week will keep the momentum up.
Chores for Young Kids
If you need some ideas for chores your little kids can do around the house to earn money, here's a list to get started, including what I suggest is a fair payment amount. Remember to keep chores age appropriate so your child will feel safe and successful doing them.
| | |
| --- | --- |
| Clean up toys | $0.25 |
| Feed pets | $0.25 |
| Water houseplants | $0.50 |
| Put the family's dirty dishes in the sink or dishwasher | $0.75 |
| Check the mail | $0.50 |
| Help put groceries away | $1 |
| Dust furniture | $0.50 |
Chores for Older Kids and Teens
If your kids aren't old enough to get a summer job, but they can take on some bigger jobs to help around the house, here's a list of chores they can do throughout the year. Even if they're older, use common sense here, especially with outdoor jobs. Cleaning rain gutters or mowing lawns might be best with someone keeping an eye out for safety.
| | |
| --- | --- |
| Sweep, mop and vacuum the floors | $3–5 |
| Take out the trash | $0.75 |
| Wash cars | $10 |
| Set the table | $1 |
| Pull weeds, rake leaves, or clean rain gutters | $5 |
| Walk the dog | $2 |
| Mow the lawn | $5 |
| Help siblings with homework | $1 |
| Organize coat closets | $2 |
| Help set up and take down holiday decorations | $3 |
| Iron or steam laundry | $2 |
Teaching Kids About Money Can Be Fun
Proverbs 22:6 (NKJV) says, "Train up a child in the way he should go, and when he is old he will not depart from it." This is so true! If you teach your kids how to earn money on commission at a young age, you're building the foundation for them to earn money outside of the home as teens. And that work ethic will stick with them into adulthood. Just remember that how much allowance or commission you pay your kids depends on the margin you have in your budget and where you are in the Baby Steps. (So, if you're in the process of paying off debt or saving up your emergency fund, the commission payments can wait.)
Want to learn other ways you can help your kids grow up to be adults who win with money and in life? Check out the book I wrote with my dad, Dave Ramsey, called Smart Money Smart Kids. We teamed up to share a no-nonsense approach for teaching your kids and teens the basics of money. You'll learn practical strategies to teach your kids important money lessons in a debt-crazed world.
Did you find this article helpful? Share it!