Saving for a Down Payment
Now you're ready to hit the ground running toward saving for a down payment. Even though some people believe in a myth that it's impossible to buy a house with 100% cash, we want you to know it is possible and that people do it all the time. But if you're getting a mortgage, we'll share some saving goal guidelines that'll set you up for success when buying your dream home.

How Much Should You Save?
As with any goal, it takes planning and preparation to buy a home the smart way—especially if you're taking out a mortgage. The most time-consuming task is saving enough cash for the down payment, closing costs and moving expenses—but hang in there. You can do this! Just take it one step at a time.
To give you a clear picture of what this step looks like, here's an example of how much money you need to save up if you were to purchase a $185,000 house or condo: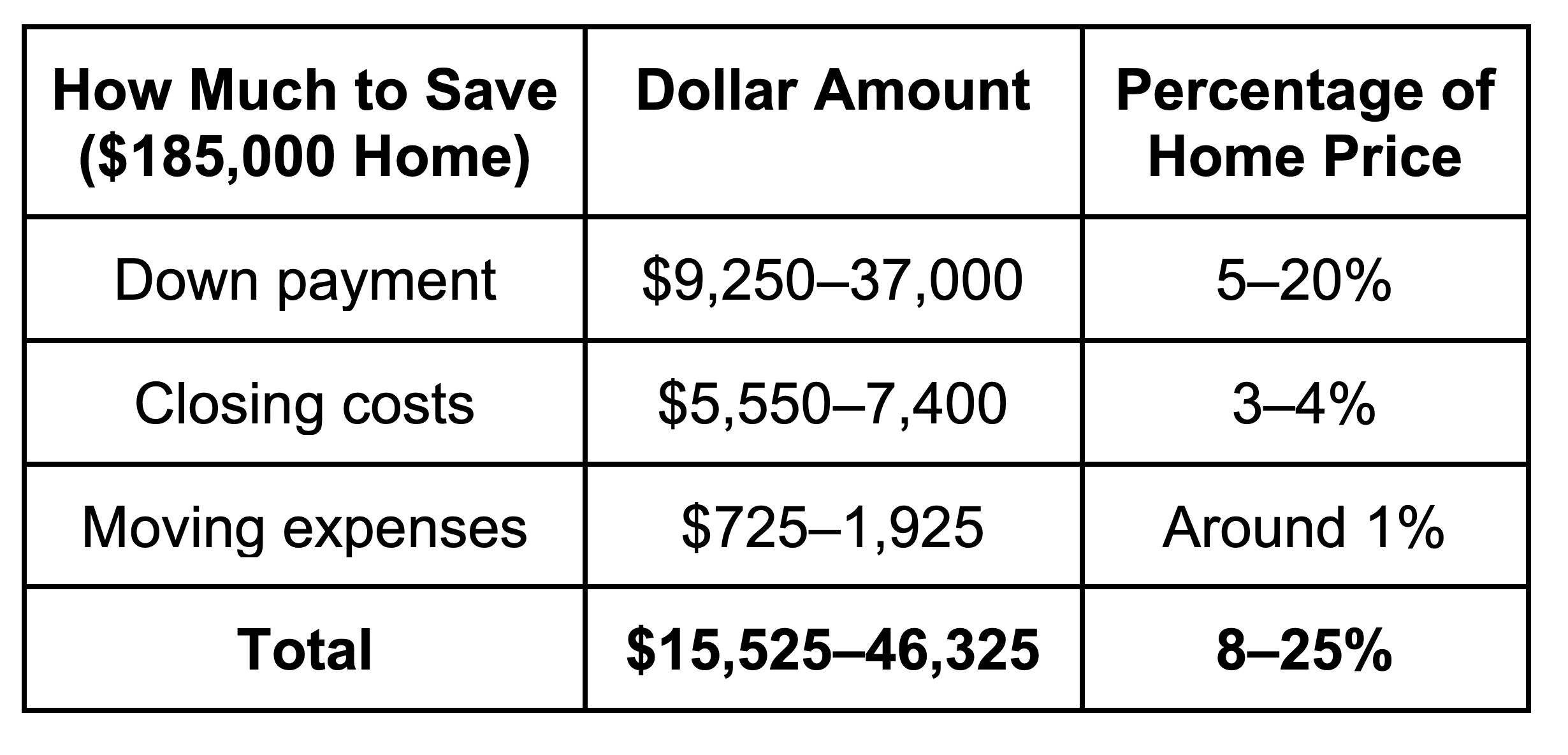 If these numbers feel too steep, you're not alone. In fact, most buyers barely saved up more than 10% of their home price as a down payment last year—compared to the majority of buyers who saved a healthy 20% down payment 30 years ago!3
So, what changed over 30 years to make home buyers stop saving up as much money before buying a home? Well, student loans continue to top the chart as the number one reason today's home buyers (51%) are having trouble saving for a home purchase—followed by credit card debt (45%) and car loans (38%).4
That's why you need to get out of debt ASAP and have a fully funded emergency fund before buying a home. The good news is, we've shown millions of people how to do this (plus so much more) with our best money courses and tools—and now you can get them all in one place with a free trial to Ramsey+.
Down Payment
After you're out of debt and have an emergency fund of 3–6 months of expenses, we recommend saving for a down payment of at least 20% of the home's purchase price. Putting down 20% allows you to avoid private mortgage insurance (PMI)—an extra cost added to your monthly mortgage payment that protects your lender (not you) from losing money in case you can't make your mortgage payments.
If you're a first-time home buyer, saving 5–10% is okay too. But then you will have to pay for that PMI (boo!). No matter what, make sure your monthly payment is no more than 25% of your monthly take-home pay on a 15-year fixed-rate mortgage. And stay away from VA and FHA loans! (Don't worry, we'll cover more details on mortgage types in the next section.)
Sure, 5–20% of a home is a huge amount of money. But hang in there—you can do this! Suppose you're buying a $185,000 house or condo and want to save a $9,250–37,000 down payment. If you tighten up unnecessary expenses (bye-bye, Netflix) and stash away $1,000 of your monthly budget, you could have that down payment saved in around nine months to three years—not bad!
Closing Costs
On average, buyers pay 3–4% of a home's purchase price for closing costs.5 When you close on a house—which is basically just signing all the paperwork that officially makes your new home yours—you must pay for expenses like:
Loan origination fees

Credit reports

Underwriting fees

Appraisal fees

Title fees
Remember, you'll also need to cover property taxes and homeowner's insurance—lenders call these prepaid items. Your real estate agent and lender will give you a detailed list of these costs before your closing day.
Moving Expenses
You can always save money on moving costs by asking friends for help. Otherwise, hiring movers can cost $834–2,230 depending on how much stuff you're moving and how far away you are from your new home.6 If you go that route, be sure to get quotes from local moving companies ahead of time to help with budgeting.
You'll also want to prepare your budget for other moving costs like utility transfer fees and if you need to make any immediate updates to your home (like painting or installing blinds).
If you don't have enough money saved for these up-front costs, you'll either need to hold off on your home purchase for now (you'll thank yourself later) or shoot a little lower with your home price range. Whatever you do, don't let the closing costs keep you from making the biggest down payment possible. The larger the down payment, the less you'll owe on your mortgage!