Any time you're facing a large financial decision, like buying or selling your home, it's wise to work with an experienced professional to guide you through the process. In fact, nearly 90% of home buyers and sellers do just that.1
However, once word gets out that you're looking for a real estate agent, you might be bombarded by friends and family members asking you to hire them for the job. While it might sound like a great idea to work with someone you already know and trust, real estate transactions rarely go smoothly in the best of situations. Throw family dynamics into the mix, and you've got a disaster waiting to happen.
Here are four good reasons to think twice before you hire your "Aunt Karen" or your best friend's brother to help you buy or sell a house.
#1: Your friend or relative has a biased perspective.
You may be wondering, What's the problem with a biased perspective? Don't I want someone who's on my side? Yes and no. You want a real estate agent who will fight for your best interest from start to finish, but you also want someone who isn't afraid to tell you the truth—even if it's hard to hear.
Will your friend, Angie, tell you that your unkempt yard will keep buyers from making it to the front door? Will your brother-in-law, Scott, tell you that your budget for a new house is unrealistic?
That's the kind of honesty you need to have a successful real estate transaction. Someone who only knows you in a professional setting will care more about selling your house for top dollar than your feelings. And they'll help you stick to your budget for a new place, even if it means saying no to a dreamy kitchen. And that's what you want in an agent!
We asked some of Dave's Facebook fans to share about their experience working with a friend or family member to buy or sell a house. While some said they had great experiences, most people cautioned against it. Dereatha R. said her family-member agent was too embarrassed to tell her that her home was priced too high. "We let her go, and she has never spoken to us again."
Brenda T. was also skeptical of hiring a friend or family member: "It's easier to deal with someone not related [to you] because you can tell them what you think and not worry about hurting feelings."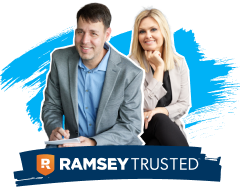 With the right agent, taking on the housing market can be easy.
Buy or sell your home with an agent the Ramsey team trusts.
Connect for Free
#2: Your friend or relative may not be an expert.
Let's face it. Your cousin's mother-in-law, who has only been in the business for six months, is not going to have the same networks in the real estate community as a real estate expert who has been in the business for years.
An established real estate agent will know about properties before they even hit the market, and they'll have details on homes that have recently sold in your area. That competitive edge pays off, especially if you're in a hot market.

Find a trusted real estate agent we recommend in your area.
It may be tempting to work with a friend or family member because you want to help them out. Just remember: You're not helping anyone if the relationship turns sour or you lose thousands of dollars. It's better to hurt their feelings by not listing with them than completely ruin the relationship over a stressful transaction.
But what if your friend or relative really is a pro? Maybe the agent you're considering knows the market inside and out. You may be able to trust them to shoot you straight on your home's imperfections if you're selling or help you find a house you love. That should make you feel more confident about using them, right?
Not necessarily. As great as that is, keep in mind that there are still potential risks when your biggest financial asset is in the hands of someone so close to you.
If your friend or family member knows you well, they may think they know what's best for you. Instead of showing you a house in your budget, they may take you to see one $20,000 over your budget that has a playroom "your kids will love" or a fabulous outdoor entertainment space.
The line between what you want and what they want for you can get fuzzy. Buying or selling a house is one the biggest financial decisions you'll make. It's important to be guided by solid advice from a professional, not a friend or family member's opinion.
#3: The buying or selling process can get tense.
Even with a stellar agent, real estate transactions can get tense and complicated. Important steps like negotiating repairs and closing terms can get emotional for the people involved.
Sometimes it takes an unbiased viewpoint to find solutions that keep the deal together.
Or what if you're not impressed with your agent's marketing plan or you need more consistent communication? When you're working with someone you only know in a professional context, it's a lot easier to tell them the truth. But when you're working with a close friend or family member, it's tempting to settle and let things slide.
What if things get so rough that you need to fire your agent? Let's just say that you may have some awkward family get-togethers in your future. Or worst-case scenario: You may lose the relationship altogether.
Another Facebook fan, Bev L., brought this up as a risk of using family members. She said, "If it goes well, great. But if not, it will forever put a rift in the family with continuing consequences. Not worth it."
Other folks were adamantly against mixing family and business too. Michael E. said. "It's hard to fire them when you don't get results. If you do fire them, there's family drama and everyone knows."
Buying or selling a house is stressful enough. You don't want drama in your family or circle of friends on top of it.
#4: Your friend or family member will know your personal financial business.
When it comes to finding the right house or selling your current place, a lot of personal details come up—especially if you're getting a mortgage to purchase a new home.
You may be really comfortable with your friend or relative, but do you want them to know all of the details of your personal finances?
It's possible that details beyond your housing budget, like debt-to-income ratio and even yearly salary, could come up as part of the transaction. No matter how much you like your Aunt Karen, that's not the kind of information you want her bringing up at Thanksgiving.
How to Break Up With Your Friend or Family Member
If you know a friend or relative expects to be hired as your real estate agent, sit down and have a conversation before announcing that you're going a different route. Letting them know ahead of time shows them how much you value the relationship. That step can go a long way toward them understanding your perspective and not taking it personally.
Explain how much you value their relationship and that you don't want to risk ruining it over a stressful transaction. Most friends and family members will understand this and may even have similar policies themselves.
Once you've had that conversation, you can move forward on your real estate transaction with peace of mind, regardless of how your relative responds. Even if their feelings are hurt initially, that's far better than losing the relationship altogether because of a disaster later on.
Find a Real Estate Expert in Your Local Market
Once you've broken up with Aunt Karen, it's time to find a seasoned real estate expert. Looking for a rock star? Our Endorsed Local Providers (ELPs) program connects people like you with local agents who have earned Dave's trust.
Our real estate ELPs know what it takes to buy or sell a home in their area, and they make it a point to understand the financial journey each of their clients are on. With their knowledge of your local market, you can trust their advice on everything from pricing to negotiations.
Our ELPs go through a vigorous vetting process and are held to high standards of customer service. We don't endorse amateurs. If you're looking for a true expert, you want an ELP. You can trust they'll know your market inside and out.
Compared to the typical real estate agent, our ELPs:
Sell 3x as many homes
Are 2.3x faster at selling homes
Are 1.4x faster at finding and closing homes for buyers
Don't settle for an amateur when you can work with a real estate pro.
Find an ELP in your area today!
Interested in becoming an Endorsed Local Provider? Let us know.
Frequently Asked Questions
Did you find this article helpful? Share it!