The past couple of years were pretty exciting for home sellers. Open houses drew lines of buyers around the block—which often led to multiple offers and bidding wars.
Well, things have slowed down some in 2023, but turnkey homes are still in high demand.
In fact, real estate agents with the National Association of REALTORS® said they received an average of 3.5 offers for every home sold in June 2023.1
And multiple offers make an interesting problem: Do sellers always choose the highest offer, or is there another way to determine the best offer?
To answer that question, we did a bunch of research and found out how you can attract buyers to get multiple offers on a house—plus how to choose the best offer. Let's dig in!
How to Create a Bidding War the Right Way
Before you can start choosing between multiple offers, first you have to get multiple offers! Here are two simple ways to start a bidding war—without being shady.
1. Crank up the competition.
To have competition, you have to attract more than one buyer. Your job as the home seller (and your real estate agent's job) is to market your home to appeal to the most people—starting with choosing the right price.
When the market's hot, it can be tempting to dial your asking price up as high as possible. But that strategy can backfire on you big time. Too high of an asking price could result in fewer offers and more buyer demands.
Of course, that doesn't mean you should lowball your home's value, either. You want to set a fair price that reflects how much your house is worth based on its location, condition and the housing market in your area.
That can be tough to figure out on your own, so it's wise to ask a trustworthy real estate agent to pull a comparative market analysis so you can set the right price from the get-go. Then, work with your agent to get the word out about your newly listed home. A true pro will know how to launch a marketing campaign that has buyers lining up to see your house.
A year or two ago, you could list just about anything with doors and windows and get multiple offers. Today's buyers are a little more picky, so you need to make sure your home is move-in ready before listing it. Investing a couple of thousand dollars on cosmetic details—like paint and landscaping—can boost your home's curb appeal and lead to multiple offers.
2. Give buyers a deadline.
We've all heard the saying, "Your first offer is always your best." But in a sellers' market, that may not be the case.
Take Jen G., for instance. She listed her Nashville home on a Thursday afternoon. By Sunday, 30 people had toured her house, and the offers were rolling in. How did Jen know where to draw the line? Her agent set a deadline: They would only accept offers through 5 p.m. Sunday. That created a sense of urgency and gave Jen a chance to compare the best offers before picking a winner.
Lots of real estate agents use this approach. When sellers get offers before a big open house, their agents suggest waiting until after the weekend to respond. That way, the agents and sellers can review the offers, check buyers' qualifications, and then figure out how the sellers could counteroffer to maximize their selling price.
How to Choose the Best Offer in a Bidding War
Spoiler alert: The best offer isn't always the highest! Tons of factors affect what kind of offer buyers make—and what kind of offer you're willing to accept. If it turns into a bidding war, you may need a tiebreaker other than price.

Find expert agents to help you sell your home.
So, how do sellers choose an offer? Here are three things you should consider during a bidding war:
1. Consider the buyer's financial strength.
We'll be honest: Money is a key ingredient of a strong offer. But there's more to it than just seeing who'll pay the most. You have to consider the buyer's overall financial picture.
You don't want to take the highest bid only to find out later the buyer can't back it up. And that could happen: If they offer more than their lender thinks the house is worth, the buyer may not be able to borrow enough money to cover the offer amount. Hopefully, they have enough in savings to make up the difference—but if not, the whole deal could fall through.
Another possible snag is that certain loan types, like FHA or VA loans, can take longer to get approved and may require you to spend money on extra repairs. (That's yet another reason we only recommend 15-year, fixed-rate conventional mortgages.)
So, it's important to look at the buyer's overall situation. Have they gotten preapproved for a mortgage? Are they getting a conventional loan? Are they offering more earnest money to show they're serious? Are they giving you an all-cash offer?
These things can help you pick out the best offer in a bidding war—especially if the buyer can afford to give you an all-cash offer and leave the lenders out of it!
2. Look at contingencies and concessions.
Okay, so money is important. But it shouldn't be the only deciding factor in how you choose the best offer. You should also think about what buyers are—and aren't—asking for.
Some buyers will ask for contingencies. These are conditions the buyer and seller have to meet before the sale is finalized. And if one of you doesn't follow through, the buyer can back out of the deal.
Here are some types of contingencies:
Mortgage contingency: The buyer has a specific amount of time to get fully approved for a loan. If they don't secure financing, they can back out of the sale.
Home sale contingency: They'll buy your house—after they sell their place. This is usually because the buyer needs the money from the sale of their house to help buy your house.
Inspection contingency: A buyer can request to have your home professionally inspected. If the inspector finds problems, the buyer can request repairs. And then you'll have to negotiate on how to take care of those repairs. This can be a dealbreaker if they're too demanding or if you're selling your house as is. And if the house has structural damage or needs other major repairs, the buyer might just decide to walk away from the deal.
Appraisal contingency: This contingency lets the buyer out of the contract if the home appraises for less than the offer price. The appraisal is important because lenders won't lend more than the appraised value of a home. If an appraisal comes in low, the buyer can make a bigger down payment to make up the difference—but if they don't have extra money, the deal will fall through. If you really want to save the deal, you can lower the price to the appraised value.
Besides contingencies, buyers may also want you to give them stuff—like your furniture, fridge, or washer and dryer. And they may ask you for concessions. That's when you pay all or some of their closing costs for them.
When you're fielding multiple offers on a house, it's easy to get so caught up in the offer amount that you overlook these buyer requests. And to be fair, most buyers will make a request or two. But the more contingencies or demands they throw into the mix, the more chances there are for the deal to break down.
To determine the best offer in a bidding war, you want to be sure you understand the give-and-take that comes with each one, and think about how that will affect your time, money and emotions. Then, choose the one that makes the most sense overall.
3. Compare closing timelines.
Many folks have no trouble selling their home. The hard part is beating out buyers to your next home. It can be crazy stressful when you're about to close on your old house and haven't found a new one yet.
This factor played a huge part in Jen's decision. The winning buyer offered to let her family stay in the house for up to two months after closing. That took a lot of stress out of the sale and gave Jen time to find the right place for her family. (Just know that if you "rent back" the house, you'll have to pay the new owners for each day you're there.)
On the flip side, if you're ready to move right now and the buyer isn't, you may not enjoy waiting around for them to get ready. In that case, the best offer might be one where you can close the deal faster.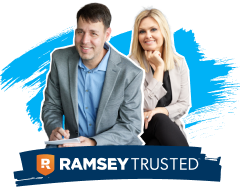 With the right agent, taking on the housing market can be easy.
Buy or sell your home with an agent the Ramsey team trusts.
Connect for Free
How to Negotiate Bidding Wars as the Seller
A bidding war puts you in the seat of power. But be careful not to let it go to your head.
Waiting too long to respond to offers or stringing buyers along during negotiations can backfire. If they lose interest or feel like you're trying to play them like a country fiddle, they just might withdraw their offers. That's why deadlines are so helpful—they give you some time to think, then force you to take action so you aren't wasting buyers' time.
Making counteroffers can be another slippery slope. It's tempting to up the ante and try to drive up the price, but if you make too many demands, you could scare off the best buyer. Don't make that mistake!
It's also important to think about how many offers you have on the table. If you only have two offers and you lose the one that's clearly better, then you could end up either accepting a cruddy offer or leaving your home on the market even longer.
Of course, when you're choosing the best offer, your key to success is no secret: You need a world-class real estate agent. They're experts at spotting the best offer and negotiating a counteroffer so you get a good deal at closing.
Get a Real Estate Agent You Can Trust
Here's the deal: You don't need just any real estate agent. You need to work with a top-notch pro!
With our RamseyTrusted real estate program, you can connect with a real estate agent who's a top performer in their field and who's on a mission to serve you. These guys and gals have earned our RamseyTrusted shield because we know they'll put you first. And connecting with them is free!
Find a RamseyTrusted real estate agent today.
Did you find this article helpful? Share it!