Listen to this article
Your smartphone holds every single personal detail about you. (Okay, not your DNA sequence . . . but you get the idea!) Even stuff you forgot long ago, like that online banking password that you wrote down in your Notes app. Believe it or not, there are hackers out there who know exactly which apps people use to store their passwords. Creepy? We agree!
So, if you're wondering how to protect your phone from hackers and protect yourself from identity theft, we hear you. Technology companies hear you too (sometimes without your permission, frankly). But seriously, phone providers are constantly ramping up their digital security to stay one step ahead of the bad guys. Here are eight things you can do today to protect your phone.
1. Use anti-virus software.
All smartphones come with some kind of built-in protection against hackers. If you're an iPhone user, don't worry about getting anti-virus software. Apple makes their phones with their own shields against viruses.
Android phones also come with built-in protection software called Google Play Protect. It'll run safety checks on apps you're installing, and it regularly checks apps you already have.
Because of threats like ransomware, it's also a good idea to add a second layer of protection. (Bitdefender is consistently rated the best ransomware protection tool.) Ransomware is when hackers get access to your phone's data and then demand money if you want your files back. Scary, right? Here's a sobering fact: Ransomware attacks doubled in frequency in 2021 and are now 10% of all breaches.1 Yikes!
2. Use a passcode.
It sounds basic, but one of the easiest ways to protect your phone from hackers is by locking your screen. To enter a passcode on your iPhone, go to Settings, then Passcode, and tap Turn On Passcode. Enter a six-digit passcode or tap Passcode Options to switch to a four-digit numeric code, a custom numeric code, or a custom alphanumeric code.
You can also enable the Erase All Content and Settings feature. But don't worry, that won't erase anything for now. Setting it up just means that if you do have a passcode and it's unsuccessfully entered 10 times, all your phone's data will be wiped. It's like a fail-safe in the event of a lost or stolen phone. But think about it first—enabling this feature is probably not the best idea if you have a toddler who likes to play with mom or dad's phone while it's locked!
3. Install updates on your phone.
We've all been guilty of ignoring notifications asking us to install the latest phone software updates. Delaying it for just one more day can't hurt, right?
Hold up. If you aren't installing your phone's latest updates, you're leaving yourself exposed to security threats. (Seriously!) Those updates make sure that any bugs or weaknesses found since the last update are squashed.
You can usually install software updates on older versions of smartphones just as easily as on newer versions, so reusing an old phone is a safe, budget-friendly option. But if it's time to upgrade to a fancy new phone, plan ahead by setting aside money every month so you can buy your phone with cash. The EveryDollar budgeting tool makes it easy to take control of your money so you can reach your money goals—whether that's a new phone or paying off all your debt!

Take our identity theft risk assessment.
And don't forget to update that smartwatch if you have one. It's an extension of your phone, so take the same precautions.
Here's how to install software updates on an iPhone:
Go to Settings, then General.
Tap Software Update.
Tap Download and Install.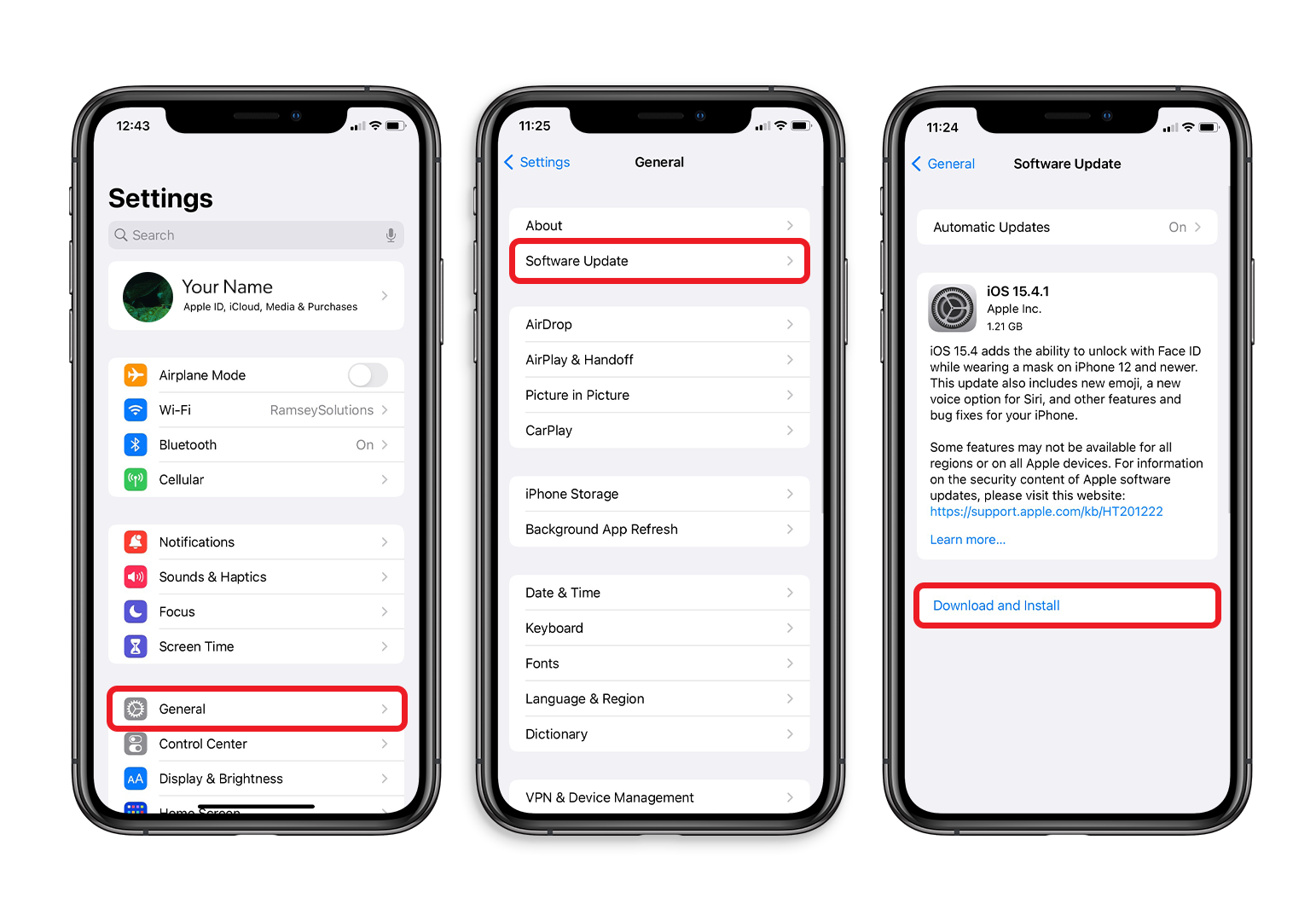 4. Use two-factor authentication.
Two-factor authentication has become standard practice on the internet as another layer of phone security. It's annoying, yes, but if you want to learn how to protect your phone from hackers, we suggest you get familiar with the system.
Here's how it works: If you (or anyone) try to sign into your account from another device, you'll need to pass an extra level of security with a six-digit verification code. Once you request the code, it's sent to one of your trusted devices via a text or a phone call. The device could be your phone itself, a Mac, PC, iPad, or even a security token or dongle (which can be bought separately to sync up with your Apple or Android products).
Why is two-factor authentication so effective? Because if this system is frustrating to you, it's even more frustrating to a hacker when they try to access your information and have to get through two security checks instead of one.
Let's pause here and talk about biometrics (face and finger ID). Using biometrics is definitely easier than dealing with two-factor authentication. Is it as secure, though? Time will tell, but for now, we recommend using two-factor authentication as your strongest deterrent against hackers and using biometrics as an added layer.
Here's how to turn on two-factor authentication on an iPhone:
Go to Settings, then [Your Name].
Tap Password and Security.
Tap Two-Factor Authentication.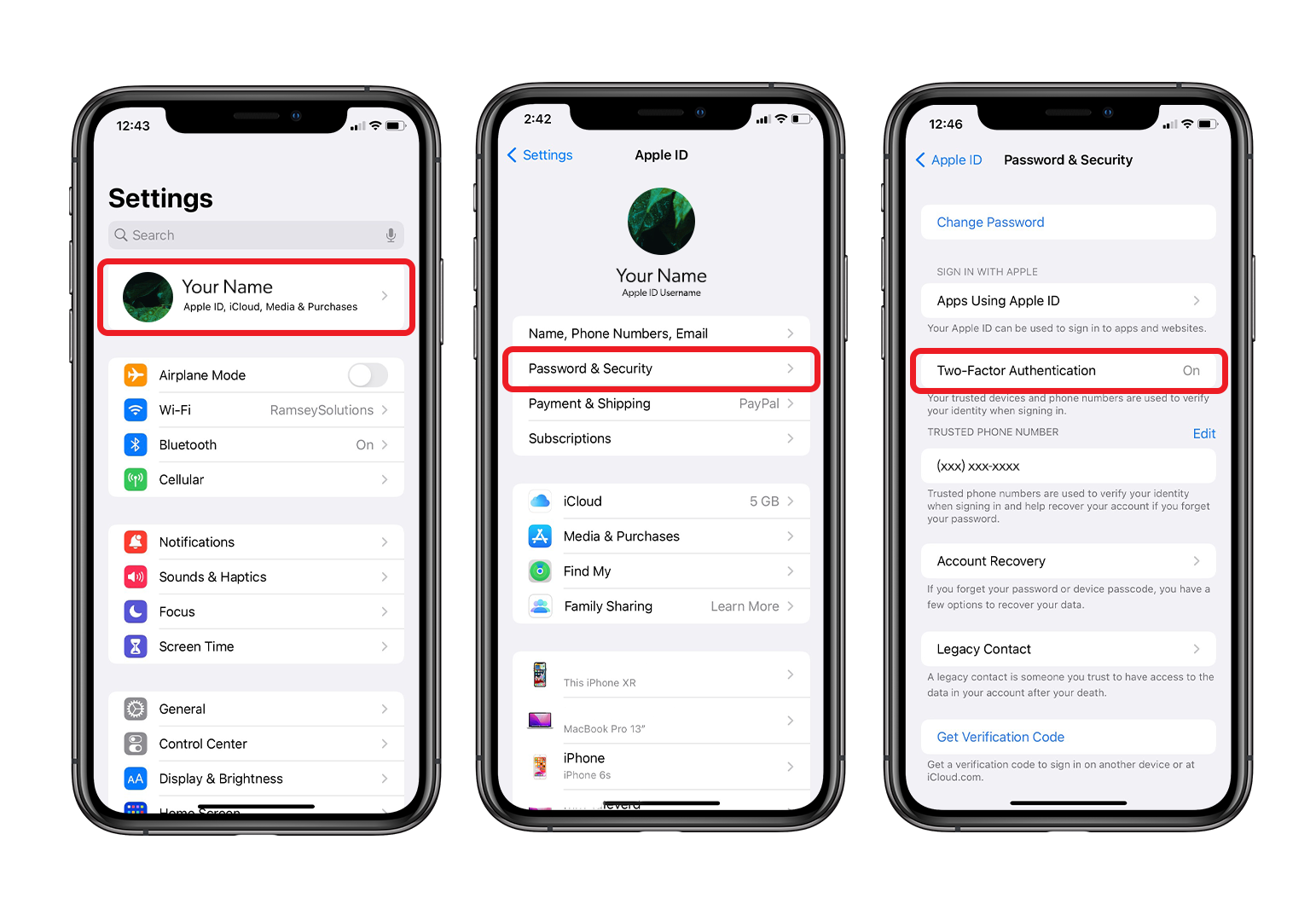 5. Delete apps you don't use.
Each app on your phone contains its own batch of potential security issues. And many apps want permission to access your contacts, photos, GPS location and microphone. But app-based attacks are a really common way for hackers to break cell-phone security. Here are some ways to avoid these risks:
If you're no longer using an app, just uninstall it. The fewer apps on your phone, the less open you are to potential attacks.
Whatever you do, don't click on suspicious or weird files and links sent to you in an email, text or app—no matter what they're promising and how urgent it sounds. When in doubt, just don't click on it!
Only download apps from your phone's primary app store. (This one's crucial. That's why we italicized it.) Don't jailbreak your phone. Jailbreaking is when you hack into your own phone to download or use custom software or apps that are not normally available. Just. Don't. Do. It. It may be fun to customize your phone this way, but it's not worth the risk.
Here's how to remove an app from an iPhone:
Touch and hold the app.
Tap the minus sign on the app you want to remove.
Tap Delete App to confirm.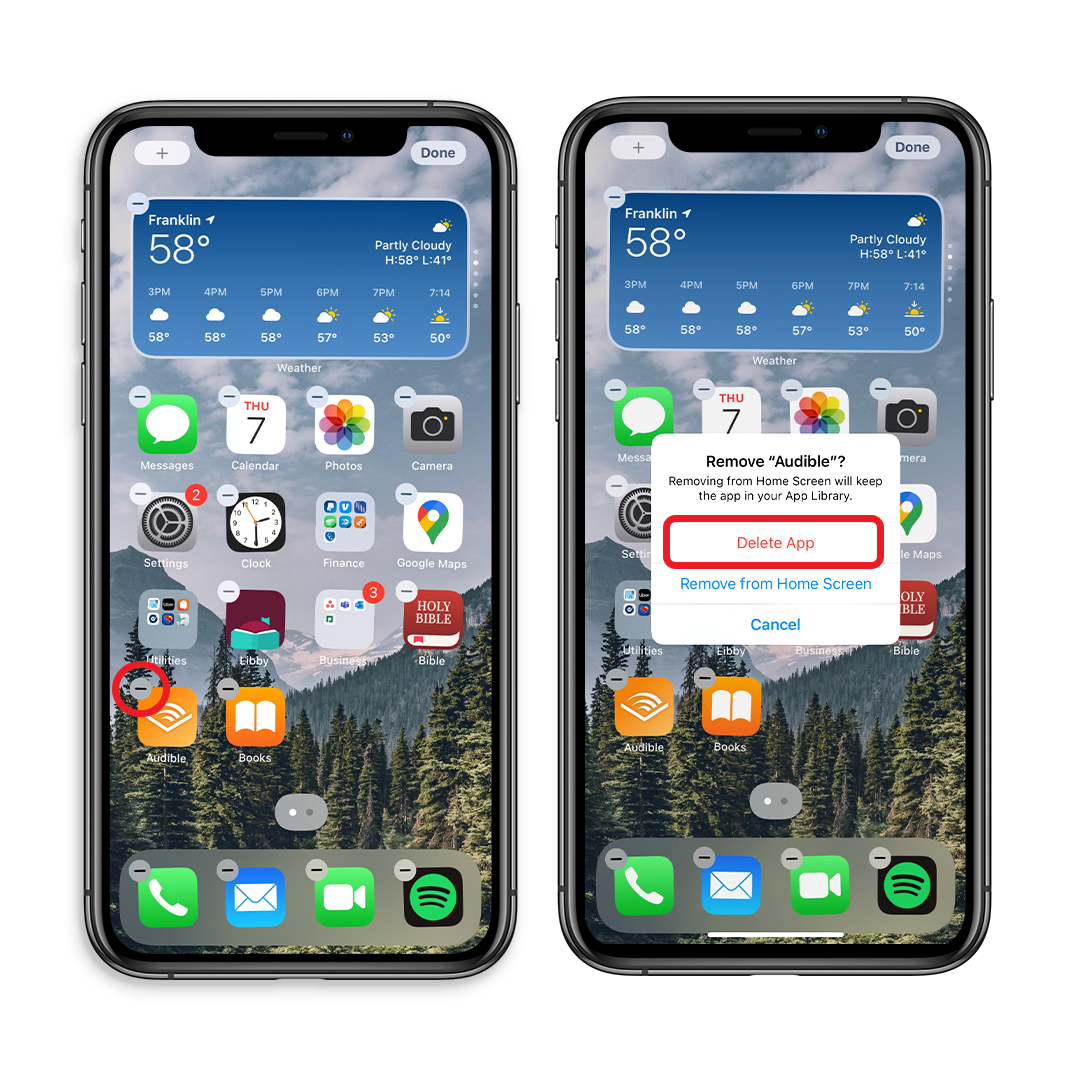 6. Be careful about public Wi-Fi.
We know free internet is tempting when you're waiting in line at Starbucks. But everyone sitting around you is probably using that same unsecured network. Using public Wi-Fi networks opens your information up to hackers.
Avoid putting your cell-phone security at risk, and just use your phone's data when you can. Or get a VPN (Virtual Private Network). These hide your IP address so it's not traceable. And if you're using your phone as a hot spot, make sure it's encrypted.
7. Don't charge in public.
While it's not always totally realistic (we get it, you need your phone juiced for GPS once you land from a flight), avoid charging your smartphone in public places (like the airport) on a USB port. Many people don't realize that USB ports are not just giving you an electrical charge. They actually transmit data and can leave you vulnerable to an attack.
8. Back up your phone.
Whether your phone is lost, stolen or damaged beyond repair, you should take the time to back up your phone's data. If you don't want to back up your phone the old-fashioned way by actually plugging it into a computer, use a cloud storage option (Apple iCloud, Microsoft OneDrive or Google Drive).
Here's how to back up an iPhone:
Go to Settings, then [Your Name].
Tap iCloud.
Tap iCloud Backup.
Tap Back Up Now.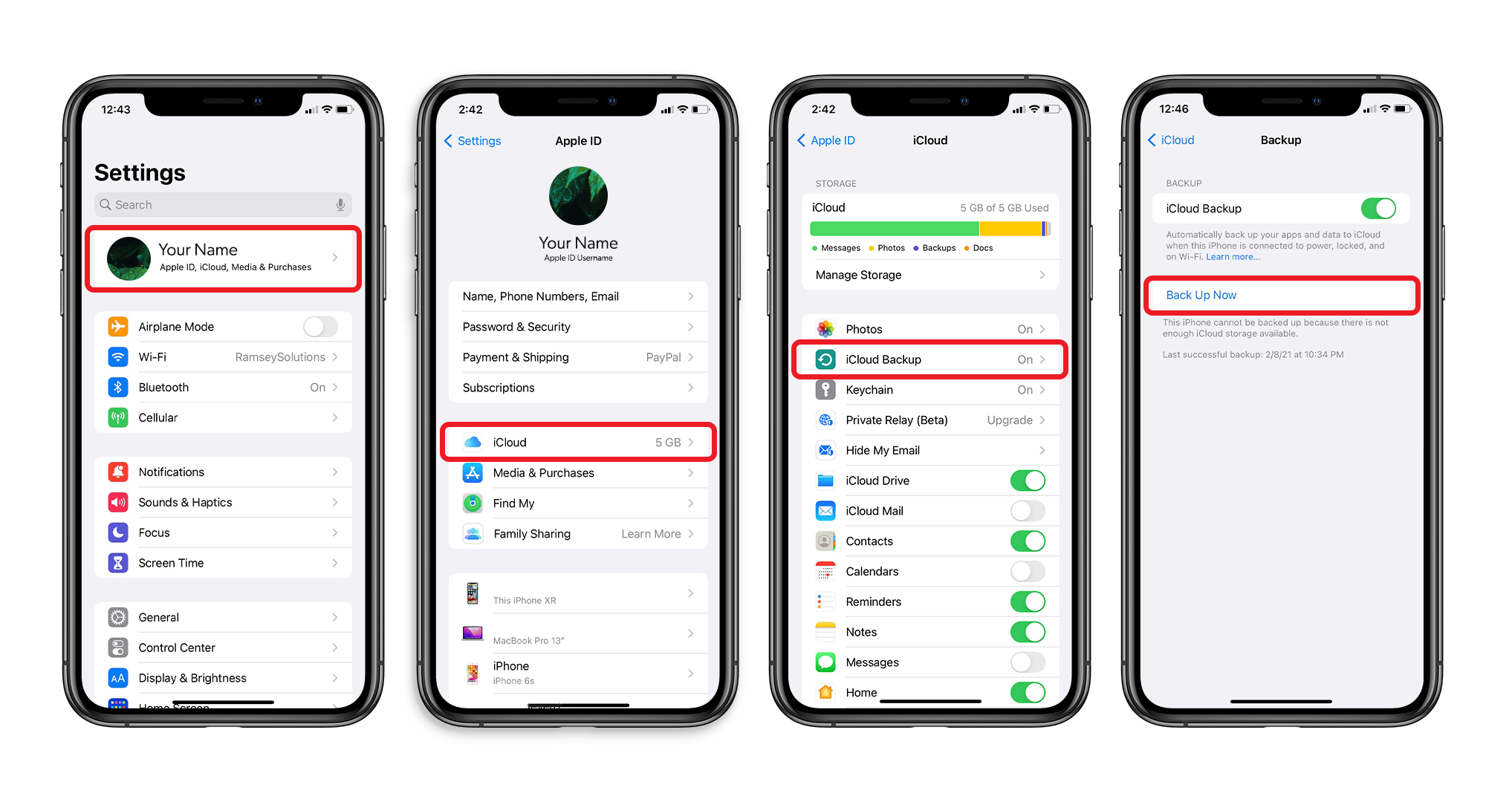 9. Stay aware of your phone's location.
Here's another cell-phone security tip. Make sure you know where your phone is all the time—an unguarded phone is a hacker's dream come true. If you're not sure where your phone is, iPhones offer a Find My iPhone feature (Find My Device for Android). This will help you track it down if you've misplaced it or let you remotely wipe your data if it's been stolen. And if you're wondering if your identity has been stolen, never fear. There are resources that can help you get your identity back.
Interested in learning more about identity theft?
Sign up to receive helpful guidance and tools.
Be Smart About Data Security Before It's Too Late
Okay, you made it through. We know it's a lot. But even if you act on just some of these tips, your phone security will be a lot stronger. These tools and tips do stop or slow down hackers. As the bad guys get more and more sophisticated, it's on us to do everything we can to protect our data.
No matter how cautious you are, you can't completely protect your phone from hackers without the help of professionals. That's why we recommend using a trusted security service like Zander Insurance's identity theft protection plan.
For less than it costs to get lunch at your favorite sandwich shop, here's what Zander will do for you:
Monitor your information in real time and alert you of any risks
Provide full-service identity recovery services for you if needed (They'll clean up the entire mess for you!)
Recover up to $1 million of stolen funds (including legal fees)
Check out Zander's identity theft protection plan today!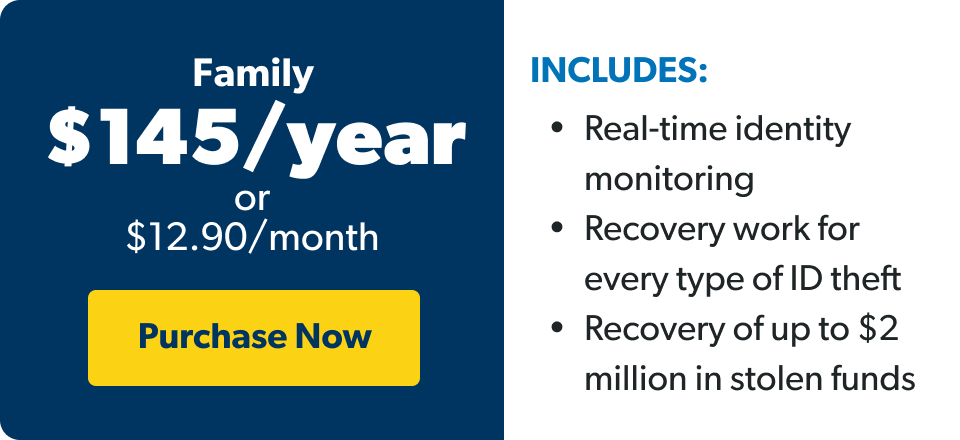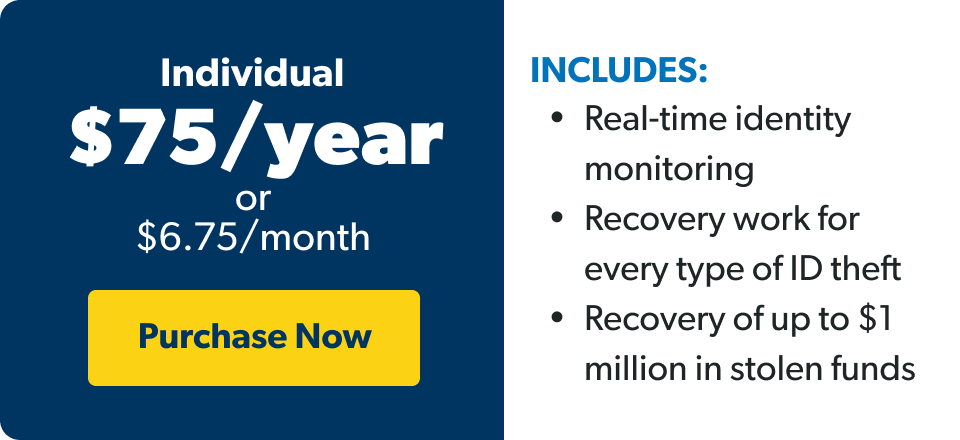 Did you find this article helpful? Share it!