Several years into his teaching career, Eric Lambert was ready to hang it up. Like so many young teachers, he was overwhelmed and questioning his career choice.
Luckily, all that changed. Now he's one of the most passionate teachers out there. And it all started with a forgotten piece of paper.
New Beginnings
Eric arrived at North Bullitt High School in Shepherdsville, Kentucky, in the middle of the 2003–2004 school year. As he was settling into his new classroom, he noticed a small chart in the back of his otherwise empty desk. It compared the retirement earnings of two imaginary men: Ben and Arthur.
The chart went something like this: If Ben invests $2,000 annually from age 19 to age 26, he'll retire with $2.2 million. But if Arthur invests $2,000 annually from age 27 to age 65 (that's 38 years), he'll retire with $1.5 million. Not bad, but Ben still out-earns Arthur by a long shot—just by starting his investing earlier!
The big idea was clear: The earlier you save, the better off you are.

Are you a teacher? Help your students win with money today!
Eric was intrigued. After some research, he found out the chart came from Dave Ramsey's high school curriculum, Foundations in Personal Finance. He needed something to fill the final weeks of school anyway, so he ordered the videos and crammed them into four weeks.
Within a few years, the crash course became a full-fledged senior elective that is now offered six times a year.
"It started out at two classes per year, and now it's grown into something that's taken on a life of its own," says Eric, of the more than 1,000 students he's taught Foundations to. "It's one of the most popular classes in the building, and now it's taught in all of the high schools in Bullitt County."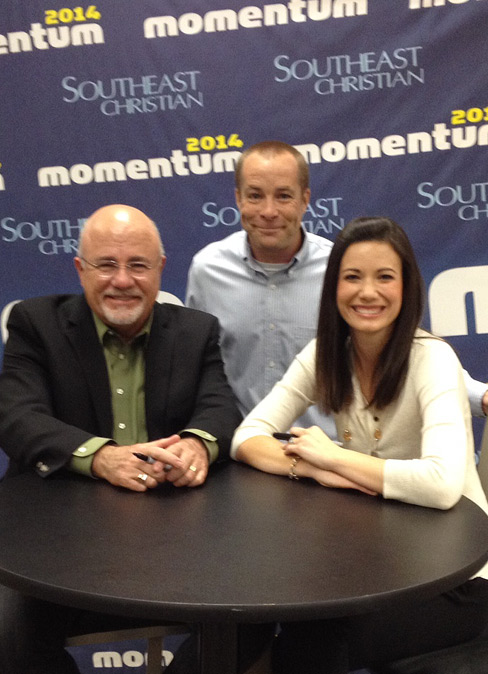 The Ultimate Lesson
During the first week of each new semester, Mr. Lambert (shown at left at a book signing with Dave Ramsey and Rachel Cruze) shares the biggest financial mistake of his own life. When he was just 20 years old, his father passed away and left him roughly $40,000 from a life insurance policy.
He thought the money would last forever, but reality was a harsh teacher.
"I didn't know how to manage money, and two years later I had nothing to show for it except regret," he says. "It's one of the reasons why I want to teach this class."
Eric's worst mistake has become his students' best lesson. Now he loves hearing from current and former pupils who are saving, getting out of debt, and giving in ways he never imagined at their age.
One student tested his newfound negotiating skills by purchasing his girlfriend an expensive pair of earrings for half the asking price. Another high schooler saved up and paid cash for an $11,000 car. And many others are graduating college debt free or even jumpstarting their careers by contributing to retirement plans in their early 20s!
Watching these young adults win with money has become their teacher's greatest reward.
One Last Test
In December 2013, Eric learned he would have to give up his passion. Despite the popularity of his class, a new state mandate required that only a business-certified teacher could teach the course.
That ruled Eric out.
"I was going to lose the class because it was going to have to go to the business department," he says. "I don't think they expected me to ask if I could get the certification to continue teaching the class."
He didn't think twice about enrolling at the University of Kentucky and is now on track to receive the certification by next summer.
"I feel so strongly about what I do with this class and [its] impact that I would teach it all day long if they would let me," says Eric, who literally offered to teach Foundations during his free period. "If it wasn't for teaching personal finance, I probably wouldn't be a teacher right now."
We're so glad you are, Mr. Lambert—for a thousand reasons.
Throughout the country, more than 5 million students have learned how to win with money using Ramsey Solution's Foundations in Personal Finance curriculum. For more information about Foundations in Personal Finance or to be connected to a Curriculum Advisor, please visit us at RamseyEducation.com/teacher.