31 Teacher Appreciation Gifts That Won't Break Your Budget
8 Min Read | Jan 11, 2023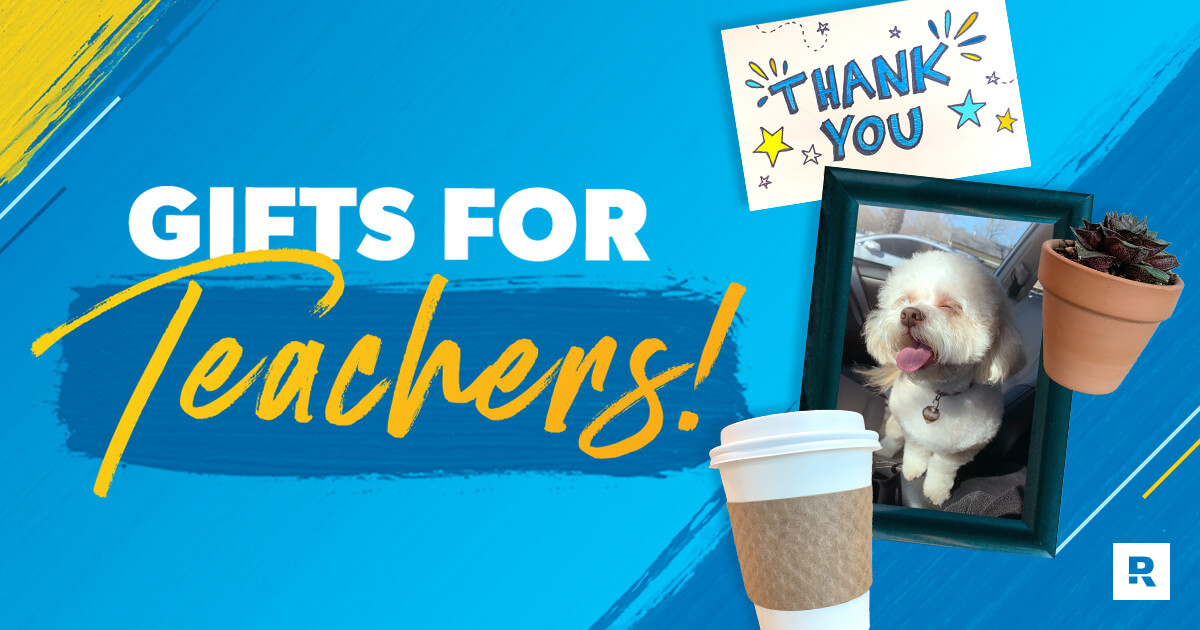 Some people may think teaching is an easy job—but we know that's just because teachers make it look easy! All year long, they work overtime to make sure your kids are actually learning—despite all the distractions right now. We're talking things like practicing that science experiment (five times) in their kitchen to make sure it goes off without a hitch, cleaning up trash, wiping down desks, referring their kids to a guidance counselor, and so much more that we don't even see.
Yep, teachers are pretty freaking amazing. And their hard work definitely deserves to be recognized. But sometimes, it's hard to pick out gifts for teachers when you only know the person through your kid. Not to mention the pressure of giving a teacher appreciation gift they'll actually like. Yep. We all know what it's like to get a gift you're less than thrilled about (we're looking at that Mulberry pullover you got for Christmas that's two sizes too big and baggy in all the wrong places).
Gift giving is just plain hard. We get it. That's why we've put together this list of thoughtful gifts for teachers (all under $30) to help you show them some much-needed appreciation.
Free Gifts for Teachers
Sometimes, the best gifts aren't bought. Here are some tips for making your teacher feel appreciated—without spending a dime.

Are you a teacher? Help your students win with money today!
1. Thank-you notes. A handwritten note from you or your child is free, and it'll definitely put a smile on your teacher's face. Most teachers have a box or drawer where they save encouraging notes to lift their spirits on challenging days. And if you're struggling to come up with the right things to say, here are some of the best compliments you can give the teachers in your life.
2. Artwork. Teachers love seeing their students' hard work and appreciate the time they took to make a piece of art.
3. The Ramsey Teacher Appreciation Giveaway. Hold on to your party hats because we're celebrating teachers and all their hard work with this giveaway! Invite your teacher to enter our Teacher Appreciation Giveaway for a chance to win up to $5,000!
Tasty Gifts for Teachers
1. Snack box. Who doesn't love getting a box full of snacks and all sorts of tasty treats?
2. Chocolate. Teachers pretty much run on coffee and chocolate, so why not help them out with more fuel? Just make sure it's some quality stuff!
3. Coffee. Does your teacher have a Keurig in their classroom or in the teachers lounge? Get a variety of K-Cups from their favorite coffee company (and be sure to get a few different flavors).
Money Gifts for Teachers
1. Cash. Because cash is still king—even when it comes to gifts.
2. An anything-goes gift card. These never really go out of style. Give them a gift card to a store with a variety of things they can buy for themselves, like Target, Walmart, TJ Maxx or Staples.
3. Local bakery card. While $30 may not pay for much of a nice dinner, it would pay for a fancy, out-of-the-normal dessert (a splurge teachers may not usually treat themselves to). A gift card to a local bakery or candy shop is a great choice.
4. Food delivery card. You know how it is: You get home and the last thing you want to do is cook dinner. Give your teacher the gift of not cooking for a night. They'll thank you later (from the comfort of their couch).
5. Teachers Pay Teachers card. Teachers often pay for their supplies and resources out of their own pocket. And Teachers Pay Teachers is an online marketplace where teachers often buy all sorts of classroom essentials, from classroom decor to teacher resources. A gift card that pays for these things could be a fantastic way to recognize your teacher's hard work and selfless efforts. Plus, who knows what a teacher wants better than a fellow teacher?
6. Bookstore gift card. A bookstore gift card lets your teacher choose what they want to get—either for their classroom or for personal reading.
Practical Gifts for Teachers
1. Hand sanitizer. Teachers use this stuff all day. It can be a treat for them to use one that actually smells nice.
2. Water bottle (or two!). Between classes, teachers only have a few minutes to use the bathroom and refill a water bottle. Having a large bottle (or several) saves them from running out of water if they don't have time to get more during a break.
3. Lanyard. Teachers carry a lot of things with them: teacher ID, classroom keys and maybe even a whistle. Getting them a nicer lanyard than what the school gives them is a great idea. And these don't have to be boring—you can get ones that are personalized, school-themed or almost any other kind. Get creative!
4. Succulents or plants. Plants are a great way to freshen up any classroom. Plus, a greener room means cleaner air. And succulents don't require much water or attention!
5. Classroom supplies. Yeah, not so glamorous—we know. But like we mentioned earlier, teachers pay for a lot of this stuff out of their own pocket. So a kind way to say "thank you" is to purchase these supplies for them.
Personalized Gifts for Teachers
1. Pencils. Teachers are always loaning pencils to students or fellow teachers but then never getting them back. A pack of personalized pencils can be a great gift for any teacher!
2. Tote bag. You know, since teachers are always toting things.
3. Pet portrait. Give your teacher a portrait of their favorite fluffy friend or even a sticker for their car.
4. Stationery. Teachers love receiving handwritten notes from their students, but they also love writing them! Giving them a personalized notepad or a pack of sticky notes can be a simple but thoughtful gift.
5. Bookplate stickers. Classroom libraries are often personally stocked. Why not help your teacher out by making sure all their books make it back to them?
Fun Gifts for Teachers
1. Novelty teacher socks. Wearables can be hard to gift, but these fit all sizes—and they're just plain fun!
2. Sports fan gear. Most die-hard sports fans can't get enough of their team. They might have a Cowboys or Broncos sweatshirt, but what about socks? Or a license plate holder? A toaster? The options are endless here!
3. Subject-themed collectibles. Teachers are often a fan of their subject, and getting them a gift that appeals to their nerdy side is always a great idea!
Self-Care Gifts for Teachers
1. Manicure. A manicure can be a great way for your teacher to just relax and recharge. And most manicures tend to be less than $30—bonus!
2. Massage. Being a teacher is stressful, and that makes for tight muscles. A massage can be a great way for your teacher to chill after a long day.
3. Barbershop. Hey, this relaxation thing isn't just for the ladies! Enter: the barbershop. You know, the kind that offers you a warm towel and hands you a beverage of your choice while you wait. Yeah, not your average run-of-the-mill barbershop.
Experience Gifts for Teachers
1. Movie theater box. We're talking the whole nine yards: cash for popcorn, movie tickets, and maybe an extra bit of money for those movie theater drinks, too.
2. Adventure store membership. For the outdoorsy teachers in your life, a membership to a store like REI, Bass Pro Shop, Eastern Mountain Sports (EMS), or The Clymb could be the perfect gift. Not only will they get gear at discounted prices, but they'll also get an opportunity to level up their backcountry know-how through classes.
3. Date night box. An easy dinner recipe and a board game. A 2-liter and a pack of conversation starters. Movie tickets and a gift card to a local dessert spot. Whatever it is, stick it in a bag, basket or envelope, and ta-da—they've got a free date night!
Like we said before, picking out gifts is already hard, but picking out a thoughtful gift for teachers can be even harder. But always remember that it's the thought that counts—most of the time (unless it's that too-big Mulberry pullover, because that's just not right). No matter what gift you pick from this list, don't forget to pair it with a heart-felt thank you note! If you need inspiration on what to say, check out this list of the most powerful compliments that you can give a teacher.
Life-Changing Personal Finance Curriculum
Teach your high school students the money skills they'll use now and for the rest of their lives with Foundations in Personal Finance. And this month, Foundations will be available in Spanish for the first time ever!
Show Me
Did you find this article helpful? Share it!