How to Help Your Students Talk to Their Parents About College Costs
7 Min Read | Sep 28, 2021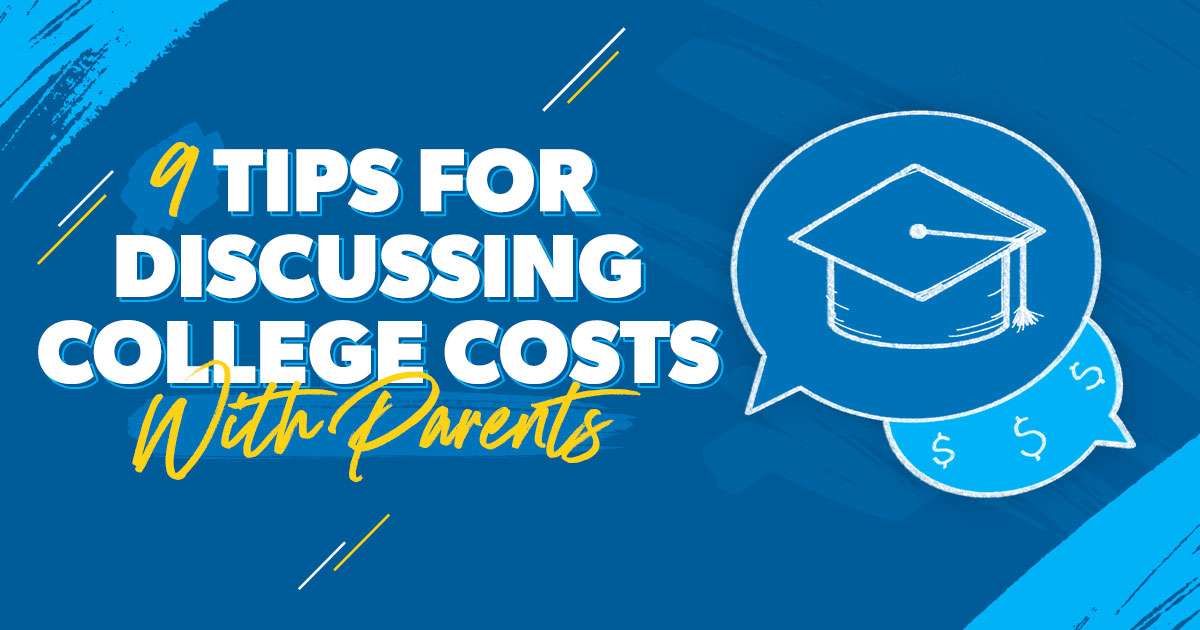 If your high school students are anything like the typical college-bound teen, they probably haven't talked with their parents yet about how much college is actually going to cost—and how they're planning to pay for it. And that can turn into a real problem!
According to a recent survey of U.S. parents and their school-age kids, only 54% of kids age 8–14 have a savings account. And only 42% of the parents surveyed said that they've used a discussion about the cost of college as an opportunity to teach their kids about money.1 That lack of communication could have some pretty sad results: Imagine getting in to your dream school assuming that your parents will pay for it, only to find out that your family can't afford it.
As their teacher and a voice of reason in their lives, you can encourage your students to talk with their parents about college costs as soon as possible—before the application process even starts! Not only will taking this initiative help your students know what to expect in the coming months, but it will also show their parents that they're responsible, mature and ready for the independence that comes with college and adulthood.

Are you a teacher? Help your students win with money today!
Once you give your students these tips to help them have the conversation with their parents, check in with them periodically to see how their talks have been going. Remind them that they can pay for college without going into debt and that there's more than one way to make their dreams a reality. Contrary to popular belief, loans don't need to be an option. You might even want to point them toward teen and millennial expert Anthony ONeal's new book, Debt-Free Degree, which gives students and their parents a step-by-step plan to cash flow their college education!
Even though it won't always be easy for your students, putting in the effort to pay cash for college now will make a serious impact on their future—and the strong financial foundation they'll have will be priceless!
9 Tips to Give Your Students for Talking to Their Parents About College Costs
1. Give your parents a heads-up that you want to talk about the cost of college.
Parents are busy too, and sometimes they get just as stressed about money as their kids—if not more. Let your parents know that you want to have a conversation about paying for college and ask when the best time would be to do that. That way, it doesn't come out of left field when they're already tired or have too much on their mind.
2. Tell your parents about your college goals.
Be honest and clear about what you want to accomplish in your future. If that means going to college, let your parents know you want to graduate without student loans (yes, it is possible!). Tell them you realize that may mean choosing a more affordable college or working a part-time job while you're in school to save money.
3. Ask your parents specific questions.
This might not be the most comfortable conversation you'll ever have with your parents—sometimes, money talk is really hard. It might even take more than one conversation over a longer period of time. But it's important to be up-front about these questions so you and your parents can have clear expectations moving forward.
Some of the questions you should ask your parents include:
How much money, if any, do you have set aside for my college education?
How much money, if any, will you expect me to contribute to the cost of my degree?
What about other expenses like books, food, housing or spending money? How much of that will I need to pay for myself?
Will you pay for the application fees, or will I need to cover that?
Realistically, those are all the things you'll need in order to go to college, and the money has to come from somewhere. Get the concrete numbers from your parents so you know exactly what you have to work with.
4. Know the costs of college ahead of time.
When you talk with your parents, go into the conversation knowing the exact tuition costs and other expenses at the school(s) you want to attend (this info can be found on the school's official website or by calling their admissions office). That way, you can be up-front with your parents about the potential costs, and together, you can compare the price tags at different schools. Keep in mind that community colleges and public, in-state schools will always be less expensive than private colleges!
To make your life easier, check out the Debt-Free Degree Cost-of-College Calculator that can help you figure out the total price tag for your education—and get a step-by-step plan to pay for it!
5. Be prepared that your parents might not be able to help you financially.
As difficult as it might be to hear and accept right now, your parents don't owe you a college education. They might choose not to give you money, or they might not be able to afford it right now. Respect whatever financial limits they set and know that there are still other ways to pay for college. Don't lose hope!
6. Fill out the FAFSA.
The Free Application for Federal Student Aid (FAFSA) is one of the best ways to apply for scholarships, grant money and work-study opportunities to help pay for college. It's a simple form that can be found at studentaid.ed.gov. Ask your parents if you can check in with them throughout the FAFSA process—there's a section they have to fill out as well. You should also keep your parents in the loop about any award letters you get that say you're eligible for financial aid, and double-check to make sure that you were offered a scholarship or grant—not a loan.
7. Look for scholarships.
Finding legitimate scholarships can be an overwhelming process, but this free search tool—the Debt-Free Degree Scholarship Search—will help. Apply for as many as possible (you can even ask your parents to proofread your scholarship essays for you!). You can also ask your parents if the companies they work for offer scholarship opportunities for the children of employees, or if they're involved with any community organizations that would offer them.
And remember that colleges really look at your ACT and SAT scores when they're considering you for scholarships. It's not fun, but taking the test multiple times can help boost your score and earn you a ton of money for college!
8. Talk with your parents about alternatives.
Brainstorm ways you can cut down on college costs. Maybe your parents would be able to help you if you lived at home instead of on campus, took some classes at a community college before transferring to a four-year school, or went to a two-year trade school. Get creative with your savings: For example, you can save a lot of cash on books and food by getting used textbooks and buying your own groceries and cooking at home instead of having a meal plan.
9. Ask for help!
If you have any questions about how to pay for college without loans, need more advice on finding scholarships, or just need some words of encouragement, don't hesitate to ask your guidance counselor, coaches, and/or teachers. You're not alone!
Looking for more ways to equip your students with the tools they need to win with money in the future? Check out Foundations in Personal Finance!